It's been over 10 years since I last visited Cairns. This much loved Aussie city in Queensland's Tropical North is the gateway to The Great Barrier Reef and the rainforest of the Wet Tropics World Heritage Area. With two stunning natural wonders on the doorstep, it's no surprise that visitors flock to this beautiful part of the world in their thousands. Whether they are heading to the reef, or the rainforest, or both, they all have one thing in common; they need a comfortable place to lay their head each night. When I first started researching accommodation, I felt like I was caught in a time warp and nothing had changed in the decade since I was last there. All the 'top end' hotels that I generally gravitate towards had a mixed bag of comments on Trip Advisor that indicated they were all showing their age and in drastic need of a makeover. And they came with hefty price tags. At the other end of the scale, backpacker joints abound with varying degrees of cleanliness and horrific reviews. Neither of these options appealed. When I looked further into 'the middle ground', I despaired of ever finding something that would suit our needs until I found The Abbott Boutique Hotel Cairns. If you are looking for a contemporary hotel in the heart of all the action then this little gem is for you. Read on for all the details …
The Abbott Boutique Hotel Cairns Overview
The Abbott Boutique Hotel Cairns' Abbott St location is smack bang in the middle of Cairns' compact CBD. On day two of our Cairns road trip we checked out of the Silky Oaks Lodge in Mossman and headed north to the Daintree to spend an hour crocodile spotting with Bruce Belcher before heading south to Cairns. The two hour drive went by quickly and our GPS had no trouble finding The Abbott. If you are keen to go further south consider a Cairns to Brisbane road trip. The Cairns accommodation scene is distinctly lacking in modern, centrally located, good value hotels, but The Abbott fills the void nicely. The hotel recently underwent a $1.8m renovation and everything feels fresh. You would be hard up trying to find a better located hotel than The Abbott. While we did hire a car for our road trip, once we parked it we had no need to touch it again until we checked out. The Abbott Boutique hotel does not have a car park, but there is ample parking on the street. We arrived just after 3pm and we only had to put $2 in the meter to get us through to 5pm when parking becomes free. On arrival Betty checked us in with the upmost efficiency and the elevator whisked us straight to the second floor. Reception is manned between 7am and 9pm and after hours access takes care of your late night jaunts. The Abbott Boutique hotel does not have a host of onsite facilities but who really needs a gym anyway?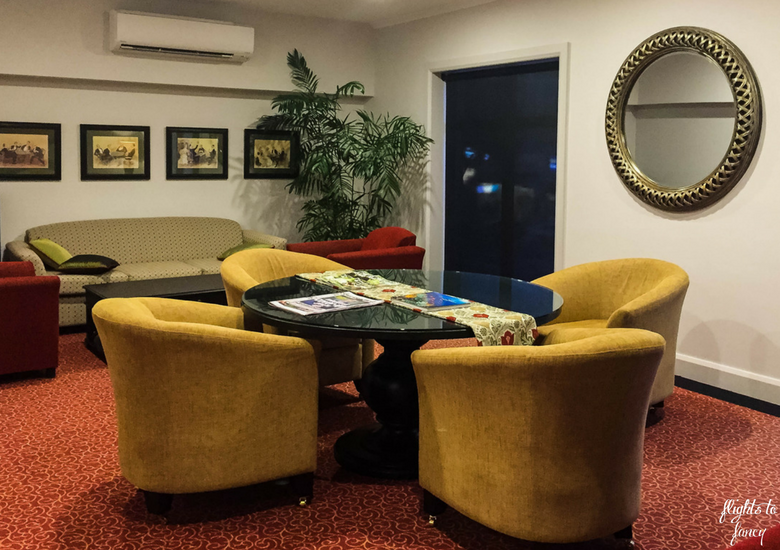 The Rooms
The Abbott Boutique Hotel Cairns has a mix of superior and deluxe rooms spread over two storeys. We were assigned room 205 and it was much more spacious than I was expecting. The entry housed a closet complete with a safe and ample luggage storage. The super king sized bed was so comfy instead of using the desk I just balanced the laptop on my belly while working from the bed. That's just how I roll. Our room was equipped with floor to ceiling windows but didn't come with a view. Some might have been disappointed with this, but I chose to see the bright side and as The Hubs pointed out, we could keep the curtains open all day without the need to worry about privacy. The bathroom was compact but spotlessly clean and the shower was brilliant!
Breakfast
While The Abbott Boutique Hotel Cairns does not have breakfast onsite, guests only need to pop around the corner to the The Pacific Hotel for their morning feast. We dined early as we had a big morning ahead on the Kuranda Scenic Railway but there were already a few other early birds seated in the spacious dining room. As you would expect, breakfast is served buffet style and there is plenty to choose from. The Hubs headed straight to the hot buffet and filled a plate with his favourite scrambled eggs and baked beans. It's surprising how many hotels don't have baked beans on the breakfast buffet and The Hubs is never happy when that happens. I started with the breakfast of champions; vegemite on toast, before my healthy fruit salad.
Nearby
The Abbott Boutique Hotel Cairns is perfectly placed to explore everything Tropical North Queensland has to offer. There are heaps of things to do in Cairns and the helpful staff at reception will help you book all your tours. Scuba Diving or Snorkelling the Great Barrier Reef is a must and we loved the Skyrail Rainforest Cableway Cairns, the Kuranda Scenic Railway and Bruce Belcher's Daintree River Cruises. If you are looking for a fabulous meal try Bushfire Flame Grill, Bayleaf Balinese Restaurant, La Pizza Trattoria or Salt House. Take a wander down The Esplanade and watch a fabulous sunset from the lagoon or explore the marina and dream of owning one of the big boats. If you want to do a lot or very little, Cairns has something for everyone.
If you are looking for a great value modern hotel in the heart of the action you can't go past The Abbott Boutique Hotel Cairns. Are you travelling to Tropical North Queensland soon?
Until Next Time …

Like it? Pin it!
Disclaimer: I stayed at The Abbott Boutique Hotel Cairns as a guest. As always, all opinions are my own. This post contains some affiliate links which will earn me a few cents to contribute to the running of this site if you make a qualifying purchase at no extra cost to you.