Auckland, New Zealand's most populous city, is under going a transformation in preparation for significant expected growth over the next 10 years. As you walk the city streets, you can't help but notice the construction surrounding you. Auckland is particularly well suited to walking and we spent a lovely couple of days exploring the Auckland CBD and nearby Viaduct Harbour. As a proud Sydney Sider, I couldn't help but notice some suspicious similarities with my home town. Coincidence? I think not! Read on for all the details …
Auckland CBD
We flew into Auckland in business class on the Emirates flagship A380. If you are looking for a little extra luxury in your trans-Tasman flight I highly recommend it and if you are heading to New Zealand for the first time check out my New Zealand essentials post which has all the info you need to plan an unforgettable trip. Customs was a breeze and we were driving off in our bargain Airport Rentals hire car in no time. Auckland CBD was a mere thirty minutes drive away and when we checked in to our brilliant accommodation at CityLife Auckland we parked the car and left it there for the next two days as we explored the city on foot. By the time check in was completed and we were settled in our room it was about 6pm and we headed straight out to make the most of the remaining daylight. CityLife fronts Queen St which is littered with shops all enticing you to spend your hard earned but I resisted and we headed left towards Victoria St en-route to Auckland Skytower, which looks very similar to Sydney Tower if you ask me! We were going to go up to the top, but I though the entry price of $29pp was a little steep for what we would get out of it. By this time our thoughts turned to dinner and we consulted our trusty friend Trip Advisor to peruse the nearby Auckland restaurants. We were delighted to find Cafe Midnight Express which serves up authentic Turkish cuisine to rave reviews (#12 of 1733) was only steps away from the tower. We took advantage of the $25 2 course special offered from Sunday – Tuesday but if you are in the area at lunchtime you can't beat the $10 express special. After dinner we stopped in at the nearby Countdown supermarket to stock up on essentials (read chips, coca-cola and chocolate!) in preparation for our epic New Zealand road trip.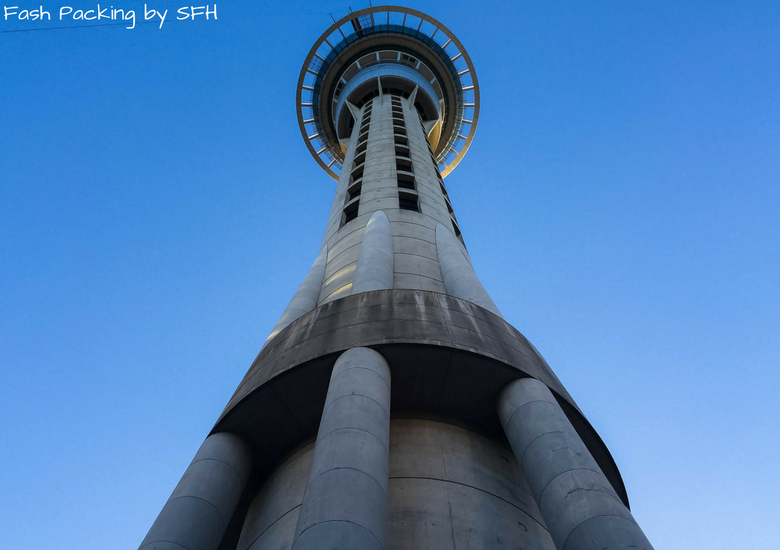 Next morning, we hadn't fully adjusted to the 2 hour time change and woke earlier than expected. There are lots of amazing things to do in Auckland, but our short amount of time in town limited our options somewhat. Not wanting to waste a minute, we hit the streets straight after breakfast, but this time we headed right towards the harbour. We strolled past Gucci, Dior, Prada and the like and while I was tempted, The Hubs kept me on track. The major works are concentrated in this end of town and the skyline is littered with mammoth cranes busily building a better Auckland. Many of the projects are not due to finish for some time but I'm sure it will be amazing when it is all done. Keep your eyes peeled for unexpected street art as you walk around, I particularly liked the giant bronze of a Moa Bird and couldn't resist a pic. Anyone else think he looks just a little angry?
Auckland Viaduct Harbour
Hang a left once you hit the water at the end of Queen St and head past the New Zealand Maritime Museum with KZ1 out the front. If you have a little more time book a heritage sail on one of their four vessels. A little further along you will find yourself in Wynyard Quarter (named after Wynyard in Sydney perhaps?) and the Auckland Viaduct Harbour. I love this place! The buildings are modern, intricate and right up my alley. Give me stainless steel and glass over heritage features any day! The funky ASB building was a stand out example of design done well. If you are feeling peckish stroll down 'eat street' and pick from the myriad of cafes and restaurants that surely offer something for every taste. Amble along a little further and you'll find a children's playground complete with a paddling pool. While it was Spring, November is still a little chilly in Auckland so I was surprised to see a few brave toddlers splashing about. They obviously breed them tough 'round here! One of my favourite parts of Viaduct Harbour is The Gantry. I love the symmetry and the contradiction of industrial metal covered in delicate greenery is not lost on me. You can also climb the structure for a birds eye view over the whole area.
If you have come this far, you might as well go all the way. Walk right to the end of the promenade for views across the harbour to the famous Auckland Harbour Bridge (title photo). Does the arch remind you of another famous Harbour Bridge down under? Hmmmmm …. I think the designer may have taken inspiration from my home town's famous coat hanger. Make sure you check out the love lock wall while you are there. Be more prepared than I was and bring along your own special padlock to add to the mix as a lasting testament to your love. Head back the way you came but detour around the Marina on the way back to the city centre. I was super excited to see a Park Hyatt under construction right on the water's edge. At a cost of $200m I can only imagine it will be spectacular! Take a moment to meander around the super yachts and fancy apartments and indulge in a daydream about what it would be like to live the privileged life while you admire a different angle of Auckland's tallest tower. Our time in Auckland was short but definitely sweet and we reluctantly left the glistening viaduct harbour to depart for the next part of our New Zealand adventure. As our return flight departed from Auckland, we did get to spend another few hours in this cosmopolitan city before we headed home; most of which were spent quaffing fancy champagne in the Emirates lounge at Auckland International Airport before flying home in style First Class on an Emirates A380. What can I say, it's a hard life but someone has to do it!
While I am never going to admit that any harbour in the world could possibly rival Sydney's (biased much? lol), Viaduct Harbour and the Auckland CBD have lots to love and if all the construction going on is anything to go by, it's only going to get better. Have you been to Auckland? What was your favourite part? Did you take the time to explore the Auckland CBD and Viaduct Harbour? Let me know in the comments below.
Until Next Time …

Disclaimer:  I stayed as a guest at CityLife in the heart of the Auckland CBD during my trip to New Zealand. As always, all opinions are my own. This post contains an affiliate link that may earn me a few cents commission if a qualifying purchase is made.
Like it? Pin it!
Save
Save
Save
Save