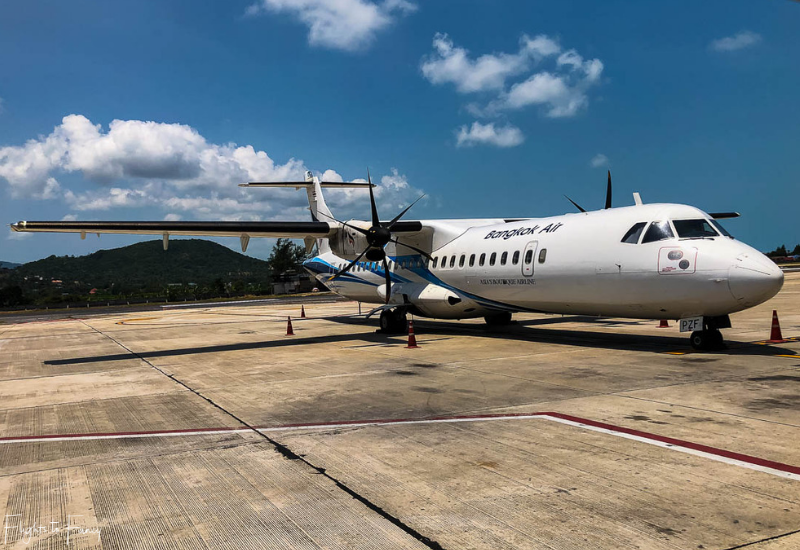 When we needed to book a Koh Samui to Phuket flight we had zero choice in carriers. Bangkok Airways was the one and only airline flying the short USM – HKT route direct. The flight was short and sweet, but on the pricey side for Asia. I guess you can do that when you own the airport and have a monopoly on the route. Read my full Bangkok Airways review for all the details…
Bangkok Airways Overview
Bangkok Airways bills itself as Asia's Boutique Airline. Bangkok Airways was established in 1968 as Sahakol Air and was Thailand's first privately owned airline. It rebranded as Bangkok Airways in 1989, the same year Koh Samui International Airport opened. Bangkok Airways also owns and operates Sukhothai and Trat airports. In the year 2000 it added the first jet to its propeller fleet. Bangkok Airways now has a fleet of 9 Airbus 320s, 16 Airbus 319s, 3 ATR 72-500s and 12 ATR72-600s. Many of the aircraft are decorated in colourful livery based on the destinations the airline services. Bangkok Airways has a four star Skytrax rating and has reported four incidents and accidents during it's 50+ year history. Bangkok Airways has won many awards and in 2018 was voted World's Best Regional Airline and Best Regional Airline in Asia. Bangkok Airways' frequent flyer program is called Flyer Bonus and you can also earn points with Bangkok Airways partner airlines Etihad, Japan Airlines, Cathay Pacific and Qatar.
Booking My Koh Samui to Phuket Flight
My usual MO for booking any flight is to run the trip through Skyscanner first. This gives me a good idea which airlines fly the route and a rough idea of price. Once I've done that, I then go to the airlines direct and see what they are offering. When I was looking for a Koh Samui to Phuket flight, Bangkok Airways was the only airline listed on Skyscanner that flew the USM-HKT route direct. Easy. I headed to Bangkok Airways and checked the price for reference. I checked back several times over the next few months and even set a Skyscanner price watch alert. The price didn't move once. I resigned myself to the fact it was looking very unlikely I was going to get a special and committed to book the flights at ฿3,700 each. Bangkok Airways' website does allow you to display prices in a number of currencies, but AUD is not one of them so I left it to the default THB. There are multiple direct flights a day and we chose flight PG263 that departed at 12.40pm. There seems to have been a schedule change since we flew in March 2019 and the closest option at the moment is PG253 that departs an hour earlier at 11.25am. The prices are still a consistent ฿3,700 for the Web Freedom fare. 20kgs of checked baggage is included, but if that is not enough you can purchase extra starting from ฿350 (~AUD$15) for 5kgs. You can't select a specific seat, but you can lodge a preference for aisle or window.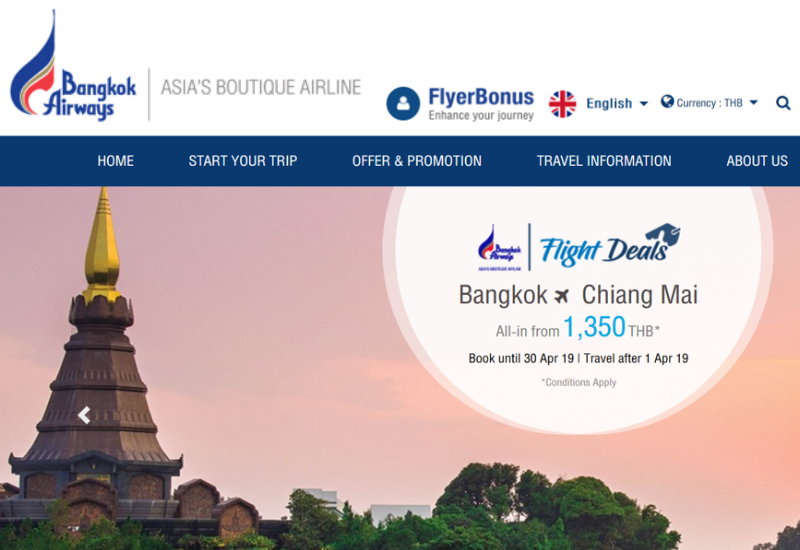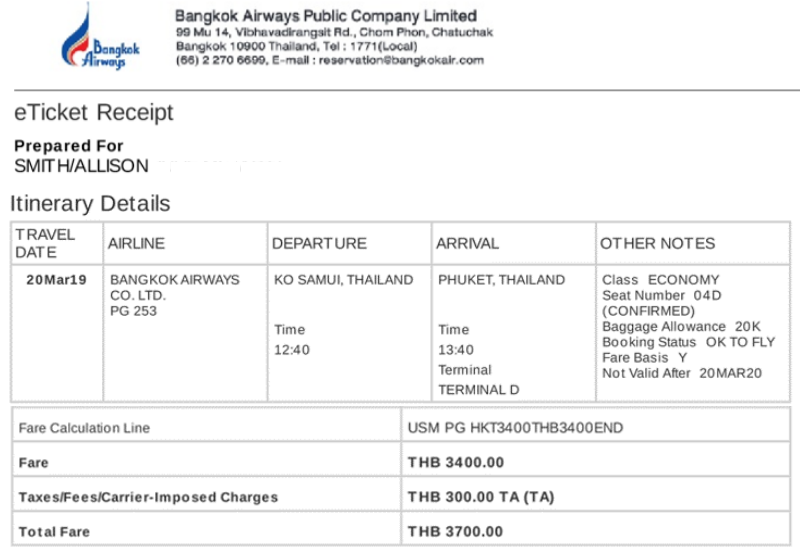 At Koh Samui International Airport
Koh Samui International Airport is one of the prettiest airports I have ever visited. In fact, it is the exact opposite of the sterile, functional and rushed atmosphere of most airports. Koh Samui International Airport's lush tropical gardens, relaxed pace and breezy buildings scream 'I'm on holidays'. Koh Samui International Airport is owned and operated by Bangkok Airways and until recently they were the only carrier using it. Most flights coming and going are still operated by Bangkok Airways, but Thai Airways and Silk Air now have the occasional service. Bangkok Airways have big plans for Koh Samui International Airport and they aspire to turn USM into Thailand's second largest international hub behind Bangkok's Suvarnabhumi (BKK) airport. The plan is to concentrate on medium haul international destinations with direct flights to Dubai, Shanghai, Bali and Kuala Lumpur expected to be first off the rank. Grand plans indeed. We arrived in Koh Samui by bus and ferry from Krabi so our first experience of Koh Samui International Airport was when we were leaving. We took the free shuttle from the Impiana Resort Chaweng Noi where we stayed and the driver graciously extended his normal route beyond Central Festival to drop us at Koh Samui International Airport. If you need a transfer to/from USM try Klook. We use them all the time and they have never let us down. Prices start at just ฿350 to/from Chaweng through to ฿650 to/from Ban Taling Ngam. We arrived at about 11.30am for our 12.40pm Koh Samui to Phuket flight and our driver dropped us right out the front. The airport was almost empty. We contemplating using the self check in kiosks, but it hardly seemed worth the effort figuring it out when there was no queue at the counter. Despite having 20kgs checked baggage allowance included in our fare, we are always looking to travel more sustainably and we only had our trusty High Sierra wheeled duffels as carry on. The check in staff made us sign a disclaimer stating we hadn't checked in any bags which was a little odd. I've travelled carry on several times and never  been asked to sign a waiver before. Mai Pen Rai (no worries), it's Thailand. You just go with the flow. Once we had our boarding passes we exited the building and headed left towards the departure gates.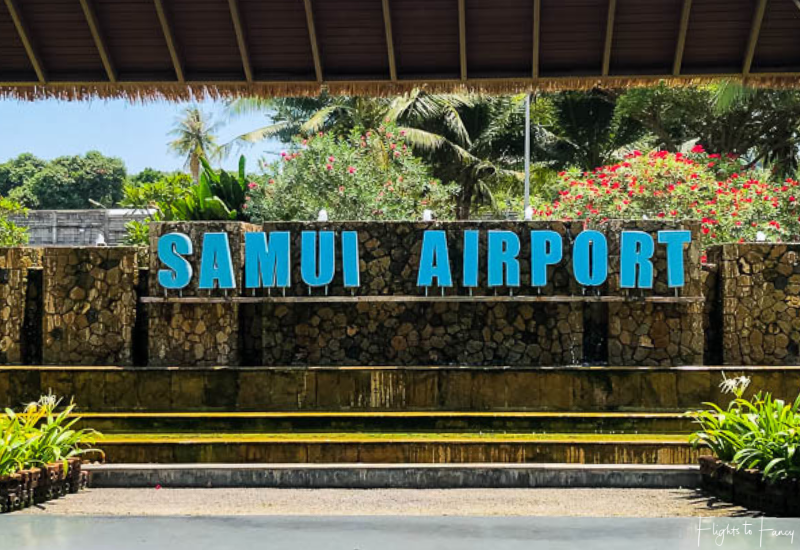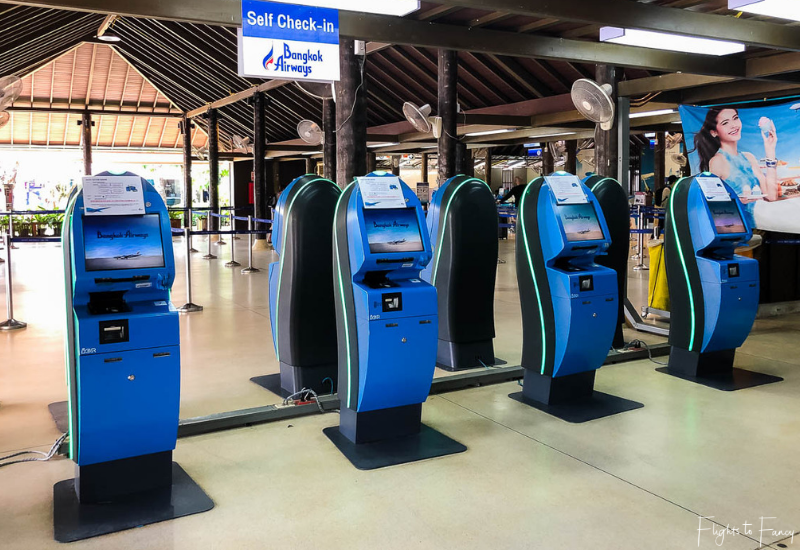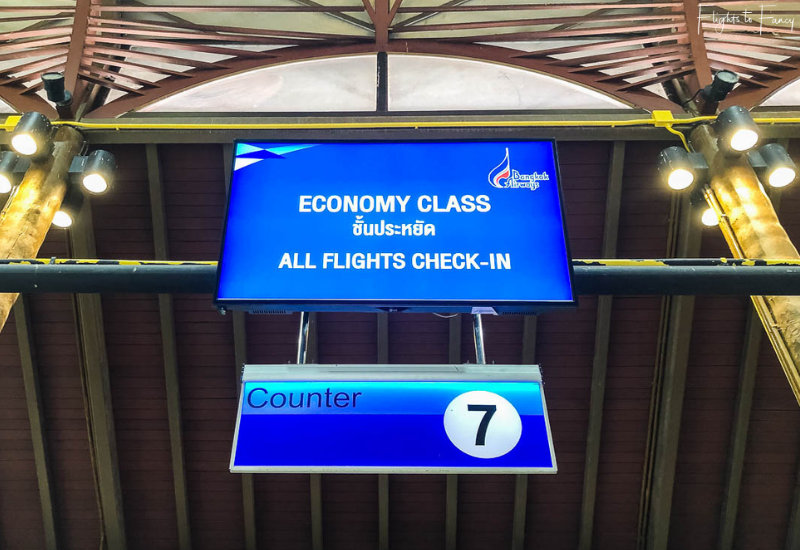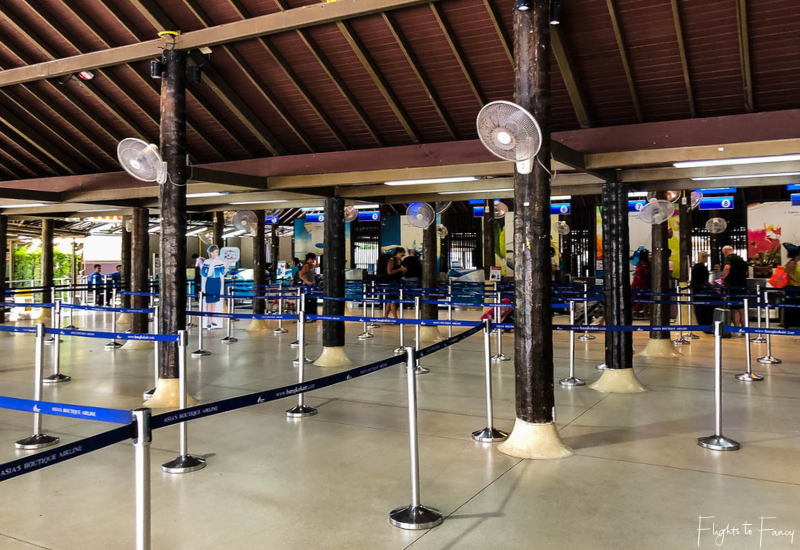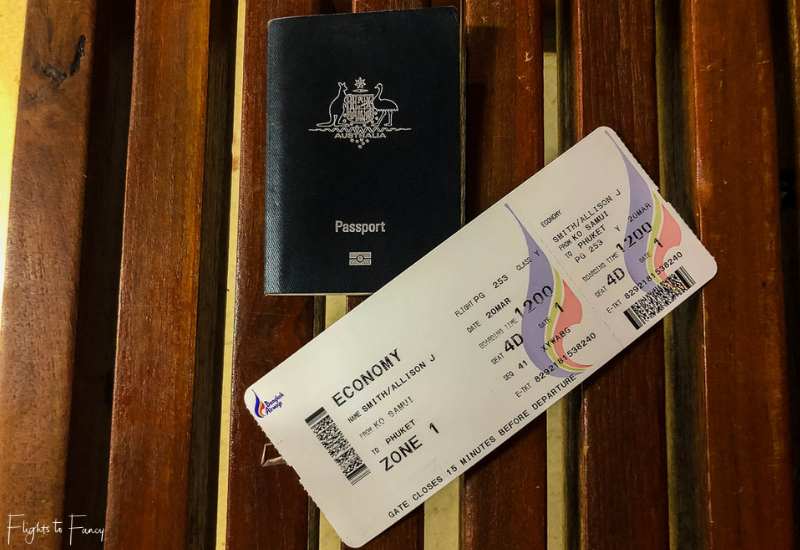 Koh Samui airport is largely open air and between check in and the departure gates there is a shopping precinct. I typically time my arrival at airports quite tight as there is nothing worse than waiting around doing nothing. In Koh Samui I wish I had allowed more time to explore the boutiques. Despite not having a lot of time to spare, I did manage to pick up a few cute pieces of jewellery from Oh La La. The shopping precinct is open to the public and TV screens with flight details are scattered around so you don't lose track of time. We cleared x-ray quickly and made our way to gate 1. There was a bar, a café and a few little souvenir shops along the way. We passed the Bangkok Airways VIP lounge, but sadly our economy class tickets didn't grant us access. Gate 1 had plenty of seating and free WiFi, but you do need to enter your passport details and email address so it was just easier to use our AIS tourist SIM. Charging stations are available if your devices are running low. Koh Samui International Airport is the only airport I have ever been in that displays signs asking passengers not to feed the cats. Yes cats. When it was time to board, we all shuffled into the Bangkok Airways shuttle bus to transport us across the tarmac to our plane.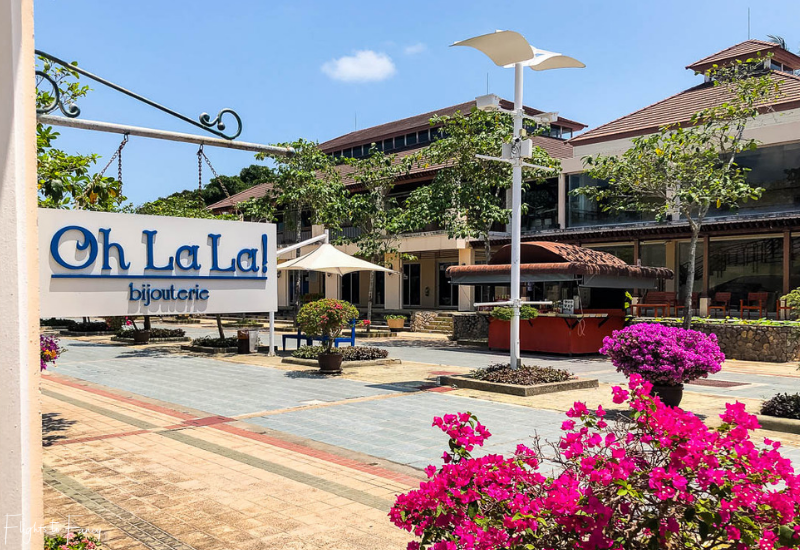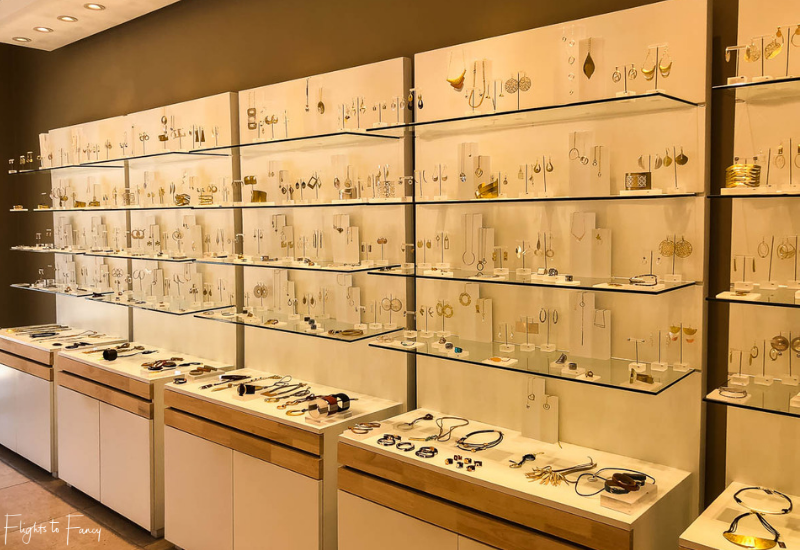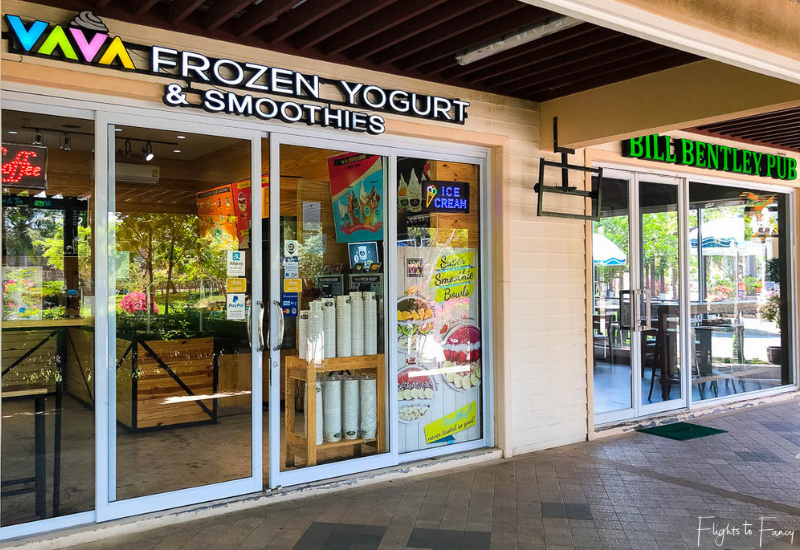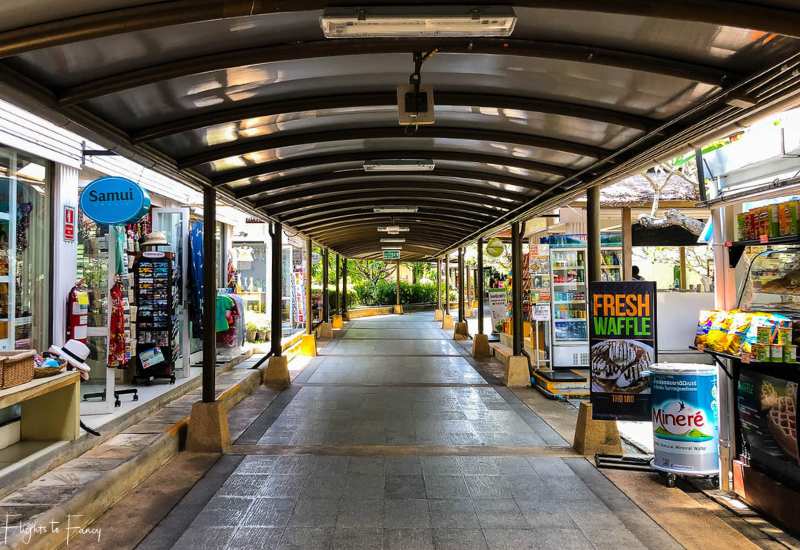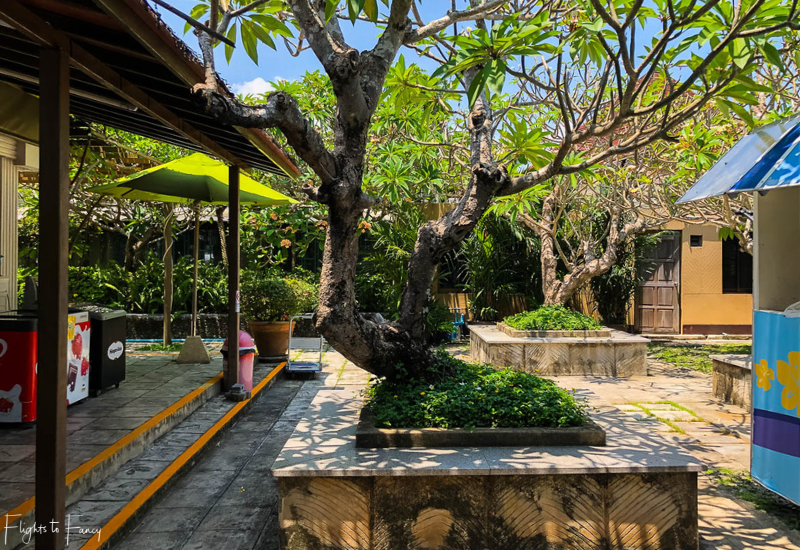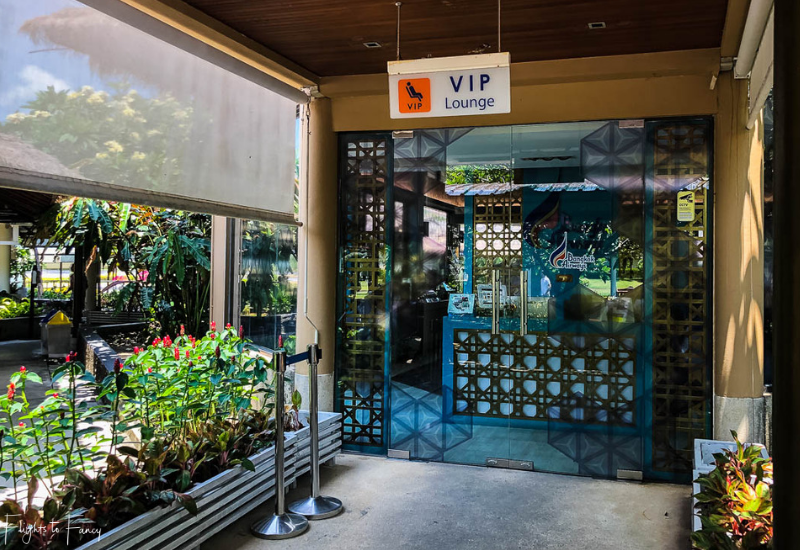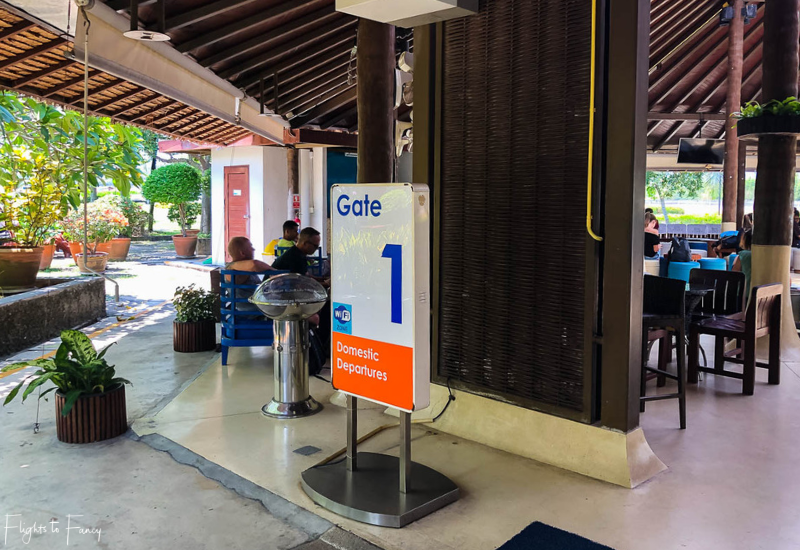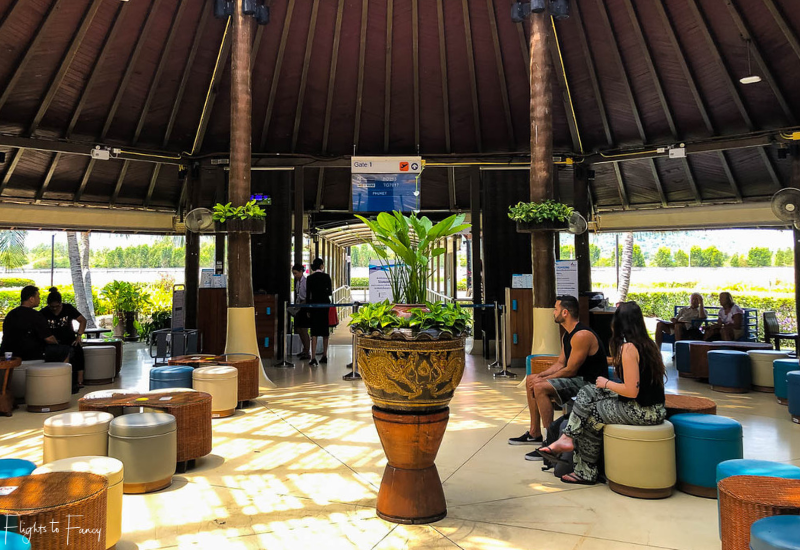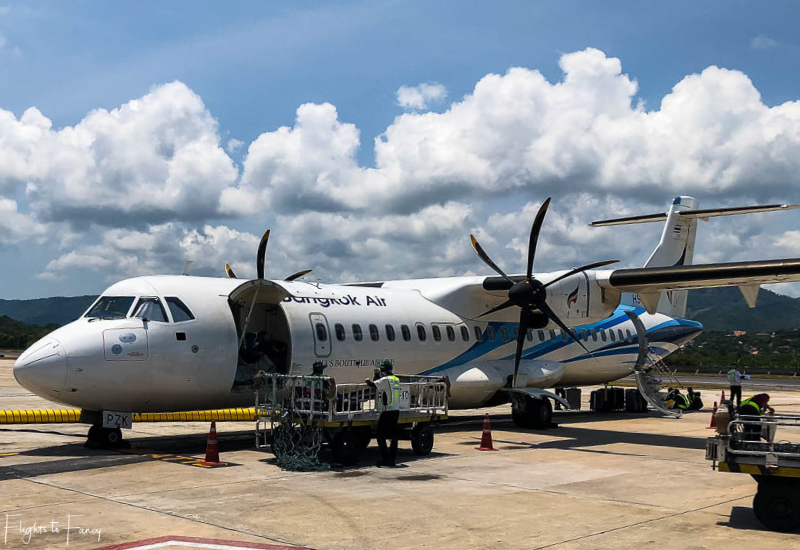 Bangkok Airways Review: In Flight
We were allocated seats 4 C&D and we boarded our Koh Samui to Phuket flight from the rear of the aircraft. Once onboard our Bangkok Airways ATR72-600, I noticed the propeller was almost directly outside my window. If you want to get some good plane window photos I suggest you ask for a row towards the back. It will also mean you are one of the first to disembark. The cabin configuration was 2 x 2 with a single aisle down the middle. Leg room was tight, but it was a short flight so it was no hardship. We took off slightly ahead of schedule at around 12.35pm for the short 40 minute flight from Koh Samui to Phuket. Our right hand side seats allowed us a fabulous view of Koh Samui's Chaweng and Lamai beaches on take off and prime beach views on landing at Phuket International Airport.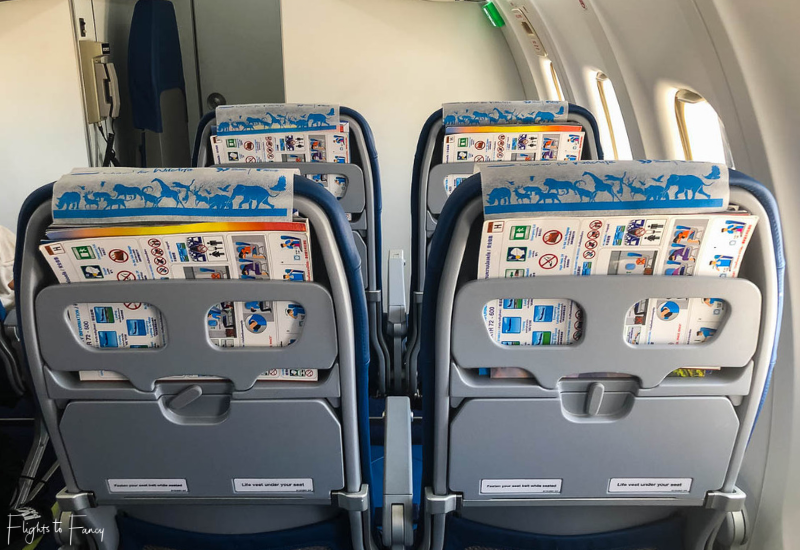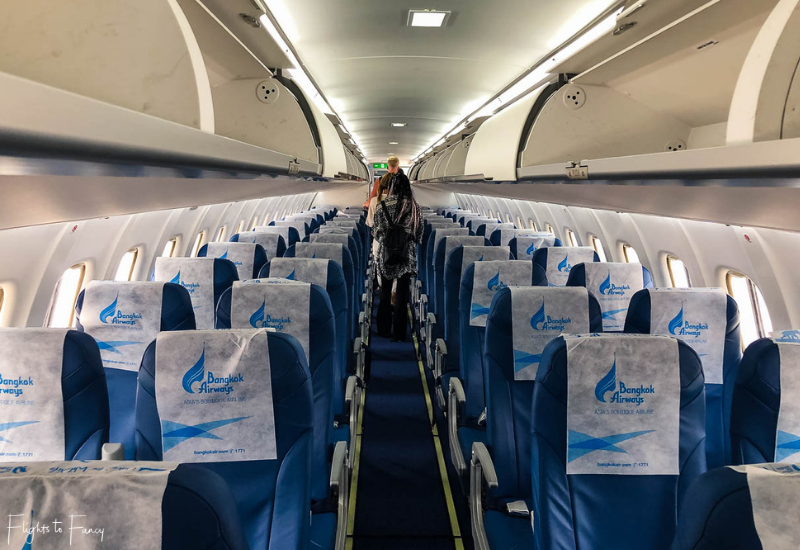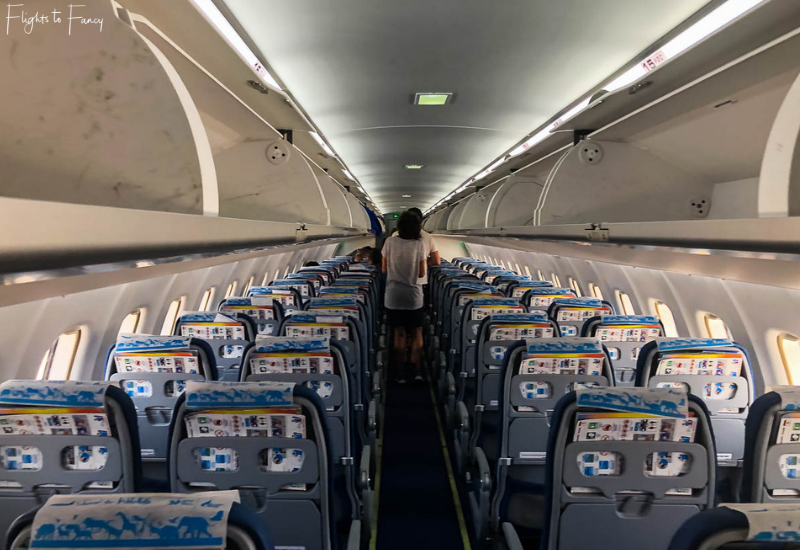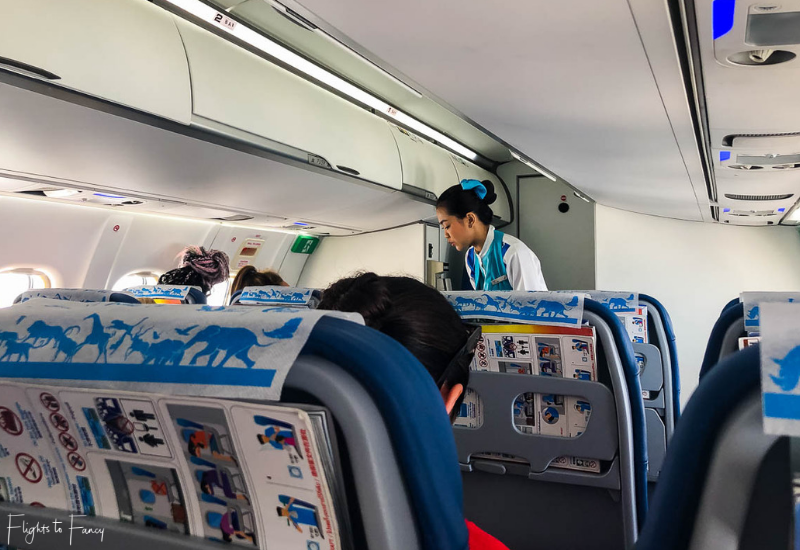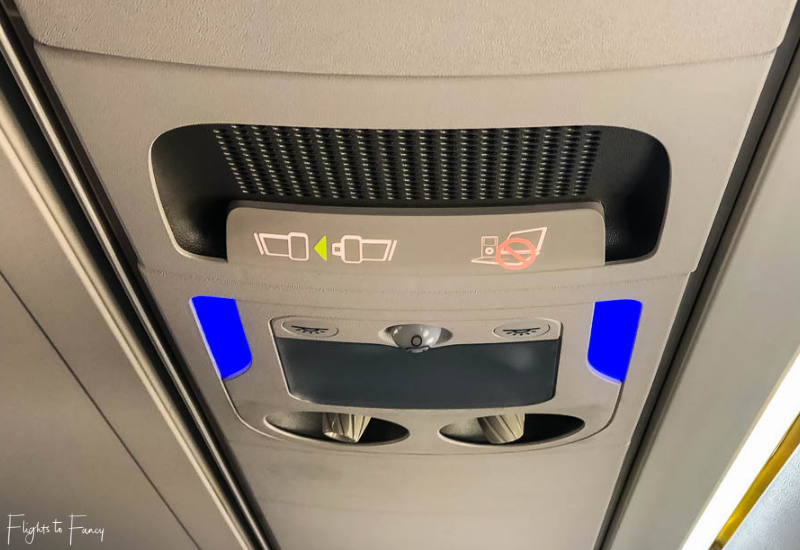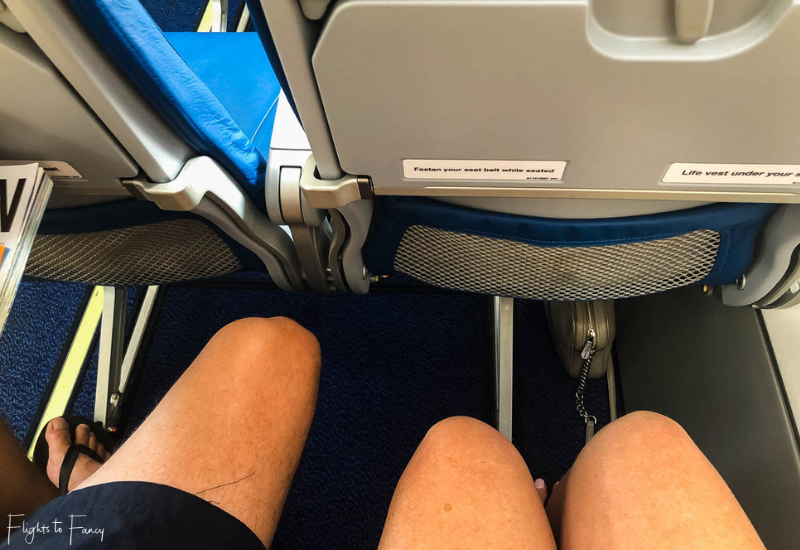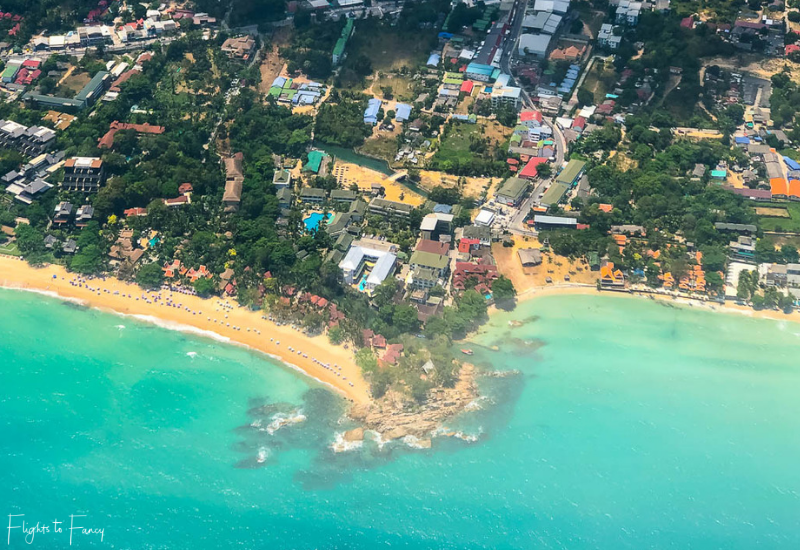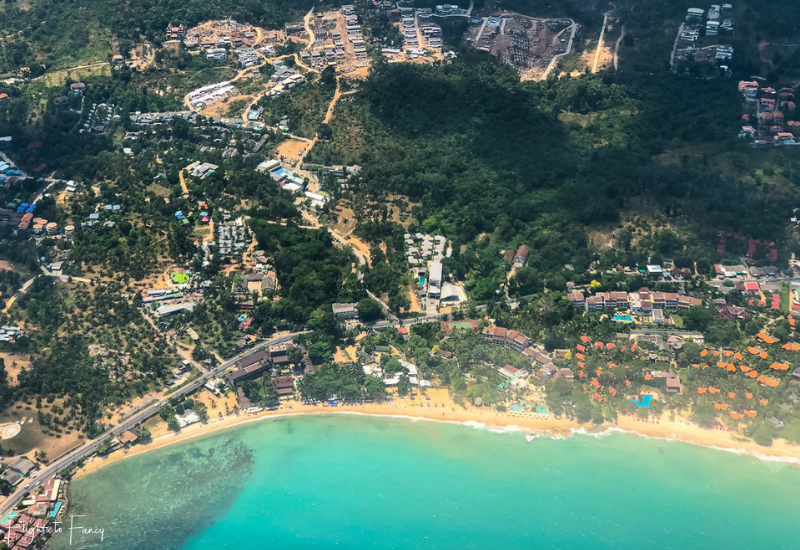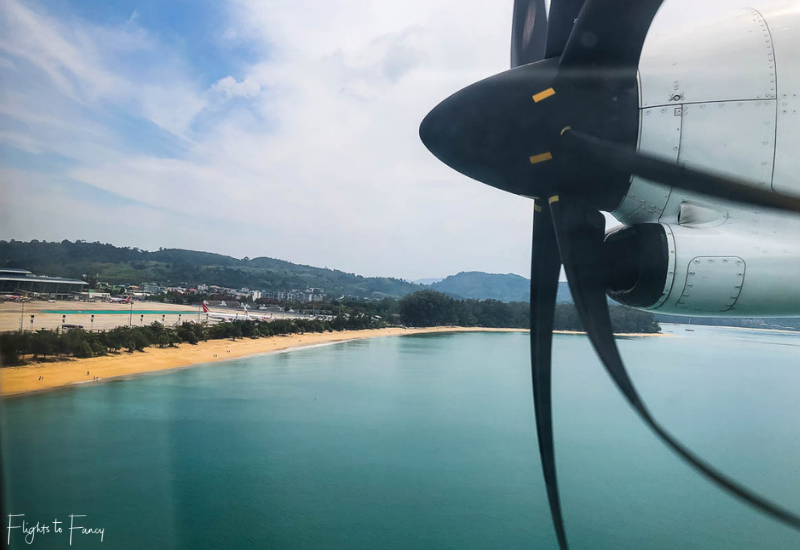 Bangkok Airways Catering & Entertainment
As soon as the seat belt sign was off the trolley moved through the cabin to serve snacks. We were served a pumpkin snail with water and tea/coffee. The pumpkin snail was fresh and tasty, but nothing to write home about. The two cabin crew members sure had their work cut out for them serving, clearing and doing a hot beverage service on the very short flight. It probably didn't help that the passengers behind us asked for a second cup of coffee, but the crew kindly obliged. Entertainment was limited to an inflight magazine, but let's face it, even if we had a fancy seat back screen we wouldn't be able to fit a movie in on the short Koh Samui to Phuket flight anyway.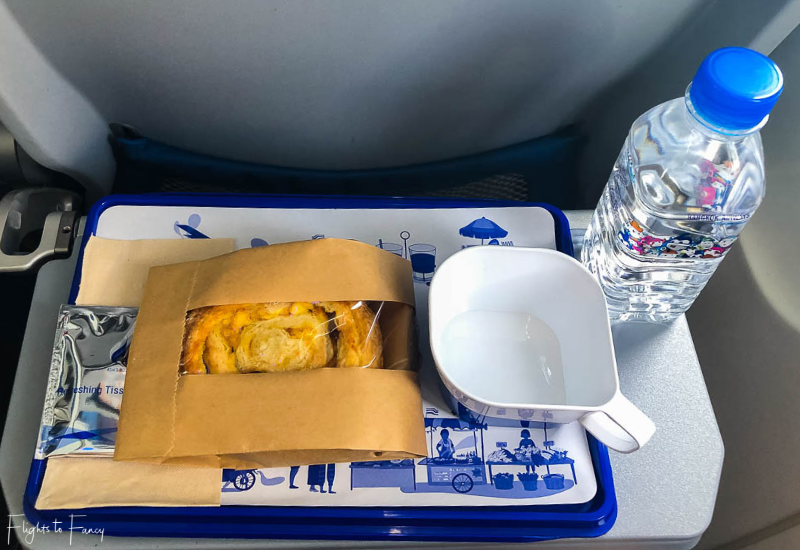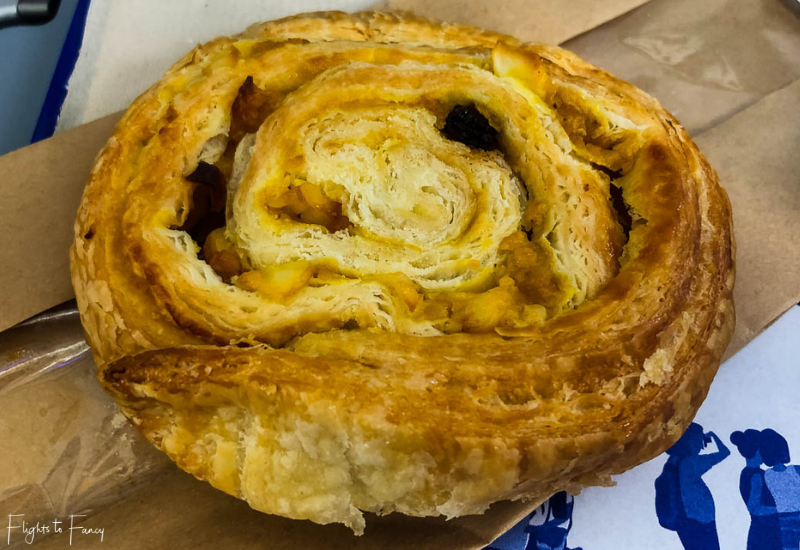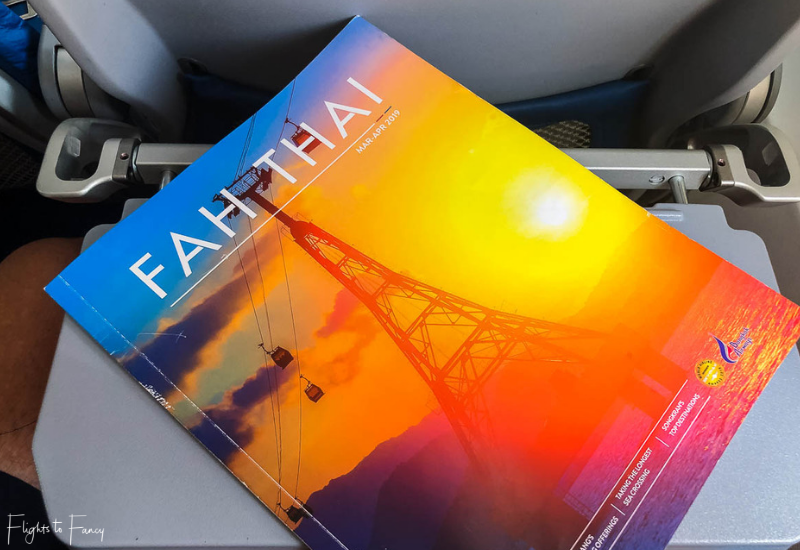 Arrival At Phuket International Airport
Before we knew it we were touching down at Phuket International Airport. All the passengers onboard our Koh Samui to Phuket flight were herded into the airport bus for the short run to the domestic terminal. We walked straight past the baggage carousels and out the exit in record time. We have been to Phuket many times and we always organise our airport transfers through Klook. The best deal if you are going a reasonable distance is Klook's fixed price transfer on Thai Rhythm for ฿610 (~AUD$27) to anywhere in Phuket. If you are travelling to the north of Phuket like Laguna, Nai Yang, Mai Khao or Naithon Beach book this Klook transfer from Phuket airport for just ฿550 (~AUD$24). Sadly we weren't going very far afield on this occasion as we only had a few hours in Phuket before making the long trek back to Sydney.
What We Did On Our 6 Hour Layover in Phuket
We landed at just before 2pm and our Jetstar International flight back to Sydney was scheduled to take off at 9.45pm meaning we had about 6 hours before we needed to be back to check in at 8pm. We had no intention of spending 6 hours in the airport. We often use Klook's airport transfers, but as we had no fixed plans or destination for our long layover in Phuket we decided to wing it this time. On arrival we walked the short distance to the International Terminal and stored our luggage for just ฿100 per piece (~AUD$4.50). With no driver waiting for us, we headed to the 'meter taxi' desk who refused to provide a taxi on the meter to Nai Yang claiming it was too close. They wanted a fixed fare of ฿500 (~AUD$22). We laughed and kept walking. We chose Nai Yang specifically because it is only an 8 minute drive from Phuket International Airport and the closest town of any note in the area. We were never going to pay ฿500 for an 8 minute ride. We were approached by various drivers as we walked along the length of terminal and against our better judgement we decided to jump in the car with a driver with who we negotiated a fare of ฿200. The first sign of trouble was when the ID on the dash was of a man about 30 years his senior. He was clearly annoyed with what he considered a low fare and he blasted his music and laid rubber as he screeched away from the airport at breakneck speed. About three minutes later he pulled up at the entrance of Sirinath National Park and told us we had to pay ฿200 per adult to drive through. He said it was the only way to get to Nai Yang. Luckily I knew better. I refused to pay and told him to drive around the park and showed him on Google maps exactly where I wanted to go. He became irate and kept shouting that he had to pay money. He realised I wasn't budging and finally drove around and dropped us at the edge of town. I did give him his ฿200, but suffice to say he didn't get a tip and he really didn't deserve a cent. It left a really sour taste in our mouth. There is just no need to try to rip people off simply because they are a tourist and likely to fall for the lies. Despite the awful start we had a great few hours in Nai Yang. We walked the entire length of the town which doesn't take long, but is thirsty work in the heat. We had a couple of drinks on the beach and a snack given our only lunch was the pumpkin snail on the plane. We looked through a few stores before deciding to get a full body massage. There are a few massage shops along the strip and I honestly can't remember the name of the one we chose. All the tension of our annoying cab ride was pummeled away by expert fingers and we emerged an hour later walking on air. Nai Yang is littered with beachfront restaurants and we perused a few menus before deciding on The Beach Restaurant. We arrived for an early dinner and scored a table on the sand with a prime view. The food was good, the cocktails were amazing and the sunset views over the water were breathtaking. When it was time to head back to Phuket International Airport, we booked a transfer at one of the many transport booths in town. It cost ฿200, the same as we had paid coming in, but the experience was far more pleasant. The price was fixed so we didn't need to negotiate, the car was clean and modern and our driver was very pleasant. This is exactly how it should be every time. I'm so glad we decided to get out and about rather than spend the time at Phuket airport. The bonus was we got to explore a little of Nai Yang for the first time.
Have you flown Bangkok Airways? Did you find my Bangkok Airways review helpful? I'd love to hear your thoughts in the comments below.
Until Next Time …

Pin "Koh Samui to Phuket Flight"

for later
Disclosure Statement: This review is not sponsored. I paid for my Koh Samui to Phuket flight in full. The information in this article is based on my own personal experiences and has not been influenced in any way by the brand(s) featured. This post may contain affiliate links which if clicked may earn me a small commission on purchases at no extra cost to you.