I'm guarantee I'm not the first traveller to contemplate which airline is the best bet for flights from Siem Reap to Phnom Penh. The Cambodian aviation industry is volatile and airlines come and go quickly so it's hard to know who to trust. We flew with Bassaka Air and just two weeks after touching down it appears the airline is no longer flying. My flight from Siem Reap to Phnom Penh was one of the most fuss free flying experiences I have ever had so it's sad to see that Bassaka Air seems to be grounded. Flights to Siem Reap from Phnom Pehn (and vice versa) are short, usually cheap and more comfortable than the bus. Read on for my Bassaka Air review and alternative Siem Reap to Phnom Pehn flights …
Breaking News: Bassaka Air Grounded
We travelled on Bassaka Air from Siem Reap to Phnom Penh on 22 September 2018. It appears that Bassaka Air ceased operating on 5 October 2018. Passengers were given less than 24 hours notice. Talk about just scraping in! That was only two weeks after we flew! There is zero information on their website and the old flight schedule is still posted. The search engine is still operational but any combination I try shows zero flights available. Their latest Facebook post directs affected customers to call +855 23 217613 or email b2b@bassakaair.com for assistance. A raft of comments indicate that getting a refund is not easy and if you are affected you may be best to claim through your travel insurance. I haven't been able to ascertain whether this is temporary and Bassaka Air will take to the skies again or if this is a permanent move.
Alternate Options For Flights From Siem Reap To Phnom Pehn
If the Bassaka Air grounding is permanent, travellers are going to need to find an alternative for their flight from Siem Reap to Phnom Penh. After a little research I've found the following options:-
Cambodian Angkor Air – We flew Cambodian Angkor Air between Ho Chi Minh City and Siem Reap so this is the only one of the bunch of alternatives that I can speak from personal experience on. The national carrier of Cambodia has been around since 2009 so a last-minute shut down like Bassaka experienced would be a rare event indeed. But then again that's what I though about Ansett Airlines (any one else old enough to remember them?). Cambodian Angkor Air's website is somewhat deceiving. When you search for flights from Siem Reap to Phnom Penh you get shown options for as little as a USD$1 but when you add taxes the true cost is closer to USD$45. Cambodian Angkor does have the most flights with 4 direct flights daily K67102 (06:35 – 07:20), K6108 (15:25 – 16:25), K6116 (19.30 – 20:20) and K6118 (21:40 – 22:30) all operated by an ATR72 similar to the one we flew on Airswift from Cebu to El Nido. Be aware that the overhead lockers on these small planes are tiny!
Lanmei Airlines – First impressions count and Lanmei Airlines website is super annoying. Every time you move to the next screen you need to complete a verification exercise and my anti-virus program kept popping up warning that the site wasn't secure. If you can get past that, Lanmei airlines have daily flights from Siem Reap to Phnom Penh on an A319 but they are at 7.40am in the morning. Lanmei's prices are competitive (around USD$30) and 25kgs of checked baggage is included. Their reviews on Trip Advisor are not stellar so proceed with caution.
Cambodia Airways – The new kid on the block, Cambodia Airways only began operation in July 2018. Cambodia Airways offer daily flights from Siem Reap to Phnom Penh however the schedule alternates between three different flights. KR802 (10:35 – 11:25), KR804 (18:15 – 19:05) and KR806 (23:15 – 00:00). Cambodia Airways are one of the cheapest options with flights starting at just USD$23 and 20kgs of luggage is included. I can't determine from their website which aircraft type operates the flights from Siem Reap to Phnom Penh (and vice versa), but a little Googling reveals their current fleet is 3 A319's so I can only assume it is one of those. I'll be watching these guys closely as they have plans to offer direct flights to Australia.
Cambodia Bayon Airlines – ***UPDATE APRIL 2019*** It appears that Cambodia Bayon Airlines are no longer operating. The website has closed and their Facebook page hasn't been updated since December 2018.
Sky Angkor Airlines – Sky Angkor Airlines operate 3 Siem Reap to Phnom Penh flights per week (Sunday, Tuesday and Friday) on A320's or A321's. Prices start at USD$35 which includes 20kgs of checked baggage. Flights from Siem Reap to Phnom Penh depart at 8.20am which is a little early for my liking.
JC International Airlines & Hanh Air– A Skyscanner search reveals flights for both JC International Airlines and Hanh Air. I had a quick squizz at their websites and they appear to be connected. You cannot book flights directly with them on their website so that's enough for me to give them a miss, but I'd be interested in your thoughts. If you have flown either let me know about your experience in the comments below.
About Bassaka Air
Bassaka Air is a Low Cost Carrier (LCC) operating in Cambodia originally known as PP Air. The rebrand occurred as a joint venture between NagaCorp and the Chinese Government. They only have two planes, both A320's, which were originally owned by Vietnam Airlines, and they only fly four routes; Siem Reap to Phnom Penh, Phnom Penh to Siem Reap, Phnom Penh to Macau and Macau to Phnom Penh. After the events of October 2018, the future of Bassaka Air is unclear and information online is currently very limited. I guess only time will tell.
Booking Our Bassaka Air Flight From Siem Reap To Phnom Pehn
Siem Reap and Phnom Pehn are the two most visited cities in Cambodia. The magnificent Angkor Wat brings visitors in droves to Siem Reap and the capital Phnom Penh allows easy access to many international destinations. Multiple flights a day operate between the two cities and until recently Bassaka Air was one of a handful of carriers flying this route. Cambodian Airlines seems to come and go quickly so I would not recommend booking to far in advance. Bassaka Air's website is still functional, but every search returns zero options. We paid USD$106 for two one way flights from Siem Reap to Phnom Penh. 20kgs of checked baggage was included, but we didn't need it as we used our High Sierra carry on backpacks exclusively for our trip to Cambodia. Given the current uncertainly, if they do resume operations I would be wary of booking too far in advance in case other unforeseen complications arise.
At Siem Reap Airport
Our hotel, the Park Hyatt Siem Reap arranged for a driver to take us the short 15 minute trip to Siem Reap airport. We were asked to meet him at 8.55am for a 10.55am flight. We thought it was a bit early given it was a domestic flight, but we accepted the advice of the locals. Siem Reap has two terminals; international (1) and domestic (2). Our Bassaka Air flight from Siem Reap to Phnom Penh departed from terminal 2. Check in was quite possibly the easiest I have ever experienced. There is no security to enter the terminal building which is unusual for Asia and so much more welcoming than our Skyjet flight in the Philippines. Once inside, the eight or so check in counters were all empty. We checked in with no waiting, but did need to show our passports even for a domestic flight. Bassaka Air offers a dedicated queue for business class passengers. We were assigned seats 12a and 12b. With boarding passes in hand, we made our way through the quickest x-ray ever. I kid you not, there was no one in front of us. Laptops out and liquids over 100ml needed to be ditched, but everything else could stay in our luggage. We were done with the whole process by 9.15am. We should have left later. A lot later. But I guess it's better to be safe than sorry. Our plane arrived at 10.00am. The waiting area is small in size and has restrooms, 2 souvenir shops, a smoking room and a cafe. The seating was more than enough to accommodate the few other passengers milling around. Later I found out there was a Plaza Premium Lounge in Siem Reap which would have been a lot nicer place to wait. Hindsight is a wonderful thing!
READ MORE ABOUT CAMBODIA:
Things To Do In Siem Reap (Coming Soon)

Labaab Khmer Restaurant (Coming Soon)

Phare The Cambodian Circus (Coming Soon)
Onboard 5B902: Flight From Siem Reap To Phnom Penh
Boarding was supposed to commence at 10.15am but it was 10.40am before our flight was called. It was a short walk from the terminal across the tarmac to our A320. I held out little hope that we would achieve wheels up by our scheduled departure of 10.55am. Bassaka Air didn't quite make it happen, but they weren't far off and we were in the air by 11.05am. The economy class cabin was configured in a single aisle 3×3 configuration save for the first two rows near the pointy end of the plane. Finding our seat was more challenging than needed because the seat numbers are next to the air vents and virtually hidden from view when walking down the aisle. Our flight was almost empty, so I though it odd to find someone seated next to us in 12C. Across the aisle seats 12DEF were also full. I understand the need for weight and balance, but this was just bizarre. In flight entertainment is lacking and consists only of a very thin inflight magazine in both Khmer and English. I read it cover to cover (well the English bits) in under 10 minutes. It was basically just a long-winded advertisement for Nagaworld in Phnom Penh. It really wasn't an issue given the 30 minute flight time. The plane was really showing its age. My tray table was scratched and temperamental and the seat in front fabric's was pulling away at the seams. All announcements are made in both Khmer and English. The flight itself was smooth and uneventful and they did provide a complimentary juice or water. There was no aerobridge on landing at Phnom Penh International Airport and all the passengers were shuffled into a waiting bus for the quick ride to the terminal. We sailed straight past baggage claim with our High Sierra rolling duffel carry on luggage and we were free and clear by 11.45am. I booked a driver through Klook for ease and we were on our way to our accommodation at Raffles Le Royal Phnom Penh quickly, but there are a number of other transport options in Phnom Penh for getting from the airport to the city.
The Final Word: Siem Reap To Phnom Penh Flights
Our Bassaka Air flight from Siem Reap to Phnom Penh was one of the quickest and easiest flights I have ever taken. If only every flight was like this. It's really disappointing to see that Bassaka Air seem to have ceased flying. I will be following this closely to see if they get back up in the air, but in the meantime check out my alternative solutions above for flights from Siem Reap to Phnom Penh
I hope you enjoyed my Bassaka Air Review. If you have any updates of the future of Bassaka Air, I would love to hear your thoughts in the comments below.
Until Next Time …

Pin "Bassaka Air Review: Flights To Siem Reap From Phnom Penh"

for later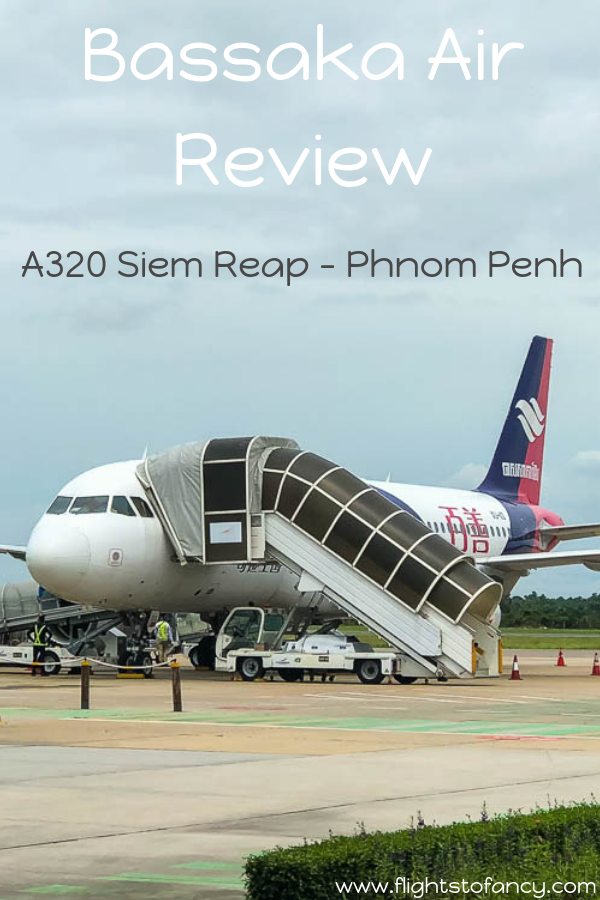 Disclosure Statement: This post is not sponsored. I paid for my flights on Bassaka Air in full. The information in this article is based on my own personal experiences and has not been influenced in any way by the brand(s) featured. This post may contain affiliate links which if clicked may earn me a small commission on purchases at no extra cost to you.