It's inevitable on any road trip that along the way you will end up in a small town lacking in familiar mega-brand hotels which makes choosing accommodation more tricky. On our recent New Zealand road trip we found ourselves in the delightful seaside town of Whitianga (pronounced Fit-ee-enga) on the Coromandel Peninsula in New Zealand's North Island. Whitianga accommodation choices are dominated by apartments and we looked for value and location when narrowing down the choices for our short stay. The Beachside Resort Whitianga delivered both and suited our requirements perfectly. Read on for all the details …
Beachside Resort Whitianga Overview
Beachside Resort Whitianga offers contemporary rooms and self catering apartments with wide appeal. Families, couples and groups are all equally well catered for in this small family run resort. We drove our Airport Rentals hire car 2 ½ hours from Auckland to arrive in Whitianga perfectly timed for the 2pm check in. We misread the sign out the front and found ourselves in the wrong reception as there is another resort in the rear. Oops! Apparently it happens all the time so we didn't feel too bad but don't make the same mistake, Beachside's reception is right at the front of the complex. The apartments are arranged over two storeys in a long row with outdoor off street parking close by. Beachside Resort Whitianga was not at capacity during our stay and there were only a handful of other guests in residence which was an unexpected bonus. There is no lift at Beachside so if stairs are an issue for you I would suggest requesting a ground floor room. Beachside Resort Whitianga occupies an enviable location only a short walk from Whitianga's main street and steps from one of New Zealand's best beaches. Rooms start at NZD$175 per night and you should book online direct with Beachside Resort for the very best rates.
Beachside Resort Whitianga Rooms
Beachside resort Whitianga offers 5 categories of rooms and we chose the Oceans apartment. We were allocated a room on the second story and because we had a very generous luggage allowance with our Emirates first class ticket we took full advantage and had two large suitcases to lug up the stairs. Lucky I brought the muscle with me (aka The Hubs). The combined living dining room was a nice size and there is a single bed tucked behind the lounge that was perfect for laying the largest of our suitcases flat for easy access. The Hubs wouldn't share the compact two seater lounge he made his own so I was relegated to the chair or the dining room which made seeing the TV screen challenging. There was no air conditioning or overhead fans in our unit but the mild spring temperatures meant we didn't miss it. If you visit in the height of summer you may need to drag out the free standing fan from the bedroom closet. Clearly beating the cold is more of a concern in Whitianga as a wall heater is supplied. Serviced apartments rarely come with daily servicing but Whitianga Beachside Resort is the exception and this was a very nice surprise.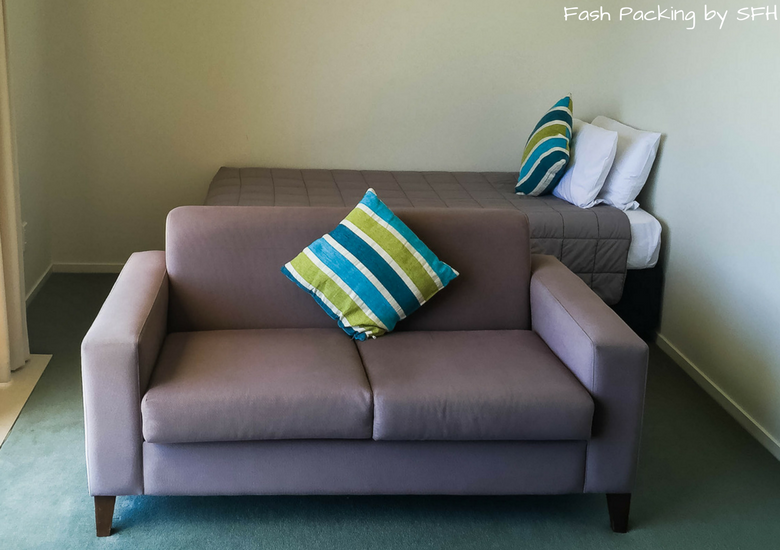 On entry a fully equipped galley kitchen awaits which offers everything you need to whip up a feast. While we chose to dine out, we certainly appreciated the generous sized fridge to keep the beer and wine icy. The compact bedroom houses a queen sized bed and is filled with light from a high-line window that still maintains your privacy. It's sparsely furnished and lacks a little soul but was immaculately clean. The bedding had clearly been freshly laundered and I love the feeling of sliding between crisp sheets after a hot shower and a long day. The bathroom is ensuite from the main and the door opens outwards into the bedroom which only just clears the bed but we quickly got used to this strange arrangement. The Hubs is very particular about showers and proclaimed this one 'awesome'. He enjoyed the great pressure while I appreciated the hand wand to keep my hair out of the water. Basic toiletries are provided if you choose not to bring your own. The toilet paper supplied was very thin and not to my liking but this is a very minor issue. Plenty of towels were supplied on the heated rack which would no doubt be delightful in winter. A narrow balcony runs the full length of the living area and is drenched with afternoon sun. We were lucky to enjoy ocean glimpses across the single row of buildings in front of Beachside Resort Whitianga and at night the sound of crashing waves makes the perfect partner to a chilled glass of NZ Sauv Blanc.
Beachside Resort Whitianga Facilities
The facilities at Beachside are clustered at the rear of the complex where you will find a heated pool (this is NZ after all!), a children's playground and a tennis court. Beach towels are readily available from reception and while we didn't swim in the pool they did come in handy for our afternoon at Cathedral Cove Kayak Tours. Free and efficient wi-fi is provided and was greatly appreciated by us both. There is even a boat washing area for those that need it!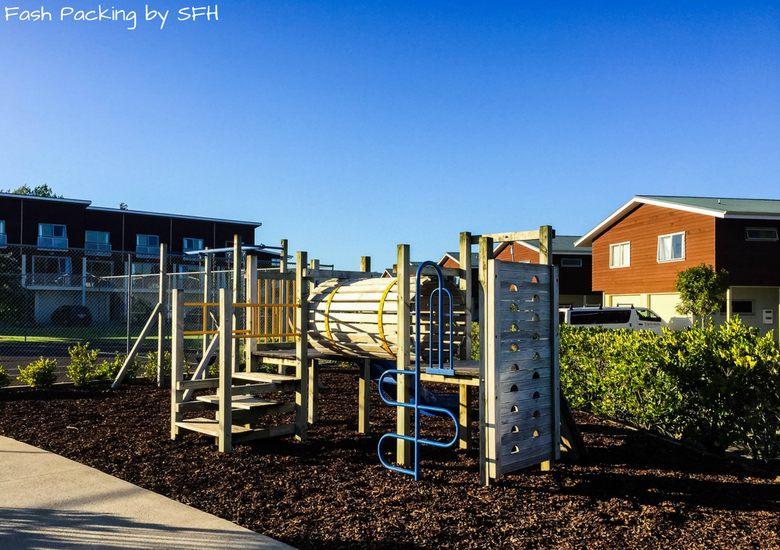 Nearby
Whitianga itself is a quaint little town with a sleepy feel but has everything you are likely to need. The beach is right across the road and a great place to while away an hour or two. Walk to Frankies pub and try the local brew which The Hubs rated and grab a casual lunch while you are there. There are sufficient restaurants within easy walking distance to ensure you can eat somewhere different every night of the week. We particularly enjoyed our Greek feast at Al Camino and you can't go wrong with the Tuesday night specials at No. 8. Take the car to Cathedral Cove Kayak Tours for a spectacular afternoon on the water, check out Hot Water Beach, or visit Purangi Estate and Mercury Bay wineries all of which are within a half hour drive. If you fancy exploring further afield, Hells Gate, Te Puia and Skyline Rotorua can all be reached in three hours as can Waitomo Caves. If you are visiting New Zealand for the first time make sure you check out my post on New Zealand essentials, which gives you all the information you need to know before you go and bargain hunters should read all my tips on scoring a bargain flight before booking anything.
Will you consider the Beachside Resort Whitianga when you are next in New Zealand? I would love to hear you thoughts in the comments below.

Disclaimer:  I received a discounted rate at the Beachside Resort Whitianga as part of this collaboration. As always, all opinions are my own.
Like it? Pin it!
Save
Save
Save
Save
Save
Save
Save
Save
Save
Save
Save
Save
Save