Hoi An is one of my favourite cities in Vietnam. I first visited in 2017 with The Hubs, I returned in 2019 with a group of ten other ladies and I am planning a third visit in 2021. One of my favourite things to do when I travel is enjoy the local cuisine. The best restaurants in Hoi An feature an amazing mix of local and international fare so choosing can be quite the dilemma. If you are planning a trip and are wondering where to eat in Hoi An you have come to the right place. This list of Hoi An restaurants is sure to provide plenty of food for thought …
Choosing The Best Restaurants In Hoi An
According to TripAdvisor there are 959 restaurants in Hoi An, so narrowing it down to a select few is no easy feat. The Hubs always says life is too short to eat a bad meal so I spent quite a bit of time researching the best restaurants in Hoi An before I landed in town. I came up with my top five, but I wanted to give you more choice so I engaged the help of a few of my fellow bloggers to round out this list. If you are staying in nearby Da Nang, its well worth making your way from Da Nang to Hanoi to enjoy a culinary feast. I'm sure you will find something to suit both your palette and your wallet. Enjoy!
#1 Mix Greek Grill
I love Greek food and it features frequently on these pages so it's no surprise that The Hubs and I sought out a Greek restaurant in Hoi An. They say location is everything and Mix Greek Grill is smack bang in the heart of ancient town. The menu at Mix is huge and all your Hellenic favourites are featured as well as quite a few lesser known dishes. My pick is the chicken souvlaki. Don't miss ordering a cocktail when you visit and be sure to book as it gets very busy.
Allison @ Flights to Fancy
#2 Sincerity Restaurant
The in house restaurant at the Sincerity Hotel where we stayed on our first trip to Hoi An is delightful. We flew into Danang with Vietjet and arrived too late to wander the streets aimlessly wondering where to eat in Hoi An so it made sense just to eat at the hotel. We were not expecting it to be great as many hotel restaurants lack character, but we were very pleasantly surprised. The Sincerity restaurant has it's own garden and many of the ingredients on your plate are grown mere metres away. The Hubs enjoyed his Pho just as much as I enjoyed my chicken stir fry. I recommended the Sincerity Restaurant to some friends who recently visited and they said it was one of the best meals they enjoyed in Vietnam.
Allison @ Flights to Fancy
#3 The Hoianian
I visited The Hoianian on my second trip to Hoi An with a group of 10 other ladies. Given our large group, I booked a few weeks ahead to secure a table. We took a cab from our hotel the TTC Premium, but given The Hoianian is in the pedestrian only zone of Hoi An's World Heritage listed Ancient Town we had to walk the last few metres. The atmosphere at The Hoianian is a just a little bit posh and the menu is quite diverse. Not long after we were seated we were treated to a complimentary bottle of Champagne and some petite starters. What a great first impression! The ladies in my group have diverse tastes and I saw steak, duck and seafood all hit the table. My Chicken Lime Leaf stir fry was perfectly proportioned, fresh and delicious.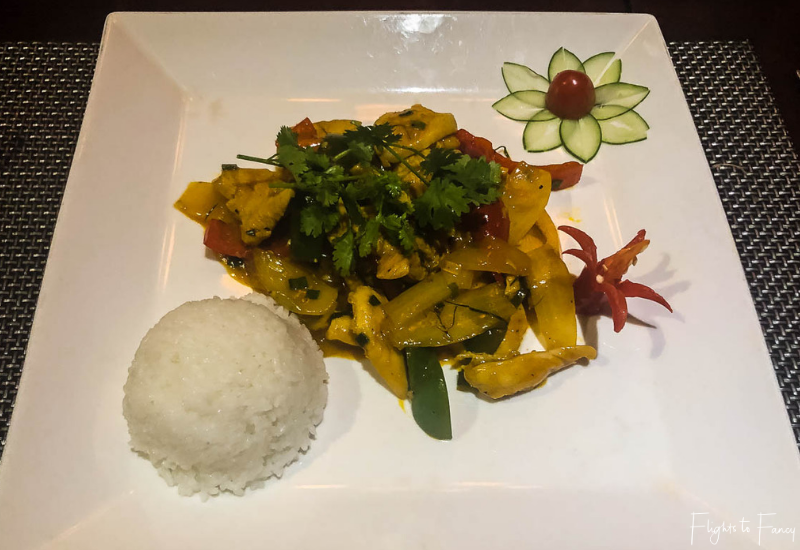 Allison @ Flights to Fancy
#4 Phi Banh Mi Hoi An
I love Phi Banh Mi so much I visited three times over my two trips to Hoi An. Banh Mi, a Vietnamese roll with a distinctly french influence, is the specialty of the house and you simply cannot visit Hoi An without partaking. The title of best Banh Mi in Hoi An is hotly contested and Phi Banh Mi tops many a list. The menu is tight with just 11 Banh Mi's to choose from, but there should be enough variety to please most. Everything on the menu is great value with a basic cheese Banh Mi starting at just VND15,000 (AUD90c). My go to is the Chicken and Cheese (VND30,000) which comes with cucumber, papaya, carrot and fresh herbs. All are served on a deliciously crunchy on the outside, soft on the inside baguette which is where the French influence comes in. The chicken and pork fillings at Phi Banh Mi are marinated for four hours to achieve the perfect depth of flavour and the handmade chili sauce takes two months to make. This attention to detail is what elevates this from a simple sandwich to something much more special. A local beer (VND15,000) makes the perfect partner. There are not many places in the world where you can enjoy an exquisite sandwich and a beer for under AUD$3, but at Phi Banh Mi you can. If you only eat once in Hoi An, make it at Phi Banh Mi!
Allison @ Flights to Fancy
#5 Morning Glory Restaurant Hoi An
My friend Robin and I decided to dine at Morning Glory on the recommendation of another friend of mine Roni The Travel Guru. Morning Glory is located near the river in Ancient Town and it's foot traffic only so we walked there after our fitting at nearby BeBe tailor. We were seated near the front overlooking the central kitchen and our drink orders were taken promptly while we perused the rest of the menu. We settled on a shared entree of sauteed pumpkin and we both ordered a variation of cinnamon beef. Don't be fooled by the menu online, the one you get to choose from when you dine in has much more to offer. Everything was delicious and we were only sorry we weren't able to sample more. Robin and I will be in Hoi An again with 14 other ladies in October 2021 and we certainly intend to make a return visit.
Allison @ Flights to Fancy
#6 Chez Cesar
If you love French food, a visit to Chez Cesar Restaurant in Hoi An is a must. Located near Hoi An's Cua Dai Beach, this cosy restaurant has a relaxed friendly atmosphere and vibrant decor. From the moment you enter you will be charmed by the cosy courtyard, colourful French movie posters and warm laid back bar. It's the perfect setting for a romantic dinner for two,  but it works just as well for a group of friends. We chose a starter of Raw Tuna a la Tahitian from the specials board which was a zesty tropical inspired dish. Sticking with the tropical theme, we tried a rum cocktail made from the local Sampan Rhum which was served in a fresh coconut and made us feel like we were lazing on a beach in Tahiti. For our main meals we chose from the menu. I tried Chez Cesar's signature dish, Duck Magret and my husband chose the Crispy Chicken with Semolina. Both dishes were beautifully presented and delicious. The Duck Magret was a delightful combination of tart apple and duck which worked well together. The dish was served with fresh asparagus, mushrooms and sautéed vegetables. We had a memorable night at Chez Cesar and I would recommend it to anyone wondering where to eat in Hoi An.
Rosalind @ Frequent Traveller

#7 Cay Me (Tamarind Tree)
After numerous trips to Hoi An, we have found that we actually prefer to stay in An Bang beach, just a 10-minute drive away from town. And while An Bang beach doesn't offer the same variety of dining options as Hoi An, we have found one restaurant that truly stands out – Cây Me which translates to "Tamarind Tree". At Tamarind Tree, you'll find amazing Vietnamese food, huge portions, and very affordable prices. We love the roasted pumpkin in a clay pot, green mango shrimp salad, and the fried pork wontons topped with red pepper and mango relish (a local specialty that's sometimes called "Hoi An pizza"). We also always find that locals are much friendlier in An Bang and the family that runs Tamarind Tree is no exception. If you're thirsty, you'll also find that Tamarind Tree offers delicious fruit shakes, cocktails, and often runs a 2-for-1 special on Vietnamese beers. Even if you're not staying in An Bang you'll almost certainly wind up taking a trip out there to relax at the beach and Tamarind Tree makes for a perfect dinner before heading back into town. Tamarind Tree is an open-air restaurant so watch out for mosquitos, but if you ask they'll happily provide you with some bug spray.
Nick @ Wandering Wheatleys

#8 Quan Banh Dap Huong
On the small island of Cam Nam, which lies across the bridge from the Central Market, sits a small group of restaurants in Hoi An specialising in local cuisine. I chose to eat at Quan Banh Dap Huong for no other reason than the view to the river seemed to be better than the other restaurants nearby. I chose the Banh Dap which is one of the most unique dished I sampled during my time eating throughout Vietnam. The name, Banh Dap, translates to "smashing rice paper" and the dish is simply layers of crispy paper upon a thin sheet of "doughy" noodle. The combination of crispy and chewy in each bite was amazing and the flavour quite moreish. Another very local dish was the Hen Tron, a spicy clam dish which features local clams from the Thu Bon River. To finish off your meal, try a bowl of Che Bap, which is a sweet, savoury and sticky corn dessert. The staff at Quan Banh Dap Huong were very friendly, the service was efficient, the dining room was large and the view of the river was worth the trek across the bridge alone. A meal at Quan Banh Dap Huong is sure to introduce you to a set of unique Hoi An dishes.
Markus @ The Roaming Fork

#9 White Rose
White rose dumplings are a must try street food in Hoi An and the best place to try them is at the White Rose Restaurant (located a 10 minute walk from the main tourist old town at 533 Hai Bà Trưng). This popular joint has only two dishes available on the menu – the white rose dumplings and crispy fried wontons, plus soft drinks, fruit drinks and beer. White Rose dumplings are made from translucent white dough which are filled with shrimp paste, then steamed, and served with crispy fried scallions along with a special fish dipping sauce. The dumpling looks like a white flower which is where the 'white rose' name originates from. The family that own the restaurant have been making dumplings for over 100 years and are the main supplier of white rose dumplings to other places in town. Occasionally you will see a large table at the rear of the restaurant with around 12 family members sat making the dumplings by hand – the recipe is a family secret!
Caroline @ CK Travels

#10 Mot
As you approach Mot Hoi An, you'll see the line long of people waiting for the oft-Instagrammed Mot Tea. Mot Tea is an herbal tea made by a traditional recipe served right out of the side window of the restaurant. It's quickly ladled over ice, served with a lotus flower and tastes every bit as good as it looks. Mot Restaurant Hoi An is tucked inside a colonial-style shop with low tables and paper lanterns, but it feels modern inside despite this. Mot Hoi An's hand-illustrated menus, walls hung with products made by local artisans and small, attractively-plated portions make it stand out from the competition. At Mot authentic Vietnamese food is served with a twist at very attractive street food prices. Even if you're resistant to places that feel too trendy (ME!) you'll likely find yourself coming back to Mot at least a few times during your trip to Hoi An.
Taylor @ Travel Outlandish

#11 Nha Hang Bao Phuong
A few days into our journey in Vietnam, we warmed to the food and culture. Although we had some decent culinary experiences in Danang and Ho Chi Minh City, we were still looking for some really delicious authentic Vietnamese food that would satisfy our taste buds. We finally found the kind of local food that we were searching for in Hoi An. Nha Hang Bao Phuong caught our eye during a midday stroll through the eastern most part of Quang Minh An. This local eatery with an unpretentious setting prides itself on some great Vietnamese cuisine. Our days in Hoi An were spent having breakfast, lunch and dinner at this small restaurant, feasting on absolutely delicious chicken rice, noodle soup and Vietnamese cold coffee. The food is not some of the best we had in Hoi An, but it was also one of the cheapest places we dined. The owner and his family are some of the most humble people you could ever hope to meet. Every day after lunch, they insisted on providing us with complimentary fresh fruits such as passionfruit, melon and banana. Nha Hang Bao Phuong is by far the best Hoi An restaurant we visited.
Tamshuk & Ruzin @ That Indian Couple
#12 Banh Mi Phuong
Few dishes in Vietnam are as iconic as the banh mi. For many travellers, this delicious sandwich becomes a staple and many take on the challenge of finding the best banh mi in the entire country. Banh Mi Phuong, in Hoi An's Ancient City, is certainly one of the best. For those who don't know, banh mi is the birth child of Vietnamese resourcefulness and French baking. The perfect banh mi will combine a crusty baguette, fresh vegetables, creamy pate, and succulent meat into one of the world's best (and most affordable) sandwiches. As great as this sounds, not all banh mi's are good and food hygiene can be questionable so remember to get your vaccinations for Vietnam to avoid anything particularly nasty. Banh Mi Phuong gained fame when Anthony Bourdain visited and claimed that Banh Mi Phuong has "the best banh mi in Vietnam". As a result Banh Mi Phuong now has queues stretching down the street, but the lines move fast as each sandwich takes just a few seconds to make. Once it's your time to order, consider the cream cheese banh mi. It sounds weird, but it is absolutely delectable and it's the only place we found one in Vietnam. Take the risk, it's worth it.
Deliah @ Our Travel Mix

The Final Word On Where To Eat In Hoi An
Whether you are looking for an amazing Banh Mi, a Greek feast, a traditional Vietnamese stir fry or a delicious Pho. I hope I have helped on your quest of deciding where to eat in Hoi An. If you do visit any of the Hoi An restaurants on my list I would love to hear your thoughts in the comments below.
Until Next Time …

Pin "Best Restaurants In Hoi An"

for later
Disclosure Statement: This review is not sponsored and I paid for my all my meals in full. The information in my contributions in this article are based on my own personal experiences and have not been influenced in any way by the brand(s) featured. The contributions included from other writers has been accepted in good faith that the information is accurate. This post may contain affiliate links which if clicked may earn me a small commission on purchases at no extra cost to you.