Looking for the best places to eat in Ubud? You are in the right place! Eating is truly one of life's greatest pleasures and for me, food and travel go hand in hand. I've been to Bali many times and it has changed dramatically since my first visit in 1988. Where once visitors steered clear of tasting the local delicacies for fear of the dreaded Bali belly, it's now an epicurean paradise. Foodies from around the globe flock to the Island of the Gods and one stop on every gourmet's list is Ubud. Before my last visit I spent an inordinate amount of my time researching where to eat in Ubud. Life is too short to waste time on a bad meal so I made it my mission to seek out the very best restaurants in Ubud. As you can imagine that's no easy feat, so I enlisted a little help from my fellow bloggers. We've done all the hard work for you and compiled an eclectic list 15 of the best Ubud restaurants. Can you guess which one is my favourite Ubud restaurant? Read on for all the details …
15 Of The Best Restaurants In Ubud
Ubud has gained popularity at the rate of knots in the last decade. When I first visited in 1988 it was a sleepy town with a village feel. 30 years later it is a hive of activity with a distinctly hippy vibe. People come for the yoga retreats, the monkey forest, the rice terraces, the art scene and of course the food. According to Trip Advisor there are 783 Ubud restaurants. 783! As you can imagine, this makes finding the best place to eat in Ubud a somewhat daunting task. I obviously didn't have time to test them all in my search for the best restaurants in Ubud, but with the help of my fellow bloggers I have compiled a list of 15 of the best Ubud restaurants. From hole in the wall warungs to first class fine dining, this list has it all.
#1 Nostimo Greek Grill – Ubud Restaurant
Nostimo Greek Grill is my favourite restaurant in Ubud. Well technically it is my favourite Seminyak restaurant as well because Nostimo has branches in both locations. I love Greek food and always seek it out on my travels so it's no accident that I found myself at Nostimo a few years ago. I have been back every visit since. It's just that good. All your favourite greek dishes are on the traditional menu, but my pick is the Soutzoukaki platter. These bites sized lamb kofte balls are melt in the mouth tender and are superb slathered in tzatziki and wrapped in the house made pita. If you are a fan of Hellenic cuisine, Nostimo is the place for you.
Allison @ Flights to Fancy
#2 Melting Wok Warung
With just eight tables, the Melting Wok Warung is one of the smallest restaurants in Ubud. Demand far out weighs supply and this gem on Jalan Gootama pulls in hungry crowds in droves. And once you've been it's easy to see why. Melting Wok Ubud features a tight menu of Indonesian favourites with a French influence. Once seated, helpful wait staff haul large chalk board menus to your table and walk you through the handful of dishes. I've visited Melting Wok Ubud three times and never deviate from my favourite coconut curry. What can I say, when you are on to a good thing, you stick to it! Each dish is customisable and you have a choice of protein (chicken, meat, tofu, tempeh or fish), accompaniment (rice or noodles) and heat level. Chicken, rice and medium is my go to order. The curry is a delight to the palette and the serving size is substantial, but leave a little on your plate to make room for dessert because this is where this micro eating house excels. No doubt influenced by the French owners, this Ubud restaurant serves up the most mind-blowing crepes I've ever eaten. And I've eaten a lot of crepes. In the name of research, I tried both the Crepe Coco and the Crepe Chocolate and while both are sublime, I think the coco just has the edge. The dining room is not the only thing that's tiny at Melting Wok, the prices are equally as minuscule with most dishes under IDR50,000 each. The Melting Wok Warung Ubud proves good things do come in small packages. Pro Tip: Book ahead or be prepared to wait at busy times.
Allison @ Flights to Fancy
#3 Fair Warung Bale
When considering where to eat in Ubud, few diners look beyond the menu, the price and the atmosphere. But what if I told you there was an Ubud Restaurant that not only feeds your hunger, but also feeds your soul? Interested? Then Fair Warung Bale is for you. Fair Warung Bale is run by the Fair Future Foundation and provides free medical care for two patients for every meal sold. In addition, the restaurant is staffed by disadvantaged youth who are given much needed training and skills. If you think you have to compromise on quality as a result of the noble cause, think again. I loved Fair Warung Bale so much on my first visit that on my most recent trip I hired a 17 seater bus from Bali Bus and packed it full of a bunch of friends for a day trip to Ubud. Fair Warung Bale was our designated lunch stop. The menu at Fair Warung Bale is huge and boats all your favourite Indonesian staples such as stir fries, Nasi Goreneg and Cap Cay. Western dishes are available for those who prefer. My pick was the chicken with orange, mint, cashew nuts and rice. Delish!
Allison @ Flights to Fancy
#4 Bali Bohemia
For something different, venture off the well-worn tourist path to the small village of Nyuh Kuning. Among a range of down-to-earth cafes and restaurants lies Bali Bohemia. Not quite hidden, but most definitely a gem. Bali Bohemia is a bar, restaurant and hotel supported by a vibrant community of artists which is positioned as a gathering place for free spirits, artists and musicians. It's identity is strong and authentic. It's a family friendly, like-minded community serving great food and featuring some of the best live music in Ubud from local and overseas artists. The food is inspired from around the world and middle-eastern cuisine dominates. It's a bit of an escape from the local fare, especially if you are in Bali for a long time. The small range of flavoursome tapas and platters are perfect for sharing and the potent frozen fruit cocktails go down easily on the warm humid evenings.
Warren @ Sling Adventures
#5 Rococo Warung
Rococo Warung has to be my favourite restaurant in Ubud. It's located in Ubud's main road, Jl. Raya Ubud, so it is very easy to find. Despite being on a busy road, Rococo Warung is a bit away from the hustle and bustle of the main junction. Even though it is popular, there is rarely a queue for a table. Rococo Warung serves a mixture of Indonesian and western dishes and my favourite dish was Nasi Campur, which I rate as the best I've had in Indonesia. Rococo Warung is quite small, but two large windows let in plenty of natural light. The two small tables on the raised terrace are perfect for people watching.
Teresa @ Brogan Abroad
#6 Indus Restaurant
On my visit to Bali, I only got to spend one afternoon in Ubud, but it was made memorable by my exceptional lunch at Indus. After a bumpy, noisy, congested ride up from Seminyak, it was quite a delight to walk into the open-air dining room at one the best restaurants in Ubud. Decorated nicely and offering comfortable seating including couches, the expansive view looks out over the jungle. The wife in the owner team is a talented chef and an expert on Balinese Cuisine. Together with her husband, they own several more restaurants and a guest house in town. For lunch, we were served some Asian-fusion dishes, including crispy appetizer chips and a delicious shrimp curry. It was an exceptional feast and one of the best meals I enjoyed in Bali. The owners sponsor an annual writers conference and also host the town's annual food festival.
Carole @ Travels With Carole
#7 Kubu
One of our favourite Ubud restaurants is Kubu at the Mandapa hotel. The restaurant faces the Ayung River with a view of the Ubud jungle. Not only is the food fantastic, but the setting is also unique. We dined in one of the bamboo huts known as Kubu which are used by farmers to stock their annual rice harvest. Kubu restaurant focuses on European-Mediterranean cuisine using Balinese ingredients. The restaurant is vegetarian-friendly and offers an entire meat-free à la carte menu and a vegetarian degustation. We opted for the 8-course gourmet degustation with the wine pairing and on our second visit we ordered from the à la carte menu. It was so good that we dined there twice! A few standout dishes include the foie gras parfait, ravioli and octopus. Kubu is a fine dining restaurant in Ubud which is a little pricier than other nearby restaurants, but it does get busy so book your table in advance.
Pamela @ Travel Like A Chieff
#8 Bali Buda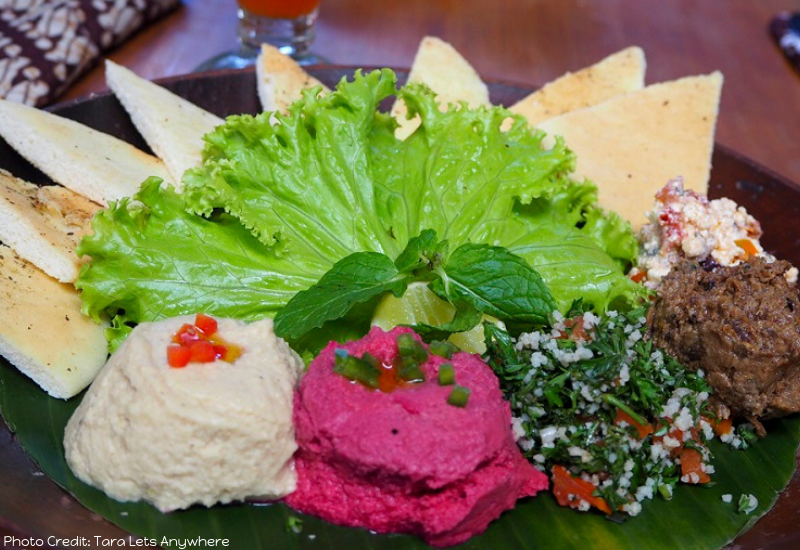 Bali Buda is underrated among Ubud Restaurants and serves some of the best food we tried in Bali. Bali Buda is located a just a few minutes walk from the Ubud centre and vegetarians and vegans are well catered for. They use fresh ingredients which are colorfully plated. We tried the Bali Buda Tacos (vegetarian with refried beans), Gourmet Burger which comes with a side of fries and salad, a Mediterranean Plate which includes homemade pita bread with various dips, Vegetarian Lasagna and for dessert a Blueberry Cheesecake and Carrot Cake. Very seldom do we eat in a restaurant where we like every order, but we're happy to say that Bali Buda made the cut! After a delicious meal, we recommend ordering a pot of their original Bali coffee. The prices at Bali Buda are very reasonable with mains averaging just IDR60,000 each.
Katherine @ Tara Lets Anywhere
#9 Hujan Locale
Visitors to Bali will be familiar with, and no doubt big fans of, the five restaurants owned and run by Will Meyrick. Sarong and Mamasan in Seminyak continue to be two of the best in Asia and Meyrick's Ubud restaurant Hujan Locale is quickly gaining a reputation as one of the best places to eat in Ubud. The food at Hujan Locale is equally as delicious as her Seminyak cousins and is used as a training school for some of the local young people. Set in the relatively quiet backstreet of Jalan Sri Wedari just off Ubud's main street, the two-story space occupies a former shop in front of a family temple compound. The vibe is cool and casual with a distinct colonial feel and a clear emphasis on produce from the restaurant's garden and farm. Hujan means rain, which is required for a prosperous harvest, and the servings are bountiful and well priced. Downstairs there is an open kitchen and an intimate bar with some very clever and charming bar tenders. I even tried the beetroot margarita! This really is a top-notch place to dine and for a such a reasonable price. Make sure you visit next time you are in Ubud.
Sandy @ Tray Tables Away
#10 Clear Cafe
Ubud was a highlight of my Bali backpacking trip and the main reason was the amazing cafés and restaurants in this small town. Ubud is paradise for every foodie and my favorite place was Clear Café which is located in the city centre. The design of Clear Café is very unique. The light-filled rooms are dotted with fish-filled ponds and the notes written with flowers on the stairs are a great touch. The menu at Clear Café is huge. No matter what you're looking for, you are sure to find it here. There's local Indonesian food, Western dishes, delicious smoothies and healthy salads. Vegetarian and vegans are spoiled for choice and they even have raw food section. While this restaurant in Ubud is rather big and crowded, it still doesn't feel busy. If you're in Ubud, make sure to enjoy a meal at Clear Cafe
Patrick @ German Backpacker
#11 Ibu Oka Warung
If you're non-vegetarian and love pork, then you have to try Bali's famous babi guling. Babi guling is spit roast pig cooked with garlic, galangal, turmeric, lemongrass, chilli and coconut milk. The pig is then roasted outdoors for several hours. One of the best places to have babi guling is Ibu Oka Warung. Ibu Oka Warung has three locations and I went to Ibu Oka 3 which is just five minutes' walk from Ubud Palace. I ordered the special dish and was served a generous amount of pork, blood sausage, shiny crispy skin and local vegetables cooked with turmeric and grated coconut. It was deliciously mouth-watering!
Kathleen @ Kat Pegi Mana: Where Is Kat Going?
#12 Warung Pandok Madu
Warung Pandok Madu is a hidden gem in Ubud. We found this quaint Ubud restaurant on our last day in Bali and wished we had come across it sooner! We loved the bold flavors of the food. The signature dish is the pork ribs, and it was one of the most delicious and tender pork ribs that we've tried. Sitting next to the grilling area certainly increased the anticipation! The menu has a wide array of choices including traditional Indonesian fare. You can't go wrong with the nasi goreng (fried rice), gurami bakar (grilled waterfish), or anything with tempeh. Craving Western food? This place has you covered with burgers, pizza, and pasta. Don't forget to complement the meal with fruit or vegan smoothies and healthy juices. Warung Pandok Madu is about 1.5km away from the Ubud Palace and in a residential area. You need to put Warung Pondok Madu at the very top of your where to eat in Ubud list.
Jackie & Justin @ Life Of Doing
#13 Cafe Wayan
When visiting Ubud a visit to Cafe Wayan is a must. Cafe Wayan has earned a reputation as one of the Best Ubud restaurants as a result of being featured in Eat Prey Love. Located on Monkey Forest Road, the café is well-known yet hidden away from the crowds. Once you walk past the cabinet with fresh pastries and cakes, the space opens to a lovely garden with a lotus pond and private tables at the rear. It's a spot full of atmosphere and a bit romantic, so do bring your partner. The menu at Cafe Wayan has a great variety of Balinese cuisine and the rich flavours are delightful. The friendly Balinese staff are the icing on the cake.
Carolin @ Breathing Travel
#14 Warung Gauri
Warung Gauri is a traditional Indonesian restaurant in Ubud. The restaurant is family run by the female owner with help from her mother and daughter. I've eaten at quite a few vegan restaurants in Bali, but this is by far the best traditional Indonesian warung I've found in Ubud. It's authentic, friendly and reasonably priced with generous portions. The Tempe served here is the best Tempe I've ever eaten, and it's just IDR15 000. The Tofu served at Warung Gauri is also a great choice. The mother and grandmother speak only a little English, but the menu is in English so it's easy to get by. If you can't bear to leave, Warung Gauri also offer an authentic homestay experience.
Alex @ Swedish Nomad
#15 Mudra
Mudra is like most of the best restaurants in Ubud, if you blink you'll miss it. Situated down one of the lesser trodden side roads and close enough to vegan-luxe, Taksu, Mudra is an unassuming delight tucked away behind hanging vines and under a thatched roof. While the exterior is jungle-chic, the interior is clean and bright with marble-sheen tabletops and wooden finishes. The ambience is quiet and only 15 people dine at a time. The concept of the cafe is wholesome, fresh vegetarian fare that is locally and ethically sourced. It's good to know that the money you spend at Mudra is supporting local farmers in the region. And the food? Hands down best dragon bowls and sashimi poke on the island and a fierce competitor for best coffee in Ubud. Easily on par with Seniman and Anomali up the road. The Awakened Coffee is micro-batch roasted and has no artificial flavoring. It's also served in my favorite mug ever! The cuisine at Mudra is hand crafted and Ayurvedic, so it's good for the tongue, the tummy and the heart. Book your next brunch at Mudra now.
Callan @ Singapore n Beyond
The Final Word: Best Places To Eat In Ubud
Ubud restaurants run the gamut from micro warungs to glitzy fine dining establishments and everything in between. Vegetarians and vegans are well catered for but meat eaters are certainly not forgotten. Try one of my three favourite restaurants in Ubud or one of the twelve others nominated by my fellow bloggers. Which one will you try?
Do you have a favourite restaurant in Ubud? I'd love to hear all about it in the comments below …
Until Next Time …

Pin "Where to Eat In Ubud: Best Ubud Restaurants"

for later
Disclosure Statement: This post is not sponsored. I paid for my meals at Melting Wok Warung, Fair Warung Bale and Nostimo Greek Grill in full (#'s 1 – 3). The information in relation to Melting Wok Warung, Fair Warung Bale and Nostimo Greek Grill is based on my own personal experiences and has not been influenced in any way by the brand(s) featured. The remaining reviews were completed by the authors credited and these have been published here in good faith. This post may contain affiliate links which if clicked may earn me a small commission on purchases at no extra cost to you.