My hubby has been a motorcycle enthusiast for many years. In fact, motorcycles are his first love and he was infatuated well before I came on the scene. You don't live with a biker (and I say biker not bikie!) for that long without having to throw your leg over his pride and joy every now and then. I guess that makes me a rather reluctant biker chick. Just about everywhere we go The Hubs will suggest taking his beloved BMW and I usually have a bunch of excuses that means we end up in the car instead. This weekend we popped down to Canberra for two nights and I was all out of excuses so a two wheeled road trip was on the agenda. Plus I really wanted to wear my new baby blue leather jacket and the hot weather meant this was the only way I could think of doing it without looking like a complete tosser. Just because you are sitting on the back of a bike for three hours, can no longer feel your backside and are splattered in dead bugs doesn't mean you can't add a little bit of style to what needs to be a very functional outfit. Read on for all the details …
I'm A Biker Chick
The reality is the outfit you choose for a bike trip needs to be functional. Coming off the back hurts even when you are wearing full safety gear but when you aren't it can be disastrous. You need to cover as much skin as possible in case you do end up on the bitumen. Trust me it is not kind to bare skin when you are skidding along it. Sturdy boots are a must and knee highs are even better to protect your inner calves from inadvertent contact with a hot exhaust. And of course every self respecting biker chick needs a leather jacket right? Mine is custom made and baby blue so I can be assured that no other pillion princesses out there are going to be sporting the same one. My grey true religion skinnies are the perfect tone to complement the jacket and a backpack is the most practical bag for a bike passenger. Keep those strap really tight so it doesn't move around too much at 120klms ph on the freeway. Finally studs are the only choice for earrings given you have to be able to get a helmet on and off without ripping an earlobe. I make it sound so glamorous don't I? Well maybe it's not so glamorous but it is a whole lot of fun. If you have never been a pillion you just have to try it! It's probably the safest thing you will ever have between your legs!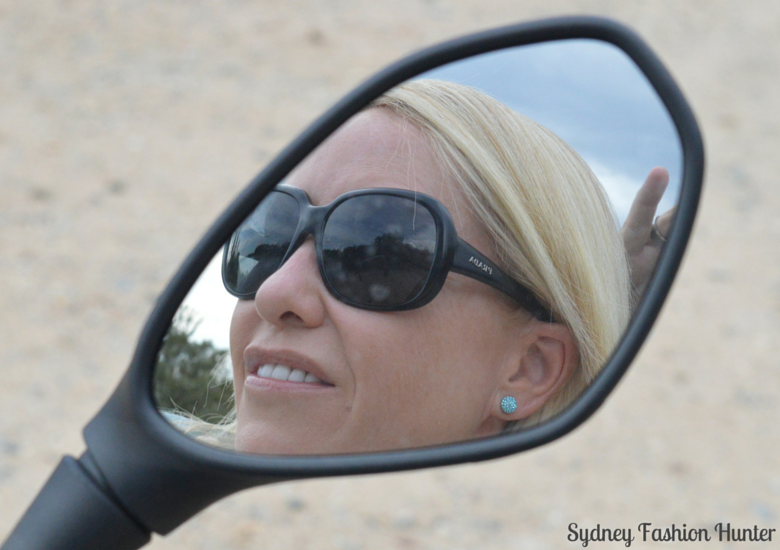 Jacket: Custom made by Joey 47 in Bali. Jeans: True Religion. Boots: Nine West. Also worn here. Backpack Forever New Abby. Also worn here. Earrings: Envy Bedazzle Studs. Rings: Kaput-Laut Link Ring. Envy Bedazzle Ring. Sunglasses: Prada.

Do you unleash your inner biker chick every now and then? How do you rock the style? I'd love to hear about it in the comments below.
Until Next Time …
Happy Hunting!
SFH
xoxoxo
Disclaimer: This post contains affiliate links for which a small commission may be paid.