The Daintree in Tropical North Queensland is one of Australia's most stunning natural wonders. The World Heritage listed Wet Tropics area contains some of the most pristine rainforest on the planet and there are various Daintree tours for visitors to experience the untouched beauty. But there is another attraction in these parts that draws visitors in droves; saltwater crocodiles. Salties, as they are colloquially known, are rather elusive creatures and the best way to see them in the wild without ending up as lunch is with Bruce Belcher's Daintree River Cruises. There are a number of cruises to choose from but Bruce Belcher's is the best Daintree crocodile cruise by far. Read on for all the details …
Bruce Belcher's Daintree River Cruises
Bruce Belcher's Daintree River Cruises is a family run business that has been operating Lower Daintree tours since 1987. They operate six cruises per day, seven days a week starting at 9.30am. They are easily accessible by car from Cairns, Mossmaan and The Daintree and we used the 'dead time' between checking out of Silky Oaks Lodge before we could check in at The Abbott Boutique Hotel for our perfectly timed one hour Daintree crocodile cruise. If you don't have your own car, check out Airport Rentals for the cheapest hire cars in town. Our 12.00pm cruise was just before low tide which is ideal for croc spotting. Mary-Lou checked us in and answered all our questions with a cheerful smile. We wandered around the delightfully colourful gift shop prior to our cruise and The Hubs couldn't resist buying one of their unique crocodile skin stubby holders. Faux of course! About 15 minutes prior to your allotted cruise time it's time to head down to Bruce's private jetty. The path down to the river's edge meanders through lush tropical gardens and I loved the colourful cabana.
The Best Daintree Crocodile Cruise
Ray was our captain and he kept up an entertaining banter throughout the cruise. We had one particularly inquisitive little boy on our cruise who fired all manner of questions at Ray which he answered with wit and aplomb, but I think even he was a little bit stumped when he was asked how crocodiles would deal with an asteroid. The atmosphere was very laid back and there was just enough commentary without being overbearing. Duke, the Belcher's family dog, decided to tag along on our cruise to the delight of passengers. He lapped up the attention from my fellow cruisers and he had no qualms about taking over their seat! We saw the man himself, Bruce Belcher, captaining another cruise as we sailed by. He doesn't look like he will be retiring any time soon.
The Stars Of The Show
Ray could spot a saltie for miles and well before any of his passengers did. One particular keen spotter at the front of the boat kept mistaking sticks for crocs and Ray gave him a bit of curry over that. Binoculars are supplied for all guests and they even had a special pair for the littlies. Ray knew all the crocs by name and was privy to all their favourite hang outs. I loved the personal stories he told about each of these distinctly individual creatures. Winter is the best time to see crocs as they need to come out of the cooler waters (22c – 24c) to sun themselves on the river banks to warm their core temperature for the cool night ahead. We saw four large crocodiles on our cruise and plenty of juveniles. Unfortunately according to Ray, many of these would not make it to adulthood. Bruce Belcher's Daintree River Cruises provided us with a privileged glimpse into the natural habitat of the crocodiles and the emphasis was always on not disturbing their natural habitat and routine.
But it's not all about the crocs … Crocodiles are spotted on 98% of Bruce's Daintree tours but even if you are in that unlucky 2% there is still plenty to see. Ray was able to point out lots of native birds and the scenery was breathtaking.
Not All Daintree Tours Are Created Equal
We were pleasantly surprised to find the 12.00pm cruise comes with a free lunch! How cool is that. Cruisers get to choose between a selection of pastries prior to boarding that are served piping hot when you disembark. The Hubs chose the giant sausage roll while I enjoyed the spinach and cheese. Add a couple of complimentary cokes and we were set! The dining area was very welcoming and the rugrats will enjoy eating in the quirky train themed dining area. If you prefer to cruise in the afternoon the 4.00pm cruise gets you a beer or wine on the house and all the other cruises come with complimentary tea and coffee. Bruce Belcher's Daintree River Cruises are exceptional value at $27 per adult. Kids under 4 travel free and family tickets are available.
The Final Word
Of all the things to do in Cairns and the surrounding areas you don't want to miss this Daintree tour. Getting to Cairns is easy as Jetstar often have bargain flights from most Australia cities and is an international hub. If you find yourself in beautiful Tropical North Queensland make sure you get in touch with Bruce Belcher to organise an unforgettable Daintree crocodile cruise. We had a great time sharing their unique part of the world with them and I'm sure you will too. Make sure you give Duke a pat from me while you are there 🙂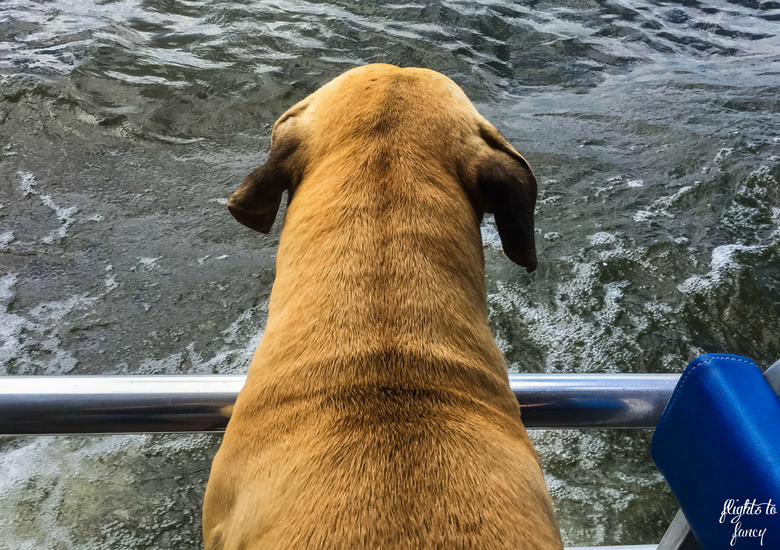 Have you ever seen a saltie in the wild? I would love to hear your thoughts on Bruce Belcher's Daintree River Cruises in the comments below.
Until Next Time …

Like it? Pin it!
Disclaimer: The Hubs and I travelled as guests of Bruce Belcher's Daintree River Cruises. As always, all opinions are my own. This post contains some affiliate links which will earn me a few cents to contribute to the running of this site if you make a qualifying purchase at no extra cost to you.
Save
Save