Everyone on the planet has tried Brazilian Churrasco by now right? If you haven't, you are seriously missing out. There is something very appealing about mouth-watering cuts of meat being grilled to perfection on a skewer which is hand sliced at your table. Bushfire Flame Grill Cairns has borrowed the Churrasco concept, added a distinctly Australian Style BBQ twist and firmly cemented themselves as one of the most popular restaurants in Cairns. Did I mention it is all you can eat? Read on for all the details …
Bushfire Flame Grill Cairns
Bushfire Flame Grill Cairns is an award-winning, Brazilian inspired, Australian style BBQ restaurant located in the lobby of the Pacific Hotel Cairns. Big eaters visiting Tropical North Queensland will rejoice in the all you can eat concept, which is unique among restaurants in Cairns. Huge metre long skewers of succulent Australian kangaroo, beef, pork and lamb are served rodizo style at your table by knife wielding waiters. Table settings at Bushfire come with two unique tools; the tongs enable diners to hold the meat as it is sliced and the coloured block that let's you signal your server that you want more food (green), are having a rest (yellow) or are done for the night (red). I love this concept as it means you get attention you need when you want it and are not disturbed when you don't. Genius! As well as the skewers, a number of other dishes are served directly to your table. If all you can eat Australian Style BBQ doesn't float your boat, you are sure to find something to entice on Bushfire's à la carte menu.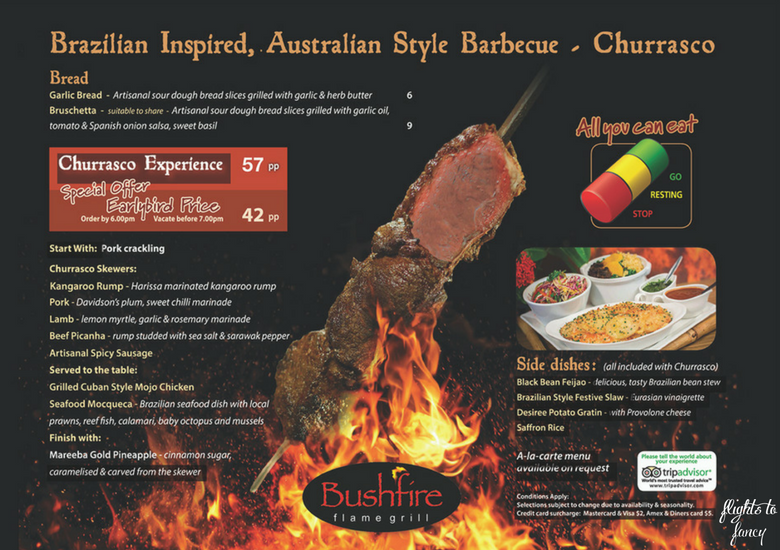 Our Australian Style BBQ Experience
Bushfire Flame Grill Cairns is mere steps away from The Abbott Boutique Hotel where we stayed during our 5 day Cairns road trip so we left our bargain hire car behind and walked the short distance. Given we didn't need to worry about the booze bus, we were free to indulge from Bushfire's well stocked bar. The Hubs couldn't resist the house brew while I stuck to my standard Sauv Blanc. I loved that you could see all the action in the kitchen from the large dining area.
Not long after we were seated at a window table, our server presented a delicious platter of sides that comes with every Brazilian inspired BBQ ordered. It took a lot of willpower to leave them alone until our first skewer arrived. Who am I kidding? We tucked into the warm bread straight away and the potato gratin was divine.
As quick as we could turn our block to green, a waiter arrived with a delicious looking skewer. Over the course of the evening we sampled them all. My favourite was the spicy sausages, while The Hubs preferred the perfectly cooked beef. If you have a preference for the way you like your meat cooked, just let your server know and they will slice from the section that suits your preference. Seafood lovers will delight in the mocqueca hot pot which features prawns, reef fish, calamari, octopus and mussels. Just when we thought we could eat no more, our server brought over a sampler calamari skewer. This is not currently on the menu and Bushfire are testing the recipe to make sure it is absolutely perfect. I loved it and hope to see it featured soon. The caramalised pineapple to finish with satisfy any sweet tooths out there.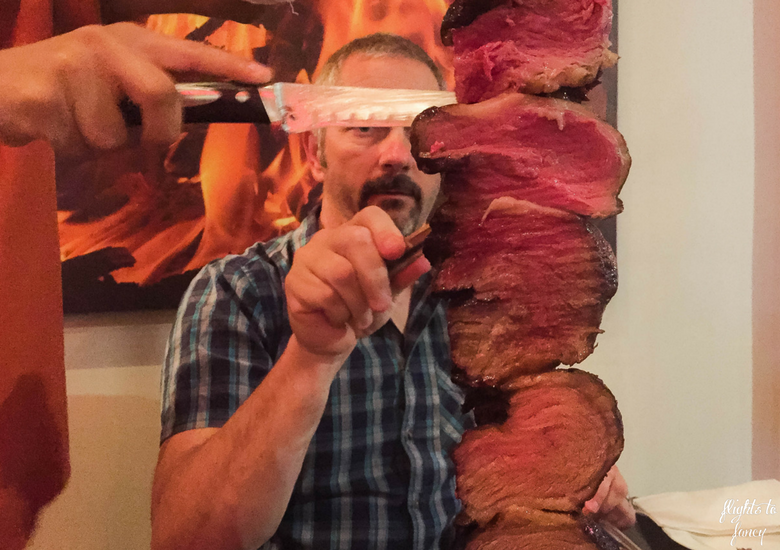 Getting to Cairns is easy from most Australian cities with Jetstar Domestic and there is a wide variety of things to do in Cairns for visitors from all walks of life. If you are on a budget check out all my tips for securing a bargain flight before you book. Bushfire Flame Grill is one of the most popular restaurants in Cairns so be sure to make a booking before you head to Tropical North Queensland. Will you choose the Brazilian inspired Australian style BBQ or one of the á la carte favourites? I'd love to hear your thoughts in the comments below.
Until Next Time …

Like it? Pin it!
Disclaimer: We dined as guests of Bushfire Flame Grill Cairns. As always, all opinions are my own. This post contains some affiliate links which will earn me a few cents to contribute to the running of this site if you make a qualifying purchase at no extra cost to you.