New Zealand is renowned for it's spectacular natural beauty. Often the South Island is considered the headline act but if you think the North has nothing to offer you have obviously never been to the Coromandel Peninsula. Cathedral Cove kayaking is a must-do in New Zealand. The Coromandel tempts visitors with mild temperatures, pure white sand beaches, impossibly clear aquamarine waves, craggy cliffs and dramatic rock formations. Mother Nature has a wicked sense of humour and makes her most special creations just inaccessible enough so only the truly dedicated get to enjoy their majesty. Getting from Whitianga to Cathedral Cove is a little tricky but kayaking Cathedral Cove is well worth the effort. Cathedral Cove can only be reached by foot or boat and the best way to get there is with Cathedral Cove Kayak Tours. The paddling is easy, the guides are knowledgeable and the scenery is breathtaking. What are you waiting for? Read on for all the details …
Getting From Whitianga to Cathedral Cove
Getting from Whitianga to Cathedral Cove means you will first need to get to Hahei where Cathedral Cove Kayak Tours depart. Hahei Beach which is about a 35 min run from where we stayed at The Beachside Resort Whitianga. We brought own GPS to use in the Hyundai i20 we hired through Airport Rentals on our road trip through the Coromandel Peninsula, but unfortunately it wouldn't find Hahei. After a few attempts we found it under Cooks Beach and were on our way. Parking at Hahei Beach is limited and crowded with campers so arrive a little early.
Kayaking Cathedral Cove
We selected the Cathedral Cove Classic Tour which is the specialty of the house. If you are visiting in December or January why not try a sunrise or sunset paddle for spectacular views. Cathedral Cove Kayak Tours recommend calling the day before to make sure the weather is suitable and your trip is going ahead. We were blessed with ideal conditions; the sea was as flat as a tack, the sun was blazing and there was not a cloud in the incredibly blue sky. We later learned it was the hottest November day on record for the North Island. Nice one! Word of warning: Use the toilets on Hahei beach before you start your tour as the only facilities at Cathedral Cove are long drop. We met our guide Brad at the water's edge and he had our group of eight suited up in our life jackets and rather fetching rubber skirts in no time. After a quick safety briefing and a demonstration on operating the kayak, Brad personally set up all the kayaks before we got underway. Each kayak was equipped with ample storage and wet bags were supplied to keep your valuables dry. While the skirt was not the most stylish garment I have ever worn, it is likely the most functional and certainly came in handy to keep the water out.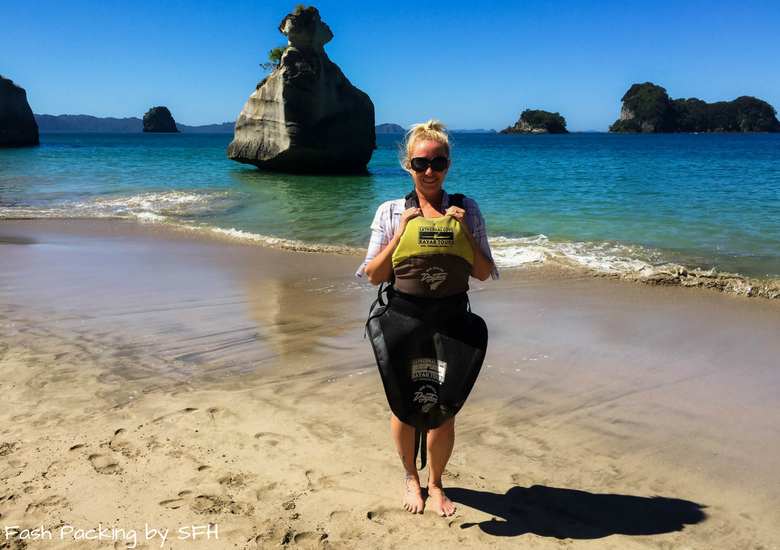 Cathedral Cove Kayaking
Once underway Brad set a leisurely pace which allowed us to enjoy the natural beauty surrounding us. As this is only my second time in a kayak I was a little worried I wouldn't be able to keep up but I needn't have. Brad made sure all the group stayed together and no one was left behind. Cathedral Cove Kayak Tours have a number of tours to choose from and there is something for everyone, even families. Our 2½ hour trip was not at all strenuous but I could certainly feel my arms the next day!
As we paddled, Brad stopped us every now and then to share stories of the area including the fascinating Māori history of The Coromandel. As we rounded a rocky outcrop the water changed from sapphire blue to emerald green and we found ourselves in the middle of Gemstone Bay (see what I did there? Sapphire … Emerald … Gemstone). Gemstone Bay is inside the conservation zone of Te Whanganui-A-Hei Marine Reserve and is one of NZ's best snorkeling sites with a ready made trail to guide you to the very best spots. The water was so clear we could see an abundance of fish by simply peering over the side of the kayak. While we didn't spot any, Brad mentioned there were Orcas nearby only two weeks before our visit.
If the conditions are right and you have a bit of a breeze you might be lucky (like we were) to experience a kayak sail. Brad gathered the group together and hoisted a tarp as a sail which the outsiders held while the guys in the middle were in charge of holding the group together. It worked a treat and we made good time while saving some tired arms.
At Cathedral Cove
As you glide your kayak onto the pristine white sand you cannot help but be awed by the simple untouched beauty of the location. We were lucky to have only a smattering of others to share the space with, but I am lead to believe it can become quite frantic in the height of the summer. The rock formations both in an out of the water remind me a little bit of our road trip around The Great Ocean Road in Australia.
The main attraction is the natural rock cave from which Cathedral Cove draws its name. Make sure you walk all the way through and view it from both sides to get that Insta worthy shot to make all your mates jealous. A few brave souls ventured into the freezing water (including The Hubs) but I wasn't venturing further than knee deep.
Cathedral Cove Kayak Tours Treats On The Beach
Cathedral Cove Kayak Tours takes care of coffee lovers with a caffeine injection in the most gorgeous of surrounds. And this is not instant either. Brad offered a choice of 8 coffees and hot chocolate that he expertly prepared on the beach. Cathedral Cove Kayak Tours operate year round and this would be just what the doctor ordered on a chilly winters day. Delish!
Lunch At Hahei Beach
Kayaking Cathedral Cove sure works up an appetite and Catherdral Cove Kayak Tours are timed perfectly to either finish just before lunch or start just after. Pickings in Hahei are slim and we had our heart set on lunch at The Pour House but it was closed on the day we visited. Plan B was the the Coastal Co-Op where we grabbed a 'Mr Fats Grunter' pizza. Those with a sweet tooth won't be able to resist one of the chocolate and sprinkled covered waffle cones. The chocolate milkshakes were pretty damn good as well.
Cathedral Cove Viewpoint
Just because you have been Cathedral Cove kayaking don't forgo the opportunity to see the arch from above for a different perspective. The car park is tiny and fills up quickly so you may have a bit of a walk but the views are definitely worth it. If you are heading to NZ for the first time my New Zealand essentials post is a must read and bargain hunters should check out my tips on scoring a cheap flight before booking anything!
Have I convinced you to put Cathedral Cove Kayak Tours on your 'to do' list when you are next in New Zealand? I would love to hear you thoughts in the comments below.

Pin "Cathedral Cove Kayak Tours"

for later!
Disclaimer: I was a guest of Cathedral Cove Kayak Tours during my visit to New Zealand. As always, all opinions are my own.
Save
Save
Save
Save
Save
Save
Save
Save
Save
Save