Auckland is New Zealand's most populous city. A young city by global standards, Auckland is like a teenager experiencing a growth spurt. The City of Sails is currently home to 1.4 million people but the population is expected to swell to 2 million by 2031 so significant changes are underway in preparation. City streets are being torn up to accommodate the city rail link and cranes dominate the horizon as a host of new towers take shape. Visitors to Auckland during this metamorphosis will appreciate a haven from which to escape the mayhem on the streets and CityLife Auckland offers exactly that. This completely refurbished all apartment hotel provides all the comforts of home with a raft of facilities that make it so much better. Read on for all the details …
CityLife Auckland Overview
We only had one day in Auckland and we chose to spend it at City Life Auckland. CityLife Auckland is one of 20 hotels across New Zealand in the Heritage Hotel group. The Heritage Experience (THE) aims to provide a refreshing contrast to everyday life by delivering timeless hospitality in today's modern world. HIE not only looks after their guests with tailored solutions but they are dedicated to assisting the communities in which they operate and supporting local producers. CityLife Auckland is a luxury 4½ star apartment hotel in the heart of Auckland's CBD about 30 minutes from Auckland International Airport. Make sure you read my tips on scoring a cheap flight before you book! With 157 rooms spread over 24 floors, Citylife Auckland is suitable for both business and leisure travellers and can also accommodate extended stays. On arrival, the auto doors part to reveal a bright, spacious foyer bursting with fresh flowers and heritage touches. Comfortable couches allow you to relax in style and subdued lighting adds to the ambiance. The reception is manned 24 hours a day and late night entry is secure to give you peace of mind.
CityLife Auckland Rooms
CityLife Auckland has 7 room types to cater to guests from all walks of life. You can tell a lot of thought has gone into the design of the rooms and thinking about how guests will use the space. On entering room 2109, our 1 bedroom executive suite, the first thing I noticed was the narrow table perfectly placed to unload full hands yet clearly carefully selected so as not to compromise the walkway. To the left is a generous and modern kitchen stocked with everything you need to whip up a feast. Every surface was meticulously clean which created a great first impression.
The generous combined living and dining room seats four comfortably and felt very spacious with just the two of us. The Hubs made good use of the cable TV while I indulged in some complimentary wi-fi. Large windows flooded the room with natural light and we threw the doors of the juliet balcony open in the morning to enjoy the breeze. If you look closely and on just the right angle you will notice glimpses of the water including the Auckland Harbour Bridge, which I think looks suspiciously like the one my home town.
The compact bathroom is a nod to the past with all the mod cons. The ultra deep tub which dominates the space is a little tricky to get in and out of so make sure you use the step and grab rail. If you have mobility issues I would suggest requesting a disability room. The shower over the tub was a bit under power but I was pleased to see a glass screen. I have a real phobia of shower curtains. Oh and did I mention the heated towel rails?  I seriously need to get one of these for home!
Does anyone else get just a little bit excited about checking out all the miniature lotions and potions in hotels? No … Hmmmmm maybe it's just me then. CityLife Auckland offers products from Manuka Spa which are proudly made in New Zealand. I was particularly impressed to see facial cleanser, make up remover, exfoliating body scrub and a bath infusion among the usual shampoo, conditioner and body lotion.
HIE takes the business of sleeping very seriously. In fact years of research has gone into studying the ideal sleeping environment to ensure guests sleep soundly. The king size Sleepyhead bed was exceptionally comfortable and the pillows agreed with my very fussy husband but if they are not to your liking order from the pillow menu. The lavender sounds intriguing! Block out curtains, double glazing and noise insulation mean that none of the sounds of the city below will disturb your slumber. And I will never say no to chocolates on my pillow 🙂
Exceptional Service
I simply cannot say enough about the service at CityLife Auckland. Every single staff member was a delight to deal with from the moment we arrived until well after check out. We used the valet parking service for our airport rentals hire car and drop off was as smooth as silk. Check in went off without a hitch and our server provided the low down on all the essentials. Our porter was ready and waiting with our bags to escort us to our room with a smile. Almost immediately on entering panic struck when I couldn't find my mobile phone in my bag. I headed back downstairs to check the car. Not only did the porter accompany me to the underground car park, he even helped me search. Still no luck. I enquired with the front desk thinking I might have left it on the counter as I checked in but that also came up empty. By the time I returned to our room The Hubs had received a phone call from our exceptional porter offering to check the CCTV footage to see if they could pinpoint where it might be. That's what I call going above and beyond! I'm a bit embarrassed to say that after all that drama I caused it was in The Hubs' backpack all along. I have no clue how it ended up there but I'm very grateful for the support offered by the staff during my dilemma.
I mentioned earlier that CityLife Auckland locks the doors at night for security purposes and you need to use your room key to enter but we never had to do that. The staff at the front desk are so on the ball, they remembered us as we exited and released the doors each time we approached with a wave of acknowledgement. The next morning we were greeted at breakfast as our room number was checked off and cheerfully escorted into the dining area. When it was time to check out we left it to the last possible minute and expected bedlam at the front desk thinking everyone would do the same but it was remarkably serene. Our server was more than happy to store our bags while we explored the Viaduct area before hitting the road. When I asked if it would be OK to leave our car in the car park for a little longer not only was that request handled with ease but our server arranged to have all our bags loaded as well! Nothing was ever too much trouble for the intuitive staff and we felt like very special guests.
Facilities
One of the great things about staying in a hotel is that you can enjoy a host of facilities you simply don't have access to at home and CityLife Auckland has a long list to delight even the most jaded of travellers. Firstly, and most importantly, wi-fi is free and efficient. If you have read any of my previous hotel reviews, you will know that paying for wi-fi or having an unreliable connection is one of my biggest gripes. Guests visiting for work will appreciate the business centre and the dry cleaning will have you looking your best.  A dedicated Concierge is on hand to assist guests with their every request, currency exchange is available and babysitting can be organised. Free newspapers are delivered to your room on request during the week and are available at reception on the weekend. As you would expect from a hotel of this calibre, room service is available 24 hours a day. For those wanting to swim laps, the generous indoor heated pool means you can indulge even in the depths of winter.
If the weather is dreary (it is Auckland after all!) the fully equipped gym means you can still get your run in so there are no excuses!
For the not so active types (me!) why not stop by Zest Bar for a nightcap before you slip under the covers. The bar is well stocked, the seating is comfy and it's open from 10am until 11pm daily.
Breakfast @ CityLife Auckland
I am not a morning person. It takes me a while to start firing on all cylinders and I often skip breakfast which probably doesn't help my cause. They say breakfast is the most important meal of the day and I was determined to start my first day in Auckland on the right foot with a fabulous breakfast from Zest Restaurant. We chose a table near the window with a view of bustling Queen St. Once settled, I did a complete lap of the extensive buffet so I could plan my epic breakfast. I loaded my first plate with bacon, sausage and a hash brown from the hot buffet plus some ciabatta toast and a feta and spinach muffin from the bakery. Initially I was disappointed not to find beef sausages but the chicken was a surprisingly nice change. The muffin was divine and I had to stop myself grabbing another so that I could save room for what was to come. I love gourmet bread and my lightly toasted ciabatta really satisfied but The Hubs would have preferred some plain white sliced to load his moist, fluffy scrambled eggs on. What can I say, he is a man of simple tastes 🙂 Of course if scrambled is not your style, you can have your eggs cooked to order any way you like.
For my next plate I decided to hit the cereal bar. While most of your favourites are on offer I couldn't go past the 'make your own muesli' buffet. I added banana chips, raisins, almonds, apricots, sunflower seeds, and lashings of toasted coconut. I eased my guilt by selecting low-fat milk. Every little bit counts right? I wish I had a cereal station like this at home! If you don't have the patience to do it yourself just grab one of those cute little shots (with an injectable!) where the hard work has been done for you.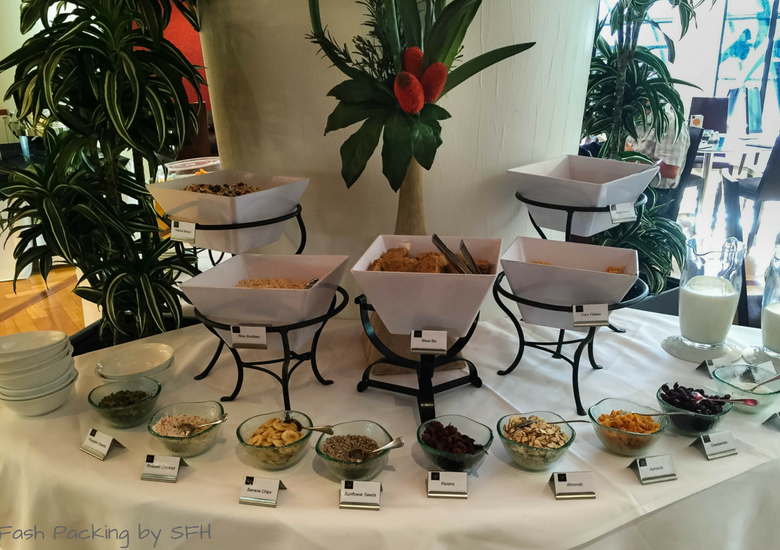 I was definitely hitting my limit by this stage but I couldn't resist one last plate and the perfect way to finish was with some healthy fresh fruit. While the selection was not extensive, the chef must have been on my wavelength because all my favourites were there. Add yoghurt from the chilled bar (above) to make it just a little bit fancy 🙂
Don't forget to stop by the juice bar to sort out your thirst and coffee lovers have a dedicated station to get their fix. Breakfast is served from 6.30am – 10am during the week and an hour longer on weekends and public holidays so you can enjoy a sleep in. Why not have a late breakfast, skip lunch and come back for Zest's early bird dinner special between 5pm – 7pm daily where you can enjoy two courses for only $35. Make mine the beef fillet with bearnaise sauce thanks!
Nearby
Location is everything and CityLife Auckland commands a prime position in the heart of the CBD. Step onto Queen St and you'll find yourself in the centre of the shopping district. Aussie's will immediately be hit with names they know and love such as Portmans, Supre, Typo, Cotton On Body, Jeans West, Cue, Quicksilver and Country Road. International brands such as Sunglass Hut, Lush (why not pick up a bomb to use in the fabulous tub), Foot Locker and Kathmandu are also close by. Grab a tourist SIM from nearby Vodafone, it's the best $25 you will spent in NZ. If your tastes are a little more high-end, head towards the harbour and you will find Prada, Coach, Gucci and Dior all clustered together. Exit on Durham St West for the Midtown Mini Supermarket which is perfect for last minute items. If you want to fully stock your fabulous kitchen, Countdown supermarket on Victoria Street is a better option and only a few minutes walk. Continue up Victoria St and you can't miss the Auckland Skytower which also looks suspiciously similar to the one at home. If you are so inclined the casino is directly behind it. While you are there fill up on authentic Turkish food from Cafe Midnight Express. We loved the kofte!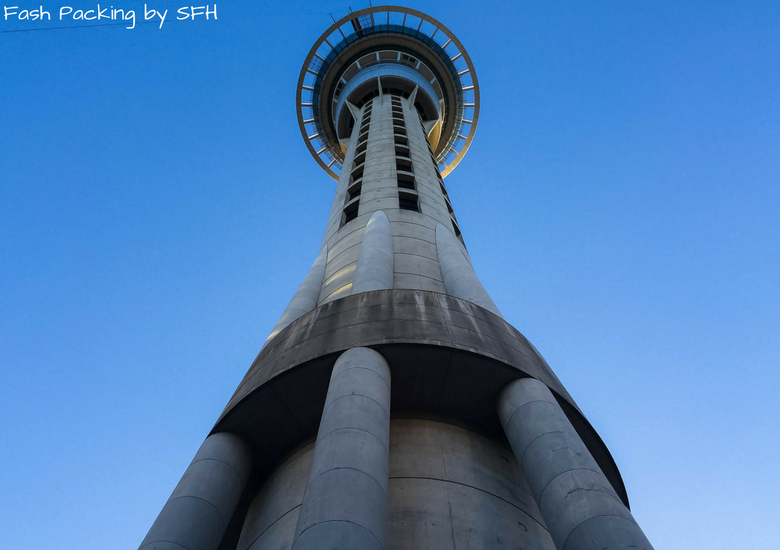 Venture left a few short blocks and you will hit the water. The Viaduct is a fabulous place to wander aimlessly and the countless eateries will appeal to all palettes. The area is carefully planned and the kids will love the parks and paddling pool. Walk right down to the end for views of the bridge and take a love lock to attach to the wall.
The Final Word
CityLife Auckland delighted us at every opportunity. The apartments were spacious, comfortable and spotlessly clean and the facilities exceptional, particularly breakfast at Zest. Despite how much I travel I often struggle to sleep well away from my own bed but I slept like a baby at CityLife.  I've stayed in lots of hotels in my time and it's been a long time since I have been so impressed with the service. CityLife seem to have thought of absolutely everything to make sure their guests have a memorable stay and I would not hesitate to return. With all the comforts of home but so much more, CityLife Auckland should be at the very top of your list when considering you accommodation options in Auckland. Rooms currently start at $219 a night. If you are heading to NZ for the first time make sure you check out my New Zealand Essentials post for everything you need to know before you go.
Would you consider staying at CityLife Auckland when you are next in the City Of Sails? Let me know your thoughts in the comments below.

Disclaimer: We stayed at CityLife Auckland as guests during our trip to New Zealand. As always, all opinions are my own.
 Like it? Pin it!
Save
Save
Save
Save
Save
Save
Save
Save
Save
Save
Save
Save
Save
Save
Save
Save