Have you heard of Nusa Lembongan? This tiny Indonesian island is about 30 minutes away from Bali but it feels like a whole world away. Life is simpler here and its easy to shake off the shackles of hectic city life. We recently spent three days on this idyllic island and chose Scoot Fast Cruises to get us there. The first thing to consider when planning a trip to Lembongan is where to stay and there is a multitude of choice from budget digs to luxury resorts. Lembongan, like most of Indonesia, offers superb value. You could chose to spend $20 a night on a budget bed but if you spend just a little extra you can get so much more. When choosing a Lembongan island resort you simply cannot go past d'Nusa Beach Club & Resort. d'Nusa Lembongan offers a prime beachfront location and has some of the most spacious rooms on the island. Read on for more details on the spectacular d'Nusa Resort  …
d'Nusa Beach Club & Resort Overview
There many fabulous places in Indonesia other than Bali and Nusa Lembongan is all sorts of fabulous. d'Nusa Beach Club & Resort is one of the most luxurious resorts on this tiny island. d'Nusa Lembongan occupies a prime position right on the beach and is in easy reach of everything that matters. The beach is quite tidal and low tide is a great time to play in the shallows. On a clear day, Bali's Mt Agung can be seen in the distance and sunsets are fabulous! We were told that this Lembongan Island resort is used as a base for day trippers from Bali between 10am and 4pm. I can see why this might annoy some guests, but I didn't see a single day tripper as we were always either out or enjoying the tranquility of our fabulous lagoon suite room during that time.
The reception area at d'Nusa Lembongan is light, bright, welcoming and the smiling faces behind the desk are a treat. There was a rather annoying soundtrack to our stay. It sounded a bit like a wooden xylophone and it played on loop in the lobby from early morning until late at night. Unfortunately our room backed onto the lobby so we could hear it every time we stepped outside and when the ambient noise in our room dropped below a dull roar. Ask for a room a little further away so you don't suffer the same fate. The grounds of d'Nusa Resort are lush with greenery and a pleasure to walk through. d'Nusa is currently expanding and the resort is set to be even more fabulous in the near future.
d'Nusa Resort Lagoon Pool Room
Guests are spoiled for choice between the five room types d'Nusa Beach Club & Resort offers. The superior rooms start at just IDR1.4m per night and those looking for the ultimate in luxury can choose a private pool villa. Our lagoon suite room was absolutely perfect and one of the most spacious hotel rooms I have ever had the pleasure of staying in. The inviting king bed dominated the space and the muted neutrals created a feeling of tranquility. The Hubs took his pick from the four pillows as usual while I got what was left. We like to sleep in and the blinds completely blocked out those pesky early morning rays so we could linger a little longer in the huge bed. The comfortable lounge chairs are positioned for optimum TV viewing and a feature so often lacking in hotel rooms. The included cable TV kept us amused before bedtime. The natural floor mat was a little hard on bare feet but that was fixed by simply giving it a wide berth.
The luxury bathroom was incredible and the focal point was an egg-shaped tub big enough for two. Of course a wonderful selection of toiletries were provided and The Hubs is always just a little bit thrilled when he gets a toothbrush thrown in. I truly believe little things make a big impact. The auto air fresher d'Nusa Lembongan provided kept our room smelling fresh all day long, drinking water was replenished daily, the complimentary welcome fruit platter was delicious and the fresh orchids were a lovely touch. As expected there is a slight mark up on the mini bar with the cokes costing IDR16,000, but the Bitangs were an absolute bargain (for Lembongan) at just IDR25,000.
One of my favourite features of our lagoon suite was the sunny yellow day bed on the spacious deck. I spent many an hour just relaxing in the warmth with a chilled glass of Cloudy Bay from my duty-free allowance. Bliss! The jewel in the crown was the incredibly blue semi private pool directly off our deck. There is something very decadent about measuring the distance from your bed to the water's edge in steps not metres. I was originally disappointed as the pool felt chilly, but after taking the plunge it was lovely in. The exclusive pool can only be accessed by 14 rooms and we only saw one other guest take a dip so we had it virtually all to ourselves. The housekeeping at d'Nusa Beach Club & Resort was exceptionally efficient. We switched on the 'please make up my room' sign before we went to breakfast and despite being gone for less than an hour our room was pristine when we returned. The only disappointment was that they didn't replace the glasses once during our three day stay.
d'Nusa Lembongan Breakfast
Breakfast at d'Nusa Lembongan runs from 6am – 10am. The buffet consists of standard fare with a mix of western and Asian dishes. We dined at 9am on the first morning and everything was just a bit cold. The vegetable nuggets were the hit of my morning and I am not ashamed to admit I went back for a second taste of these delicious little morsels. The Hubs loved his cooked-to-order, piping-hot scrambled eggs from the egg station after he added mushrooms, capsicum, onions and ham. Why oh why have I developed an intolerance to eggs????? Health conscious individuals are well catered for with a selection of cereals, salads and fresh fruit. Diners have a choice of being seated inside or out and the ocean views from the floor to ceiling windows are hard to beat.
Dinner At d'Nusa's Lembongan Island Resort
Sometimes you just can't be bothered to venture too far for sustenance and on our last night we decided to dine in-house. The room service menu is compact and very reasonably priced which is unusual for high-end hotels. The onsite restaurant menu is slightly cheaper and offers far greater variety. We left our run pretty late and it was after 9pm when we arrived at the almost empty dining room but the lovely staff accommodated us anyway. There are three seating areas and we chose to dine alfresco on the upper deck. We placed our order promptly and waited not so patiently for our drinks, garlic bread and burgers to arrive. Strangely they had run out of Coke but that's fine, I didn't really need the sugar anyway. The sound of waves pounding the shore made the perfect soundtrack on the balmy evening. The garlic bread arrived in record time and had a nice garlic hit but because the slices were quite small, the bread was too crunchy. A little extra butter would have really improved the dish. Our beef burgers (IDR73k) were perfectly cooked, laden with fresh salad and the bacon was a great addition. The serve of accompanying fries was small but sufficient. Sometimes simple food cooked well is exactly what you need and d'Nusa Lembongan delivered.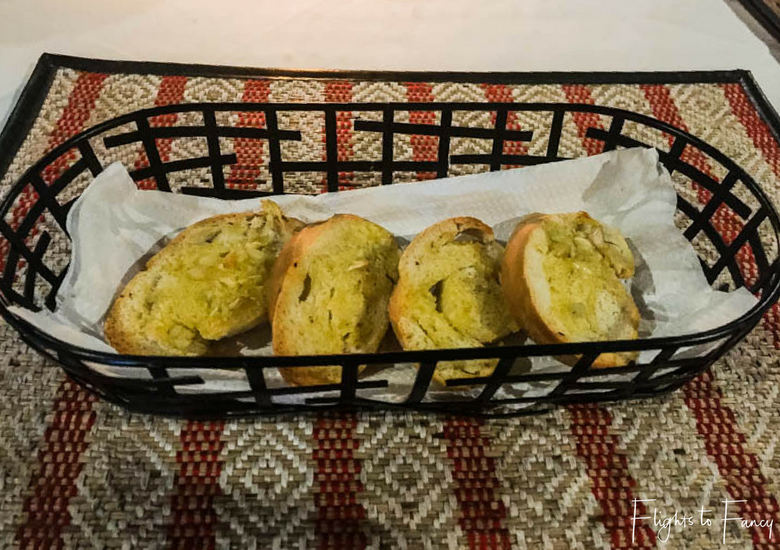 d'Nusa Beach Club & Resort Facilities
d'Nusa resort offers a range of facilities. We hired a scooter at a cost of IDR10k per day including fuel. I have no doubt we could have haggled one of the multitude of roadside touts down to half the price but it would not have included petrol and the prospect of saving $5 a day didn't compare to the convenience. We used almost a full tank exploring Lembongan and Ceningan so we definitely got our money's worth! The bikes cannot be room charged so have your cash ready. The resort spa was not in operation when we visited, but Kemilau Spa is just up the road and looked amazing. The poolside bar serves all your favourites so grab a lounge chair on the sand and take advantage of happy hour 2 4 1 cocktails for sunset drinks. The beach swings are very popular with guests trying to snap that perfect insta worthy pic to make the folks at home jealous.
Nearby d'Nusa Lembongan Resort
Nusa Lembongan is tiny, but it is still not practical to walk everywhere. Luckily there are a number of Nusa Lembongan Restaurants number of restaurants that you can reach on foot. Try The Sampan directly across the road for convenience, Lemongrass for upmarket fare or Nyoman's Warung for cheap eats right on the sand. A little further afield Warung Putu serves up traditional Indonesian cuisine at rock bottom prices, the Sandy Bay Beach Club offers a relaxed environment and The Deck serves up amazing cocktails. It would be almost a crime not to try your hand at snorkelling in Nusa Lembongan, cruising the mangroves and visiting the pristine beaches and snorkelling . Zip over the yellow bridge to Nusa Ceningan for a change of pace and don't miss the views of the Blue Lagoon while you are there.
We thoroughly enjoyed our stay at d'Nusa Beach Club & Resort. The room was brilliant, the pool divine, the location sensational, the staff ever smiling and the sunsets were breathtaking. If you are looking for a luxury Lembongan Island resort that won't break the bank you should absolutely check out d'Nusa. What's your favourite thing about staying in a luxury resort? I would love to hear your thoughts in the comments below.
Until Next Time …

Like it? Pin it!
Disclaimer: We stayed at d'Nusa Beach Club & Resort as guests. As always, all opinions are my own. This post contains some affiliate links which will earn me a few cents to contribute to the running of this site if you make a qualifying purchase at no extra cost to you.