As this post goes live, I'll be in Surfers Paradise on the sunny Queensland Gold Coast. I promise there will be more about that on the blog later, but today I want to tell you about my recent girls weekend in Melbourne. I travel to Melbourne regularly for work. In fact, I'm down there so often it's like my second home. The thing with work trips though, is that they tend to be super hectic and you don't get a lot of time to see much except the office and the hotel. Given I was down last week on a Thursday and Friday, The Enabler flew in so we could make a weekend of it. And boy did we make every single one of those 48 hours count! Read on for all the details …
Girls Weekend In Melbourne
A girls weekend in Melbourne is almost like a right of passage for Aussies far and wide. Leaving the kids behind is a luxury some can't manage so if you have to bring them along check out this handy guide on doing Melbourne with kids. Getting the most out of your time on the ground for short breaks involves a little pre-work before you go. When you have weeks on end in a destination, it is perfectly acceptable (although I still wouldn't advise it) to land without a clue and figure it out when you get there. That won't work when you only have two days in town, so here are the three things you absolutely have to do to ensure the ultimate girls weekend in Melbourne:-
Research – Can take many forms; reading travel blogs, asking a local, googling aimlessly etc. Determine your 'must do' activities and also choose a list of 'nice to do' activities. Our 'must do's' included a facial and massage, a fabulous meal somewhere special, some shopping and dancing the night away.
Compare – If you are like me, you love a bargain and there is nothing more frustrating than not getting the best deal. I find Agoda often has the lowest prices and I get Agoda cash and Velocity Points with most bookings.  Awesome right?
Plan – Those that know me well, know that I love a run sheet. There are so many options for your girls weekend in Melbourne that a run sheet is practically mandatory. I use Excel but paper and pen will work just fine. Use a separate sheet for each day and plot the times down the left hand side in hourly blocks. Pencil in all your 'must do's' and then slot your 'nice to do's' around them. Make sure you factor in travel time and how you are going to get from one activity to the other. City traffic can be brutal and easily scupper your best made plans.
So what did my ultimate girls weekend in Melbourne look like? Here is the edited version of our run sheet below …
Friday 4.30pm – Blow Dry @ Sapphire Essence
The plan was originally to hit the ground running (i.e. to the bar for wine!) as soon as The Enabler touched down. Mother nature had other ideas by smashing Sydney with a storm that took out The Enabler's power and therefore hot water, so a blow dry before hitting the town was in order. I had to amend the run sheet, but hey, I'm nothing if not flexible. A colleague recommended Sapphire Essence, a little gem of a place just across the road from where I work and we were thrilled when they could fit us in at late notice. At $50 a pop it is more than what I pay at home but we couldn't afford to be too picky! Job done!
Friday 6.00pm – Check In @ Novotel On Collins
We paid just under $200 a night at the Novotel. I chose Novotel for two main reasons; it offered two double beds instead of singles and it is right smack bang in the heart of everything. The biggest negative is the current construction surrounding the hotel, which is probably why we got such a great price. The rooms were perfectly acceptable, however the plug on one of the lamps was bent rendering it useless, which was not ideal in a room already lacking in adequate lighting. For some reason, housekeeping decided to only make The Enablers bed on Saturday morning and leave mine as is. Hey Ho … strange but no biggie. If you do stay here, remember to move that little table thingy away from your bed unless you want to be kicking it all night long like I was.
Friday 7pm – Pre Dinner drinks @ Crown
I used to gold member of the Crown Signature Club which entitled me to a swag of extras including premium room entry with free drinks, sadly they changed their points accrual for stays at Crown Towers so I found it impossible to accrue the points needed to maintain gold status.
Friday 8pm – Dinner @ Cotta
Deciding where to eat in Melbourne is no easy feat. This is a foodie town after all and tempting restaurants abound. We had our hearts set on dining at Rockpool (see below), one of Crown's premier restaurants, but apparently so had everybody else in Melbourne so we switched to our back up plan of San Antone (see below), which had a line snaking out the door. Plan C was Cotta, a cute little joint on the first floor of the Crown complex that specialises in parmas. I've dined here a number of times before and have never had a problem getting  a table, but this time we had to settle on a bar stool in the back. At this point we were happy to accept anything. Their parma menu is extensive and my picks are the naked and the pumpkin. As a bonus we got a $5 pokie voucher each. Nice one!

Friday 9pm – Cocktails @ Left Bank
A colleague and I discovered Left Bank about 5 years ago when we were just going for 'one drink' after work. Well one drink turned into ten after we discovered the best Lychee Martini I have ever had and I have had quite a few! The bar is steps away from Crown in Southbank and I make it a point to bring everyone I know here. The Lychee Martini has long been removed from the menu but if you ask nicely they will still make you one. Sit at the long communal illuminated bar and strike up a conversation with the friendly locals 🙂

Friday 9.30pm – Sisters @ Gold Class
No girly weekend is complete without a chick flick. Make it all the more special by heading to Village Gold Class at Crown. Small cinemas, reclining chairs and waiter service make going to the movies an event. We loved Sisters. How good is Tina Fey right? We shared a plate of churros, which were OK but ice cream instead of chocolate dipping sauce just doesn't do it for me and they were not as good as the ones I make at home. Of course there was a cocktail involved!
Saturday 12.30am Bed
Before you accuse us of being light weight's, let me say this. We arrived on the doorstep of Fall From Grace (see below) on the dot of midnight just as they were closing their doors. We then headed up the road a bit to Ms Collins which had a queue we did not care to wait in. Motivation to find somewhere else was low given The Enablers shoes were not playing nicely with her feet and thus we called it a night.
Saturday 10.30am  – Kit Kat Studio
We had plans to go to The Queen Victoria Markets early this morning, however my phone decided to play up and I had to make a trip to the Telstra store. Thankfully they sorted it with a minimum of fuss and we were on our way again. I found out about Kit Kat Studio through a friends Facebook feed and I couldn't resist popping in to make my very own. You get to choose between milk, white or dark chocolate and three additional toppings. I chose coconut, hazelnuts and rose petals. It takes about three hours to set so don't leave it to the last minute. They also have a range of ready made options you can grab and go. The final touch is personalised packaging. It's almost too cute to eat! Almost!
Saturday 11.00am –  Facial, Massage & Foot Spa
I needed a massage so badly it wasn't funny! I hate paying full price for spa treatments, which let's face it can be ridiculous, particularly at high end hotels. Instead, I always head to Groupon to pick up a voucher at deep discounts. We settled on a 2 hour package from Spring Beauty & Therapy, where we were treated to a 1 hour massage, 20 minute foot spa (see below) and a 40 minute facial. This was definitely not the best facial I have ever had but for $59 I'm not complaining. The foot spa was deliciously different and while I have no idea what our feet were soaking it felt divine.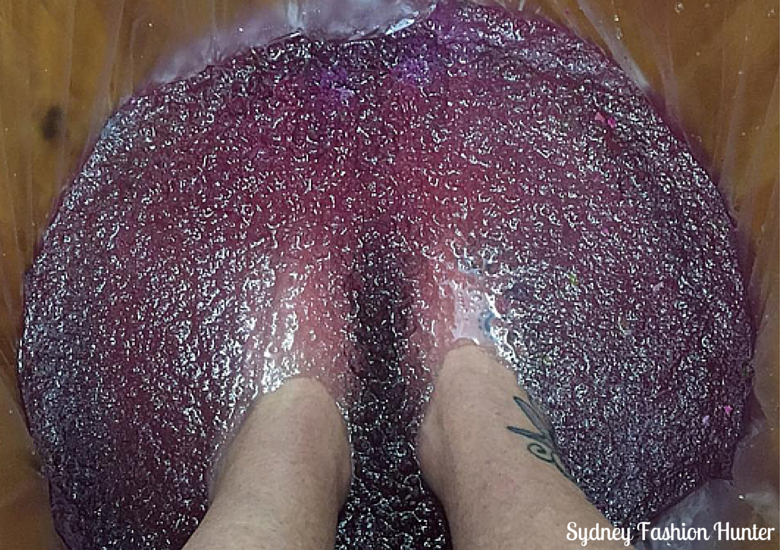 Saturday 2.30pm – Lunch @ San Antone By Bludso's
Remember I said we had our hearts set on dining at Rockpool during our girls weekend in Melbourne? Well we thought we would try our luck again for lunch but you wouldn't believe it … it was closed! Saturday is apparently the only day they do not open for lunch, which doesn't make a whole lot of sense to me, but what can you do? Again we tried our second choice, San Antone and yay, no queue! In fact, the place was almost empty. I guess that's because we ate a little later than the peak lunch time rush. Kevin Bludso has brought his successful, multi award winning, American BBQ franchise down under exclusively to Crown Melbourne and the locals are loving it! I've been here once before for a work dinner where we selected from the 'smoke pit', however lunch calls for lighter fare so we both opted for sandwiches; brisket and hot links for me (pictured) and chicken for The Enabler. Of course we had chilli dusted fries on the side and a carafe of wine to wash it all down. Yummo!
Saturday 2.30pm – Southbank
The sun was shining and it was perfect weather for a stroll along the banks of the Yarra River, which is littered with restaurants, bars, modern art and street performers. One of the coolest things about Southbank is the Gas Brigades (pictured); eight towers which shoot out the world's largest fireballs every night after dark (weather conditions permitting).
Saturday 4.00pm – Drinks @ Crown
All that wandering sure can make a girl thirsty and it had been at least an hour or so since our wine at lunch when we found ourselves back at the Teak Room. We enjoyed a couple of coldies while we played our $5 vouchers with lofty dreams of taking home thousands in winnings. Sadly, that wasn't the case and we blew it all in record time. We got so comfy on the couch that it would have been easy to settle in for the night but dinner reservations were calling.
Saturday 8pm – Dinner @ Masala Grill
I love Indian food. Sadly the hubs does not share my passion, so I generally only get to eat it when he is not around and our girls weekend in Melbourne presented the perfect opportunity to indulge. As per my usual bargain hunting style, I grabbed a voucher from Groupon before we left home. There are generally over 100 restaurant options to choose from at any given time so you are sure to find something to tickle your taste buds. There was a mix up with our reservation when we arrived (the ONLY thing The Enabler had to take care of for the whole trip lol) but they reluctantly relented to our ranting and let us in anyway. Masala Grill is a bit out of the way and you probably wouldn't stumble past it if you were not specifically looking for it. The entrees of poppadoms, onion bhaji and samosas were spot on and we enjoyed the butter chicken and naan. The lamb rogan josh, however was bland and lacked depth of flavour, perhaps because we chose to order it mild? The serving sizes were plentiful and we certainly couldn't finish everything on our plate. All in all, Masala delivered a pleasant experience for $49 including a glass of wine each.
Saturday 9.30pm – Cocktails @ Fall From Grace
We arrived earlier for our second attempt at Fall From Grace, which is in the basement of State of Grace. Melbourne is a big fan of the 'hidden bar' and this one is a little tricky to find. Head into Away From Grace and push one of the walls which is a secret door that reveals a stairs case heading down. The cocktail menu is extensive and we settled on a couple of Sky Was Pink's (pictured), a delicious concoction of Vodka, Chambord, apple and lime.
Saturday 11pm – Dancing @ Elephant & Wheelbarrow
What would a girls weekend in Melbourne be without tearing up the dance floor? Melbourne has plenty of options but these days I prefer a rough and ready pub with live music on tap. Pub's in Melbourne CBD are plentiful, but one's with live bands and a rocking dance floor are few and far between. The Elephant and Wheelbarrow delivers on this front in spades and I have never had a bad night here. Tonight Matt Bradshaw & The G Force were playing and they had the crowd in the palm of their hands by playing the most diverse set I have ever heard, think Pink, Taylor Swift, The Angels, Bon Jovi, and everything in between. We didn't get off the dance floor all night and had a ball. I really wanted to share one of the video's we took but the quality is pretty ordinary and doesn't do them justice.
Sunday 3am – Bed!
Copious amounts of vodka and we were feeling no pain so we could have hit another bar, but we decided to call it a night for the sake of tomorrow's activities. I already had over 7000 steps for the new day before we even hit the sack. #Winning!
Sunday 10.30am – Brunch @ Chocolait
We woke up surprisingly sprightly considering our big night out and headed to Chocolait in The Emporium to use our final Groupon voucher for a sweet brunch. Our voucher included a tasting plate (pictured), two chocolate drinks (hot or cold) and a take home bag of 8 chocolates from the range. It was all delicious, particularly the sorbet, but it was just too rich to finish. I think we could have shared between four and still struggled to get through it!
Sunday 11.00am – Shopping @ Emporium & Bourke St Mall
Doing a spot of shopping during your girls weekend in Melbourne is a must. Emporium is one of the flashier malls in the centre of town which houses both Aussie and International brands such as 7 For All Mankind, Alannah Hill, Hugo Boss, Chanel, Coach, Emporio Armani, Furla, Georg Jensen, Kate Spade, Leona Edmiston, Michael Kors, Mimco, Sass & Bide, Stuart Weitzman, Ted Baker and Zimmerman. Despite all this choice, we both left empty handed! I did score a maxi skirt (worn here on the blog) and a dress form Just Jeans in Bourke St Mall though.
Sunday 12.30pm  – Shopping @ Crown
Back in my heartland! We came specifically to look at something in Witchery but we couldn't resist a wander through Louis and Prada. I scored particularly well in Forever New (all the details on the blog soon!).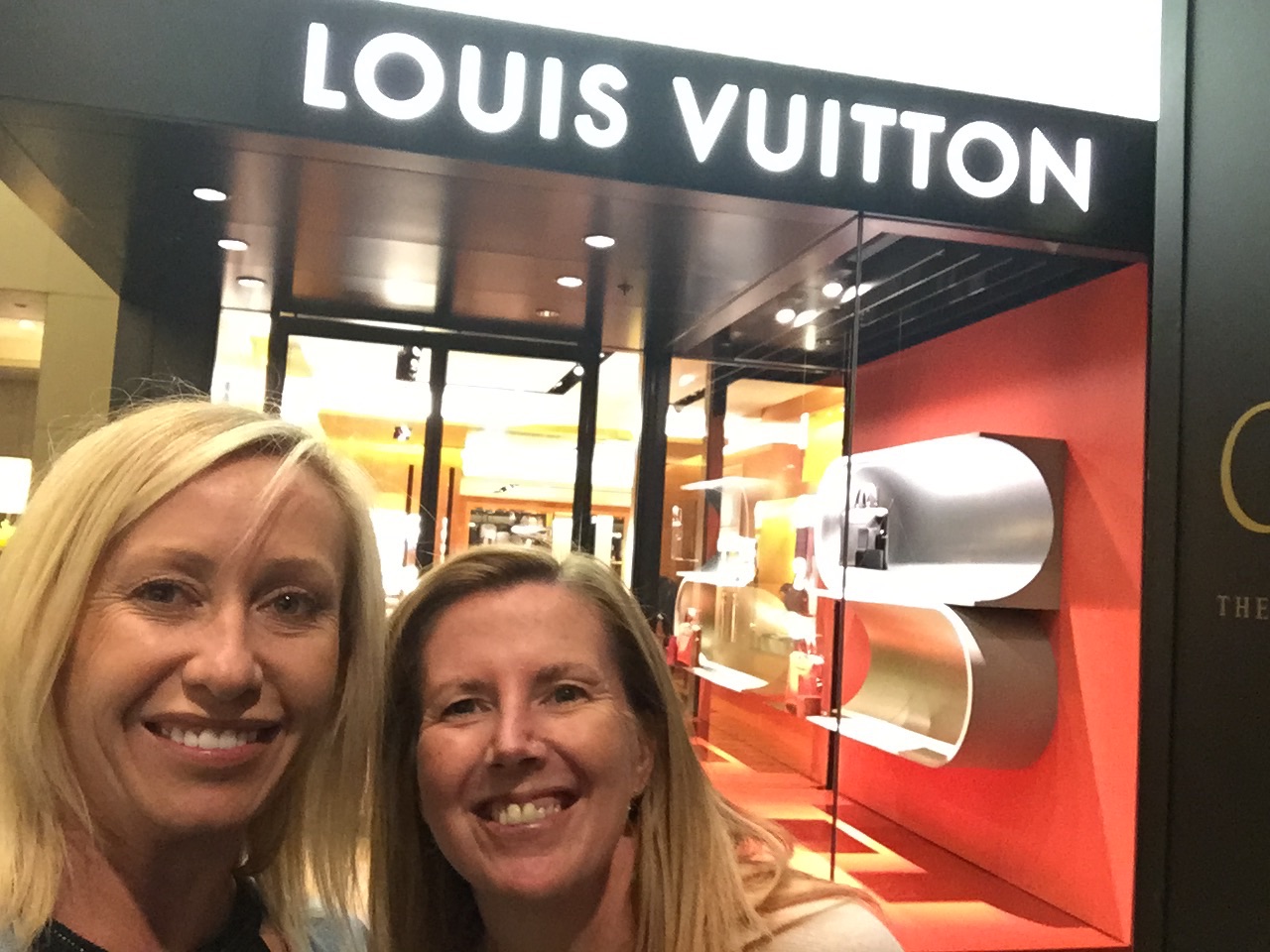 Sunday 1.30pm – Lunch @ Rockpool
They say the third time is a charm and we lucked out on the last day of our girls weekend in Melbourne for our very last meal by finally getting into Neil Perry's Rockpool. Note to self: Make a booking well in advance next time! Having had not long had brunch, we opted for the lighter bar menu. We were lucky enough to score the only booth so it really wasn't like eating at the bar at all. Yay! I ordered the steak sandwich, The Enabler went for the wagyu burger (pictured) and we shared a side of deliciously crunchy onion rings with house made relish. The steak sandwich was probably one of the best I have ever eaten so it was certainly worth being persistent. With our trip all but over, we jumped on an iconic Melbourne Tram back to the Novotel. Note: In the CBD and Docklands travel is free within the designated free zone otherwise you will need a Myki to get around.
Sunday 3pm – Taxi To Airport
We headed off to the airport after a fantastic jam packed girls weekend in Melbourne to catch our 4.30pm flight. If you prefer to save a few dollars on your airport transfer, check out the Melbourne Skybus. We arrived a little early so I managed to squeeze in one last purchase at the airport while we were waiting to board!
Other Things To Do In Melbourne
Not keen on what I had on my run sheet? You could also try some of these for your girls weekend in Melbourne:-
Hire a car and take a day trip down the Great Ocean Road to see the Twelve Apostles while there are still a few standing.
Stock up on supplies at the The Queen Victoria Markets.
Hit up the shops in Chadstone for a fabulous blend of high end and high street all under one roof.
Drive down to the Mornington Peninsula and visit the hot springs.
Take a short tram ride to St Kilda. Hit the beach, grab a bite at one of the many cafe's or jump on a ride at Luna Park.
Spend a day visiting the near by Wineries. Even better take the bus so you don't have to drive!
Check into a day spa at Dayslford for the ultimate in relaxation.
Grab a table on the footpath at one Lygon St's many restaurants and watch the world go by with a glass in hand.
If you have a group, hire an Aqua Donut at Docklands for a fun afternoon on the water.
Meet the fairy penguins up close and personal at Phillip Island.
Take a group class. In Melbourne you can choose between dancing, cooking, cupcake decorating, make up techniques, candle making, art, wine appreciation or cocktail making to name a few. Check out Groupon for deep discounts on one off courses.
Need even more inspiration for your girls weekend in Melbourne? Browse hundreds of other
things to do in Melbourne here
. What's your idea of a great girls weekend away? I'd love to hear about your escapades in the comments below.
Until Next Time …
Happy Hunting!
SFH
xoxoxo
Disclaimer: This posts contains affiliate links for which a small commission may be paid. All opinions are my own.
Save
Save
Save
Save