Rotorua is New Zealand's coolest hot spot. Part of the Taupo volcanic zone, Rotorua is a geothermal wonderland. Visitors have been fascinated with the area since the early 1800's and there is no better place to see mother nature at her turbulent best than at Hells Gate Rotorua. Visitors to Rotorua's most active geothermal park can experience a dramatic landscape littered with boiling hot pools, steaming fumaroles, a mud volcano and even a hot waterfall. Oh and did I mention the mud baths and sulphur pools in the natural spa? Read on for all the details …
Hells Gate Rotorua Overview
Hell's Gate Rotorua is a 30 minute drive from The Regent Of Rotorua where we stayed and our Airport Rentals Hyundai i20 got us there with ease. We did have a GPS but the route is well signposted in case you don't. If you can't get to Hell's Gate under your own steam a shuttle runs multiple times daily. On arrival meet your guide in front of the traditional Māori Te Wharenui where you will get a brief run down on what is to come. We were a small group of only The Hubs and I and just one other couple visiting from the US. The grey skies and constant drizzle probably kept the crowds away but it suited us just fine as we got a much more personal experience. Our guide Ray was careful to point out that Hells Gate Rotorua is the only fully Māori owned geothermal area in NZ. While the entire Rotorua area is a hot bed of geothermal activity, Hells Gate has the dubious honour of being located on one of the thinnest parts of the Earth's surface without a volcano or magma on the surface. In fact, the magma is only 2½ kilometres below the ground. Hells Gate is about 10,000 years old and while it was originally underwater as part of a super lake, it is now the most active volcanic zone in New Zealand. Allow about 3 hours at Hells Gate Rotorua to make the most of your visit. Entry starts at $35 per adult and there are a number of packages to chose from.
Hells Gate Geothermal Park
The geothermal park is much bigger than we expected. Of course you are free to explore all the attractions yourself but I really recommend sticking with the guided walk. There is no way we would have gotten as much out of the experience if we didn't have Ray by our side. You will spend about 45 minutes winding your way among natures most extreme environment. The landscape looks incredible, unworldly even. I can imagine it would make a great movie set for a sci-fi based on a distant planet. Everywhere you look steam, gasses and water are hissing out of the Earths surface. A distinctive sulphur smell lingers in the air but it is not as offensive as I imagined and you grow accustomed quite quickly. Two of the highlights of the geothermal walk were the inferno pools that exceed 100°C and the second largest mud volcano in the world which erupts every 6 – 7 weeks. Keep your eyes peeled for the pool with a PH of just 1. You do not want to fall in that one as it would completely dissolve your body in just three days. Hells Gate Rotorua is famous for it's mud. I don't want to give too much away but Ray does a very special trick with the white mud near the steaming cliffs that will amaze you. Finish off your walk by soaking tired feet in the mud foot pool for a special treat or even better, indulge in a full body soak (see below). They say a picture tells a thousand words and here are some of my favourites.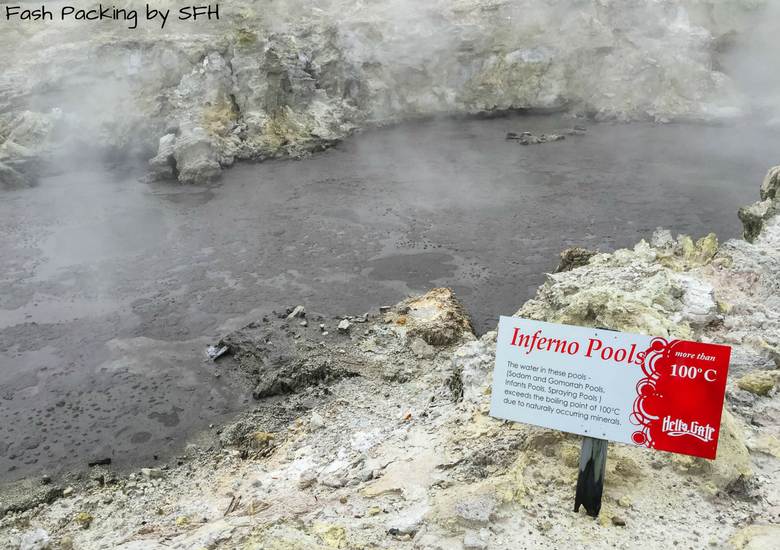 Carving Experience
Hells Gate Rotorua's master craftsman flex their skills in the carving house but this is not just a visual experience. Once you've seen the master in action, carve your own very special souvenir to take home. They make it look so much easier than it is and I can't say our efforts looked very professional but at least we had a go. Your carvings will be sealed and varnished for export but make sure you declare them on the way home 🙂
A Wander Through The Forest
One of the most surprising parts of Hells Gate Rotorua is the lush forest in the middle of such an unforgiving landscape. As you step among the trees a calming energy washes over the soul and the temperature dips dramatically. Orange covered lichen covers tree trunks in a dramatic display. Kakahi Falls is nestled in the heart of the forest and is the largest natural hot water waterfall in the southern hemisphere. The falls hold a special significance for the Māori people. Warriors would bathe in the sulphur laced warm water to rinse off the blood of battle and aid healing. As we walked through the meandering paths Ray pointed out a New Zealand Silver Fern. If you have ever seen the All Blacks play rugby you will recognise the distinctive fronds, the underside of the which glow silver in the moonlight.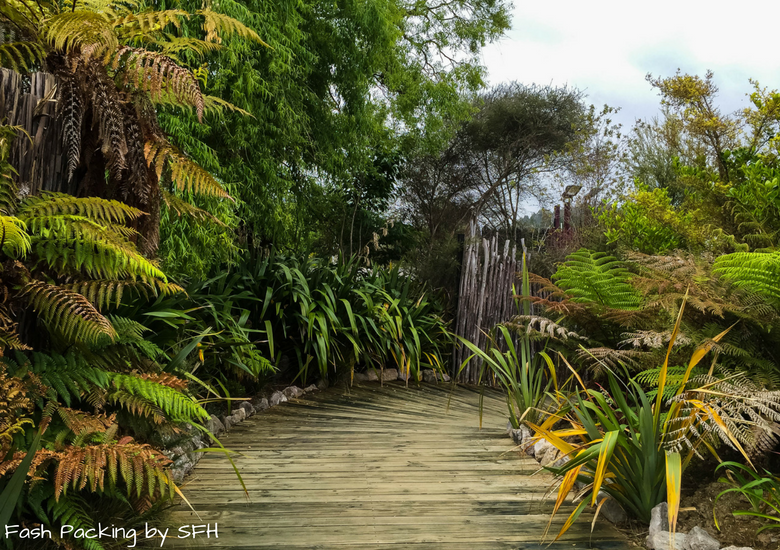 Mud Baths
The weather turned even more gloomy as we made our way to the nearby spa. Dashing from the change rooms to the mud baths in the frigid air half naked was not pleasant but sinking icy skin into the heated mud bath was absolute bliss. Each mud bath is a combination of suspended and solid geothermal grey mud. Spread the fine solid mud generously over exposed skin and don't be afraid to get it on your face. The mud is said to purify and gently exfoliate skin leaving it silky smooth for up to six weeks. To get maximum benefit you need to allow the mud to dry on your skin and although I did my best to keep my skin exposed long enough, I couldn't resist the warm bath. All too quickly our allocated 20 minutes was up and it was time to rinse off the magic mud. Rotorua is a great place to visit with kids and Hells Gate is one of the only spas to welcome the littlies.
Sulphur Pools
We practically sprinted from the shower into the largest of Hells Gate Rotorua's sulphur pools. As we eased ourselves into water sourced from the park's Hurutini pool I couldn't help but recall the tragic story of her passing that Ray had told us earlier. The sulphur infused water form the Princess' pool is said to enhance the softening properties of the mud bath, promote overall well being and improve blood circulation. I was just happy to relax submerged in delicious warm water while the chilly rain continued to fall around us. The water is warm, but not uncomfortably so and because it's important to keep hydrated attentive staff deliver water poolside which is a nice touch. Make sure you take off all jewellery before entering as it can tarnish. We soaked for about 30 minutes before reluctantly dragging ourselves back to reality. To keep reaping the benefits of your soak simply dry off without rinsing. I'm not going to lie to you, you will continue to smell sulphur on your skin for a few days but don't let that put you off. Hells Gate Rotorua is open until 10pm so why not try a twilight spa?
We had a fabulous morning at Hells Gate Rotorua. It was a truly unique experience that you would be hard pressed to duplicate any where else on the planet.  Make sure you check out my New Zealand travel essentials post for everything you need to know before you go and read all about scoring a bargain flight here.
What is your favourite part of Hells Gate Rotorua? The geothermal park? The forest? The carving house? The mud baths? The sulphur pools? Or maybe like me you simply can't chose a favourite 🙂

Like it? Pin it!
Disclaimer: We were guests of Hells Gate Rotorua during our trip to New Zealand. As always, all opinions are my own.
Save
Save
Save
Save
Save
Save
Save
Save
Save
Save
Save
Save
Save
Save
Save
Save
Save
Save