Airlines have been getting a bad rap lately. Unless you have been living under a rock, you will have heard all about United's woes. First we had teenage girls denied boarding in what I have dubbed 'leggingsgate' and the latest scandal where a paying customer was forcible removed from an overbooked flight drew worldwide condemnation. Low Cost Carriers (LCC's) get a bad rap at the best of times and Jetstar has had it's own fair share of PR mishaps, like when they refused an arthritic child the use of a pillow on the way home from Bali. Or when they denied this family boarding in Hamilton Island. Or when they ejected two families returning to Adelaide for refusing to take their assigned seats. Slamming Jetstar is almost a national sport in Australia. Some genius even set up a website dedicated to gathering whinges from aggrieved passengers. So are Jetstar really that bad? In my experience, no. I've flown them countless times and while I have certainly experienced a few niggles, the bottom line is that the cost keeps drawing me back. On our Tasmanian road trip we took advantage of one of Jetstar's free return flight specials and we lived to tell the tale. If you have never flown Jetstar and are wondering what to expect, read on for all the details …
Jetstar Domestic Overview
Jetstar is Qantas' low cost baby who now fly to 75 destinations around the globe. For all the complaints, Jetstar does have some saving graces and has won multiple prestigious awards since it began operation in 2004. I love the comfort that Jetstar's  price beat guarantee brings, not that I have ever had to use it, but it's good to know it's there. The one thing that almost all LCC's have in common is that everything costs extra. And I mean everything. Literally the only thing your ticket will get you is a seat and a small carry on. Want to check a bag. Yep that's extra. Want to pick your seat? Yep extra. Pillow and blanket? Extra. Thirsty? Yep that's extra too. You get the idea. So with all the add ons is it still a bargain? I believe so. Mostly because I choose very few of the 'optional extras'. If you love a bargain and have turned you nose up at Jetstar in the past, it may be time to check your snobbery and jump on board.
At The Airports
Jetstar flight JQ745 leaves Sydney airport at 7am. Bizarrely, neither of my kids were keen to get up at 5am to drive us to the airport. Weird right? Luckily Sydney's airport train had less qualms about the early start (read more about getting around Sydney here) so we hopped the train instead. All Jetstar domestic flights depart from T2 which works out perfectly for me because I can grab a Macca's breakfast before boarding, unlike in T3 which houses Burger King. We didn't check in online because 1) I was lazy and 2) we had bags to check so there is little point. Check in was simple using the automated kiosks which dispense both boarding passes and bag tags. I did think the placement of the kiosks was rather strange as the exit leads to the check in queue rather than the bag drop and a bit of ducking and weaving under the barriers was required. On arrival in Launceston we quickly realised the tiny airport had no aerobridges and a walk across the tarmac was required. Thankfully we had fine weather. As a result of the compact size, finding the Eurocar desk to pick up our Airport Rentals hire car was a breeze. The Tasmanian's are super fussy about bringing fruit in and request you dump it all on arrival. Many didn't, but the dogs in the baggage claim area sniffed the rule breakers out pretty quickly. Please don't be one of 'those people'.
Inflight
Our Jetstar Airbus A320 arrived slightly late from Perth which delayed the boarding process. The 3 x 3 x 3 seating configuration made the maximum use of space and the cabin was as basic as it gets. In a surprising move for an LCC, the seats were leather, but that's where the luxury ends. Don't expect adjustable headrests, USB connections, personal  screens or anything that has become standard on the more expensive airlines. Clearly my kids are not the only ones adverse to waking up at 5am because the flight was almost empty. We chose row 7 because it's the first of the cheap seats ($7pp to chose). Of course you can elect not to pay to pick you seat and leave the allocation to the mercy of the airline and if I was travelling solo I probably would. On this flight it was $14 wasted because after take off we could have sat virtually anywhere and I had no hesitation launching into an empty row of three the minute the seat belt sign went off. With six seats between us we stretched out in our makeshift flat beds and caught up on some much needed sleep after our early wake up. On the return journey Jetstar switched us from our selected seats (another $14 wasted … sigh) and placed us in the exit row (12 D/E). While the exit row does come with a bit of extra leg room, I still normally avoid it like the plague as ALL the hand luggage needs to be placed in the overhead bins and I prefer to keep some of my carry on handy.
Food & Drink
Here's a revelation … Jetstar, like many LCC's, don't offer free food. I know, shock right? That said, they do have a reasonable sized menu that is not as exorbitant as you may fear but not all items are available on all flights. On our short 1½ hour flight we didn't sample anything (remember the Macca's breakfast?) but I have had the ham and cheese toastie in the past. Honestly? Not that good. If I had to choose again I'd opt for the Sumo Salad.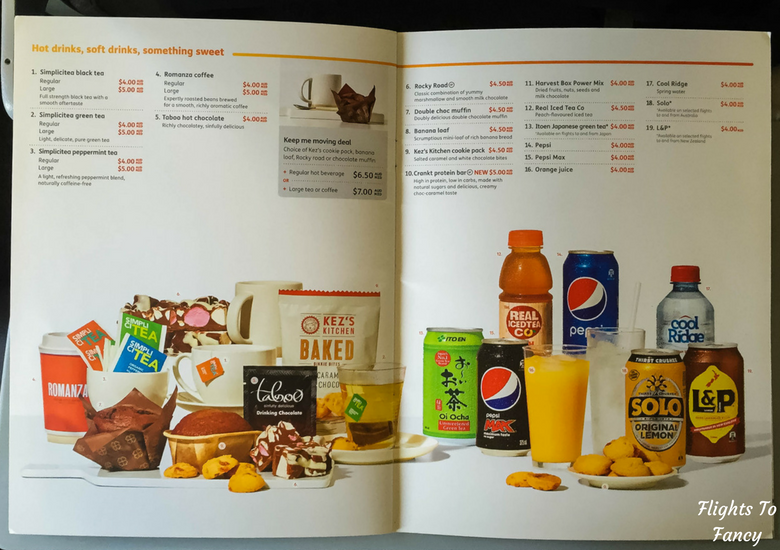 Entertainment
As an LCC, Jetstar doesn't even pretend to care about keeping you amused in flight. This magazine is all you are getting. Bring your own fully charged (no USB remember?) devices to stave off boredom.
Things To Do In Tasmania
Looking for inspiration once you land? We stayed at the Grand Chancellor Launceston. The premium location makes exploring the CBD a breeze and it's steps away from my favourite restaurant The Black Cow Bistro. Cataract Gorge is a great way to spend and afternoon but had mixed results at The Prickly Cactus Launceston when we were craving Mexican. If you are keen to explore further afield, a visit to Port Arthur Historic site is a soul-shuddering reflection on the past and Wineglass Bay Cruises will take your breath away.
Final Thoughts
I'm not gonna lie, after my recent experiences on Emirates A380 first class and Emirates A380 business class Jetstar domestic smacked me back into reality with a thud. If I didn't know better, I would swear the old saying that you get what you pay for was specifically created for budget airlines. This was absolutely a no frills experience but considering we paid $110 for two return tickets (baggage and seat allocation are extra) I'm not complaining. Jetstar got us to Launceston safely with a minimum of fuss and I'm grateful. Flying used to be a folly reserved for the rich but LCC's have made travel accessible to many more and that can only be a good thing. The money that we saved by scoring a bargain airfare was put to good use on our Tasmanian road trip and that makes Jetstar a winner in my book.
Airlines are not all created equal so check out more of my airline reviews before you make your next booking. Have you got any airline horror stories? I would love to hear about your experiences in the comments below.

Disclaimer:  This post is not sponsored. We paid for our Jetstar flights in full and as always, all opinions are my own.
Like it? Pin it!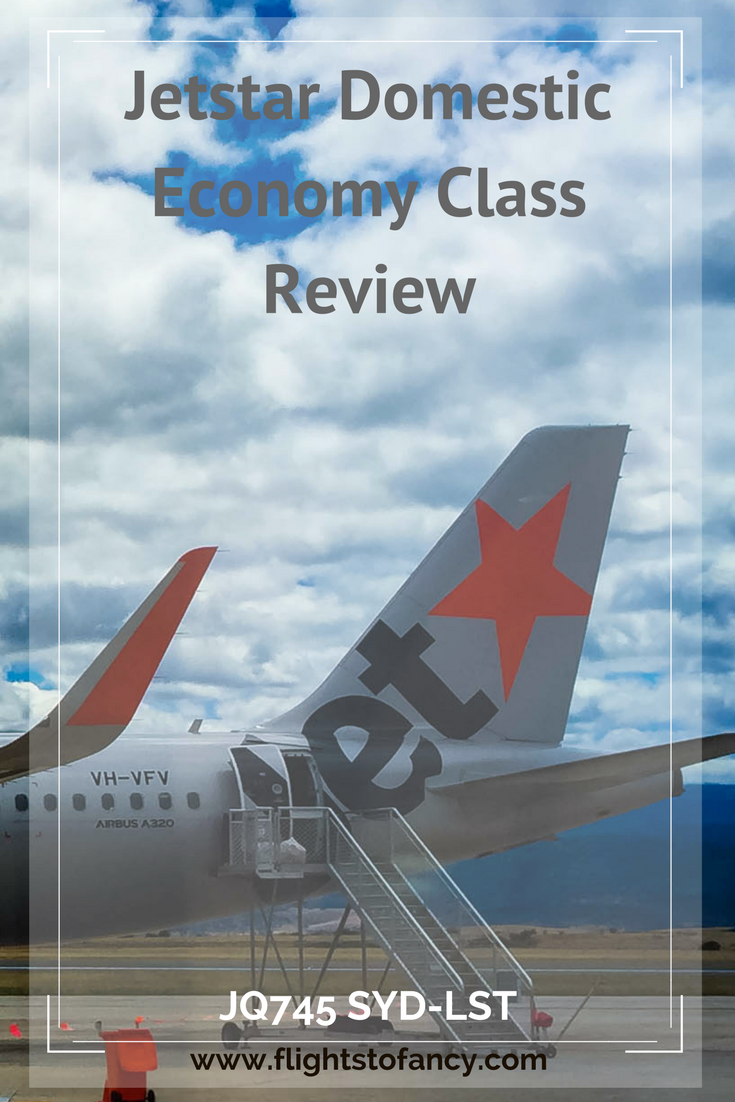 Save
Save