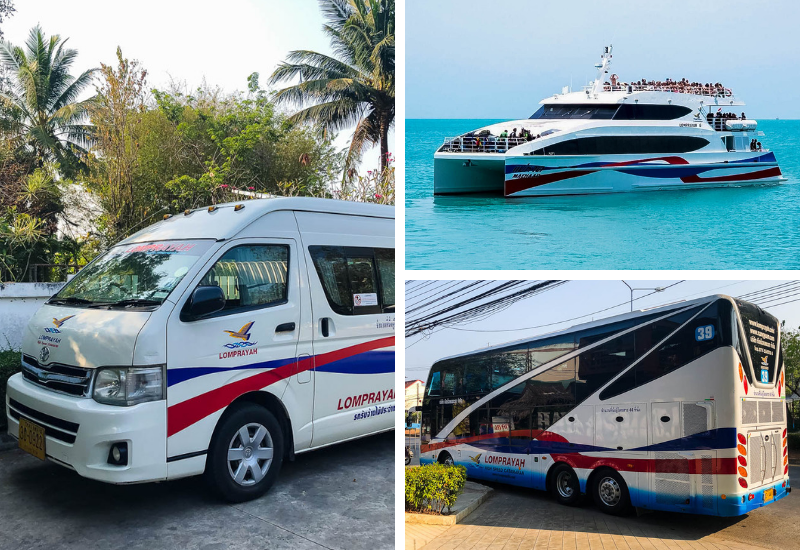 Koh Samui has been on my radar for years. How could it not be? I've heard plenty of folks waxing lyrical about this tiny speck of land in the Gulf of Thailand and the FOMO was real. Our fourth trip to Thailand was all about island hopping and Koh Samui was our last stop. We chose the Lomprayah ferry to travel from Ao Nang to Koh Samui because this Krabi to Koh Samui ferry had the most convenient departure time and it docked at Nathon Pier Koh Samui. Read on to find out exactly what the six hour multi leg journey from Krabi to Koh Samui was like …
Island Hopping From Phuket
Thailand is blessed with some of the most spectacular islands on the planet. Many of them are easily accessible from each other which makes island hopping a very popular pastime for visitors and locals alike. This trip we decided to hit three of Thailand's most popular islands; all of which we were visiting for the first time. We flew into Phuket on Jetstar International and landed at about 8pm. While we would have loved to head straight to the islands, the ferries don't run at night so we spent one night at the Me Room Hotel in Phuket Town. We chose Phuket Town specifically for ease of access to Rassada Pier. We rose early and caught the first ferry from Phuket to Koh Lanta. After a few days in paradise we caught a second ferry from Koh Lanta to Krabi. We had two days in Ao Nang before the final leg of our trip between Krabi and Koh Samui. We did consider flying. Bangkok Airways offer direct flights from Krabi to Koh Samui, but the 50 minute flight was steep at ~AUD$150pp and we figured the bus/ferry option would provide an opportunity to see a little more of the country.
READ MORE ABOUT THAILAND:
The Olive Greek Restaurant Koh Samui (coming soon)

Booking Our Lomprayah Ferry From Krabi to Koh Samui
I usually order all my transport tickets though Klook so that was my first stop when I was ready to book. The Lomprayah ferry from Krabi to Koh Samui was the only option on Klook and it was ~AUD$34. I recently discovered 12GO and I decided to do a price comparison before committing. I've never used 12GO before and my initial search for a Krabi to Koh Samui ferry returned a tonne of results. Krabi is a big area and my results included multiple departure points including Krabi Airport, Krabi Town, Klong Muang, Ao Nam Mao Pier, Noppharat Thera Beach and Ao Nang. My second search for Ao Nang to Koh Samui delivered much more concise results. I set my currency to THB, but 12GO will display prices in whatever currency suits you best. Unlike Klook, there were multiple ferry lines (Lomprayah, Phantip, Raja Ferry, and Songserm) to choose from on 12GO. Some offered a transfers to Koh Samui hotels, but we didn't need it as the Impiana Resort in Koh Samui were we stayed had kindly arranged a complimentary pick up from Nathon Pier Koh Samui. The same Lomprayah ferry from Krabi to Koh Samui was only ฿550 (~AUD$24) on 12GO. I'm all about travelling in luxury for less which means saving my pennies where I can to splurge where it counts. The Lomprayah ferry has three sailings each day and we chose the 7.30am departure. Once I had chosen my preferred option booking was relatively simple. I booked a few weeks before our trip and passport numbers for each passenger were required. 12GO do not offer Lomprayah transfers to Koh Samui hotels, but Klook do. If I needed a transfer from Nathon Pier Koh Samui I would have zero issues booking the ferry on 12GO and the transfer on Klook to get the best price. I learned from using 12GO for the first time that it certainly helps to make your search as precise as possible. There is always a danger in booking ahead that you will pay more than the prices offered locally, but I found all the agents in Krabi were selling the Koh Samui ferry tickets for exactly the same price as I paid through 12GO. #winning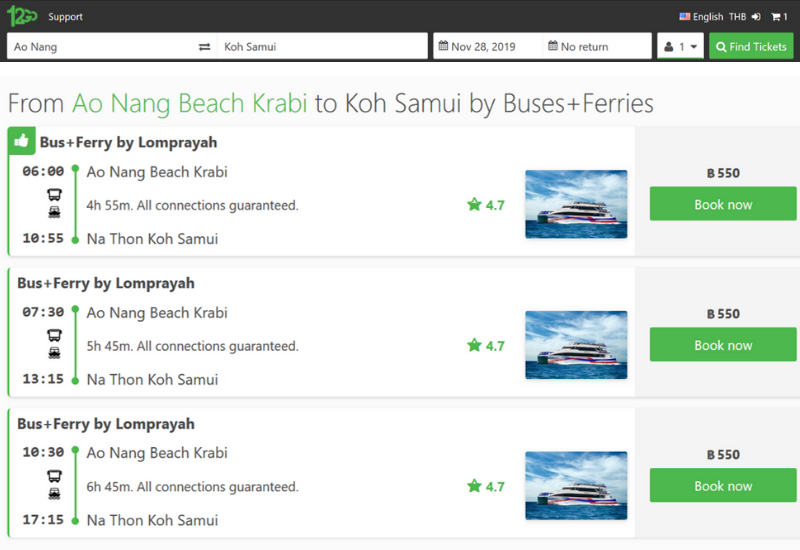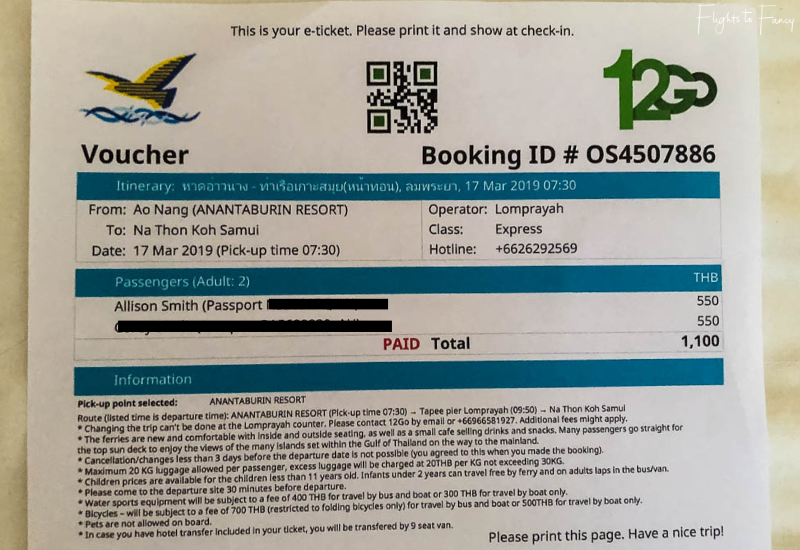 Starting The Journey Between Ao Nang To Koh Samui
We checked out of the Ananta Burin resort early and were waiting in the lobby at 7.20am for a 7.30am pick up. The Lomprayah mini van didn't arrive until 8am and was already almost full of other passengers travelling from Krabi to Koh Samui. We were on our way quickly and picked up of two more passengers on the way making a total of 12 onboard. We arrived at the Lomprayah office at 8.20am where we checked in and exchanged our 12GO voucher for tickets and tags. The open air waiting room had plenty of seating, free WiFi and a small shop. The snack selection was impressive, but hot food was limited to omelettes and fried rice. The fruit shakes were just ฿30 and sold like hot cakes. The Koh Samui boarding call rang out at 8.50am and we headed out the front to the coach. We stored our luggage below the bus and climbed the stairs to the main cabin. We pulled out at 9am on the dot. We chose seats towards the front of the coach to make the most of the views from the expansive front windscreen. The seats were comfortable, but leg room was a little tight and I couldn't get the recline on my seat to work. Passengers were asked to keep their seat belts fastened for the entire trip or risk a ฿5000 fine. Curtains were available on each window, but we chose to leave ours open. The reading lights and air conditioning vents were overhead and I closed mine off as soon as I sat down. We took the main road back the way we came for a short stretch before turning onto route 44. Various tree plantations seemed to flank the highway for the entire 160klm trip. Variable speed limits exist in Thailand and large buses are restricted to between 60 and 80 kilometres an hour on this particular stretch. The sun was behind us most of the way and both sides of the bus had pretty much the same views. We arrived at Tha Thong pier at 11.20am. Ours was the last bus to arrive and we boarded the Lomprayah Catamaran immediately.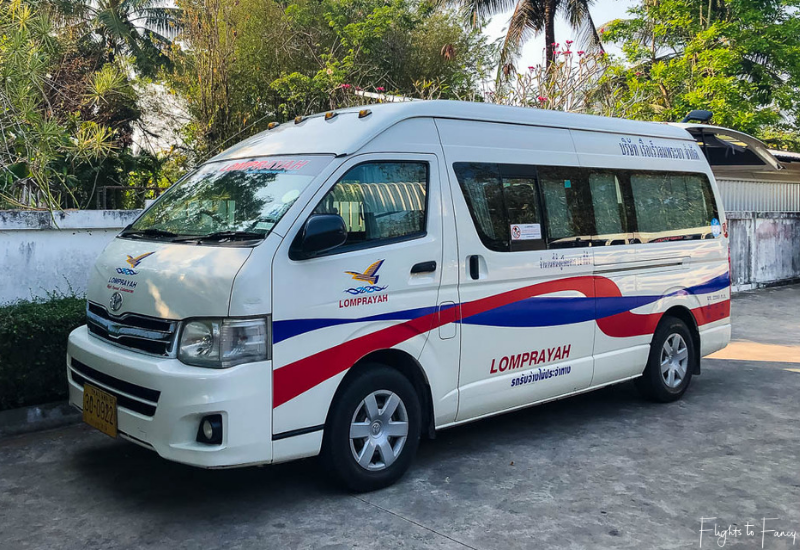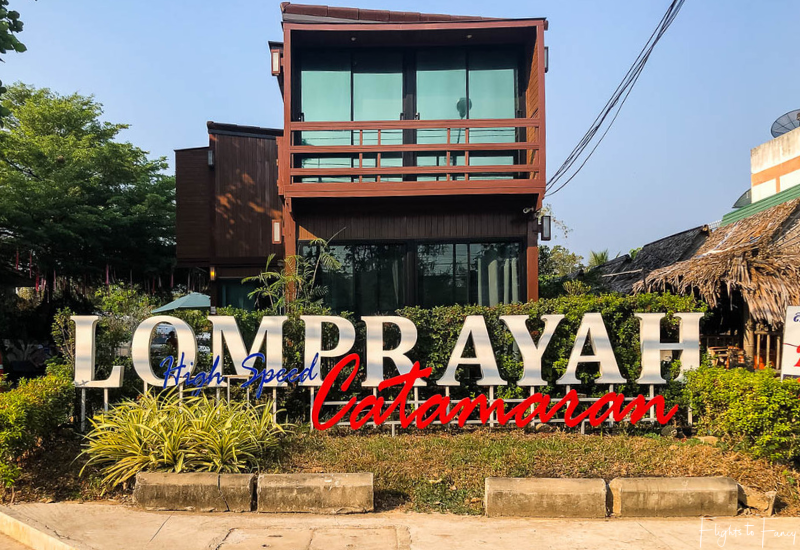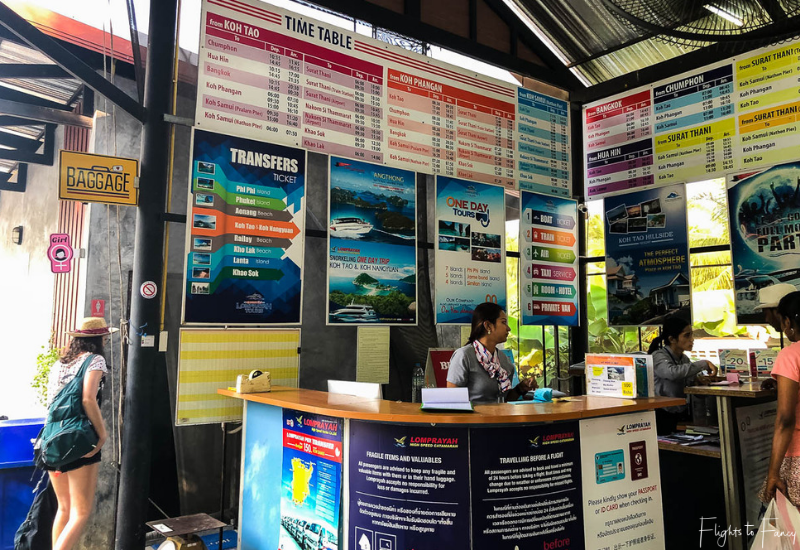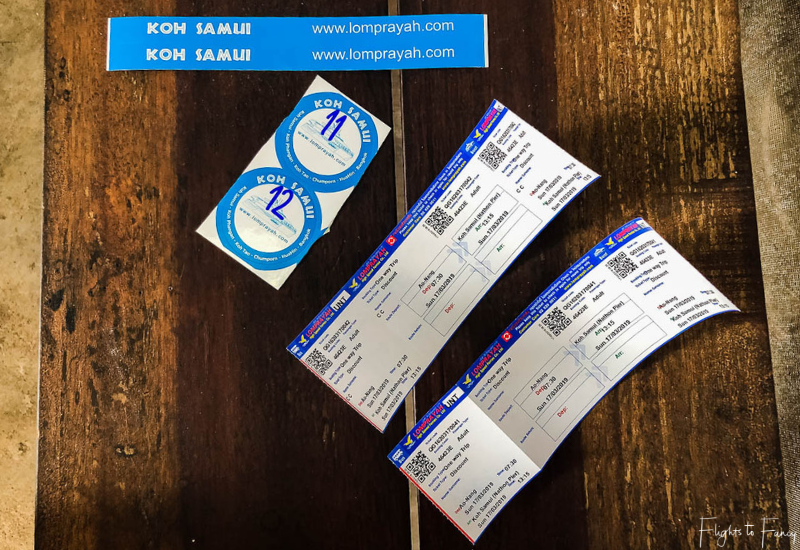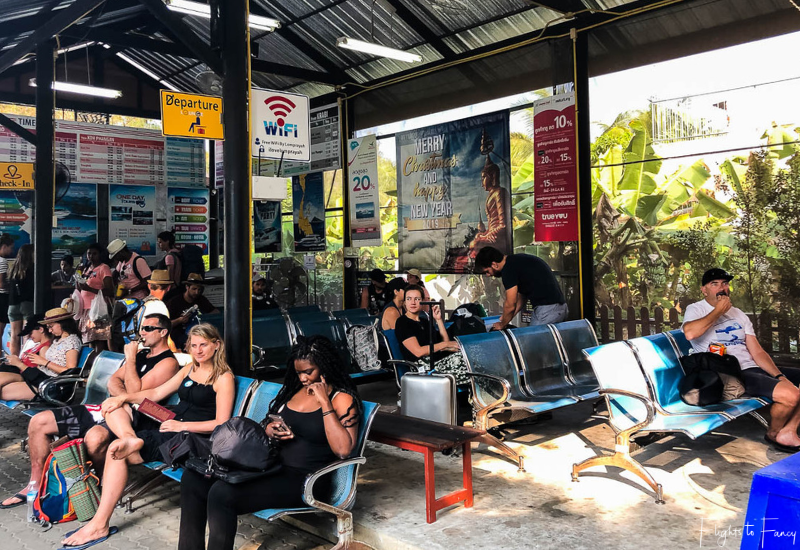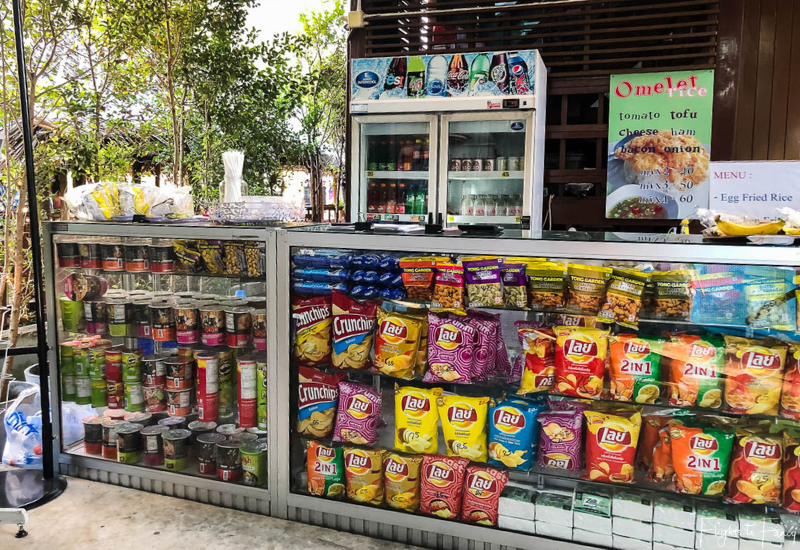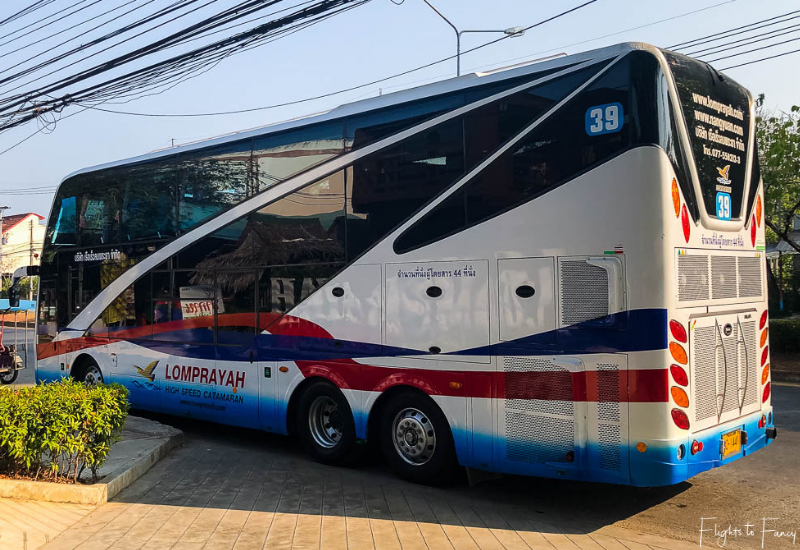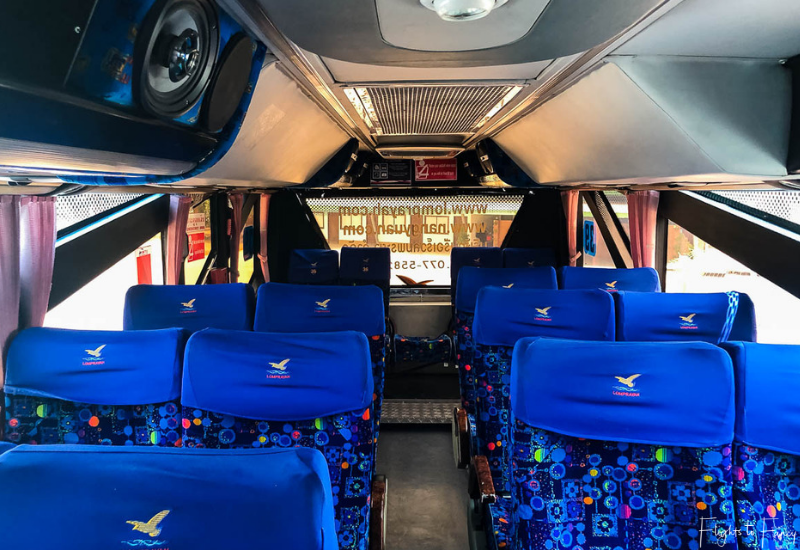 Onboard The Krabi to Koh Samui Ferry
We boarded the ferry from the rear right and were directed all the way to the front to store our luggage. Foot traffic is strictly one way only and you cannot go back the same way you came. The Lomprayah ferry (which is actually a catamaran) was large and seating in the main cabin on the lower deck is in 3x3x3x3 configuration. The seats were basic and each had a life jacket tucked beneath it. The ferry wasn't full and we had an empty seat between us which gave us a little more room. As we settled in, the captain fired up the engines and we pulled out from Tha Thong Pier at 11.35am. Once we were under way I took the time to explore our Lomprayah ferry. A small shop is located on the lower level which sold drinks and snacks at reasonable prices. We paid just ฿30 for a coke. The bathrooms are located outside the main cabin as are the stairs which lead to the upper decks. The middle deck has covered outdoor seating and a VIP room which is equipped with more comfortable chairs and a TV that can be accessed for ฿100 per person. I sneaked a peak inside and I noticed there was also an exclusive room which cost ฿200 per person. There was one person in the VIP room and I didn't dare disturb him to sneak a peak into the exclusive room. The top deck is open air and has plenty of metal bench seats. The crossing from Krabi to Koh Samui was smooth and my Thailand AIS tourist SIM card provided good reception for the entire journey.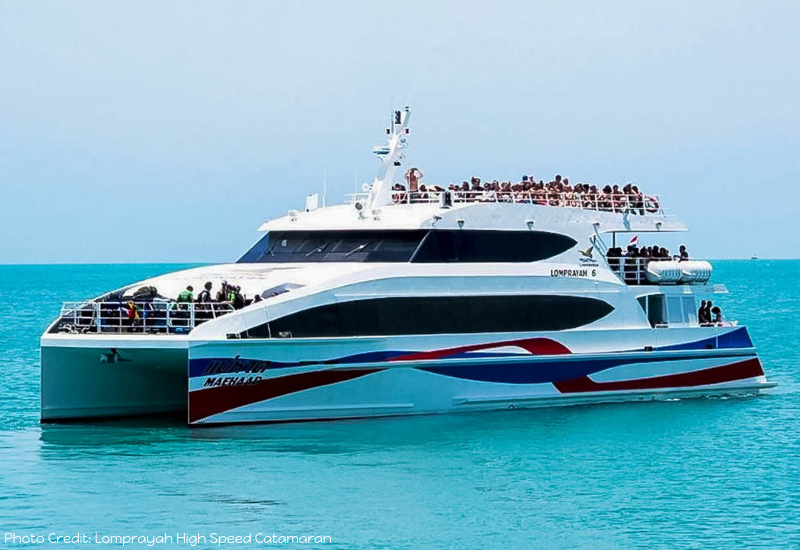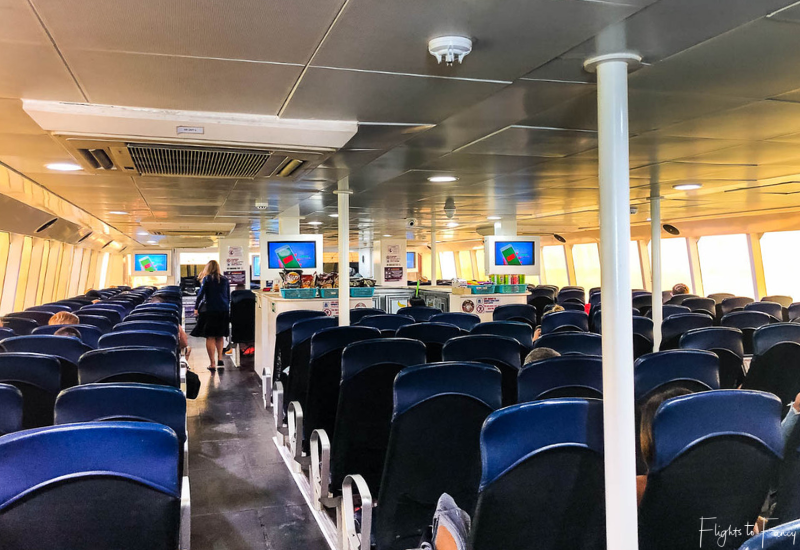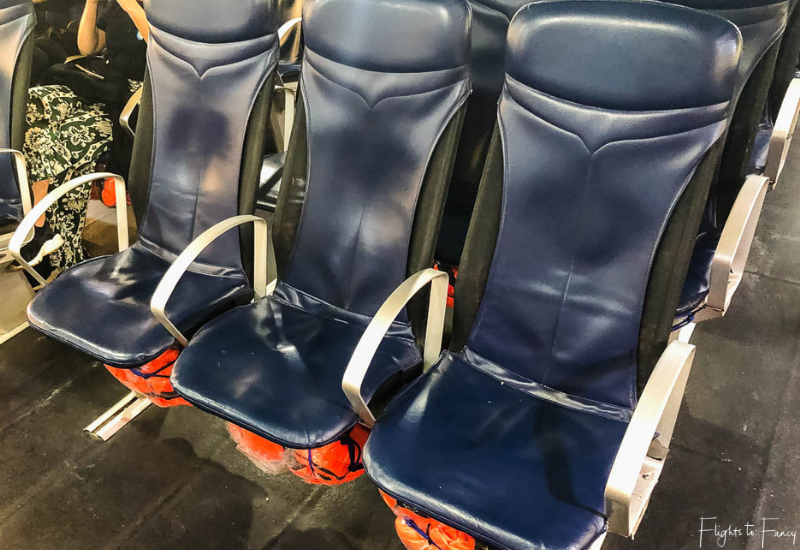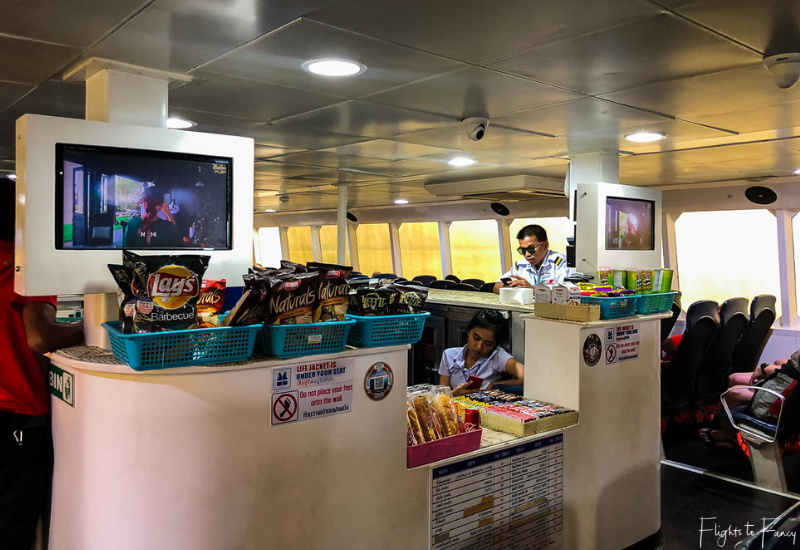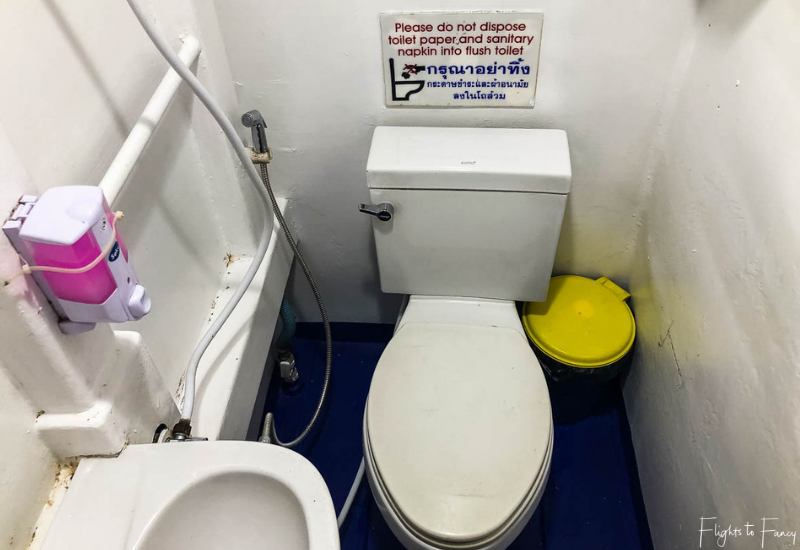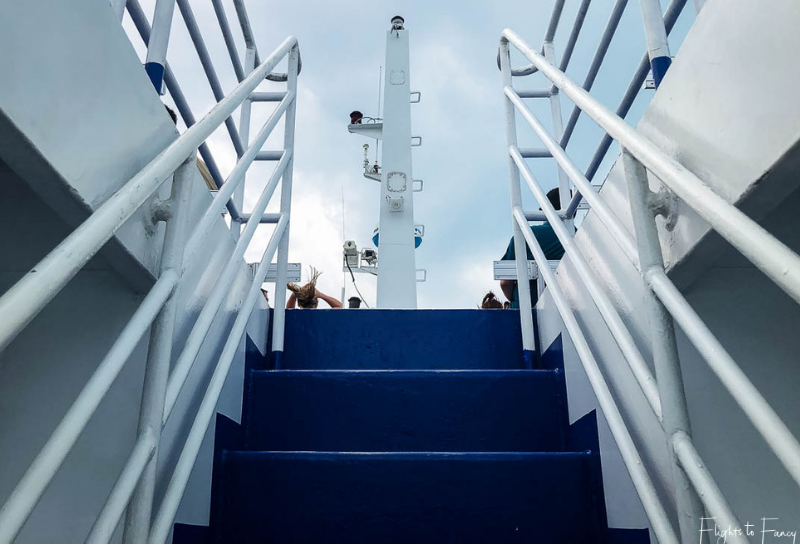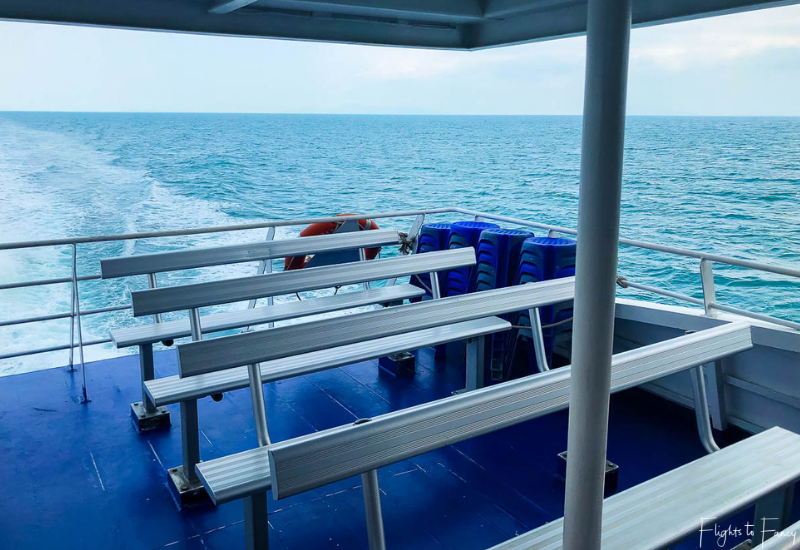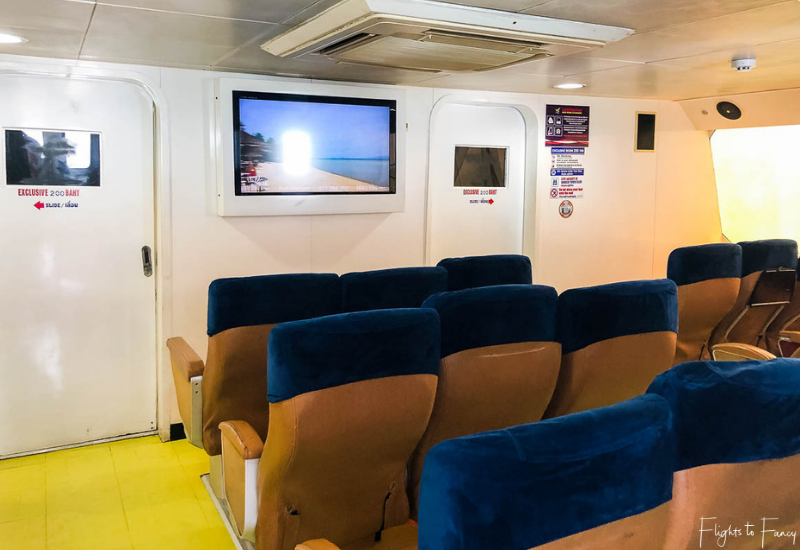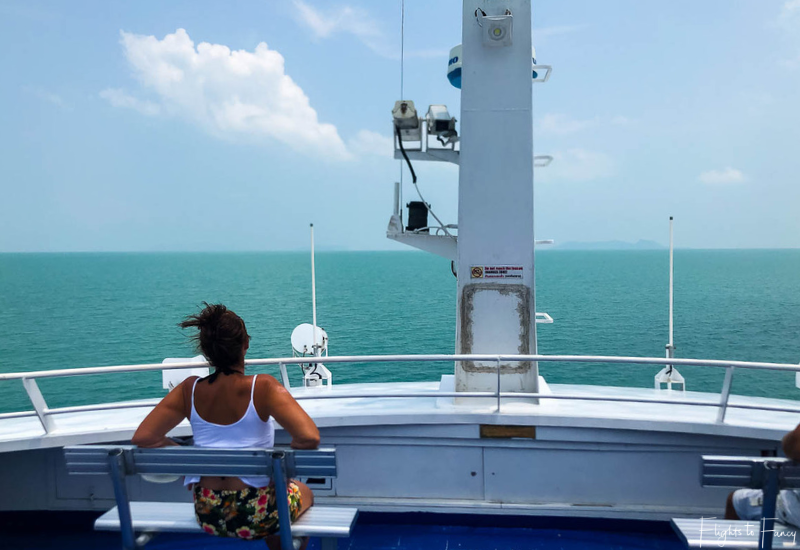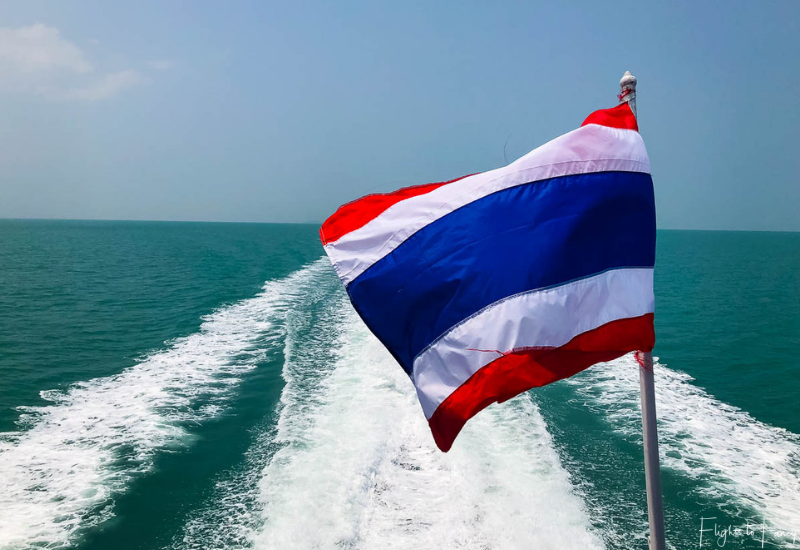 Arriving At Nathon Pier Koh Samui
Our Lomprayah ferry docked at Nathon Pier Koh Samui right on time at 1.15pm. There was a mad scramble as passengers surged to the front to collect their luggage. We waited for the worst of the crush to die down before making a move. At Nathon Pier Koh Samui passengers exit from the front of the Lomprayah Ferry. Nathon Pier is the main pier in Koh Samui and is quite busy. There is always a throng of drivers waiting to transport new arrivals. Metered taxis to the East coast are pricey at around ฿600 (~AUD$27), but you should be able to negotiate a songthaew for about ฿100 (~AUD$5). If you prefer to be more organised, you can book a shared transfer on Klook for just ~AUD$5 per person. Our driver was waiting when we arrived and he whisked us away from the crowd to our luxury mini van. It took about 40 minutes to get from Nathon Pier to Chaweng Noi. I'm not going to lie, it was a long day of vans, buses, and ferries, but it was far less stressful than I expected. Every changeover was smooth and efficient and because each leg was reasonably short the time passed quickly on our journey from Krabi to Koh Samui.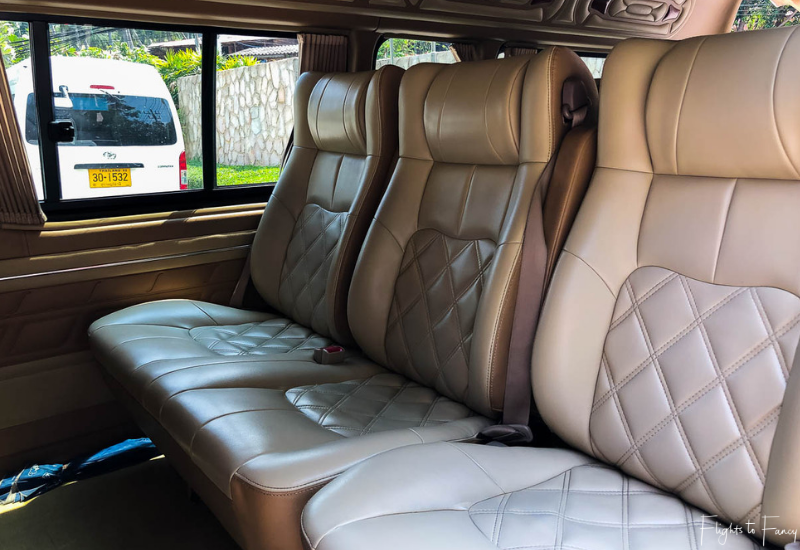 What's your favourite site to book transport online? Do you use Klook or 12GO? Do you have another site you recommend? I'd love to hear your thoughts in the comments below.
Until Next Time …

Pin "Krabi to Koh Samui Ferry"

for later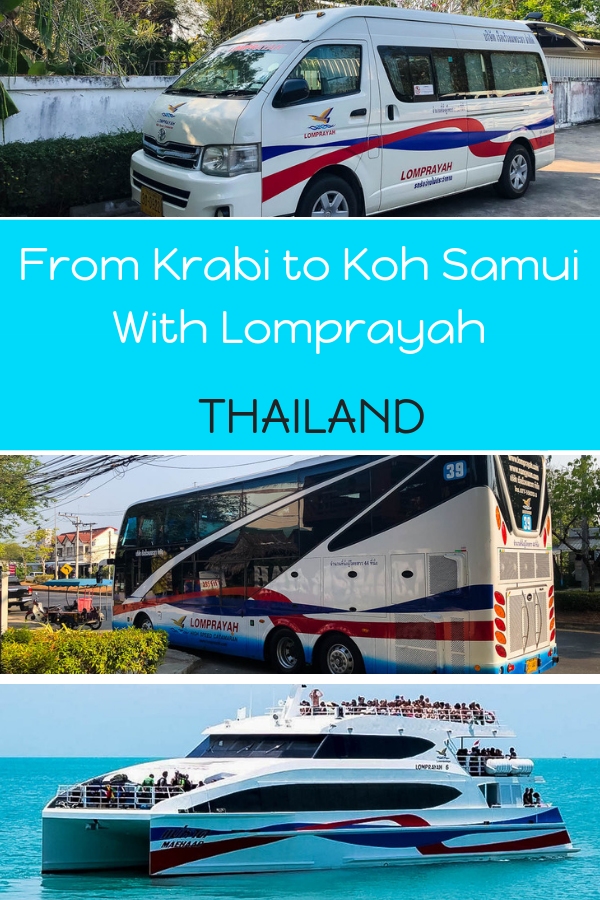 Disclosure Statement: This review is not sponsored. I paid for my trip from Ao Nang to Koh Samui in full. The information in this article is based on my own personal experiences and has not been influenced in any way by the brand(s) featured. This post may contain affiliate links which if clicked may earn me a small commission on purchases at no extra cost to you.