Getting to Boracay is a little tricky, but this tiny slice of paradise in the Philippines is absolutely worth the effort. The first step is to decide which airport to fly into; Boracay Caticlan or Kalibo. The Manila Boracay route is frequented by multiple airlines and flights from Manila to Caticlan are typically faster but more expensive than flights to Kalibo. Of course we decided on Caticlan. Once in Caticlan the next step is to navigate from Caticlan airport to Boracay Island. I found that Skyjet Airlines Philippines had the quickest flight time from Manila to Boracay. Add a private speed boat from Caticlan to Boracay Island and you have the fastest way to get from Manila to Boracay. If you want to spend more time relaxing than travelling on your next trip to Boracay read on for all the details …
Getting To Boracay: Caticlan or Kalibo
There is no airport on Boracay itself so unless you choose the 2Go ferry, the first decision is which airport to fly into. The Manila Boracay route is well frequented and there are two airports that allow access to the magical island; Caticlan or Kalibo. Kalibo is an international airport with direct flights to/from China, Singapore, South Korea and Taiwan as well as domestic flights from Angeles and Manila. Boracay Caticlan Airport only serves the domestic market but is the closest to Boracay Island and offers the easiest transfers. Direct flights to Boracay Caticlan airport are available from Manila, Angeles, Cebu, El Nido, Coron. Puerto Princesa and Davao. The trip from Caticlan Airport to Boracay is around an hour but it will take you closer to three hours from Kalibo Airport by bus/boat. The trade off is that flights are often cheaper to Kalibo. Our time in the Philippines was tight so we opted to pay a little more for the convenience of a quicker trip. Caticlan is also the gateway to Carabao Island.
Choosing Flights From Manila To Caticlan
With Kalibo ruled out, I scoured the internet for the very best flights from Manila to Caticlan. My search revealed four airlines have direct flights on this route; Skyjet Airlines Philippines, Air Asia, Philippine Airlines and Cebu Pacific/Cebgo. I'm all about saving a dollar but there is more to value than the bottom line and I didn't opt for the cheapest flight on Air Asia this time. At the time I booked the Air Asia flight Manila to Boracay was around AUD$60pp one way but it had a flight time of 1h 10m. For just a few dollars more we booked on Skyjet Airlines Philippines from Manila to Boracay because the flight time was much shorter at just 35 minutes.
READ MORE ON MANILA:
Shop up a storm when you stay at Fairmont Makati
Best Burgers in Makati at Fatburger (Coming soon)
Flying to Manila on Cebgo (Coming soon)
Safety: Skyjet Airlines Accident
The Hubs is always worried about safety on airlines. Me, not so much. I figure when your number is up, it's up. I humoured him anyway and checked out Skyjet Airlines Philippines' credentials before I booked. Turns out that they don't have a Skytrax rating, so I did a little Googling and was relieved to find that Skyjet Airlines have never had a crash. Take that Qantas! That said, they have only been operating since 2012 and there has been two accidents. The first was in October 2013 when an aircraft overshot the runway in Balesin. The second Skyjet Airlines accident was in February 2018 in Siargao. Again, the aircraft overshot the runway. Luckily in both incidents no-one was hurt but the aircraft in 2013 was written off. Even The Hubs felt pretty confident going ahead after those stats.
Booking Flights From Manila to Boracay with Skyjet
The Skyjet Airlines Philippines website is not particularly sophisticated but it doesn't need to be considering they only fly four routes, all originating from Manila. It's super easy to book flights from Manila to Boracay, Batanes, Coron or Siargao. Once you have decided on a date the biggest thing you have to worry about is how much baggage to add. All adult flights come with 10 kilos of checked baggage and 5 kilos of cabin baggage but the excess fees are reasonable and you can add an extra 10kgs for PHP800 (AUD $20) or 20kgs for PHP1,500 (AUD $37). Be aware that the prices quoted online are the base fare and a bunch of fees and charges will appear at checkout. If you are the sporty type, Skyjet Airlines Philippines has made allowances for various sporting equipment including surfboards, golf clubs, bicycles and diving equipment for just PHP1,200 (AUD $30). We paid a total of PHP6,694 (AUD$167) for our two one way flights from Manila to Caticlan but prices fluctuate. If you have some flexibility with your dates check a few weeks either side as prices can vary any where between PHP2,318 – PHP4,461 (AUD $58 – AUD$111) depending on when you travel. If you a planning a trip for your birthday you definitely want to get onboard with Skyjet's birthday promo which will get you a free return flight when you travel in your birthday month (conditions apply).
Checking In For Our Manila Boracay Flight
Our flight was cancelled a week before departure and we were transferred to the later flight. While I was initially disappointed, it did mean we had a much more relaxing morning at our hotel the Raffles Makati. If you don't have transfers included I highly recommend using Uber to get to Manila Airport. Skyjet Airlines Philippines notified us of the change by email and requested I confirm the change before a new e-ticket could be issued. I had to do this three times (twice by email and once over the phone) before I actually got my new e-ticket. Skyjet asked us to arrive at the airport two hours before take off. This seemed excessive for a domestic flight and I did question this when I was talking to the consultant about the changed flight. He was insistent. We complied but wished we hadn't. I think we could have pushed it another half hour at least and probably closer to an hour if we really wanted to be cheeky. Airports in the Philippines are very security cinscious and Manila's NAIA airport is no exception. It's important to note that before entering terminal 4 you must deposit all your firearms at the special booth. Thankfully we weren't packing so we didn't need to worry about that step. We did however have to produce our ticket before we could enter. X-Ray is segregated by sex so make sure you join the right queue. I was blissfully unaware in the male queue and yes they did make me go all the way to the end of the female queue much to The Hubs' amusement as he sailed on through. When we finally made it inside the check in counters were not even open. I secretly cursed the operator who was insistent on us arriving two hours ahead and waited not so patiently. All departing passengers have to negotiate yet another X-ray to access the boarding area. I would suggest staying on the other side as long as possible as it's super crowded and getting a seat is akin to finding a needle in a haystack.
Onboard Skyjet Philippines BAE 146 to Boracay Caticlan
We took off right on time which was refreshing after my last three domestic flights on Vietjet Air were late. Big thumbs up to Skyjet Airlines Philippines for getting this right. There were two Skyjet BAE 146's on the tarmac at Manila and we just followed the passengers in front safe in the knowledge that our boarding pass would be checked upon boarding. Only it wasn't. Despite my efforts to push it on her she waved me away. You bet your ass I listened to the welcome on board announcement for the first time in my life to make sure we were on the one headed to Caticlan. The BAE-146 seats 80 in a mostly 3×3 configuration save for the last few rows which are 2×2 as the plane narrows. Our flight was almost empty with no more than 20 people on board. When choosing your seat avoid rows 5 – 8 if you have excess cabin luggage as the overhead bins above these rows are about half the height of the the others. Seats 11 E&F were directly below the wing and as soon as I sat down I realised getting that perfect window shot was doing to be tricky. Particularly as the window was filthy. I did give it my best shot but it's definitely not my best work! The taxi from terminal 4 to the runway seemed endless especially in contrast to our very short 35 minute flight. The leather clad seats were very comfy. Much more so than the ones we spent 9 hours in on Cebu Pacific from Sydney to Manila. They have a decent recline which made for very comfortable flight. Our pilot advised we would be cruising at an altitude of only 19,000ft and it didn't take long to get to height. Shortly after take off the hostess offered us water and a cake which was more than I was expecting on such a short flight. As always the air conditioning was pumping way too hard and I quickly reached for my jacket in the chilly cabin. Even with my personal overhead vent closed the curtain of frosty air flooding through the vents beside the window was uncomfortable but The Hubs was less affected in the aisle seat.
Our Boat From Caticlan to Boracay
On landing at Caticlan a bus was ready and waiting to whisk us away. I was expecting a quick 5 second trip across the runway so I was surprised when we exited the airport and drove through town for 10 minutes to reach the terminal. I couldn't help but wonder about the fate of our checked luggage which didn't accompany us. I needn't have because it arrived on the conveyor almost as soon as we arrived. While Caticlan is the gateway to Boracay, our journey was not done yet. Getting to Boracay Island is easy when you stay at Coast Boracay. They literally organise everything. We were picked up by their rep at the airport, driven to the reception area, ferried across in a private boat and driven (almost) directly to the door with each transfer happening with military precision.
READ MORE ON BORACAY:
Casual Beachside Dining at Cha Cha's Beach Cafe
Other Transfers From Caticlan Airport To Boracay
If transfers are not included with your hotel and you need to make your own way check out My Boracay Guide who have multiple Boracay transfer options. Those tight on cash should check out the budget boat from Caticlan to Boracay which starts at just PHP325 (AUD$8). If you arrive after dark you will pay a premium for the traditional banka boat from Caticlan to Boracay starting at PHP825 (AUD$20). Private transfers will cost a little more if you don't want to share and start at PHP1,100 (AUD$27). If money is no object why not splurge on a helicopter transfer which starts at PHP7,300 (AUD $182). All prices are per person and one way.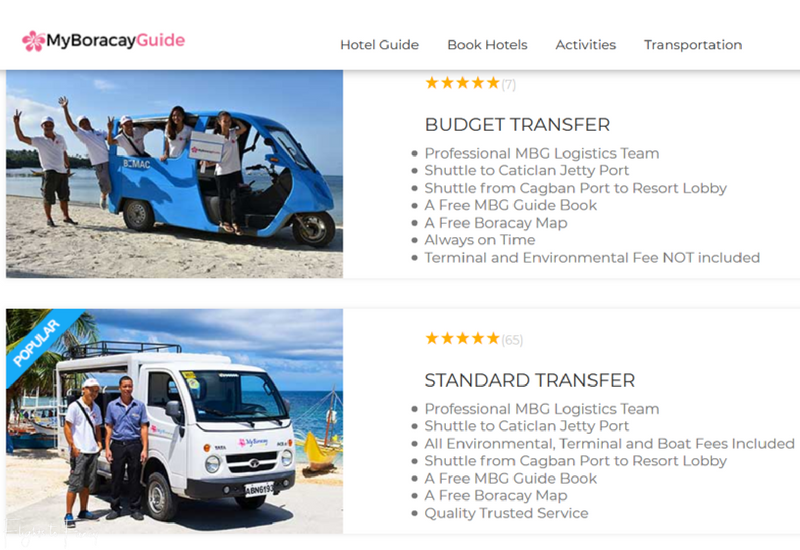 Final Word: Skyjet Airlines Philippines Flight Manila To Boracay
We had a great flight from Manila to Boracay on Skyjet. The quick Boracay Caticlan trip was smooth sailing every step of the way despite the cancellation which actually worked out better for us in the end anyway. The flight departed on time, the service was excellent and the price was certainly right. Skyjet will be our first choice for flights from Manila to Caticlan in future.
Have you been to Boracay? How did you get there? I would love to hear your thoughts in the comments below.
Until Next Time …

Pin "Manila Boracay Flights – Caticlan or Kalibo?"

for later!
Disclosure Statement: This post is not sponsored. I paid for my Manila Boracay flight on Skyjet Airlines Philippines in full. The information in this article is based on my own personal experiences and has not been influenced in any way by the brand(s) featured. This post may contain affiliate links which if clicked may earn me a small commission on purchases at no extra cost to you.