Mövenpick beach resort Mactan Island is a standout among the many Cebu beach resorts. It's perfect for those looking for a hotel near Mactan Cebu airport and offers private access to one of the best beaches in Cebu. We had some pretty gnarly weather for our two weeks in the Philippines, so I was thrilled when the sun appeared briefly so we could enjoy all the fabulous facilities at Mövenpick Hotel Mactan Island. Can you handle staying in the lap of luxury and enjoying a little R&R on these fabulous Mactan Island beaches? Read on for all the details ……
Mövenpick Hotel Near Mactan Cebu Airport
We flew to Cebu from Boracay on Philippine Airlines and our first stop was the Radisson Blu Cebu City. Cebu City traffic is insane and it took us nearly an hour to get to our hotel so for our last night in town we wanted a hotel near Mactan Cebu airport. Mövenpick Hotel is 6klms from Mactan Cebu International Airport and they can arrange a pick up for you, but I recommend Uber. Depending on the time of day (and therefore surge fares) you will most likely pay around 150 pesos. We used Uber extensively in the Philippines and never had an issue. After collecting your baggage, step outside and walk to the end towards the taxis. Make note of which bay you are in and set this as your pick up point. If you have never used Uber sign up and enjoy a credit on me! Security has been tight at other hotels we stayed at in the Philippines but Mövenpick is a little more chill. Don't get me wrong, they still have armed guards on the gate and your car will be stopped and checked but there are no metal detectors and bag checks which I appreciated. Mövenpick is a large 5 star Mediterranean inspired beachfront hotel which is light, bright and airy. The grounds are extensive and perfectly kept. If that's not enough to convince you, check out Mövenpick's impressive sustainability credentials.
Read More: 15 Luxury Hotels In The Philippines (That Will Blow Your Mind!)
Luxury Rooms With Mactan Island Beaches Views
The resort has three towers housing 245 rooms and suites, many of which command impressive views of the nearby Mactan Island beaches. We were thrilled to find we had been upgraded to a suite on arrival. Yay! Stepping inside room H603 was a real treat and it was a lovely surprise to receive complimentary wine, fruit and chocolates. The lounge room was dominated by a large, orange, corner lounge which did seem rather a strange colour choice but it was very comfy and a great place to relax. Cable TV is provided free of charge and there is lots of choice. Early one morning I flicked on the box absent mindedly and I caught the tail end of First Wives Club which is one of my all time favourite flicks. Even though it was only 7.30am, I couldn't help blasting 'You Don't Own Me' and singly along at the top of my lungs using the remote as a makeshift microphone while the credits rolled. The Hubs was not amused lol. The lounge room also houses the mini bar. Mövenpick provides cup 'o' noodles and a kettle which I have never seen in a hotel before. Nice one! The balcony off the lounge room is not huge but we had an amazing view of one of the best beaches in Cebu so we had zero complaints 🙂
The separate bedroom at Mövenpick beach resort Mactan was compact and perfectly formed. The pillows were sensational. Next door was a very original electric blue bathroom. Betcha don't get that in any other Cebu beach resorts! The shower is so high tech it comes with instructions to adjust the temperature and water pressure. It was a winner! The stunning Chopard toiletries were the icing on the cake.
Food & Drink At Cebu Beach Resorts
Guests at Mövenpick beach resort Mactan Island will not go hungry with multiple eateries to choose from. The premier restaurant is Sails where breakfast and dinner are served buffet style. The breakfast buffet is extensive. The littlest diners will love the kids corner which serves child friendly fare with counters low enough for them to serve themselves. I did steal one of the sausage flowers given they were beef and the adult sausages were either pork or chicken. My highlight was the potato rosti and The Hubs loved his scrambled eggs. His only complaint was that there were no baked beans. Oh and did I mention they have churros? The Forum is just off the pool and is perfect for lunch. After dark it turns into a swanky bar. If you can't drag yourself away from the beach grab a quick bite from the BBQ. Tea and coffee lovers can indulge their fix in the specialty tea house in the lobby and of course room service is available for those that prefer the convenience.
Facilities At Mövenpick Beach Resort Mactan Island
As one of the best Cebu beach resorts, the facilities at Mövenpick are outstanding. A games room just off the lobby will keep you entertained if you can drag yourself away from the tropical pool. The lush lawns are littered with lounges to admire the views of the Mactan Island beaches and sunsets across the water are spectacular. Why not book into Spa del Mar for a massage or facial to really indulge. Make sure you are near the lobby for chocolate hour when servers roam the grounds handing out chocolatey treats to the guests. Try the choc dipped mangoes!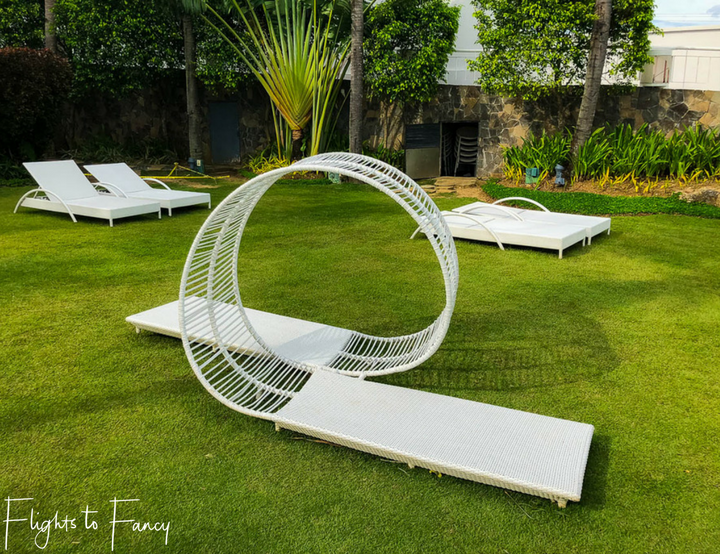 Ibiza Beach Bar At Mövenpick Beach Resort
One of the best beaches in Cebu deserves a stellar beach club and Ibizia is the place to be at night on Mactan Island. Ibiza is located within the grounds of Mövenpick beach resort Mactan Island which makes getting there a breeze. Cocktails and beer are served 2-for-1 between 4pm – 6pm and the sunsets are sublime. I tried a Latin lover and a Mojioto. If the sun is blazing cool off in the jacuzzi and have you drinks served poolside. The boom nets off the side are the perfect viewing platform to watch the sun bid farewell. After dark this is the place to be and tunes are pumped until 2am.
Access To The Best Beaches In Cebu
You are definitely going to want to check out the Mactan Island beaches while you are here and the private beach at Mövenpick is one of the best beaches in Cebu. It's also a Marine Sanctuary. How many Cebu beach resorts can boast that? Be respectful of the rules when you visit. All manor of water sports are offered but if you prefer to just relax the sea is bath water warm and as flat as a tack which is perfect for lounging. If you feel like venturing further you have a bit of a hike. If you are still keen head to places like Malapascua Island, Bantayan Island and Moalboal to find your perfect slither of sand.
Nearby To Mövenpick Hotel Mactan Island Cebu
Walk a few feet in any direction and you will stumble on a mini mart to get your essentials. If you're craving authentic Italian head to Giuseppe's Italian Restaurant (3 min walk). Alternatively both Fiesta Bay Restaurant and Kaishu Japanese Restaurant are under a 10 minute walk. You must try one of the amazing massages at Tree Shade Spa (3 min walk) who are open 24 hours. Sporty people might like to swing a club and the near by golf course (10 min walk) or try scuba at CNC Scuba Academy (5 min walk). If you want to see the sights, jostle with the tourists at Magellan's Marker (10 min walk) or enjoy one of Ocean Dreamer's 3 tours who pick up directly behind the hotel.
Will your choose Mövenpick next time you are looking for a hotel near Mactan Cebu Airport? I'd love to hear your thoughts in the comments below.
Until Next Time …

Pin

"Reasons Why Mövenpick is the Best Hotel Near Mactan Cebu Airport"

For Later!
Disclaimer: I received a discounted rate at Mövenpick Hotel Mactan Island Cebu. As always, all opinions are my own. This post contains affiliate banners which when clicked will earn me a few cents to contribute to the running of this site if you make a qualifying purchase at no extra cost to you.