Wondering where to stay in Gili Trawangan? You are in the right place. Not so long ago I was in exactly the same predicament. I did a lot of research on the best place to stay in Gili Trawangan before deciding on Villa Nero Gili Trawangan. You might think that Gili Trawangan villas are plentiful, but you would be wrong. On closer inspection it seems Gili Trawangan accommodation favours the backpacker set. Sure an ancient budget bunk was fine in my 20's, but for this trip I was interested in modern up-spec Gili Island villas. I know that the Gilis are popular with the younger crowd but surely us oldies aren't completely excluded? I was close to giving up hope of finding any Gili T villas to meet both my standards and my budget when I stumbled across Nero Villa Gili Trawangan. Chuffed with my find, I booked without hesitation. Read on for all the details …
Where To Stay in Gili Trawangan: Gili Trawangan Accommodation Overview
Location is a major factor when considering where to stay in Gili Trawangan. Gili Trawangan accommodation is clustered in two main areas; near the ferry 'terminal' and on the north/northeast shore. The northern area boasts fabulous sunsets, a quieter pace and upmarket hotels, but the area near the ferry terminal is the best place to stay in Gili Trawangan for convenience. Staying 'in town' means everything is in close proximity. Foodies will rejoice in being in the thick of Gili T's best eateries, water babies will love being steps away from crystal clear beaches and the ease of being able to walk to your accommodation straight off the boat can't be beaten. Once location is decided, most visitors will consider cost. Those on a budget will be thrilled to know that budget rooms start at around $8 a night. And that often includes breakfast! Let's face it, it's not the Ritz but if creature comforts are not high on your agenda these home stays and hostels might appeal. At the other end of the spectrum you will find luxury Gili Trawangan villas with private pools and all the mod cons which will set you back upwards of $400 a night. Most visitors are likely looking for something in the middle ground. Our budget was $150 a night for our three night stay and I found a small selection of Gili Island villas to meet our needs. After weighing up all the options, we decided to take a chance on Villa Nero Gili Trawangan. It was right at the top of our budget, but the location and rave reviews won us over. We always use Agoda to book accommodation in Indonesia as I find they have the largest choice in Asia and I love that I earn Agoda Cash and Velocity Points on most bookings. Lombok has recently been impacted by a series of major earthquakes and many buildings in Gili T felt the full force. The locals have begun the painstaking process of rebuilding, but make sure your chosen Gili Trawangan accommodation is unaffected before booking.
Getting To Nero Gili Trawangan Villas
The Gili Islands don't have an airport so everyone arrives by boat. There are a number of boat companies that offer transfers from Lombok, Nusa Lembongan and Bali. We chose Scoot Fast Cruises for the trip from Nusa Lembongan. Our trip over was uneventful, but our return trip to Bali was horrific. The Lombok Straight is notoriously unpredictable and the sea was so rough I actually though we were going to die out there. I made a promise to myself there and then that when I return to the Gili's I will fly into Lombok and take the short 10 minute boat ride across instead. Gili Trawangan does not have any motorised transport and visitors get around either on foot, by bicycle or by cidomos (pony-drawn carriages). The midday sun was blistering when we arrived and the rickety, unpaved streets made even the short 10 minute walk to Villa Nero tough going with our fully laden Samsonite Spinners. My High Sierra rolling duffel would have been much more practical. Despite the less than ideal conditions, I didn't consider taking a cidomo for a second. If it was hot and uncomfortable walking on the uneven sandy terrain for us, just think how difficult it must be for these tiny creatures pulling many times their body weight. If you are considering taking a cidomo, firstly I'd ask you don't. If you absolutely must take a ride, do your research prior and be aware of exactly what you are supporting. I know I can sleep easy with a clear conscience. While the distance to Villa Nero was short, I was glad we had an Indonesian SIM card so we could use Google Maps to guide us. On arrival we were greeted warmly at reception and ushered to the comfortable lounge area while our paperwork was prepared. Like magic a platter of fresh fruit and tropical juice appeared in front of us which we enjoyed while being briefed on the facilities at the resort.
Villa Nero Gili Trawangan Villas
After check in was complete, our attentive host lead us along the topiary lined curved path to villa #9 which would be our home away from home for the next three nights. Villa Nero is a small complex of just ten units and that was a big part of the appeal. First impressions count and the flowers dotting the large central bed were a great start to our stay. The bedroom was generous in size and contained a small lounge area as well as ample closets. There are plenty of power points in each villa including two by the bed which were handy for keeping phones nearby while charging. There was only two pillows supplied, but I'm sure we could have requested more if needed. The fridge was roomy and easily accommodated my last bottle of duty-free wine. Hotel rooms are notorious for bad lighting which annoys me no end but the overhead lighting at Villa Nero was more than adequate. Locked boxes are supplied in all Nero's Gili T villas, but they are not bolted down. Any would-be thief worth their salt could easily cart it away so it sorta defeats the purpose. Wood dominates the villa including in the dark floorboards and funky art. The floor creaked loudly underfoot and creeping around without disturbing The Hubs in the morning was impossible. Off the bedroom is an indoor/outdoor bathroom perfectly in keeping with the tropical setting. Despite the partially open roof, privacy was not an issue for us during our stay, but there was a multi-storey building under construction behind our room and I did wonder if the workers will be able to see in as it grows. The glass bathroom door in our villa didn't catch properly. We had to keep it locked throughout our stay to prevent it swinging open and letting out all the cool air. Glass was probably not the best choice for the bathroom door as the sun streams through early in the morning and we found ourselves waking earlier that we normally would. The shower was spacious and the fresh water flowed with good pressure. It may seem strange to mention fresh water in a shower. I tend to think that's a given, but many Gili Trawangan accommodation reviews mentioned salt water showers. No thanks! Any one who has ever stayed on a small island will know that plumbing is always a little sketchy and Gili T is no exception. The Villa Nero compendium requested guests use the nearby bin for toilet paper and other objects rather than flushing them. Unfortunately The Hubs didn't read this immediately and we suffered a few problems with the slightly blocked toilet thereafter. Lesson learned. I would suggest bringing some nappy sacks to keep the waste bin smelling fresh. Each of Nero's Gili Trawangan villas came with a generous deck complete with an inviting day bed where I spent afternoons relaxing with a glass of wine. Lower the functional blind to provide both shade and privacy if the sun is too harsh.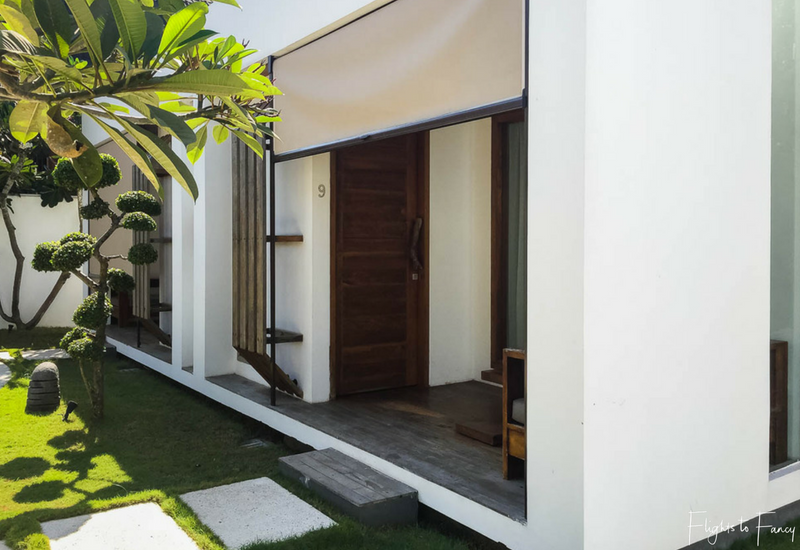 Facilities @ Nero Gili T Villas
One of my key considerations when deciding where to stay in Gili Trawangan was a pool. Yes I know Gili T is surrounded by stunning beaches, but honestly sometimes when you are hot and bothered you just want to stumble out of your room and dive into a cooling fresh water pool. The pool at Villa Nero was compact but more than adequate for the small complex. We rarely had to share it and never had to fight for a sun lounge. The water temperature was perfect; cool enough to be refreshing but warm enough for a late night swim. Second on my 'must have' list was free WiFi. As a travel blogger having reliable internet is crucial and I prefer not to pay for a connection if I can help it. The WiFi at Villa Nero Gili Trawangan was reliable and fast but I did have to log back in frequently. If walking everywhere becomes a bit much, grab one of the bikes that Villa Nero has on site for guests to use. Villa Nero also provides free cable television, complimentary water daily and luxury toiletries but perhaps their greatest asset is their staff. Nothing was too much trouble and every encounter with every team member was exceptional.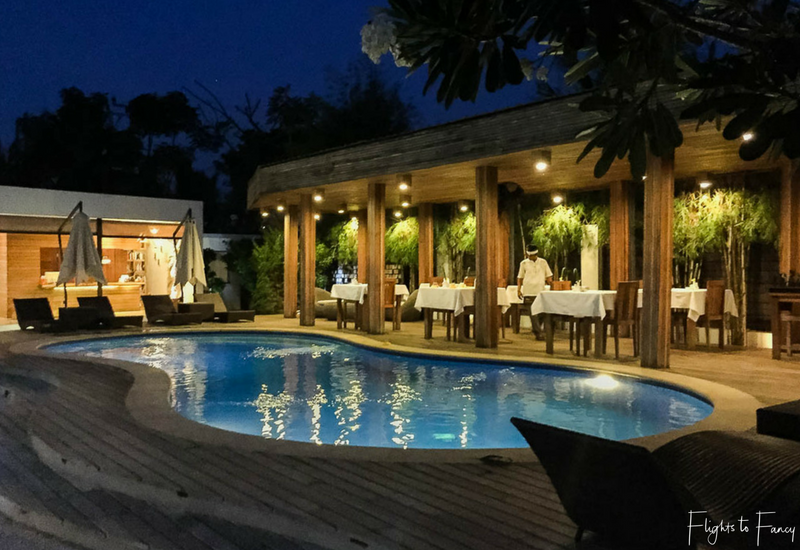 Breakfast @ Nero Villa Gili Trawangan
If food is a factor when deciding where to stay in Gili Trawangan, Villa Nero will not disappoint. Breakfast was served between 7am and 10am at our Gili Island villas and it was sensational. On the first morning we ambled down to the poolside restaurant at 9am to find all six tables full which was surprising given there are only ten villas in total at Villa Nero Gili Trawangan. The very helpful server offered room service but we declined as the poolside setting was lovely. We returned to our room and were contacted as soon as a table became available. The menu is tight and I worked my way through most dishes during our stay but my egg intolerance limited my choices somewhat. The wait staff looked quite confused when I ordered the 'two eggs any style' without the eggs. The muesli, quinoa and fresh fruit were all sensational. The Hubs enjoys his eggs and sampled the lot! He really rated the Nasi Goreng but truly everything was delicious. Beyond breakfast, a fully stocked bar is available which also serves snacks poolside throughout the day. Lunch and dinner attract diners from all over the island so if you are planning to partake it might be wise to book.
Nearby Villa Nero Gili Trawangan
If you need more proof that Villa Nero is one of the best places to stay in Gili Trawangan consider that these Gili T villas are a mere 5 minute stroll from one of the clearest beaches I have ever seen. Get your diving squad together because the snorkelling and diving in the Gili Islands is world class. We brought our Tusa masks and Tusa snorkels from home and used them daily. I recommend a matching Tusa mask tamer for anyone with hair longer than a buzz cut for comfort.  We chose not to bring our Atomic split fins and Tusa dive boots to save precious luggage space and instead hired a set for a few dollars from a shack on the beach. Granted they were not as good as our own, but they sufficed. The coral littering the main beach was brutal on bare feet and I sustained a rather nasty cut as a result. Bring a pair of reef shoes so you don't suffer the same fate. If you prefer to scuba, there are a number of dive centres along the beach that can organise this. All offer open water courses for those looking to get certified, but they are pricey by Australian standards; around $500. A better option would be to do a Prodive course in Sydney before leaving home for around $149. Make sure you pack reef friendly sunscreen to protect the underwater environment for generations to come. When it comes time for dinner, guests at Nero Villa Gili Trawangan are spoiled for choice; try Pizza Regina, The Thai House, The Santi Lounge or Bamboo Restaurant which are all within an easy walk.  Every visitor to Gili T will end up at the night markets at some point and we stopped in for dessert one evening. Directly opposite the beach, the markets are a feast for the senses. Everywhere you look pans sizzle, coals smoke and flames leap as delicacies are prepared before your eyes. The crepes were delicious! Gili T is a small island but it's well worth walking the 2 hours required to circumnavigate it. The best time to go is at just before sunset when the heat of the day has started to dissipate. Make sure you take your camera and snap a shot of one the famous in water swings. Just be prepared to wait in line to do it! Many come to Gili T solely to party and the popular bars hug the beachfront. The seems to be an unwritten rule in Gili T that the party will happen in certain bars on set days of the week. Try Tir Na Nog on Wednesday's, Blue Marlin on Monday's or Sama-Sama on Thursday's. I love a drink as much as the next guy, but visitors should be aware that tourists in Gili T have died as a result of methanol poisoning. Be safe out there peeps, you don't want the next drink to be your last.
The Final Word On Gili Island Villas
Is Nero Villa Gili Trawangan the best place to stay in Gili Trawangan? While I haven't sampled all the Gili Island villas, we loved our stay at Villa Nero. The location was perfect, the staff were exceptional, the rooms were delightful, the food was amazing and the pool was my favourite place to relax. Would I go back to these Gili T villas? You betcha! I was distressed to hear recently that many of the wonderful Nero Villa Gili Trawangan staff were personally affected by August's deadly earthquakes in Lombok. As travellers, the best way to show your support is to visit. Many locals depend on tourism for their livelihoods and I know they would love to see you. The Gili Islands are magical and offer something for everyone. I suggest you put it on your bucket list sooner rather than later.
Have you been to the Gili Islands? Where was your favourite place to stay? I would love to hear your thoughts in the comments below …
Until Next Time …

Pin "Gili Trawangan Accommodation: Villa Nero"

for later
Disclosure Statement: This post is not sponsored. I paid for my Gili Trawangan accommodation in full. The information in this article is based on my own personal experiences and has not been influenced in any way by the brand(s) featured. This post may contain affiliate links which if clicked may earn me a small commission on purchases at no extra cost to you.