So I'm guessing you are planning a trip to New Zealand. Or at least seriously thinking about it. The land of the long white cloud is a small but diverse nation that is incredibly popular with Aussies. In fact, 470,000 of us visit every year. This is my second trip across the ditch and the first time The Hubs has visited the North Island. Spectacular scenery, friendly locals, fantastic food and countless activities are waiting for you in En Zed (never Zee!), but there are a few things you need to know before hopping on that plane. Starting your research with my New Zealand travel essentials will see you arrive well prepared to enjoy a hassle free stay. Read on for all the details …
New Zealand Travel Essentials – A Brief History
New Zealand has a rich history which melds Māori and European culture. The Māori are said to have arrived in New Zealand about 1000 years ago from Polynesia. Dutch explorer Abel Tasman was the first European to arrive in 1642 and named the country Nieuw Zeeland. 127 years later Captain Cook arrived in 1769 but it wasn't until 1840 that the Treaty of Waitangi was signed between 500 Māori chiefs and the British Crown, formalising the still in tact relationship between the two nations. During the 1870's thousands of British people made New Zealand home and towns and infrastructure started to spring up. Fast forward a century and the slew of migrants in the 1980's were much more diverse resulting in a truly multi-cultural society. Today Māori make up 15% of the population and their culture, traditions and language are central to New Zealand's identity. Read much more about New Zealand's fascinating history here.
Entry Requirements
Getting into New Zealand is simplest for Aussie passport holders who do not require a visa and can enter freely as long as their passport is valid past their exit date. Aussies are also the only ones that can enter with a one way ticket. All other passport holders must ensure they have a return ticket (with a few exceptions) and their passport is valid for three months beyond their intended departure date. UK passport holders can enter for 6 months without a visa and a further 60 countries are on the visa waiver list which allows the holder to stay for 3 months without a visa with the only exception being those that are travelling for a medical consultation or treatment. Everyone else will need to organise a visa online before taking off. ePassport holders over the age of 12 from 10 countries can use the eGate at Auckland, Christchurch, Wellington and Queenstown international airports to process their passports in a flash.
Getting There
New Zealand has six international airports; Auckland, Hamilton, Wellington, Christchurch, Dunedin and Queenstown. Most international arrivals will land in Auckland or Christchurch as the smaller airports usually only offer trans-Tasman flights. Auckland is New Zealand's largest and busiest airport and it will take you about 24 hours to fly from London, 21 from New York, 13 from LA, 10½ from Tokyo, 6 from Perth and 3 from Sydney. You can pick up a one way flight from Sydney for a shade over $100. I share all my tips for securing the best bargains on flights here. For Aussies on the east coast, why not make the journey special and fly Emirates A380 business class over and return on Emirates A380 first class like we did. Best use of my Qantas frequent flyer points ever! It is possible to cruise to New Zealand and a good option to optimise your time is a fly/cruise like this 12 nighter with Norwegian. Princess also offers an 11 night option or try this shorter 4 night cruise with P&O, all of which all depart from Sydney.
Getting Around
New Zealand is perfect for road tripping and if you are clever you can get a great deal on car hire. We paid just $120 for a 7 day rental for our road trip around New Zealand's North Island which is unbeatable. While we stayed in the north, the South Island is just as suited for road trips. Be aware that petrol is pricey in NZ (up to $2 a litre) so I recommend choosing the smallest, most economical car you can while maintaining some comfort. If you want to combine transport and accommodation a camper is an option. They are very popular in NZ and you can compare a bunch of operators at Motor Home Republic or Vroom Vroom Vroom. If you would prefer not to drive yourself, Naked Bus is an economical way to get around. New Zealand Trains are expensive but offer some fabulous experiences, so weigh up whether the additional cost is worth it. Both Jetstar and Air New Zealand operate domestic flights in New Zealand. To get the best deal, compare them side by side on Agoda. Ferries are often a more relaxed way to travel and Bluebridge and Interislander make the 3½ hour crossing between the north and south islands multiple times daily. Fares start at $50 for a basic seat and expect to pay about $180 to take your car. Fullers ferries will get you from Auckland to Waiheke and the Coromandel. New Zealand has so many fabulous places to see, it really is hard to choose.
Money Matters
The local currency is the New Zealand Dollar (NZD). Coin denominations are 5¢, 10¢, 20¢, 50¢, $1, $2 followed by $5, $10, $20, $50 and $100 polymer (plastic) notes. ATM's most frequently dispense $20's and $50's. You'll get NZD $1.04 for an Aussie dollar, $1.40 for a US dollar and $1.78 for a pound. Visa and Mastercard are the most widely accepted credit cards and not everywhere accepted my American Express Velocity card. ATM's are plentiful but the withdrawal fees are high so take a chunk out at a time. I paid $5 to withdraw $300 at the BNZ machine at the airport and used my cards for everything else.
New Zealand Climate & Geography
In a word … Unpredictable! The highest ever recorded temperature of 42°C was in Marlborough and the lowest was -22°c in Otago. Of course these are the extremes. New Zealand has a diverse climate making it a year round destination. Snow lovers should visit in July and August and snow falls in the Central Plateau, the Southern Alps, Canterbury and Otago. If summer is more to your liking, January is the perfect time to visit the sub-tropical north. As a rule of thumb, the further south you go the cooler it will get. Rainfall occurs evenly across the year with most areas experiencing between 600mm – 1600mm annually. Make sure you take rain gear regardless of which season you visit. New Zealand's general lack of pollution means the UV rays are particularly strong so don't forget the sunscreen. For more detailed information on New Zealand's weather visit newzealand.com. By virtue of being intersected by the Australian and pacific plates New Zealand has a volatile geography and experiences 15,000 earthquakes per year. Sitting right on the edge of the pacific ring of fire, New Zealand also has a number of still active volcanoes, with the last eruption in 2012. As if that isn't enough, it is a hot bed of geothermal activity with geysers, bubbling mud pools and mineral springs dotting the country. New Zealand is absolutely the place to see mother nature at her most diverse.
Power
Power in NZ is 240 volts and the socket is the same as Australia. Adapters are readily available if you need one but I recommended bringing one from home to avoid the hassle. Some hotels offer 110v sockets in the bathrooms but don't count on it.
The Lingo
Kiwi's have a unique way of butchering the Queen's English that I find particularly endearing. As an Aussie I am quite accustomed to their slang, after all an estimated 600,000 of them live in Oz. Mostly all in Bondi! I thought I'd share a few of my favourite Kiwi slang terms just for laughs  …
Jandals = Thongs/Flip Flops
Judderbar = Speed Bump
Chilly Bin = Esky/Cooler
Bro = Not really your brother … works for anyone like man or mate or dude.
Cuz = Same as Bro. Also Cuzzy. Try the double banger and go for Cuzzy Bro
As = Used as an amplifier for many words i.e. sweet as, cheap as, etc …
Yeah Nah = A filler e.g. Yeah Nah Cuz I don't think I can.
The Wops = Far Away. The Aussie version would be woop woop or back of Bourke
Dairy = Corner store of milk bar.
Chur = Used in place of cheers or thank you e.g. Chur Bro.
Accommodation Recommendations
No New Zealand travel essentials post would be complete without considering where you are going to lay your head. New Zealand offers a wide range of accommodation from budget backpackers to 5 star hotels and everything in between. Make sure you check Agoda for the best deals. Here are some of my personal favourites. :-
CityLife Auckland – Location. Location. Location. Citylife Auckland is smack bang in the heart of the CBD just a few blocks from the harbour. This all apartment hotel is like a home away from home and we had a fantastic stay.
Beachside Resort Whitianga – Beachside Resort Whitianga (pronounced Fit-e-en-ga) is comfortable, great value and just a block from the beach making it hard to beat.
Regent of Rotorua – The Regent Of Rotorua is a boutique hotel in central Rotorua steps away from eat street. Touches of luxury are everywhere in the elegant surrounds and the onsite mineral pool is a must do!
My Top 10 Things To Do In New Zealand
To round out my list of New Zealand travel essentials it's worthwhile considering some of the activities you would like to do, particularly considering this my dictate where you stay. With so much to do to in New Zealand it was difficult to narrow down a top 10 but I have personally done all of these and can vouch for every single one! Here goes …
#1 Kayak Cathedral Cove – Cathedral cove is spectacular and there is no better way to get there than with Cathedral Cove Kayak Tours. All tours depart from Hahei beach and operate all year round.
#2 Stroll Auckland Viaduct Harbour – A perfect way to spend the morning. Pretend you own one of the multi million dollar yachts, grab a bite in the many Auckland Harbour and Viaduct eateries and don't forget to take a love lock for the wall.

#3 Take A Mud & Sulphur Bath – Purify skin and sooth your aches and pains in the heated pools of Hells Gate Spa in Rotorua. Pure bliss!
#4 Dive The Poor Knights – The Poor Knights is touted as having the best sub-tropical diving in the world. The comfortable 2 1/2 hour drive north of Auckland makes it easy to do as a day trip. I went with Tutukaka Dive (yeah I know it's a funny name lol) a few years ago and they were brilliant. The water was much colder than I like so an appropriate wetsuit is a must!
#5 Discover Waitomo Caves – With three caves to choose from at Waitomo Caves you can do a little or a lot. Don't miss the glowworms 🙂
#6 Experience Māori Culture – The Te Puia Te Pō experience includes a traditional Māori welcome from the chief, story telling, entertainment and a Hāngi feast.
#7 Drink Kiwi Wine – Everywhere. Particularly Sauvignon Blanc which is their specialty.  Better yet, do a tasting with a view at Volcanic Hills.
#8 Dine With A View – The view from Skyline Rotorua is amazing and the food at Stratosfare is sensational. Grab a window seat and linger a while.
#9 Jet Boating – The speed, twists and turns of Shotover Jet Queenstown will get your heart racing! Check out these other 23 amazing things to do in Queenstown in summer while you are in town.
#10 Hot Water Beach – Two underground fissures at Hot Sand Beach in the Coromandel make it possible to enjoy water temperatures of up to 64°c in your own hand dug spa.
More Things To Do In New Zealand
Still need more inspiration? Lord Of The Rings fans can relive the movies with experiences in Matamata and Queenstown. Ski Cardrona, The Remarkables or Coronet Peak for some of the best powder in the Southern Hemisphere. Those keen on nature should try one of these New Zealand hikes. You can bungy jump off almost anything in NZ but AJ Hackett is the original and best. Ever wanted to try a downhill luge or zorbing? Rotourua is the place to be. Animal lovers can visit a Kiwi, spot a seal or swim with wild dolphins. Everyone can enjoy the view from the top of Auckland Skytower (below) but braver folks will step outside to do the SkyWalk at 192m above the ground. I'm planning to visit Waiheke Island next time and you can do it in a day trip from Auckland but I'm going to stay overnight. Like the water? Snorkel at Goat Island, try your hand at game fishing or simply visit a stunning beach. An overnight cruise in Doubtful Sound is the perfect way to feel at one with nature or try a Milford Sound day cruise. Take to the skies with a heli hike at Fox or Franz Joseph glaciers, take a scenic flight or freefall in a skydive. And for something uniquely Kiwi, sample feijoa liqueur at Purangi Winery. Need more ideas? Check out these awesome things to do in New Zealand for first timers.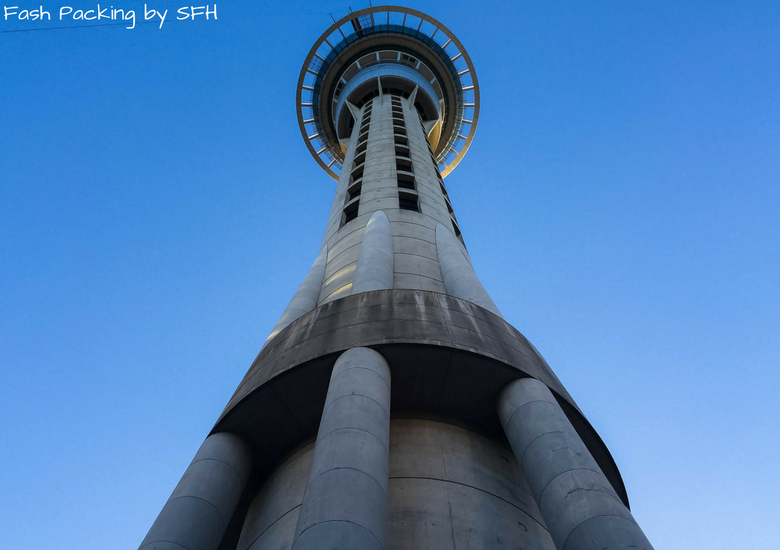 Have I missed anything from my New Zealand travel essentials? If you have a burning question not covered let me know in the comments and I will do my best to answer it.

DISCLAIMER: Citylife Auckland, Skyline Rotorua, Stratosfare Restaurant, Te Puia, Hells Gate, Cathedral Cove Kayak Tours, Volcanic Hills Winery and Waitomo Caves all kindly hosted me during my visit to New Zealand and I received discounted rates at Beachside Resort Whitianga and the Regent of Rotorua. Some links contained in this post are affiliate links which may earn me a small commission. As always, all opinions are my own.
Like it? Pin it!
Save
Save
Save
Save
Save
Save
Save
Save
Save
Save
Save
Save
Save
Save
Save
Save
Save
Save
Save
Save
Save
Save