I love a good market. I've visited a tonne on my travels and one of my favourites are the Night Noodle Markets Canberra. The Canberra Night Noodle Markets are held annually in March as part of the month long Enlighten Canberra festival. I first visited in 2016 and The Hubs and I were so impressed we returned again in 2018. The Canberra Enlighten Noodle Markets are set to return to Australia's Capital for the 5th time in 2019 so now is the perfect time to start planning your visit. Read on for all the details …
What is Enlighten Canberra?
Canberra has a bit of a reputation among Aussies as being boring. I spent a weekend in Canberra in 2016 more than a decade after my last visit. I was less than enthusiastic to return, but The Hubs had recently purchased a new two wheeler and wanted to take it for a decent run. Canberra is ~2½ hours by road from Sydney and that's about the longest I can sit on the back before my bum starts to go numb, so Canberra it was. I wasn't expecting much to be honest, but I was pleasantly surprised because as luck would have it, our visited coincided with Enlighten Canberra. Enlighten is an annual festival held each March which encourages visitors to see Canberra in 'a whole new light'. The Autumn festival attracts around 300,000 visitors and features both local and interstate artists. The real fun happens after dark when the city lights up and it's most famous attractions throw open their doors after hours. We were planning to return in 2019, but our plans changed suddenly when we welcomed a new baby French Bulldog into our lives. Enlighten Canberra is pet friendly, but we weren't sure how Charli would handle the crowds being so young. We do plan to take her in 2020 when she is a bit older.
Enlighten Canberra Illuminations
The Canberra Enlighten Illuminations light up the night sky every evening of the festival. Head to the Parliamentary Triangle and plan to spend a few hours wandering around. Vibrant neon light covers buildings, foliage and many other surfaces to create an immersive experience. An instant photo booth allows visitors to get in on the action by projecting all the photos taken onto the nearby building. With a few enhancements of course! Doesn't The Hubs look great with a jellyfish on his nose?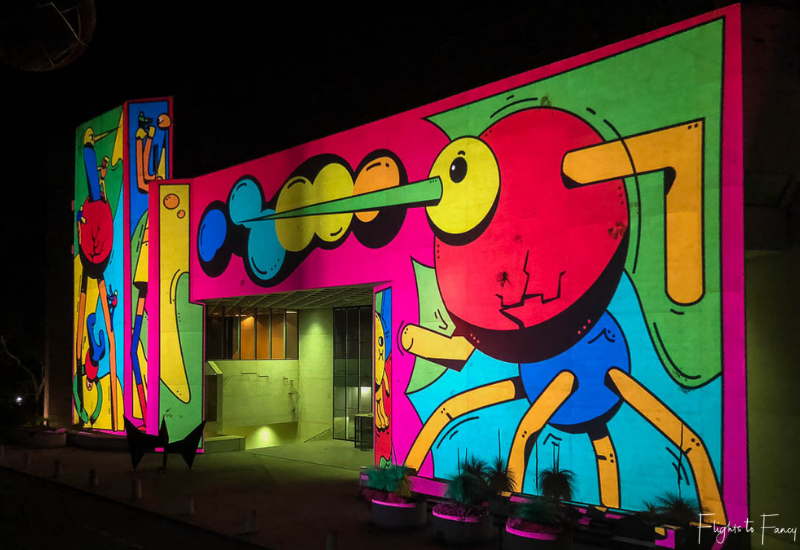 Night Noodle Markets Canberra
One of the highlights of Enlighten Canberra is the Canberra Night Noodle Markets. Each year 20+ tents are set up on the lawns of Reconciliation Place between the National Portrait Gallery and Questacon to the delight of hungry festival goers. The line up changes each year and some of the more unusual offerings have included flashing fairy floss and Glownuts (glow in the dark donuts). The Enlighten Noodle Markets operate from 4pm – 10.30pm Friday to Sunday and from 5pm – 9pm Monday to Thursday so there is plenty of time to eat your fill. The full 2019 line up hasn't been confirmed yet, but here are a few stalls that have been locked in …
Hoy Pinoy
I visited the Philippines in 2017 and while I did find some really good Pizza in El Nido, I struggled to get into the local cuisine. Hoy Pinoy let's you try all the Filipino classics without leaving home. Try Lechon (roast pork), Chicken Adobo (garlic, pepper & soy sauce), Inihaw Na Manok (chicken skewers), Inihaw Na Baboy (pork skewers in banana ketchup glaze), Mais (corn grilled with cheese sauce) or Kanin (steamed rice with atchara papaya pickle).
Chur Burger
Chur Burger serves up burgers and chips with Asian flair. On the menu you'll find Hoison Goin Bo (Grilled beef, cheese, crispy five spiced bacon, butter lettuce, hoisin bbq sauce, rice wine pickles, prawn cracker & aioli), Pepper Pig (salt and pepper crispy pork belly, pickled slaw, chilli black bean mayo & pork cotton candy), Harajuku Girl (panko crumbed chicken, umami seasoning, butter lettuce, spicy Japanese mayo, rice wine pickled cucumber & puffed wild rice) and a kids burger. Order you fries 'Phat' (chunky cut with crispy pork belly, chilli black bean mayo and crispy onions) for the full experience.
Chur-Ken
Head to Chur-Ken for chicken wings three ways all served with Asian slaw and spicy pickles; Straight Outta Schezuan (salt & pepper), Me Soy Honey (honey soy) and Seoul Chilli (Korean chilli).
Mr Bao
I'm heading to Taiwan in October for the first time and tucking into Gua Bao is at the top of my list. Often called a Taiwanese Hamburger, Gua Bao looks more like a sandwich with the tasty fillings squished between a steamed chinese style bun. The traditional filling is pork, but Mr Bao serves his up three ways; cracking pork, Japanese Karaage Chicken and Korean Beef. Add a serve of Cracking Pork Belly Fries to send you over the edge.
Bangkok Street Food
I spent 14 crazy hours in Bangkok when a friend and I did a day trip from Phuket. I'm heading there again in October 2019 for a few days and trawling the street stalls is high on my list. I love Thai food and Bangkok Street Food serves up a short list of my favourites such as Pad Thai Tofu, Pad See Ewe, Pork Balls, Grilled Calamari and Tom Yum Noodles.
May's Malaysian Hawker
It's been a while since I was last in Malaysia and I have fond memories of the amazing breads in Kuala Lumpur and the fabulous hawker stalls of Long Beach in Batu Ferringhi Penang. Head to May's Malaysian Hawker for an eclectic selection of South East Asian favourites such as Mee Goreng, Singapore Noodles. Nasi Goreng, Char Kway Teow, Char Been Hoon and Fried Raddish Cake.
What The Pho?
Pho (pronounced 'fuh') is a Vietnamese soup made of broth, rice, noodles, herbs and meat (usually beef or chicken) that has become popular with street food vendors. The Hubs had an amazing Beef Pho at the Sincerity Hotel in Hoi An on our first visit to Vietnam. We were in Vietnam again in September 2018 on our way to Cambodia, but our planned three days turned into 12 hours when Jetstar International cancelled our flight to Ho Chi Minh City. I'm heading back in October 2019 and Bun Bo Nam Bo in Hanoi and Phi Banh Mi in Hoi An will be the first two street vendors I visit. Finding a great Pho will closely follow.
Little Kyoto
I'm heading to Japan in May 2019 for the first time. Well technically it is my third time given I had two 13 hours in Osaka on the way to and from London many years ago. While I did manage to get out of the airport both times, I only got a mere glimpse of Japan. If you are longing to visit the Land Of The Rising Sun but can't quite get there yet, head to Little Kyoto for Yakisoba (Japanese fried noodles), Takoyaki Towers (octopus dumlings), Phorritos (Pho in a burrito) and Miso Chicken Kushi Katsu (crumbed deep fried chicken skewers). Itadakimasu!
Wok Master
Wok Master has been delighting Sydney locals with innovative Asian favourites in Randwick for years and are now bringing their signature dishes to the Canberra Night Noodle Markets. Try the Stir Fry Roasted Duck with Hokkien Noodles in XO Sauce, Singapore Noodles with Chicken or Steamed Pork Dim Sim.
Satay Brothers
Satay is one of my favourite Asian dishes. I could eat the delicious peanutty chicken skewers served up by Sheppy's Bali every day if it was a little closer. Satay Brothers at the Night Noodle Markets Canberra dish out a seemingly endless supply to eagerly waiting guests. Try the the BBQ Ribs (pork, lamb or beef) while you are there.
Donburi Station
Donburi is a Japanese rice bowl dish with thinly sliced meat or fish. Donburi Station offers both beef and chicken donburi as well as Osaka Noodles (pork, chicken or vegetarian), pork or vegetable Gyoza (Japanese fried dumplings) and the delightful sounding Tokyo Tacos (beef taco served with salsa and toppings on rice).
What We Ate At The Canberra Night Noodle Markets
In 2016, The Hubs and I visited on our own, but in 2018 we dragged along my youngest son and his girlfriend. Her family live in Canberra so her Mum, Dad and sister came along for the ride. The queues to get into the Canberra Night Noodle Markets can be quite long and it takes some time to peruse all the stalls so make sure you don't turn up starving. The beauty about dining at the Enlighten Noodle Markets in a big group is that you don't all have to decide on the same thing. There are a number of tables, but demand often outweighs supply. Over our two visits we ate a variety of dishes including Paella, Korean BBQ Taocs, Chi Chi Fries, Churros and Donut Holes. Taking decent photos of the food was incredibly difficult in the low level neon coloured light, but you get the drift.
Quench Your Thirst @ Enlighten Noodle Markets
The perfect partner for spicy Asian food is a crisp white wine or an icy cold beer and the Night Noodle Markets Canberra have a number of bars to satisfy your thirst. Grab your favourite tipple and head to the rear of the markets to watch the sunset across Lake Burley Griffin.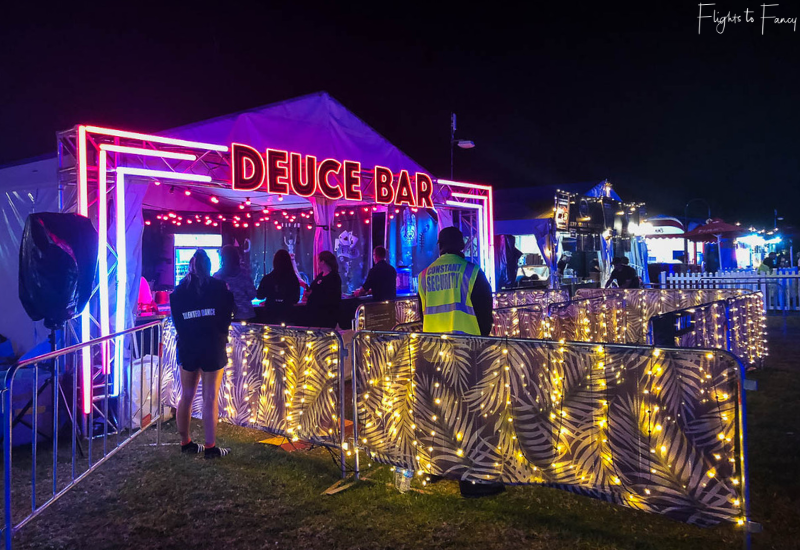 Canberra Enlighten Alley
In additional to the Canberra Night Noodle Markets you can grab a bite to eat from Enlighten Alley. Less crowded that the markets, Enlighten Alley has a handful of stalls to tempt visitors and when we visited there was also a kids craft station to keep the little ones amused. The limousine gelato stall was particularly popular.
Other Featured Events @ Canberra Enlighten
While the Illuminations and the Canberra Night Noodle Markets were clearly winners for me, the fun doesn't stop there. The full program features a mix of free and ticketed events including:-
Canberra Balloon Spectacular – 9 – 17 March 2019 from 6am
I really recommend the Canberra Balloon Spectacular even if it does mean getting up at 5.30am on a chilly Autumn morning. Expect to see about 30 or so hot air ballon's lift off from the lawns in front of Old Parliamnet House. The special shape balloons are always the crowd favourites and over our two visits we have seen a frog, a heart, Darth Vader, an owl and a hummingbird.
Lights! Canberra! Action! – 8 March 2019 7pm – 11pm

Lights! Canberra! Action! challenges film-maker's to shoot, edit and produce a seven minute film in just 10 days. Each filmmaker is given a list of ten items which must be used in the film. This year's theme of 'one small step' has been specifically chosen to celebrate the 50th anniversary of the first moon landing in 1969. The Honeysuckle Tracking Station just south of Canberra played an instrumental part in ensuring this momentous occasion was televised around the globe. The finished films will be screened outdoors in the Senate Rose Gardens at the Museum of Australian Democracy and the winners are announced on the night.
Symphony In The Park – 10 March 2019 7pm – 10pm

Symphony In The Park is set in the natural amphitheater at Commonwealth Park. Bring a picnic blanket, spread it on the lawn and sit back and relax as The Canberra Symphony Orchestra fills the night with music.
Canberra Day – 11 March 2019 2pm – 10pm

Canberra turns 106 in 2019 and everyone can join in the celebrations. Head down to stage 88 at Commonwealth Park on this local public holiday. The kids will enjoy the amusement rides and face painting while the big kids will appreciate the live music and food stalls.
Skyfire – 16 March 2019 6pm – 9pm

Everyone loves a firework and 104.7 Skyfire returns to the shores of Lake Burley Griffin for the 31st year in 2019 on the penultimate night of Enlighten Canberra. Head to Regatta Point for live entertainment and aerial acrobatics before the night culminates in an explosive display of pyrotechnics. Make sure you tune into HIT 104.7 for the simultaneous soundtrack as the crackers burst.
Where To Stay In Canberra
We stayed at the Novotel Canberra on our first visit which was in the city centre. We had The Hubs' bike so we rode to and from the Enlighten Canberra events we visited. If you don't have your own set of wheels, check out Airport Rentals for a cheap hire car or catch the free shuttle bus from the Civic Bus Interchange daily between 5pm – 11.30pm. On our second visit we stayed at Hotel Kurrajong. It was about a 10 minute walk from all the action and perfect for us. When we head back in 2020 of course we are going to need something pet friendly as we will have Charli along and I have my eye on Abode Narrabunda. Book through Agoda for the best deals.
Have you been to Canberra lately? I'd love to hear about it in the comments below.
Until Next Time …

Pin "Enlighten Canberra Night Noodle Markets"

for later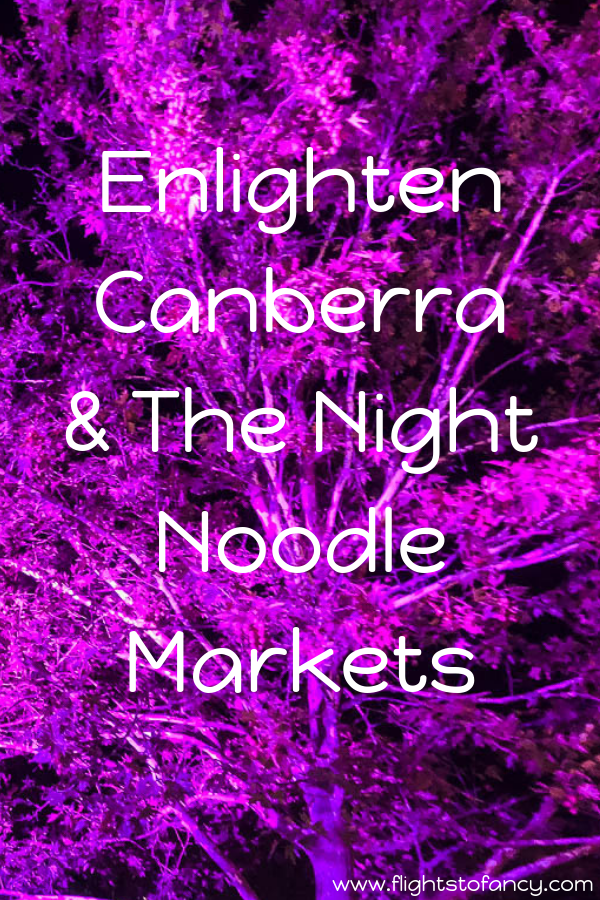 Disclosure Statement: This post is not sponsored. The information in this article is based on my own personal experiences visiting Enlighten Canberra and the Enlighten Noodle Markets and has not been influenced in any way by the brand(s) featured. This post may contain affiliate links which if clicked may earn me a small commission on purchases at no extra cost to you.