Recently The Co-Conspirator and I spent a long weekend on Queensland's beautiful Sunshine Coast. The Sunshine Coast's 460klm2 covers localities such as Noosa, Mooloolaba, Caloundra and Maroochydore, so choosing just one place to stay was tough. As always, I started my search on Expedia where 461 hotels had availability and were vying for my tourist dollar. Sheesh! After an arduous process of elimination we selected the Novotel Twin Waters Resort based on the trifecta of location, facilities and value. If you are heading to the Sunshine Coast, my Novotel Twin Waters Review is a must read before you book. Read on for all the details …
Novotel Twin Waters Overview
Novotel Twin Waters is a premium 4-star resort on Queensland's Sunshine Coast. Quality facilities make Novotel Twin Waters the perfect choice for family holidays, group getaways, girly weekends or business conferences. Set in 36 hectares of natural bush land with easy access to the beach and the Maroochy River, the Novotel Twin Waters is a destination in itself. The centrepiece of the resort is an expansive private lagoon dotted with palm-fringed golden sand beaches. Accommodation options range from modest to indulgent and the activities available are enough to keep you busy for a week!
Location
Novotel Twin Waters is about an hours drive north of Brisbane and 5klms from the closest airport (MCY) which is serviced by Virgin, Jetstar and Qantas. Read my tips on scoring a bargain flight before you book to kick your holiday off to a great start. It's within easy striking distance of all the local attractions as long as you have a car. The closest bus stop is a 25 minute walk from the hotel door so I suggest either bringing your own car or taking advantage of one of the many discount car hire options available like we did.  The short distance to the airport puts the resort right under the flight path, which is how I was able to get the impressive title photo for this post. I'm not going to lie and say you can't hear the aircraft noise, you can, but flights are infrequent and operate roughly between the hours of 7am and 7.30pm, so it shouldn't detract from your stay. The resort is nestled between a surf beach and the Maroochy river both of which are easily accessible from the resort by dedicated paths and board walks.
Accommodation Options
Novotel Twin Waters resort's 361 rooms are split between resort rooms, one and two bedroom suites and overwater lagoon suites, each with a number of bedding configurations. Every room provides your own private slice of outdoor space in the form of a balcony, a patio or a deck. As you would expect the resort rooms are the most economical, starting at around $150 a night for a garden view room with breakfast, while the top end overwater bungalows are approx $300 a night (prices based on a 30 day advance purchase in winter). My Novotel Twin Waters review evaluates the garden view resort room we selected.
Rooms
My first step to narrowing down the 461 hotels on offer was to eliminate every hotel whose twin rooms offered two single beds. Just because I am traveling with my friend not my partner doesn't mean I want to feel like I'm back at school camp and sacrifice my comfort. Two double beds was a firm non-negotiable and our garden view resort room delivered just that. If you are travelling with a significant other then a queen bed with a double sofa bed is available. After some initial confusion finding our room due to the contradictory signage, my first impressions of our temporary home were exactly what I have come to expect of the Novotel brand; clean, functional and spacious with modern decor. The beds were dressed in crisp white linen and delivered an excellent nights sleep. The small balcony was more than adequate for our needs and had a delightful outlook over the lush green gardens. You might remember from my Novotel Canberra Review that the bathroom was rather dated, well it must be a Novotel trait because it's the same here. Worse and rather bizarrely, the bathroom has a louvered door, so let's just say any *ahem* 'sounds' in there will be heard from the room. This is probably not an issue if you are staying with your partner, but not really something you need your best friend to hear. I hate shower curtains and the one in our over-bath shower had some rather nasty suspicious-looking black stuff at the bottom. I wasn't keen on investigating too closely but is was off-putting to say the least. I didn't use the hotel supplied toiletries but The Co-Conspirator wasn't impressed with the two-in-one shampoo/conditioner supplied. Lighting is notoriously inadequate in hotel rooms and Novotel Twin Waters was no exception. The other niggle we experienced was with the power points. The Co-Conspirator's tablet has a rather chunky plug that would not fit into any of the power points except the one reserved for the kettle, which meant she ended up watching the tail end her period drama (where the killer was revealed … seriously don't ask!) hovering in the corridor instead of relaxing on the bed. One surprising element of our stay that I have never seen anywhere else is Novotel's Conservation Credit Program. Aimed at being kinder to the environment, you can forgo daily servicing in return for a $15 a day room credit to spend throughout the resort. Given our short stay jumped on the offer and spent our $30 in the bar. Big, big ticks for this one! I don't know about you, but I always prefer an empty fridge to a fully stocked mini bar so I can fill it myself and Novotel delivered. Ample cupboard space would suit those staying longer but for our three night stay they remained empty.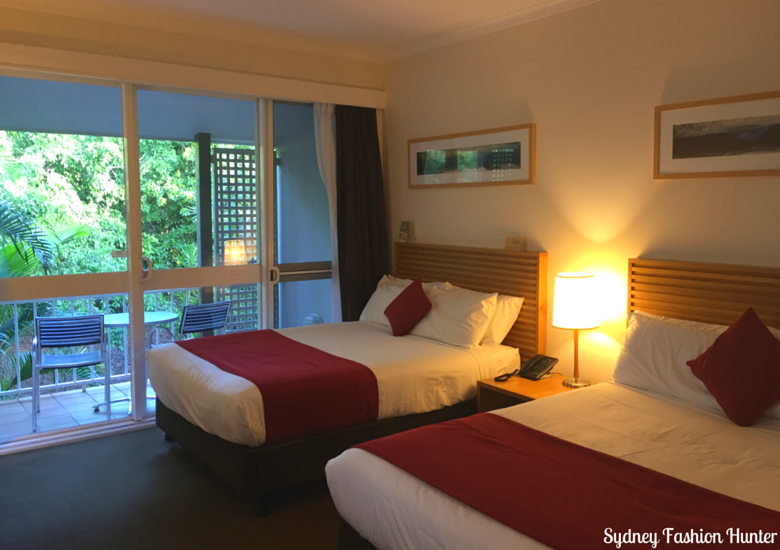 Facilities
Facilities on site include an outdoor pool and spa, restaurants, a bar, day spa, fitness centre, games room and a conference centre, with optional marquee hire for larger functions. There is also a discovery desk on site that can assist with discount tickets, tour bookings and transfers. Car parking is free (yay!) and conveniently located near the accommodation blocks. The free wi-fi (see below) almost wasn't worth the effort as it dropped out constantly and we were forever retyping in the credentials. The one thing Novotel Twin Waters lacks is elevators. You may think they are not necessary given the resort is only two stroreys and I would normally agree but I sure would have appreciated one when we were lugging our suitcases up and down the stairs.
Activities
Novotel Twin Waters far exceeded my expectations with plenty of family friendly activities for guests of all ages.  A dedicated kids club will take care of your offspring while you grab a few minutes of me time and when they are not in the club the whole family will enjoy whizzing around the resort on a segway tour, trying their luck at putt putt golf, shooting each other in laser skirmish or exploring on a rented bike. Water lovers are well catered for with kayaks, catamarans, surfboards and SUPs all available for hire and the aqua fun park and water trampoline look like a great way to spend a sunny afternoon. Novotel also offers school holiday programs to make sure your kids are well and truly looked after. When you do venture beyond the resort, I recommend a visit to one of my picks of the best Sunshine Coast markets, sampling a local drop at picturesque vineyards, doing a spot of shopping at Sunshine Plaza and of course dining at one of the Sunny Coast's fabulous restaurants.
Service
The service at Novotel was meh. I know that makes me sound like a truculent 15-year-old not a well-educated middle-aged woman, but I honestly can't think of a better way to describe the experience. There was nothing terribly wrong, but nothing terribly right either. We arrived at 4pm, well past the usual 2pm check in rush, so we expected to sail through, but it took thirty minutes or so to complete the process. The shining light was when our server advised we could gain free wi-fi by joining Le Club, which of course we did. The hosts at breakfast were brisk and our greeting each morning consisted of a clipped 'room number and name' in lieu of a welcoming greeting. I can only assume this is the accepted norm because it happened on all three mornings with different servers. I tried several times to ring housekeeping to register for the Conservation Credit Program as required and the phone rang out on at least two separate occasions before I was able to connect. When we visited the 'Grabit & Go' on our first day we waited 5 – 10 minutes for someone to arrive to take our order. The best service we received all weekend was at the Aqua Lounge from staff who were welcoming, friendly and generous with their pours. Check out was efficient and while one of our $15 conservation credits was not initially applied this was speedily rectified. As I said; nothing disastrous but certainly nothing exceptional either.
Wine & Dine
Breakfast at the Nouveax restaurant was included in our stay so even though I am not a big breakfast eater I chose to indulge. The restaurant is light, sun-filled and airy with a tropical feel. On our first morning we encountered a 50-deep line that snaked well past the water features in the lobby, which coupled with plastic bottle tops doubled as entertainment for the restless minors bored with the queue. I'm not entirely sure why the wait was so long because there were multiple empty tables for two when we were finally seated about 40 minutes later, but I can only assume it had something to do with the large number of groups all insisting on sitting together. An employee did walk the queue and offer some pastries to those at the tail end to quiet grumbling tummies but we were almost at the front by that stage and missed out. A smarter option would have been to extract parties of two from the line and seat them quickly given there was ample room inside. Thankfully this was a one-off experience and the other two days were without incident. Breakfast is served buffet style and has all the essentials. I'm a big bagel fan and it took me a few failed attempts with the toaster to get them just right. I was super pleased to find Vegemite with the condiments (yay!) but weirdly the cream cheese was nowhere near the bagels (it's next to the pancakes if you are looking for it!) which made it more difficult than needed. A good selection of cereals were on offer and the fruit platters were fresh and plentiful. The bain-maries were well stocked, piping hot and replenished often. I love that they had BBQ sauce for my sausages 🙂 The orange juice was not to my personal taste because it has pith (seriously who likes it like that?) which meant it took what felt like an age to trickle out and fill my (tiny) glass. I'm not a coffee drinker but the barista in the corner was very popular and many diners grabbed an extra take away on their way out. We also visited the Aqua Bar twice during our stay. The first time we just missed the 4 – 5pm happy hour and rectified that on the second day but prices were reasonable even without the discount. The comfortable couches, friendly staff and welcoming atmosphere invites you to sit back, relax and stay a while.
Final Thoughts
While we had a few small snags with our stay, the positives far outweighed the negatives and overall we really enjoyed our time at the Novotel. The Co-Conspirator is already planning another trip with her two boys in tow.
Did you find my Novotel Twin Waters review helpful? If you are already sold book here. If you have any questions drop them in the comments. I answer them all! I'd love to hear your thoughts if you have visited before.
Until Next Time …
Happy Hunting!
SFH
xoxoxo
Disclaimer: My Novotel Twin Waters Review was not sponsored. I paid for my stay in full and received no compensation. As always all opinions are my own.
Like it? Pin it!
Save
Save