Darwin is the perfect place to 'winter'. While the southern states of Australia shiver from June to August, Darwin enjoys consistent temperatures in the low 30's (that's Celsius peeps!) during the winter months. After a particularly brutal June, The Hubs and I decided we needed a little warm in our lives and on a whim one lazy Sunday we booked flights to Darwin for the following month. With the transport sorted, our minds turned to finding the perfect Darwin city hotel. We knew we wanted Darwin waterfront accommodation so it made sense to start our search in the area near Bicentennial Park. Accommodation on Darwin Esplanade is plentiful so narrowing it down was no easy feat. We trawled through all the modern Darwin holiday apartments and the well-known chain hotels and even the lesser known motels in search of the right fit. After weighing up all our options, we chose Palms City Resort Darwin. While we don't normally opt for self-catering, Palms City's serviced apartments in Darwin really appealed. We were very impressed by our self contained accommodation in Darwin and I bet you will be too. Read on for all the details …
Darwin The Second Time Around
It's been 18 years since I was last in Darwin. My last visit was over the Christmas/New Year period and I had The Hubs, my two boys (aged around 8 & 4 at the time), my cousin, her son (8yo), my Mum and my uncle in tow. It was an eclectic group of eight that's for sure. My cuz, her Dad and her son were all visiting from the UK so in hindsight taking them to one of the hottest cities in Australia in the height of summer probably wasn't the best idea. The Hubs flew in later than the rest of the group due to work commitments and when I picked him up from the airport he was a lather of sweat after the short stroll from the terminal to the car. We learned three things from that trip all those years ago that still hold true today:-
It's hard to get three boys under 10 excited about seeing 'rocks' no matter how impressive or significant those rocks are. They preferred to play in the dirt and poke ants with sticks. Well they did until one of them got bitten by a huge bull ant. Trust me, those critters hurt! We vowed to leave them at home for our next visit to the Northern Territory.
The Northern Territory is unpredictable in the wet season. We were unable to make it to Jim Jim Falls or Nitmiluk due to flooding. After driving 3½ and 4 hours respectively to get to them it was pretty disappointing. The frustration wafting from the back seat was palpable and increased exponentially with each subsequent travelling fail. And did I mention the oppressive humidity? We swore our next visit would be in the dry season.
Always check your emails the night before a flight. You can only imagine the look on my face when the eight of us arrived at Darwin airport at 1pm for our Qantas domestic flight home only to be told there was a late time change and the flight left an hour ago. My protests were met with some vague excuses about having sent an email. I later found out they didn't but this was long before I owned a smart phone and checking emails on the go was a lot more difficult than it is now. They put us on the next flight (the red eye that left at 1am) but we had 12 hours to kill in an airport that in those days closed for the afternoon lull. We took a cab back into town, booked a cheap Darwin city hotel and sat around the pool with wine. The kids enjoyed it much more than looking at rocks (and poking ants) and proclaimed it the best day of their trip.
So almost two decades later (where does the time go?????) when we felt the need to escape a bleak Sydney winter, Darwin called to us once more. This time we were determined to do it right. We left the (now grown up) kids at home, triple checked our flight details and timed our visit to coincide with Darwin's dry season.
Palms City Resort Darwin City Hotel Overview
Palms City Resort Darwin is an oasis of calm smack bang in the middle of Darwin City. The first thing I always look for when choosing accommodation is location and Palms City Resort's Esplanade locale appealed from the outset. Most visitors to the top end fly in and there are a number of different options for transfers from Darwin Airport. From the moment we arrived everything was simple. Despite the fact that we arrived at 9.30am our villa was ready on arrival and the staff at the 24 hour reception dispensed with the paperwork in record time. Palms City Resort offers a variety of accommodation options to suit every budget ranging from standard hotel rooms through to executive villas so there really is something for everyone.
Our Tropical Villa: The Best Serviced Apartments in Darwin
I started to relax as soon as I stepped across the threshold of tropical villa 213. We occupied a prime position with a view of the pool from our patio but because we were at the rear our privacy was never compromised. The villa was spacious with a separate living area that contained a small kitchen, a desk and a comfy teal armchair which just happens to be my favourite colour. I spent more time than intended in the queen size bed after I picked up a bug which sapped every ounce of my energy. I spent my days coughing, sneezing, napping, blowing my nose and watching the satellite movie channels hopped up to the eyeballs on Sudafed. I try my best to make travel look glamorous but there you have the reality. I've never been more happy in my life to see tissues provided in my accommodation. Thank you Palms City Resort! Sometimes it really is the simplest things that make the biggest impact. I visited the Doc when I got home and was diagnosed with Bronchitis. After two courses of antibiotics, lots of fluids and plenty of rest I began to feel human again but it did impact our trip. The bathroom in our tropical villa was tiny. There is only room for one but if you have to skimp on space anywhere it makes sense to do it in the bathroom. They say good things come in small packages and that is certainly true of the shower at Palms City Resort Darwin. It was brilliant. The water pressure was strong and even after two very long leisurely showers back to back the hot water showed no signs of running out. Our tropical villa was immaculately clean and was serviced daily by super efficient housekeeping staff. If I was to change anything about our villa it would be the toilet paper. It's such an easy thing to rectify and a quality two ply would have been a better choice.
The Advantages of Self Contained Accommodation in Darwin
Our Palms City self contained accommodation in Darwin came in more handy than I expected. I'm not usually a self catering kinda girl but it's hard to resist a BBQ when you have a private grill on your patio. We walked the 5 mins to Coles on Mitchell St and bought some snags for a low fuss lunch. As always, we took our own bags to carry our groceries home. We have for years. Well before the madness that I have dubbed #bagrage blew up in NSW and Victoria. Please I implore you, just take your own bag. It's really not that hard and there are far more significant issues to complain about. We spent a total of $12.90 on 8 sausages, bread, butter, BBQ sauce, an onion and a 2 litre Coke which we used for two lunches. And we had bucket loads of sauce and butter left over. The well-equipped kitchenette had everything we needed to prepare our simple meals and then some. Had I been inclined (and feeling a little better), I could have whipped up a gourmet feast but I was craving comfort food in my depleted state and nothing can beat a sausage sanga. Dining out in Australia is generally expensive and can account for a big chunk of your spending money. If pennies are tight, this is the perfect way to save some cash without detracting from your Darwin experience in the slightest. As I walked around Palms City Resort Darwin, I noticed many other guests taking full advantage of their self contained accommodation in Darwin by preparing their own breakfasts before starting the day. If you don't feel like cooking, Palms City Resort Darwin has a reciprocal agreement with nearby Darwin Hotel that allows you to charge back to you room. Simples!
Facilities At Our Darwin Holiday Apartments
The minute you exit Darwin airport you are in no doubt that you are in the tropics. It was 4°c when we left Sydney at 7.30am and 30°c when our Virgin Australia domestic flight touched in Darwin six(ish) hours later after a brief transit in Brisbane. Palms City Resort Darwin's lush gardens are in keeping with the glorious weather experienced in the top end. Towering palms, tropical ferns and colourful foliage are planted in abundance poolside and fringe every path. The Palms City Resort staff meticulously maintain the grounds. I woke up early one morning (7am) with the hopes of capturing all my photos of the resort before the other guests arose from their slumber. It turns out that the pool man also wakes early and he spent the next hour fastidiously tending to the lagoon style pool so that it was ready for the guests. I didn't feel up to swimming while battling my illness, but The Hubs took the plunge in the refreshingly cool water a couple of times. Palms City Resort Darwin provides free on site parking for all guests. It was very handy to be able to park the car we rented from Airport Rentals steps from our villa door. If you don't have a car why not hire a push bike? Darwin city is flat and perfectly suited to exploring by pedal power. If you have a big group and the BBQ on your patio is not quite sufficient to feed the masses, Palms City Resort Darwin has you covered with a huge grill poolside. Sweating is inevitable at this latitude and multiple changes per day are required to stay fresh. If you find yourself running low on clothes, head down to the coin operated laundry and throw in a load to get you through your stay with a minimum of fuss.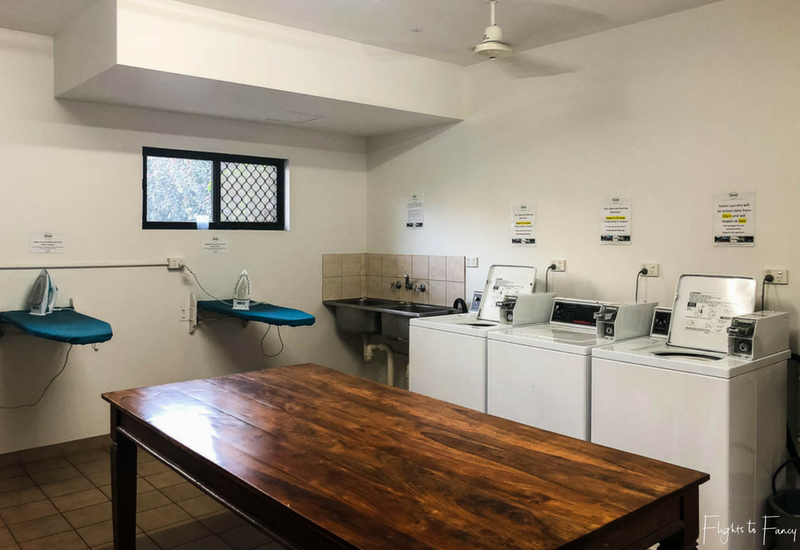 Location Location Location: Our Accommodation on Darwin Esplanade
Every savvy visitor knows Darwin waterfront accommodation is where it's at and Palms City Resort Darwin occupies a prime position. Located at the Darwin Waterfront end of The Esplanade, directly across the road from Bicentennial park, Palms City Resort Darwin is in the heart of all the action. Bicentennial Park is the perfect place for an early morning ramble or follow it all the way to the Darwin Waterfront precinct which is a hot spot for alfresco dining. Try Fiddlers Green or Il Lido for a lazy lunch after a swim in the lagoon. Feeling more energetic? Make a splash at the Big Buoy Water Park or in the wave lagoon. The Deckchair Cinema is one of Darwin's favourite attractions and it's an easy walk from Palms City's Darwin holiday apartments. Check out the Oil Storage Tunnels while you are in the neighborhood. Coles Supermarket is just a block or so away on Mitchell St and has all the groceries you will ever need to stock your serviced apartments in Darwin. Pick up a bottle or two of vino from Liquorland next door, but prepare to have your license scanned. It's an NT thing. Also on Mitchell St you will find Crocodylus Park where you can meet a salty up close and personal. When you stay at Palms City Resort Darwin you have a plethora of restaurants on your doorstep. Try Shenanigans (or Shags as the locals call it) for casual pub grub, Monsoons for pizza or Moorish Cafe for an eclectic mix of Territorian seafood, Spanish, Mediterranean and North African cuisine. A visit to Mindil sunset markets is a must. The markets operate on Thursday and Sunday evenings from 4pm to 9pm. We walked the 40 minutes or so but the public bus will get you there for only $3. If you prefer a private ride try Hi Oscar. Go hungry and select dinner from one of the many food stalls. I rate the paella and the mini pancakes. Mindil Beach is one of the best places to catch a perfect top end sunset and you can BYO. Speaking of sunsets, Darwin Marina is another top spot to farewell the sun. The bonus is you can sit on grass rather than the sand. While you are at the marina, stop into Yots Darwin for an amazing Greek feast or try Exotic North Indian Cuisine for some of the best Indian I have had in a looooong time. If you have a car, take a day trip to Litchfield National Park and stop at Berry Nature Reserve on the way home. It will take your breath away and it's only a 90 minutes from the city. Whatever you plan to do while in town, Palms City Resort Darwin is the perfect base to explore all the area's attractions.
The Final Word On Our Darwin Waterfront Accommodation
Darwin is arguably Australia's most laid back capital city and the Palms City Resort Darwin holiday apartments epitomises that casual vibe perfectly. The tropical styling is the first thing you notice but it is modern and fresh rather that gaudy and kitsch as can so often be the case. Palms City Resort's location is perhaps its biggest draw card and the central Darwin Esplanade position puts you steps from all the best Darwin has to offer. We loved reacquainting ourselves with Darwin after such a long absence and we are already planning another winter getaway for next year. Why on earth would you want to stay any where else? Book here.
Have you been to Darwin? I would love to hear about it in the comments below.
Until Next Time …

Pin "Palms City Resort Darwin"

for later
Disclosure Statement: I stayed as a guest at Palms City Resort Darwin. The information in this article is based on my own personal experiences and has not been influenced in any way by the brand(s) featured. This post may contain affiliate links which if clicked may earn me a small commission on purchases at no extra cost to you.