Every now and then a hotel comes along that completely blows your mind. If you are lucky, it happens more than once in a lifetime. My latest amazing find is the Park Hyatt Siem Reap Resort Hotel. When I was looking for the best hotel in Siem Reap, the Park Hyatt Hotel Siem Reap wasn't the only luxury hotel in Siem Reap on my short list, but it was the only one in the best area to stay in Siem Reap. They do say location is everything and it certainly sealed the deal for me. The Park Hyatt is a 5 star hotel in Siem Reap that offers multiple accommodation options including decadent suites with private plunge pools. The service at the Park Hyatt is exceptional and the facilities are top-notch. The Park Hyatt Siem Reap restaurant serves a traditional Siem Reap breakfast alongside the more familiar western options and dinner is a treat not to be missed. If you are looking for an outstanding Siem Reap luxury hotel, read on for all the details …
Best Area To Stay In Siem Reap
Angkor Wat is a big draw for visitors to Siem Reap, but in my view this is not the best area to stay in Siem Reap. Unless you have no intention of ever leaving your Siem Reap resort on foot. The Hubs and I prefer to walk everywhere. I feel like you miss the essence of a place if you are always in the back of a car (or a tuk tuk) so we wanted a luxury hotel in Siem Reap that was close to all the action. Park Hyatt commands an enviable location in the very best area to stay in Siem Reap. It's close enough to the hive of activity that is central Siem Reap while being just far enough away to escape the noise. Everything that matters is within walking distance (see more below) and when the comes time to explore a little further afield, getting a ride is as easy as raising your hand. Who am I kidding, you don't even need to raise your hand. The minute you step into the street there are no shortage of drivers offering their services.
Park Hyatt Siem Reap Overview
The Park Hyatt Hotel Siem Reap is a rare combination of old world charm and modern convenience. The Park Hyatt opened in 2013 after an extensive renovation of what was the Hotel De La Park. Inspired by the nearby ancient Angkonian ruins and Cambodia's modern vibrant culture, award-winning Bangkok designer Bill Bensley has seamlessly blended the old and the new. There is nothing brash or ostentatious about the Park Hyatt Siem Reap, everything is understated and done with finesse. While you are in absolutely no doubt you are in the lap of luxury, it's done with sleight of hand. This is not Vegas baby! The dramatic white facade commands a bold street presence and entices you inside. The central open courtyard boasts a huge Banyan tree ringed by a tranquil pond. To the left, oversized four person swings hang from high ceilings and beg to be lazed on. The decor blends dark wood, creamy sandstone paths, pretty pastels, Khmer inspired art, lush gardens and premium fabrics. All have their place. This Siem Reap luxury hotel is an absolute delight to explore.
Arriving At The Park Hyatt Siem Reap Luxury Hotel
Our Jetstar International flight from Sydney to Ho Chi Minh City was cancelled and we started our trip 48 hours later than planned. This meant we missed our scheduled Vietjet Air flight from Ho Chi Minh City to Danang where we had planned to spend two days in Hoi An before heading to Siem Reap. That didn't happen and I had to book a last minute Cambodia Angkor Air flight from Ho Chi Minh City to Siem Reap to get us back on track. Our new flight arrived in Siem Reap at 8.30am, much earlier than our original flight which was due at 8.30pm. Our stay at the Park Hyatt Siem Reap included a private transfer from the airport and I emailed them with the new arrangements as soon as they were confirmed. Despite the very late notice there was still a driver available. He picked us up right on time and whisked us away for the short 15 min trip to the hotel. On arrival we were welcomed warmly by Veasna who escorted us to a private booth and presented us with a menu for welcome drinks. I had the signature Park lemonade while The Hubs had the apple and camomile infusion which arrived swiftly with cool towels. Both were delicious. Veasna checked us in and gave us a run down on all the features of the Park Hyatt Hotel Siem Reap. Our assigned suite wasn't ready due to our early arrival. We certainly hadn't expected it to be, but we were very pleasantly surprised when Veasna advised they had arranged a courtesy room for us while we waited. If that wasn't enough, while Veasna was escorting us to our courtesy room he offered us an additional breakfast if we were quick. Yes please! First impressions really do count and the Park Hyatt Siem Reap got off to a brilliant start.
Park Hyatt Siem Reap Hotel Rooms
Each of the 104 rooms in this 5 star hotel in Siem Reap have been elegantly styled. I got a very brief glimpse of room 218 while we were waiting to check into our suite. The rooms are generous in size and meticulously laid out to make the best use of every inch of space. The king size bed dominates the room and the sunny yellow chaise adds a fun splash of colour. Large scale windows flood the room with light and a thoroughly modern bathroom is the icing on the cake.
Our Luxury Villa Siem Reap: Park Hyatt Suites
On top of the 104 rooms, the Park Hyatt Siem Reap also has 13 opulent suites. Our suite (#6) was tucked away at the rear of the Park Hyatt Hotel Siem Reap just past the courtyard and adjacent to the salt water pool. The location is protected from passing foot traffic and provides a real sense of privacy for guests. On entry you are transported to a different world. The first thing you notice is the crystal clear sandstone paved plunge takes pride of place in the private courtyard. The pool is flanked by lush topical plants, a compact table and chair set and two sun chairs with extendable foot rests that allow you to stretch out in style. We swam every day of our stay and the water temperature was perfect. Warm enough not to stop your heart and cool enough to provide much needed relief from the harsh Cambodian sun. An extra rung on the ladder would have made getting out just that bit easier and we would have spent longer in if there was a built in seat. Sitting in the courtyard whiling away precious hours of our very short stay in Siem Reap was an indulgence, but it was hard to tear myself away. The tranquility washed over me as the gentle bubbling of the pool filter filled the air. There is something supremely calming about the sound of running water and as I closed my eyes one lazy afternoon it was the perfect back drop to drift into slumber. Thoughtful planning means there is always a patch of shade to take shelter.
Step inside and you will find a generous living room complete with buffet, a large screen TV, a generous day bed with plenty of plump cushions and carefully placed ottomans which beg you to put your feet up. If the weather is nice, as it often is in Siem Reap, fold back the floor to ceiling glass panels to create the ultimate indoor/outdoor space. In the bedroom a king sized bed awaits dressed in the finest pure white linen. It looks so impressive you almost don't want to ruin it by diving beneath the covers. Almost. A chaise at the foot of the bed provides further space to relax and the TV is positioned just right for late night bedtime viewing.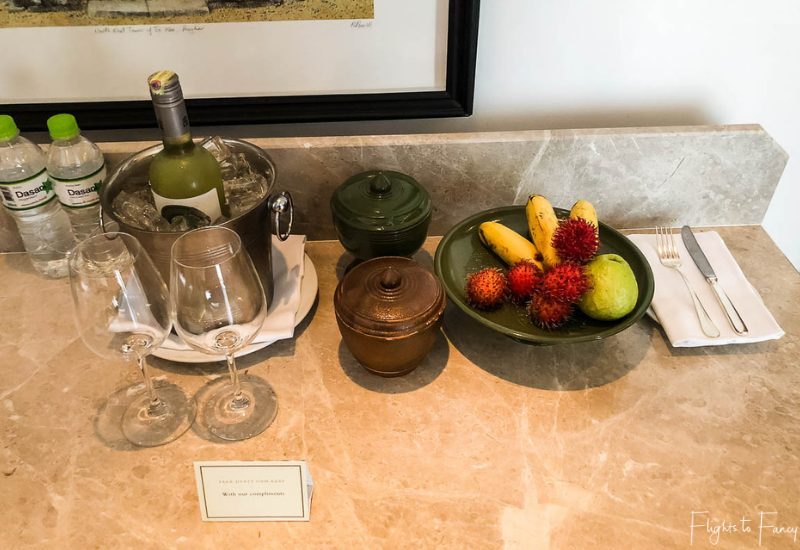 The Hubs often rates a hotel by the quality of the shower and the shower at Park Hyatt Siem Reap was next level. It's quite possibly the best shower I have ever had in my life. The generous cubicle is adorned with exquisite grey flecked white Italian marble and the handy cut out stops it getting too steamy. The overhead rainfall faucet is the ultimate indulgence when washing your hair, but the handheld wand caters to those (me!) keen on keeping their tresses dry. Separate dials let you control the temperature and pressure with precision. I rarely use the toiletries provided in hotels as my extremely dry skin is hard to please, but the Cochineal water hyacinth and lime blossom shower gel was divine. It didn't dry out my skin and the delightful scent lingered for hours. Pair it with the matching body lotion for an extra dose. I must admit I did sneak a bottle into my luggage to take home. The oversized thick white fluffy towels are like wrapping yourself in a comforting hug. The deep tub was particularly inviting and the suite's third TV gives you an excuse to linger. Bring a bath bomb along for the ultimate in aqua therapy. Not content with just twin basins, the Park Hyatt Hotel Siem Reap goes one step further and provides dedicated his and hers vanities on either side of the wide entrance. Ladies, make sure you grab the one with the magnified mirror. A separate cubicle houses the toilet which allows privacy if sharing the room. The light button was a little temperamental but once you work it our you are golden. (Insider tip: Don't press the button quickly. Press and hold firmly until the lights come on.) The walls throughout the suite are adorned with local art including large scale oil paintings, intricate metal sculptures and modern prints. Fresh flowers feature in both the bedroom and bathroom. You are never going to want to leave this luxury villa in Siem Reap.
Facilities At The Park Hyatt Siem Reap Resort
Any luxury hotel in Siem Reap worth it's salt comes with a raft of facilities and the Park Hyatt Hotel Siem Reap doesn't disappoint. The Park Hyatt Siem Reap has three swimming pools. The free form pool on the first floor is stunning and has plenty of nooks and crannies to make it feel more private. The water was a little too chilly side for me though. Semi private cabanas fringe the Insta worthy infinity edge and are the way to go if you are settling in for the day. Snacks are available from the poolside menu. The little ones are not forgotten as towards the rear is a splash pool perfect for toddlers complete with fountains. The salt water pool on the ground floor is smaller, warmer and quieter. The Park Hyatt's 24 hour gym is on the first floor for those who want to get their run on without dicing with the unpredictable Siem Reap weather. Lift a few weights for me while you are there, I'm more likely to be in the day spa next door. The spa menu offers facials, massages, spa baths, scrubs, wraps and signature packages which combine the most popular treatments. A dedicated concierge desk is located on the ground floor near reception. We arranged both drivers and tickets through the helpful staff. Reception is open 24 hours a day to ensure no fuss arrivals and departures regardless of the time and they will also exchange currency if needed. A comprehensive room service menu is available when hunger hits and you simply can't muster the energy to move.
Park Hyatt Siem Reap Breakfast
This 5 star hotel in Siem Reap also has a 5 star Siem Reap breakfast which is served between 6am and 11am in The Dining Room. We are generally not big breakfast people, but the Park Hyatt Siem Reap enticed us in each and every morning during our stay. Everything you would expect is present and accounted for on the buffet including fresh fruit, Asian specialties, salads, cold meat platters, hot favourites and a fabulous array of bread. One unique feature of Park Hyatt's buffet is the squeeze your own juice bar. I made a wonderful concoction of watermelon, carrot, beetroot, ginger and celery. Yum!
On top of the extensive buffet, Park Hyatt Siem Reap also offers an a la carte breakfast featuring western and Cambodian options. The Hubs ordered the Eggs Benedict on day one. Having never tried it before, he wasn't entirely sure what to expect. The eggs were cooked to perfection with a runny centre and the hollandaise sauce was rich and creamy. He was so enamored he had the same every day thereafter. I tried both the pancakes and the waffles during our stay. Both were lovely, but the banana laden pancakes served with chocolate won me over. On the last day I wanted something light and simply ordered an English muffin. Even though it's not technically on the menu, the staff were more than happy to oblige.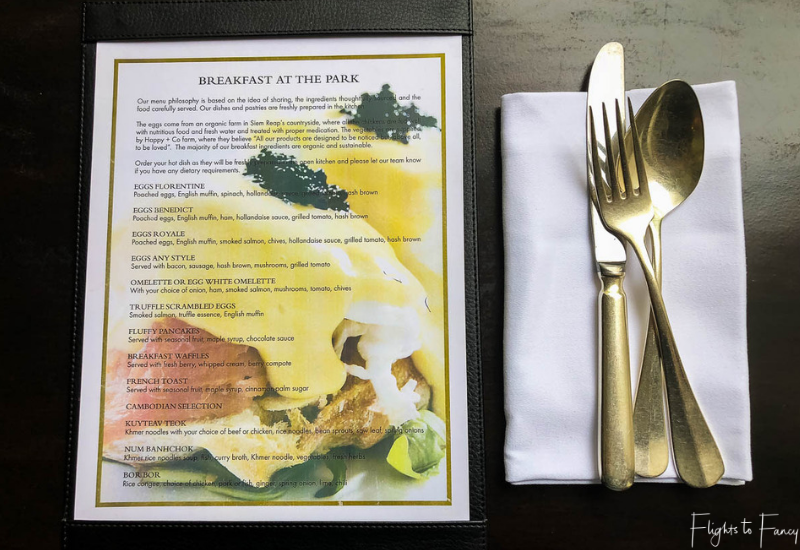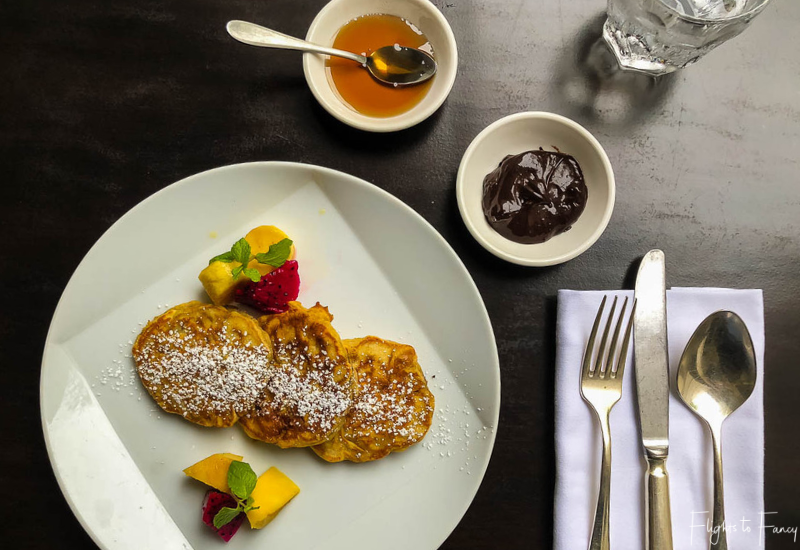 Park Hyatt Siem Reap Restaurant: The Dining Room
The Dining Room, the onsite Park Hyatt Siem Reap restaurant, is a destination in itself. 'Carefully sourced, thoughtfully served' is the philosophy behind every meal served in this sophisticated restaurant in the central courtyard of the Park Hyatt Siem Reap. The menu features French classics and traditional Cambodian meals and is broad enough to tempt most. I often find that the prices at restaurants in luxury hotels are inflated, but this is not the case at the Park Hyatt Siem Reap. Sure it's a little more expensive than the local restaurants, but the prices are very reasonable for the quality. Three course set menus start at just USD$30 and feature cuisine from the local provinces of Pouk, Siem Reap and Battambang. You can upgrade/add, a Mekong lobster for just USD$8/USD$12 more. While most ingredients are locally sourced, The Dining Room's charcoal grill makes an exception and features some of the best imported meats including US Prime Beef, Australian Lamb and Cornish Game Hen. Petite appetites will appreciate the 'perfectly portioned' selections. The night we dined was balmy so we chose an outside table. The candlelight setting with flames flickering across the water was perfect. Never one to pass up a premium steak, both The Hubs and I chose the US tenderloin. All the selections from the grill come with a choice of side and sauce. Yes included! This has become such a rarity in Australia and it annoys me a little if I am honest. We chose the cauliflower gratin and dauphinoise potatoes and added an extra serve of wok fried greens. 8 sauces are on offer and I opted for a classic Bearnaise while The Hubs chose the green pepper. Our steaks were superb. Tender, Moist. Perfectly cooked. Heaven. The sides were delicious but much more substantial than we expected and we couldn't finish them all. We definitely didn't need the extra one. Bearnaise can be tricky to get right and the Park Hyatt Siem Reap restaurant nailed it. The dessert menu certainly looked tempting but we couldn't have fit in another bite if we tried. The sticky rice with pandan custard and coconut milk will just have to wait until next time.
The Glasshouse @ Park Hyatt Siem Reap
The Glasshouse, Park Hyatt's deli-patisserie, is located street side and would look equally at home on the streets of Paris. The Glasshouse menu offers an all day breakfast, salads, soups and gourmet sandwiches. For something less substantial, treat yourself to a petite pastry or a cooling home-made ice cream. The Glashouse is THE place to get you daily caffeine hit from the wide variety of specialty teas and coffees on offer.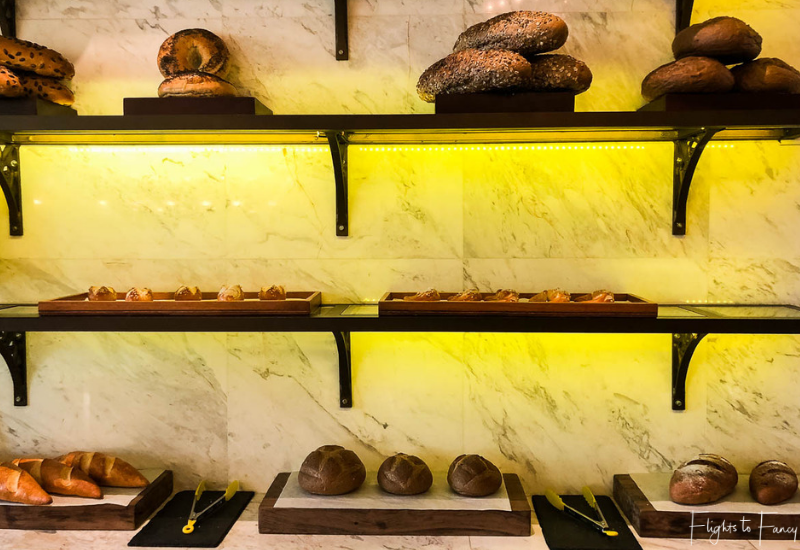 Happy Hour At Our Luxury Hotel In Siem Reap
A vacation is not complete without a cocktail. Or two. Or three. At the Park Hyatt Siem Reap you don't need to venture far to satisfy your thirst. Savvy travellers will head to The Living Room at happy hour between 5pm to 7pm when drinks are half price. Guests can choose to sit in the darkened interior with a distinct speakeasy feel or one of the two outdoor terraces. Wanting to make the most of the Cambodian weather, we chose the front deck which featured a delightful water feature. The Hubs stuck to beer while I sampled a Cucumber Mojito and Hemingway Martini. All in the name of research you understand. The martini was my pick of the two. The grand total of our bill for four drinks was a tiny USD$19. You simply can't beat that. Why would you want to go anywhere else?
Cultural Show @ The Park Hyatt Siem Reap
Four evenings a week (Monday, Wednesday, Friday & Sunday) The Park Hyatt Hotel Siem Reap treats guests to a Cambodian cultural show which is not to be missed. Dinner packages are also available and it's wise to book ahead. The show features Cambodian dance and Angokian martial arts and will sure to be a highlight of your stay.
Service At The Best Hotel In Siem Reap
The service at Park Hyatt was befitting of a luxury hotel in Siem Reap. In a word, outstanding. The service provided by every single staff member at the Park Hyatt Siem Reap was impeccable. Keen to please, they go above and beyond to ensure guests are satisfied at every turn. Our suite was serviced by fastidious house keeping staff three times a day to keep it pristine, the doorman welcomed us with a smile each time we entered and the wait staff were gracious and unobtrusive. Big shout out to Noemie who made organising our stay a breeze, Sok for keeping our home away from home tidy every day, Veasna for an outstanding check in and Cheney for assisting us to organise our temple tour and tickets to Phare. You guys rock and made our stay all that more special.
Nearby Our 5 Star Hotel In Siem Reap
Even those guests privileged enough to be staying in the best hotel in Siem Reap must explore beyond the front entrance occasionally. The Park Hyatt is located on Sivutha Boulevard which is the best area to stay in Siem Reap. Everything you could possibly need is on your doorstep. One of your first stops should be the Metfone office directly across the road to get yourself a local Cambodian SIM card to avoid being held hostage to extortionate roaming fees. Siem Reap's iconic Pub Street is a very short stroll away and is packed full of bars offering cheap drinks and street vendors. Try the 'fried' ice cream and go at night for the best vibe. While you are out, stop by the night markets for all manner of souvenirs and trinkets. It's less than 5 minutes away. Phare, the Cambodian circus, is a great night out and a short tuk tuk ride away. The ride cost just USD$6 return and our driver waited for us. If you are not keen on negotiating with the tuk tuk drivers on the street try Grab. We used it extensively in Phnom Penh and the cashless payments were a bonus. Every visitor to Siem Reap must visit Angkor Wat and the other temples around Siem Reap. Organise a driver with the concierge for USD$16 for a full day, grab your tickets on the way and see how many temples you can tick off before you drop. Bargain massages are a daily treat in SE Asia and Siem Reap is no exemption. Try Temple Massage opposite the hospital. Siem Reap has it's very own Hard Rock Cafe near the river and of course I had to visit to add another hurricane glass to my collection. I currently have 52 and have proudly downed the cocktail in every one of them. They have live music and a happy hour nightly. If you like middle Eastern food take a five minute stroll to Atmosphere. The falafel is a winner and the prices are tiny. There are plenty of things to do in Siem Reap. Just pace yourself as the heat can be oppressive.
The Final Word On Park Hyatt Siem Reap
Our stay at the Park Hyatt Siem Reap was one of the most memorable experiences I have ever had in a hotel. As someone who travels often, I'm difficult to impress but the Park Hyatt blew my socks off. The location was unbeatable, the service was exceptional, the facilities were outstanding and the food was a delight. I'm just sorry I wasn't able to stay longer and it was with a heavy heart that we boarded our Bassaka Air flight to Phnom Penh. Stay exactly as you are Park Hyatt Siem Reap. We will be back! Book your own memorable Park Hyatt Siem Reap experience here.
Are you planning a trip to Siem Reap? I'd love to hear all about it in the comments below …
Until Next Time …

Pin "Park Hyatt Siem Reap"

for later
Disclosure Statement: I stayed at the Park Hyatt Siem Reap as a guest. The information in this article is based on my own personal experiences and has not been influenced in any way by the brand(s) featured. This post may contain affiliate links which if clicked may earn me a small commission on purchases at no extra cost to you.