Every traveller with an interest in the finer things in life knows the name Raffles. Who hasn't dreamed of sipping a world famous Singapore Sling in the very hotel it was invented? While Raffles Singapore is world renowned, it may come as a surprise that there is another luxury hotel that sports the famous moniker. I was recently blessed to experience the magnificent Raffles Makati and my mind was blown. This is without doubt one of the best hotels in Makati. If you are still wondering where to stay in Manila you need to read this before you book …
Arriving At Raffles Manila Hotel On Makati Ave
Location was a key factor when we were deciding to where to stay in Manila. All the best hotels in Makati are clustered on Makati Ave so naturally that's where we started our search. We were over the moon with our final choice. The rock star treatment starts from the moment you clear customs. Raffles Makati can arrange luxury private transportation to whisk you away from Manila's manic NAIA or try using Uber in Manila. We stayed at Raffles' sister hotel the Fairmont Makati on our first two nights in town and used the transfer service after a delayed cheap flight on Cebu Pacific from Sydney. I was very glad our driver was still waiting for us. The minute the doors closed the chaos outside was obliterated and we felt just a little bit sorry for those still kerbside trying to haggle with the touts. The transition from the Fairmont to Raffles couldn't have been smoother. We checked out early and hit old Manila to see the sights. The ever helpful staff promised to transfer our luggage to Raffles and sent us our way with a wave and a smile. When we arrived at Raffles Makati at 1pm, we were melting after hours walking in the blistering heat and 100% humidity. We were not a pretty sight when we stepped into the sumptuous lobby. The icy blast of air conditioning was a welcome relief and instantly made us feel slightly more human. The plush sofas, extravagant chandeliers and immaculately dressed staff exuded class. As my eyes swept the area looking for the reception desk I came up empty. That's because there isn't one. Raffles treasured guests don't stand in line, they complete check in formalities seated at private desk that would look equally at home in a senior executives private office. Kathrine was expecting us when we approached and had already pre-filled all our paperwork. Fastest check in ever! Before the ink on my signature was dry, our personal butler appeared from nowhere to escort us to our suite.
Read More: 15 Luxury Hotels In The Philippines (That Will Blow Your Mind!)
Rooms @ Raffles Makati
Raffles is an all suite hotel and suite 1016 took my breath away. Rarely does a hotel room have the capacity to delight me anymore but Raffles Makati nailed it. I felt a frisson of excitement as I stepped inside and was greeted by a dining room and sitting area in our very spacious suite. The mini bar is discretely housed in the cabinet below the TV and is well stocked. So well stocked that we had to remove a few items to squeeze our drinks in. The fridge didn't appear to have a temperature control and I would have liked to have been able to crank it up to keep the contents a little colder.
As you step through the double doors and into the bedroom, the generous proportions of the suite become truly apparent. The dark wood floors are topped with intricately woven rugs that are heaven on bare feet. The inviting king sized bed was made with precision and delivered an exceptional night's sleep. The chaise at the foot of the bed was perfect for lounging and had the best view of the TV. Two functional desks make working less of a chore and the large windows showed off the city in it's best light.
The huge freestanding tub that dominates the fabulous bathroom was irresistible. I grabbed a bath bomb from nearby Lush and soaked an hour away with a glass of wine before wrapping my delicious smelling self in the fluffiest of towels. Alfred (remember our butler from earlier?) did offer to run the bath for me (seriously!) but I am very capable and just a little bit uncomfortable being waited on hand and foot so I politely declined. The space is generous and the light coloured marble adds a modern feel. The Hubs is always fascinated by the personal hoses installed in Asian bathrooms which he has crassly dubbed 'bum squirters'. He had high praise for the one in Raffles Makati which featured variable pressure. There has been talk of installing one at home which I hose down (pun intended) every chance I get. His 'n' hers vanities are always a treat and there was plenty of bench space to keep all our essentials in easy reach. The oversized shower made getting clean a pleasure and I loved the hand held nozzle. Of course only the finest toiletries are good enough for guests of Raffles Makati and they smelled divine.
Exceptional Details @ The Best Hotel In Makati
Raffles Makati's attention to detail is second to none. We were delighted to find fresh fruit in the room, but even more delighted with the chocolate box filled with treats. Every part of this incredible creation was edible including the sign. Fresh flowers (orchids no less!) in the room never fail to thrill me and housekeeping were always on point. In fact, all the staff at Raffles Makati were superb. Even the elevators at Raffles Makati are fancy. Padded leather walls, gleaming mirrors and subtle lighting from three separate chandeliers make a very mundane experience extraordinary.
Relax @ Raffles Manila
Remember I said we were melting when we arrived? We wasted no time stripping off, slipping on one Raffles' silk robes and heading down to the 9th floor for a dip. Cocktails were of course in order and they were delivered promptly from the Mireio Restaurant. I chose the Ma Cherie, a divine combination of Chambord, sparkling wine, cucumber and honey. The perfect refresher in the heat. The water temperature is just perfect for lolling around in the shallows but those who are so inclined have plenty of room to swim laps. Grab a cabana and make a day of it if time permits.
Breakfast @ Makati's Favourite 5 Star Hotel
Breakfast at Spectrum was amazing. The buffet had every conceivable breakfast food and then some. I can't say that I have ever had an empanada for breakfast before but I did at Raffles Makati! I also had feta and salami. Don't judge, who is to say what is breakfast food anyway? Everything I ate was delightful with the exception of the sausage and bacon which were simply not to my taste. It's one of the few things I miss about home when I travel. Aussie short cut bacon and beef sausages are the bomb and nothing I have found overseas compares. The Hubs proclaimed the scrambled eggs the best he has tasted in the Philippines which is high praise indeed. Our server Emel was so polite and nothing was too much trouble. When we thought we could eat no more, he encouraged us to try the hot chocolate which is made from cacao grown near his home. It was divine!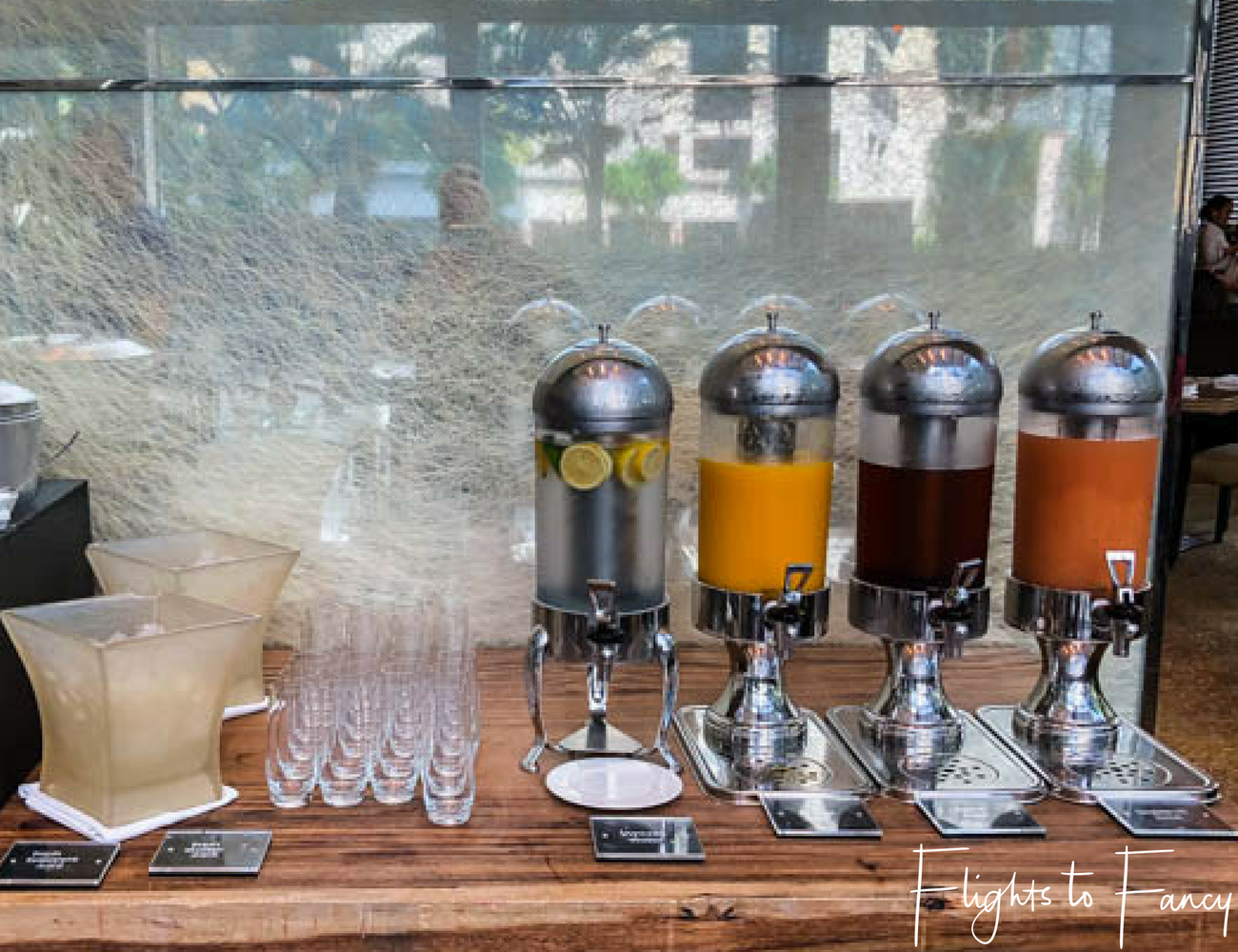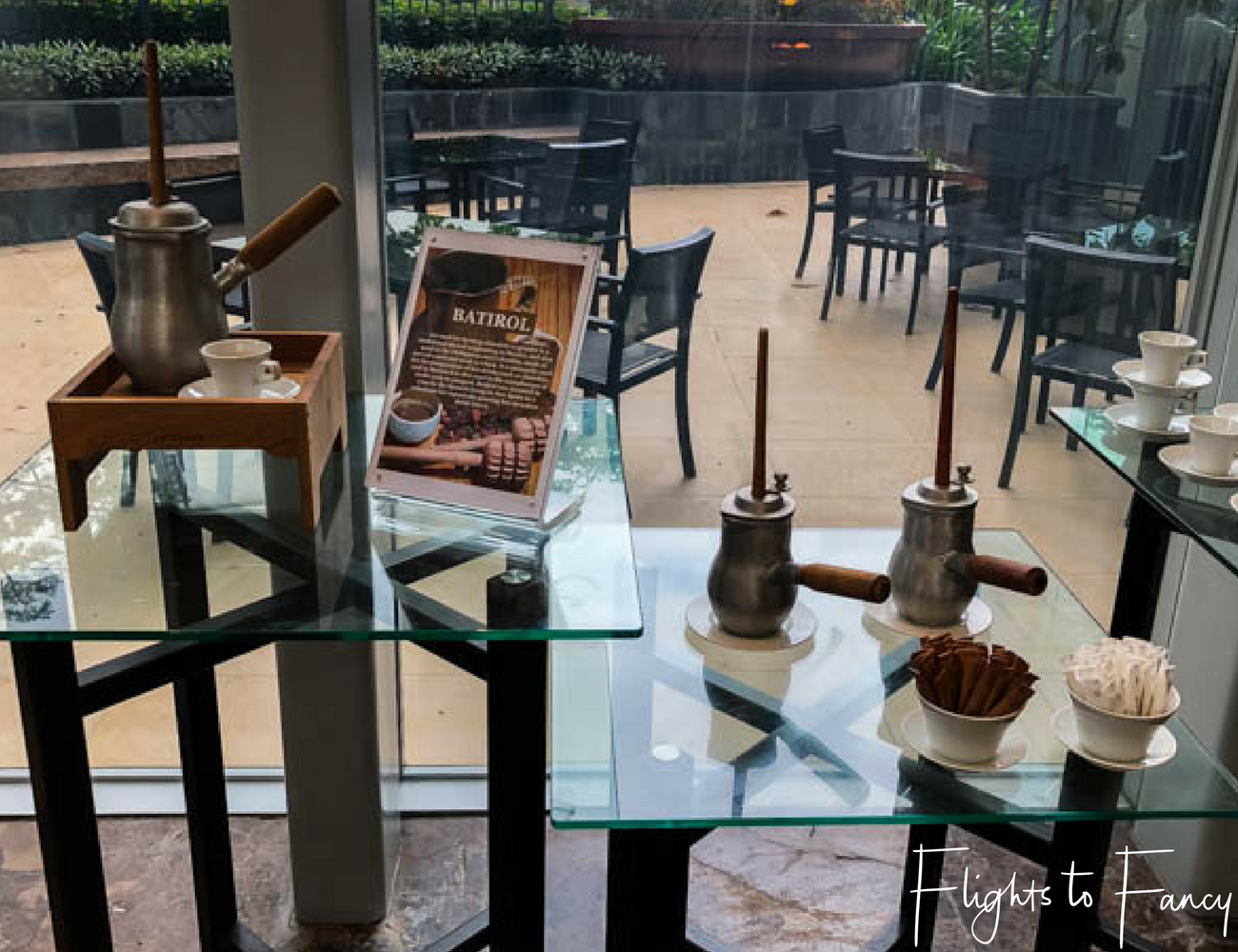 Top Hotel Bars In Makati
The Raffles Hotel Makati houses two bars in its sumptuous lobby. We sampled both. The plush furniture in the Writers Bar encourages guests to linger. After dinner cocktails, including the world famous Singapore Sling, are a must. If you are looking for a little more lively atmosphere head to the Long Bar which features local bands regularly. Modeled on Raffles Singapore, Long Bar sure draws a crowd at happy hour. On our last day in the Philippines we had a 10 hour layover in Manila after our early morning Cebgo flight from Coron. Rather than spend it at the airport, we chose to head back into Makati for some last minute shopping. We finished up earlier than expected and decided to while away our last few hours in town in the Long Bar nursing a final Singapore Sling. We arrived around 6pm and were surprised to find happy hour in full swing. We couldn't resist the lure of free flowing selected cocktails, spirits and beer for just 695 pesos per person (AUD$18 between 5pm – 8pm). One drink turned into six and we were feeling no pain when we headed to the airport for our 10 hour flight home. We slept like babies all the way to Sydney 🙂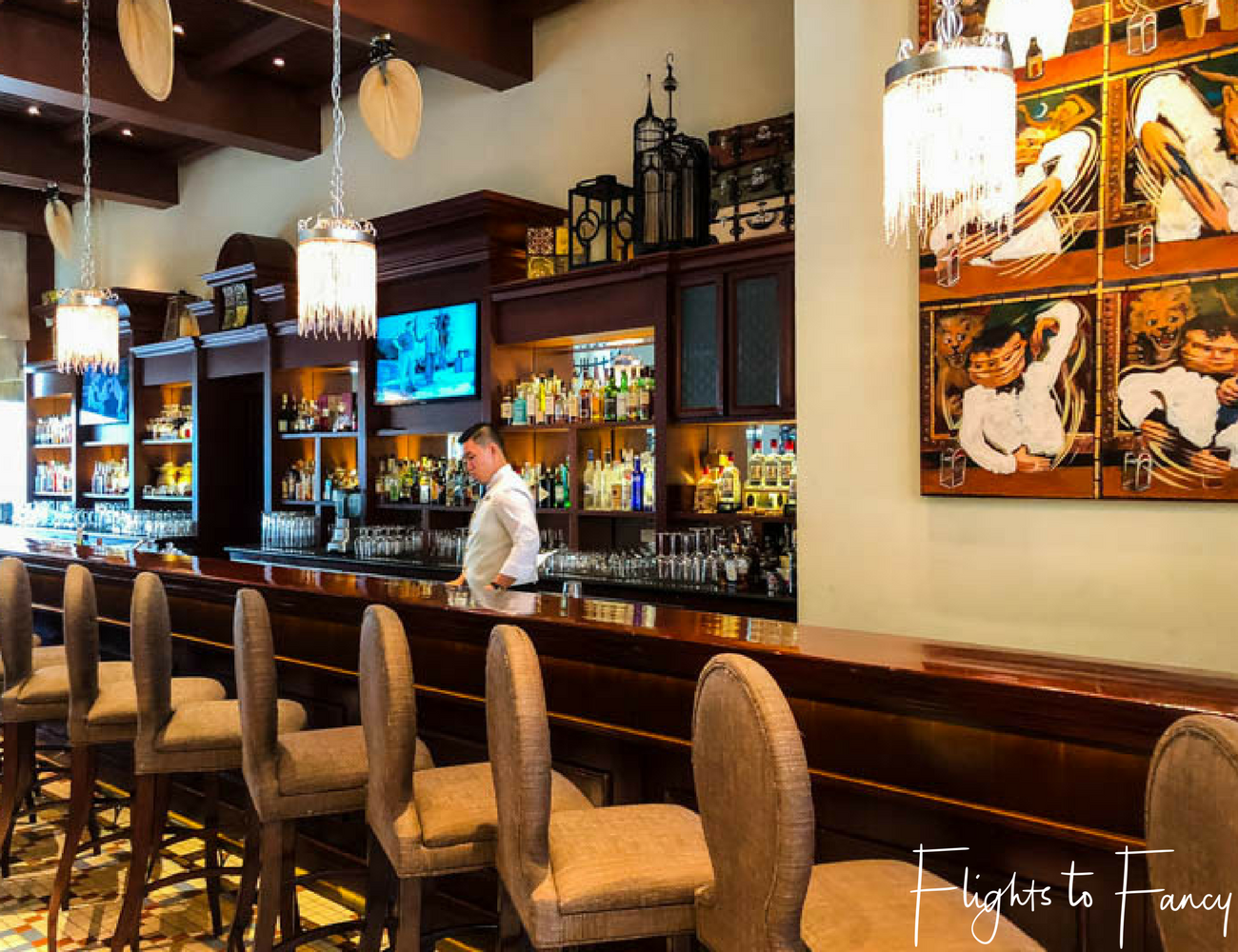 The Final Word
Raffles Makati competes with a raft of 5 star hotels on Makati Ave and in my book comes up trumps in every way. The location is superb and shopaholics will love the fact that Manila's best mega malls are virtually on the doorstep. A quick Uber ride will get you into old Manila to soak up the culture, but if you prefer to travel like a local, grab a Jeepney before they are banished from Manila's streets forever.  Our stay at Raffles was a very special experience. We felt like royalty and there were more than a few grumbles as we headed to NAIA to catch our Skyjet Airlines flight to Boracay Caticlan. If you appreciate the finer things in life and love a bit of old world glamour Raffles Manila is perfect for you.
So have I convinced you that Raffles Makati is the best place to stay in Manila? I'd love to hear your thoughts in the comments below.
Until Next Time …

Like it? Pin it!
Disclaimer: I stayed as a guest at Raffles Makati. As always, all opinions are my own. This post may contain affiliate links which will earn me a few cents to contribute to the running of this site if you make a qualifying purchase at no extra cost to you.