*** Last Updated May 2019 ***
Shopping in Bali is a heady mix of malls and stalls. Shopping in Seminyak Bali is where high end meets tourist tack and each neighborhood has it's own unique offerings. I've been to Bali many times and I admit I have spent the odd hour or two at the shopping malls in Kuta and beyond. When most people think of shopping in Bali they think of knock off T-Shirts, cheap sunglasses and fake designer bags and watches. Bali is all of that and if you stick with me, I'll steer you through the maze of markets in Bali where tie dye, wooden penises and tacky fridge magnets abound to discover the hidden gems in the flashest of Bali boutiques. Read on for all the details …
Shopping In Bali 101
Shopping in Bali consists of malls, markets type stalls, street hawkers and boutiques and every visitor should devote some time to helping the local economy. Each have their place to round out your shopping experience and you will no doubt visit most while you are here. Let's start with the shopping malls in Kuta …
Shopping Malls In Kuta
Shopping malls in Kuta are similar to those all over the globe. This is where you will find well known brands you know and trust. While not a bad way to while away an hour or two in air-conditioned comfort, prices are quite similar to what you would expect at home so if you are looking for a bargain you are in the wrong place. Prices are fixed so this is not the time to put your haggling stills to the test. Beachwalk, and Discovery are the big players in Kuta. As the name suggests Beachwalk is directly opposite Kuta beach, just up from the Hard Rock Cafe. Stores include Victoria's Secret (only stocks beauty and accessories), Topshop, Tommy Hilfiger, Pandora, Zara, Swarovski, Furla, Hugo Boss, Armani Jeans, Versace Jeans, Gap, La Senza, Quicksilver, Miss Selfridge and Aldo. Discovery is located in the Southern end of Kuta near WaterBom. Well known stores include Billabong, Converse, Crocs, Esprit, Guess, Hurley, La Senza, Nautica, Nike, Nine West, Polo Ralph Lauren, Puma, Roxy and Sketchers. Unlike your typical Australian mall they also have a beach club at the rear so if the shopping malls in Kuta get all too much you can take a break for a swim and a well earned bevvy.
Buying Clothing In Bali
Cheap T-Shirts abound in the markets in Bali. Depending on your negotiating skills you can pay as little as $1 or as much as $5 each. While the price is tempting (and Mr SFH has purchased in the past) be aware that you get what you pay for. If you don't mind them shrinking, stretching and fading in the wash go for it. It seems it is almost a right of passage for every Aussie male to purchase a black Bintang singlet. If you are going to buy at least stand out from the crowd and be a little original. Sunglasses are often sold in the same stall. I wouldn't risk my eyes but if your keen expect to pay around $4. Most ladies clothes stalls stock a healthy range summer dresses and sarongs. Colours are vibrant and tie dye is plentiful. While your purchases might be useful during your stay, I can't see you rocking them on the streets of Sydney. I did pick up a cute split sleeve dress from Ahimsa in Ubud. It was around $40 so pricy for Bali but I wear it often and I love it.
Libra Kuta (Jl Legian 384, Kuta) A few doors down from Yogi's grill (our regular lunch spot) is Libra Kuta. I bought a summer dress which unraveled quickly and a floaty top that I am still wearing with no issues so I guess it is a bit hit and miss.
Deus Ex Machina (Jl Laksamana Oberoi 3B Seminyak) OK I will admit that this is not really my cup of tea but seeing it was the only shop that The Hubs wanted to go into I could hardly refuse after he had followed me into dozens of Bali boutiques. The usual branded gear, T-Shirts, hats etc and some cool vintage motorcycles to gawk at. Balinese addresses are really confusing sometimes, I have quoted the official address above but when I look at the map I swear it is on Jl Kayu Aya, anyhoo it's just down from Seminyak Square and pretty hard to miss.
Tailor made leather is a specialty in Bali and given that this will likely be one of your more substantial purchases it pays to shop around. I have personally used Joey 47 (Jl Pantal #47 Kuta – right down the back in the right hand corner) to make two leather jackets and a leather coat and am thrilled with the results (see more here, here and here). Ensure you look at a samples of the leather that is actually going to be used for your item as quality and colour can vary dramatically. Tailored made takes time so plan to order early in your stay. Miracles can happen and Joey made me one in 24 hours once but to ensure you are not disappointed allow 4 days. Expect to pay around $100 – $150 for a jacket depending on the colour and style. Basic black is always the cheapest.
Buying Swimwear In Bali
Sunny Imported Bikinis (Jl Legian, Legian). Left something critical at home? Pick up what you need here and you will be hitting the beach in no time. Lots of colourful options for around $25.
Blueglue Bikinis (Jl Kaya Aya, Seminyak). This place is divine! One of my favourite Bali boutiques. An amazing water feature snacks through the entire store which is reason enough to step inside. The displays are simple, uncluttered and enough to entice anyone to buy. Buy here if you can't make it to Bali.
Shopping In Seminyak Bali
Shopping in Seminyak Bali is a little more relaxed than in Kuta and Legian. While Seminyak does have two malls, savvy shoppers will hit up the boutiques (see below). Seminyak Square is tiny and possibly the only stores you will recognise here are Billabong and DC. I did spend quite a bit of time pottering around a home wares store called Vinotti Living where I picked up a couple of cushion covers to take home. I fell in love with a sparkly silver table runner but at $30 I thought it was a bit steep. Great furniture and mirrors but sadly a little big to fit in the suitcase. If you are catching a taxi to Seminyak this is a great place to ask your driver to drop you off and while it's definitely not a destination in itself the surrounding streets make for great browsing. Seminyak Village is a little more upmarket with stores like Rimowa, M Resort and Aldo. One of my favourites in Farah Khan which is known for glamorous hand embellished pieces. When you are exhausted from shopping in Seminyak Bali, head to the very top level and treat yourself to facial at Spring Spa. It's pricey by Bali standards but it is amazing.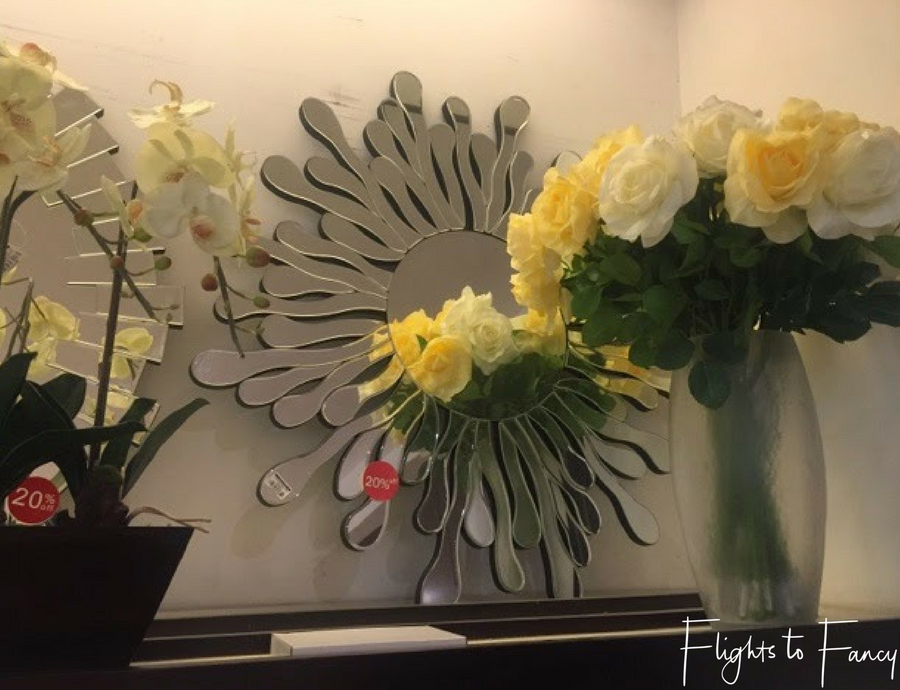 Markets In Bali
The quintessential Bali shopping experience. Stalls litter the main roads, side streets and every conceivable space in between. Owners will sit on the foot path and try to entice you to have a look with offers of "cheap cheap" wares inside. Tourist tat abounds and the vast majority of them sell exactly the same thing. However don't dismiss the markets in Bali as almost everyone must take a trinket or two home for friends and co-workers. Expect to haggle for a deal and as a rule of thumb aim to pay half what they quote as the initial price. Be respectful of the culture and don't enter price negotiations if you don't intend to buy. The Balinese consider it insulting if they meet your price and you then don't buy. While haggling can be fun and is all part of the process don't push too hard to get that last 5,000 Rupiah off. Keep things in perspective, trust me that 50c you are trying to shave off will mean much more to them than it will to you. Cash is king here so leave the Amex at home. So what is worth buying and what isn't?
Buying Shoes In Bali
You are never going to find high end pumps here, but if your are looking for a pretty pair of sandals for the beach you might just be in luck. I picked up a couple of pairs for $10 each. Fake sneakers are everywhere. On our last trip we had Ms 12 and Ms 9 with us you were dying to get their hands of some slides and some knock off Adidas Superstars. We scored on both accounts. The slides were $7 each from Garlick Lane and the Adidas were $20 each from Jl Legian. Be aware that not all knock hands on
Amante (Jl Legian 355, Kuta) OK confession time. I originally popped in here because it was air conditioned and I was melting and just needed to escape the blistering afternoon sun for a spell. However once inside I was delighted by the offerings and I managed to pick up two pairs of shoes for a smidge under $60. Score! Buy here.
Buying Handbags in Bali
Fake designer bags in Bali are popular with Jimmy Choo, Michael Kors, Mimco and Luis Vuitton dominating the scene. Prices start at around $10 for the simple Mimco clutches and top out at around $40. Quality will vary from stall to stall so check a few out before deciding. While I don't own a fake designer bag from Bali myself, I know plenty who do and they are happy with what they got for the prices they paid. Besides the fakes there are plenty of colourful options. Just remember that straw will need to be declared on your return to Australia.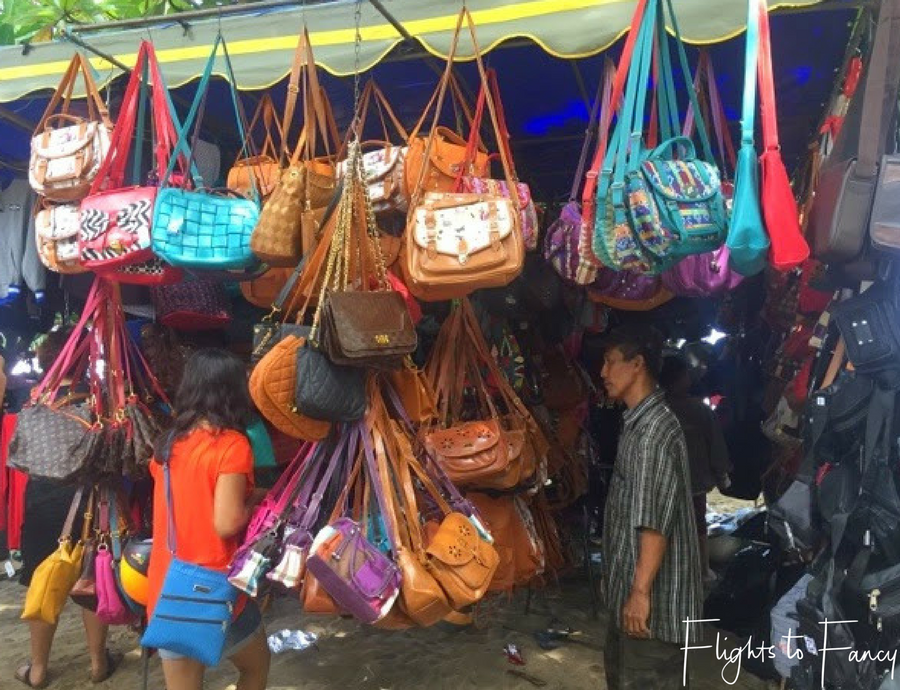 Ebiza (Jl Kaya Aya, Seminyak). Definitely a must visit while shopping in Seminyak Bali. Ebiza is one of the first stores you'll encounter walking away from Seminyak Square. Go for the gorgeous snakeskin bags. I fell in love with the electric blue cutie below and I'm seriously regretting not buying it for $55.
Buying DVD's In Bali
If you have no issues infringing copyright laws, DVD's can be picked up for $1 each and if you buy 10 you get 5 free. Try Softcomp Centre at the top end of Poppies II near the Bali bombing memorial. It's not strictly a stall and you will appreciate the an air conditioning and non aggressive staff while you browse. Always ask if it is a "good" copy or a "cinema" copy. This store will let you test before you buy.
Buying Signs & Art In Bali
Wooden carvings and bling signs can make nice souvenirs and are custom made to your specifications. Be aware that you will need to declare wooden items on the way back in Australia. Art stalls are everywhere and generally not to my taste but if your are looking for a painting of Heath Ledger's joker then every stall will have one. If you have dollars to burn check out the stainless steel sculptures which are amazing.
Buying Homewares In Bali
For something quite unique there is a little stall selling lights on Jl Legian (between Jl Padma and Jl Melasti). You have to build them your self but this makes packing them so much easier. I can totally see these dotted around a tropical back yard. Homewares are ever present while shopping in Bali, with bowls, platters and strange ornaments seemingly the norm. Not my style but each to his own.
Buying Beanbags In Bali
Something you might not expect to see while shopping in Bali is beanbags. We bought six of the chair type ones on our last visit from Jaya Pillow I (Jl Padma Utara Legian) for $14 each in the outdoor fabric. Prices seem to have gone up dramatically since August as I couldn't get them to go under $30 a piece this time around. Great choice of colours and styles. While they have a few in stock they are mostly made to order so allow at lease three days.
Buying Silver In Bali
It's easy to lose hours pottering around all the pretty, shiny things in the Bali boutiques. I love Silver Jewellery and always pick up a trinket or two while I am in Bali. Here's just a few for you to check out. Credit cards are usually accepted, sometimes with a 3% surcharge. Aron Silver(now renamed as ? Jl Legian 101, Legian) has literally thousands of items to choose from. My picks are the bangles and chunky rings. Expect to pay about $30 each for the solid silver bangles and $10 for the rings, depending on the weight. You will need to negotiate a good price here. I was first told that each bangle would be $75 and got them for $30. The clincher for me is that the bangles come in all different sizes and so I was able to buy ones small enough to fit my unusually tiny wrists which I can never do at home. #Winning 🙂
Asia Silver (Jl Raya Seminyak 49, Seminyak). A little more up market (and therefore pricier) than Aron. Check out the beautiful black onyx, amber and mabe pearls. The pink mabe pearl ring to the right of the third picture would have been mine if it was my size but alas it was not meant to be. Check out their range here.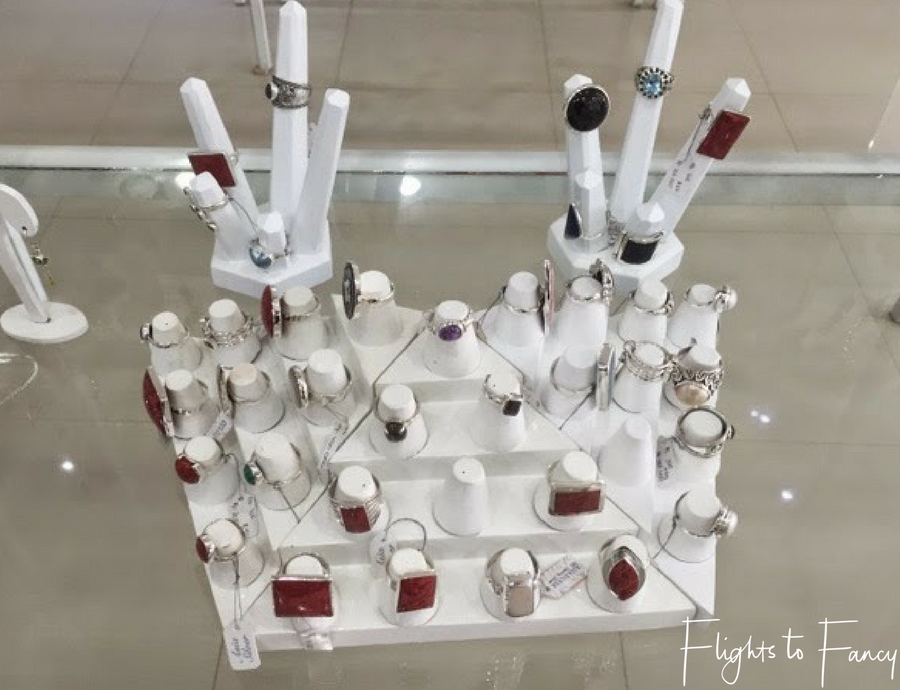 Wallace Pearls (Jl Laksmana Oberoi, Seminyak). Not far from Seminyak Square is a delightful little boutique selling exquisite freshwater pearls. It looks like a dress shop from the window displays but wander inside and you'll find a treasure trove of delights. Prices are fixed but they do have discounts off some items (just not the ones I wanted to buy) and if your spend over a 1,000,000 rupiah (I did!) you get 10% off. They also have a sister store called Pretty Pearls in Legian.
Bali Hawkers
Be warned: If you are planning to step foot on the beach you will encounter a hawker or two (or three or four or five …) selling mostly watches, sunglasses and hats but more concerning they also offer Viagra, Xanax and Valium. The Hubs was starting to take it a little personally given the amount of times he has been offered Viagra. Now surely I don't have to warn you of the perils of buying drugs off a street hawker, do I? This is Bali and penalties for drug possession are harsh, up to and including the death penalty. Undercover police pose as dealers to trap unsuspecting tourists. Do not go there. I repeat do not go there. I'm not going to lie to you, hawkers can be quite persistent and it does get a little tiresome after a while but the best way to fend them off is to not break your stride and say "no thank you" politely yet firmly, better yet say it in Balinese (singh sooksuma). They may follow you for a little while but will eventually taper off. I have never made a purchase, heck I don't even slow down enough to look because to the minute you show any interest you're toast. They will remember you and catch you (possibly stalk!) each time you leave your hotel. Never say "maybe tomorrow", again they will remember. Dance with the devil at your own peril.




Have I missed any of your favs? If so I'd love to hear about them in the comments below.
Until Next Time …

Pin

"Everything You Need To Know About Shopping In Bali"

For Later!