Rotorua really turned on the rain for our last night in town. It would have been easy to retreat to our very comfy room at The Regent of Rotorua on such a dismal night but with only two days in town we didn't have the luxury of time on our side. We braved the rain and headed to Skyline Rotorua. I know what you are thinking, why would you go to a place famous for the views when the city was shrouded in mist? Well two of my favourite things are at the top of Mt Ngongotaha; wine and food, both of which could be enjoyed even with a compromised view. Stratosfare Restaurant Rotorua and Volcanic Hills Winery proved to be the the absolute perfect place to be on a dark stormy night in Rotorua. Read on for all the details …
Skyline Rotorua Gondola
The Gondola at Skyline Rotorua is the easiest way to get to the top of Mt Ngongotaha. There is ample free parking and all activity tickets are sold at the ground level terminal. The super smooth run takes about 5 minutes in spacious eight-seater cars that arrive frequently. Mountain bikers are catered for with their own dedicated cabins and both ways we were lucky to enjoy a private journey. Rides start at $29 for the gondola alone but the packages represent the best value. Once you are at the top there is plenty to do. In addition to dinner and wine tasting (see below) why not try mountain biking, the luge or a zipline? We saw lots of brave souls shunning the rain and getting out there anyway. Emma, our guide at Waitomo Caves, told us she loves luging at Skyline Rotorua in the rain because the cars go faster. I'll have to take her word on that one!
Volcanic Hills Winery
Volcanic Hills Winery occupies a prime position at the top of the mountain. The tasting room has a modern and distinctly industrial feel but is prevented from feeling cold by warm wooden floors and a comfy leather couch. When we arrived there were 3 other groups enjoying their own tastings and we were introduced to our host Johnny.
We chose to sit at the bar by the window even though the view was obscured by clouds and mist. It did clear very briefly a few times to give us a glimpse of what it might be like on a clear day. There was something quite mesmerising about watching the rain slowly trickle down the glass while being cozy and warm inside. The Hubs doesn't drink wine (no not at all!) so at Johnny's suggestion he grabbed a beer from the bar at Stratosfare to bring back upstairs while I started on the whites.
I've mentioned countless times on the blog that Sauvignon Blanc is my wine of choice and the Kiwis are renowned for it so that's where we started. The grapes in this particular bottle come from the Marlbourough Region and it was delightful. The pours were generous and Johnny was careful to explain each wine in detail. Next up was an easy drinking Pinot Gris. Johnny tells me it's the fastest growing white in the world and who am I to go against the trend. I'm a bit of a Chardy snob and I often say I don't like it but I kept an open mind as Johnny poured my next glass. The oakiness was immediately apparent. More heavy duty than the previous two, this is not a white to be quaffed. Save it for dinner and pair with chicken or pork. NZ whites are in high demand and exported globally so wherever you find yourself on this vast planet of ours you will never be far away from one. Sauvignon Blanc is still my favourite 🙂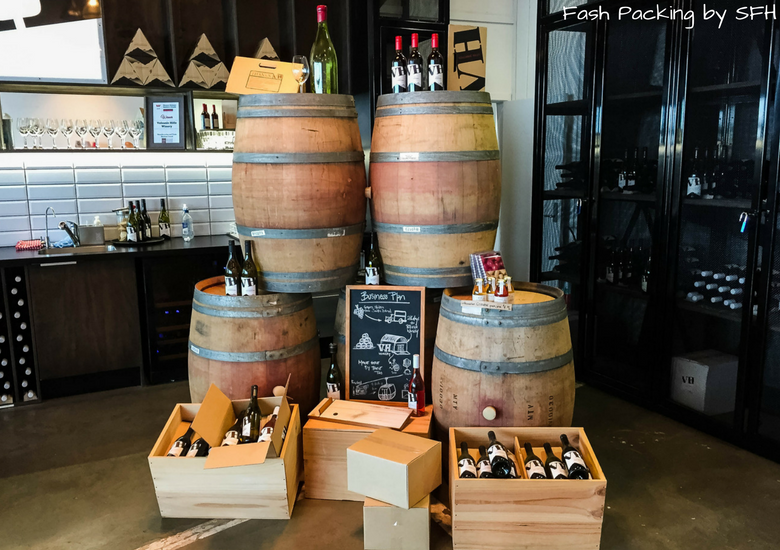 To transition to the reds we started with a blushing rose. The colour in the glass was prefect and achieved by keeping the skins in the mix for just two hours. Drink this red like a white on a hot summers afternoon with friends. Next up were the jewels in the Volcanic Hills Winery crown; a twin set of Pinot Nois that Johnny referred to as 'the boy' and 'the girl'. My pick was the girl, but if you like a full bodied red the boy might be more to you liking. The boy has recently been picked up by American Airlines, in first class no less! If you are lucky enough to be at the pointy end of the plane with AA make sure you have a taste. With our tasting done, we thanked Johnny for all his help and I grabbed a bottle of the Sauvignon Blanc on the way out to enjoy back at home. How could I possibly resist?
Skyline Rotorua Stratosfare Restaurant Overview
Walking into Stratosfare Restaurant was like entering a Christmas wonderland with the fairy light covered tree taking centre stage. Our hostess Roxx greeted us warmly and took us on a tour of the extensive buffet pointing out all her favourites on the way. Once fully briefed we were seated at the perfect table right in front of the expansive windows. I'm told on a clear night the view is magical with all the twinkling lights of the city far below. Our table was thoughtfully set and the Christmas crackers were an extra special touch. Stratosfare Restaurant also has a generous outdoor terrace which would be perfect for a long lunch on a summer's day.
Buffets Galore @ Stratosfare Restaurant Rotorua
Stratosfare Restaurant Rotorua has the most extensive buffet I have ever seen. It starts with a house baked artisan bread station before leading to a selection of hearty soups. A large range of healthy salads including a 'build your own' caesar station follow. Next up is a diverse antipasto offering that I couldn't wait to sink my teeth into. Seafood lovers will delight in the selections from the sea including smoked salmon, prawns and for a really special touch, live green lipped mussels steamed fresh. Move along to Asia and sample won tons, dim sums, dumplings and butter chicken with fluffy basmati rice. Of course every decent buffet will include pasta and Stratosfare offers three varieties with accompanying sauces. The carvery looked delicious and included every possible condiment but don't overlook the grill where your choice of steak, pork, chicken, fancy sausages and venison are cooked to order right before your eyes. For a special treat, check out the selection in the premium cabinet for just a little extra. If that's not enough, finish off your meal with something sweet from the large selection of desserts or hit the ice cream and sorbet bar. One thing is for certain, we knew we were not going to leave hungry! See the Stratosfare full menu here.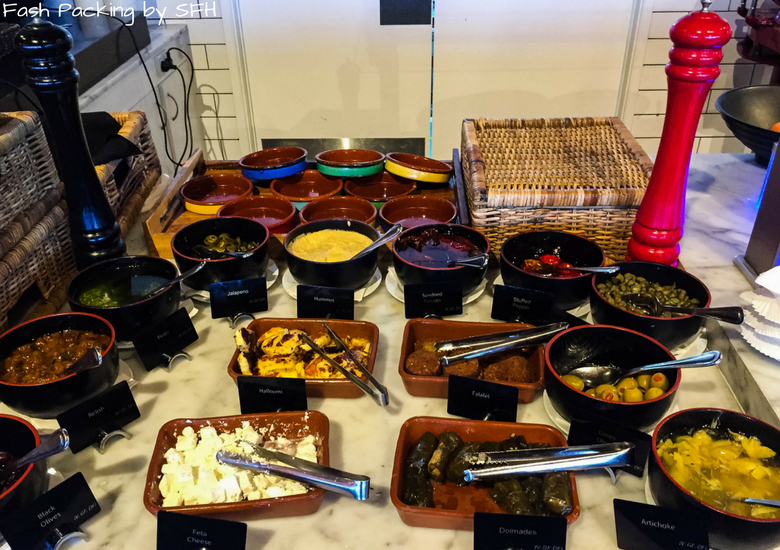 What We Ate
The thing about buffets, particularly ones this fabulous, is that you have to pace yourself. I'm always a bit perplexed when I see fellow diners piling their plates sky high with a mix of things that have no business being on the same plate. Don't they know you can keep going back? I started out with an antipasto selection. Halloumi and dolmades are one of my all time favourite things and I always gravitate towards them. They were pleasant but I was a bit disappointed they were not served hot. The creamy, salty feta was divine and I had to force myself to go easy. The cold meats and crisp veges rounded out my first course. The Hubs first plate was a mix of ricotta and spinach ravioli drenched in a creamy sauce with a little of the fresh shaved parmesan from the caesar bar on top.
Our next few plates were from the Asian and seafood selection. The Hubs' laksa was creamy with a nice spice hit and he can never resist a plate of prawns. These did not disappoint. I enjoyed the butter chicken with the char-grilled veges which might sound like a strange combination but it worked for me.
To the grill! I chose a peppered steak and the ever more adventurous Hubs decided on venison. It's not a meat I am used to seeing on the menu and I was a little wary. The band burst into Benny And The Jets while I was waiting for my steak to come off the grill and I couldn't help but sing along while The Hubs did his level best to pretend he didn't know me. The Hubs' declared the venison his favourite of the night and from the little taste I snuck I have to agree. Ask for it medium rare. The potatoes and gravy make the perfect addition.
With extremely full bellies we took one last sweep, this time at the dessert bar. I love that everything comes in miniature sizes so you can try lots without overdoing it or creating too much waste. I settled on the chocolate mousse cake and a crepe which were both thoroughly enjoyable. The Hubs sampled a few different slices but the highlight was the panacotta which had a complex and unusual flavour with a silky smooth texture. Give it go, you won't be sorry! Before long it was time to make our way back to the gondola and say goodbye to Skyline Rotorua.
The Final Word
We were so glad that we decided to brave the gloomy weather and venture out. We had a lovely night at Skyline Rotorua and I would highly recommend it while you are in town. The staff behind the counter at Stratosfare Restaurant worked furiously to replenish everything regularly so that all dishes were hot and fresh all night long. Our server was from the Czech Republic and she provided excellent service throughout. We had a great chat about Sydney where she was heading in just a few weeks. She was extremely attentive and our plates were cleared regularly to make room for each new course. The one disappointment was that our star gazing was cancelled due to the weather. It would have been the absolute perfect end to a magical night. If you are heading to New Zealand for the first time make sure you check of my New Zealand travel essentials post for everything you need to know before you go.
Have you been to Skyline Rotorua? What would you pick if you went to Stratosfare Restaurant and what would you take home from Volcanic Hills Winery?

Disclaimer: Skyline Rotorua, Stratosfare Restaurant and Volcanic Hills Winery kindly hosted us during our trip to New Zealand. As always, all opinions are my own.
Like it? Pin it!
Save
Save
Save
Save
Save
Save