I've been to Cairns many times and every visitor to this magical part of the world knows there are two big draws in Tropical North Queensland; the reef and the rainforest. Sure there are lots of other things to do in Cairns, but these are the big guns. All my previous trips to Cairns have revolved around exploring The Great Barrier Reef but this trip was all about the rainforest. The Wet Tropics World Heritage Area stretches from Townsville to Cape Tribulation and is one of Mother Nature's greatest achievements. This massive region is home to over 150 managed walks but there is only one way to see this natural wonder from above. The Skyrail Rainforest Cableway Cairns offers visitors the unique opportunity to view the magnificent canopy from a completely different angle and is not to be missed. Read on for all the details …
About Skyrail Rainforest Cableway Cairns
Skyrail Rainforest Cableway Cairns is the most environmentally sensitive cableway in the world. It opened in 1995 after 7 years of feasibility studies to ensure that no rare, threatened or endangered species were impacted. The location of each of the 32 towers and two mid stations were carefully selected to coincide with existing canopy gaps. When completed the 7.5klm journey was the longest in the world. No roads were built during construction and workers had to trek in each day carrying all their equipment. The 114 gondolas in operation today can move up to 700 people per hour and while they can reach a maximum speed of 18klms per hour, they travel much slower to ensure riders can truly enjoy the experience. Tech heads can check out all the specs here. We arrived at Skyrail's Smithfield Terminal to start our journey at around 10.30am straight after getting kicked out of our accommodation at the Sunshine Tower Hotel Cairns. We timed our visit perfectly as unbeknown to us there was a cruise ship in port and the afternoon was expected to be particularly busy with cruisers on shore leave.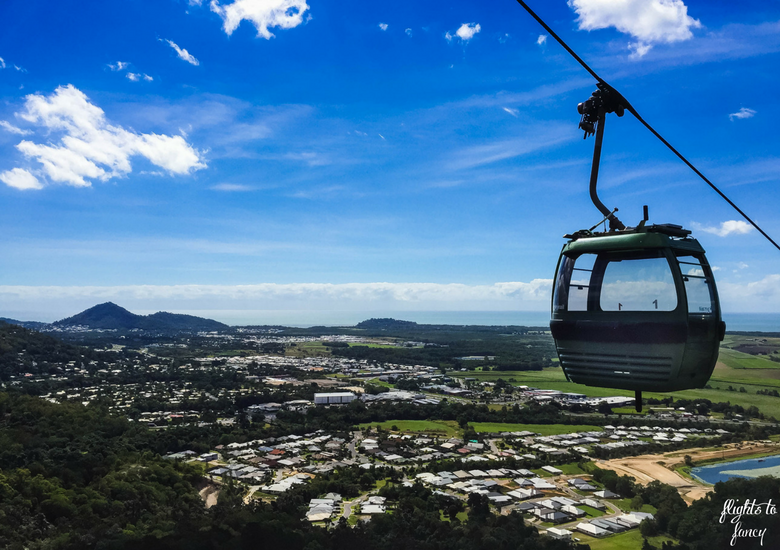 The Rock Star Treatment On Skyrail Cairns
You know I'm all about luxury for less and for only $15 extra you can enjoy the Skyrail Diamond View Experience. Diamond View cars were introduced by Skyrail Cairns in 2013 and the privileged customers who opt for the upgrade are allowed exclusive use of the 11 glass bottomed gondolas that seriously enhance your viewing experience. Not only that, you get a priority boarding queue that allows you to sail past every one else in line. Sweet! Taking photos in full sun through the glass floor can be a little tricky with the glare from the panoramic windows. My tip? Get down low and get your camera as close as possible to the glass.
Red Peak Station
Red Peak Station is the first stop on your Skyrail Cairns journey. It sits 545m above sea level and is the intersecrtion between the two tracks so everyone must exit at this station. Almost immediately you can sense the dip in temperature. Rangers provide free guided walks or you can do as we did and explore on your own. Meander down the well maintained boardwalk and make sure you read the fun facts as you take in the pristine natural beauty. I was particularly fascinated by one fabulously gnarly tree covered in vines. The view from the lookout makes the perfect spot for a photo or two.
Barron Falls Station
Not long after jumping back on board our gondola sailed into Barron Falls Station. While this is not a mandatory stop you would be crazy to miss it. Barron Falls is of course the star attraction and there are three different vantage points to ensure you get the very best view. We visited in the dry season and the brilliant white streams of water hugging the glistening rocks were a subdued version of the torrents you can expect in the wet season. There is something extremely calming about the sound of running water and the serenity encourages you to linger. Make sure you visit the interactive centre while you are there. The brilliant blue Ulysses butterfly is prolific in the Wet Tropics World Heritage Area and we saw quite a few in the wild during our visit to Cairns. They are quick little critters though and are not prone to sitting still for a photo. The displays at the interactive centre are much easier to capture and look almost as good as the real thing.
Next Stop Kuranda Station
The final leg of Skyrail Cairns sees you sailing over the Barron River into Kuranda Station. If you are lucky you will catch a glimpse of one of Australia's most iconic railways as you make your descent back into civilisation. We sampled the Kuranda Scenic Railway gold class experience the day before and Skyrail offers packages to combine the two so that you can do the same. Kuranda is a quaint little town well worth exploring before you make the return journey back to Cairns. Stopping in at the markets is a must and be sure to check out Falafellicous for a takeaway wrap. It's $10 you will not regret spending! We didn't indulge this time around as we were saving our appetite for a late lunch come early dinner at Salt House, one of Cairns' premier Waterfront restaurants.
Skyrail Rainforest Cableway Cairns is one of the most unique attractions in the region and we loved our short time soaring above the canopy. Getting to Cairns is simple from most Australian cities and we got a great deal on our flights from Jetstar. The temperatures are mild year round and it makes a perfect winter getaway for Aussie's shivering in the south. Skyrail Cairns is extremely popular so make sure you book your tickets in advance here. Will you be upgrading to the Diamond View?
Until Next Time …

Like it? Pin it!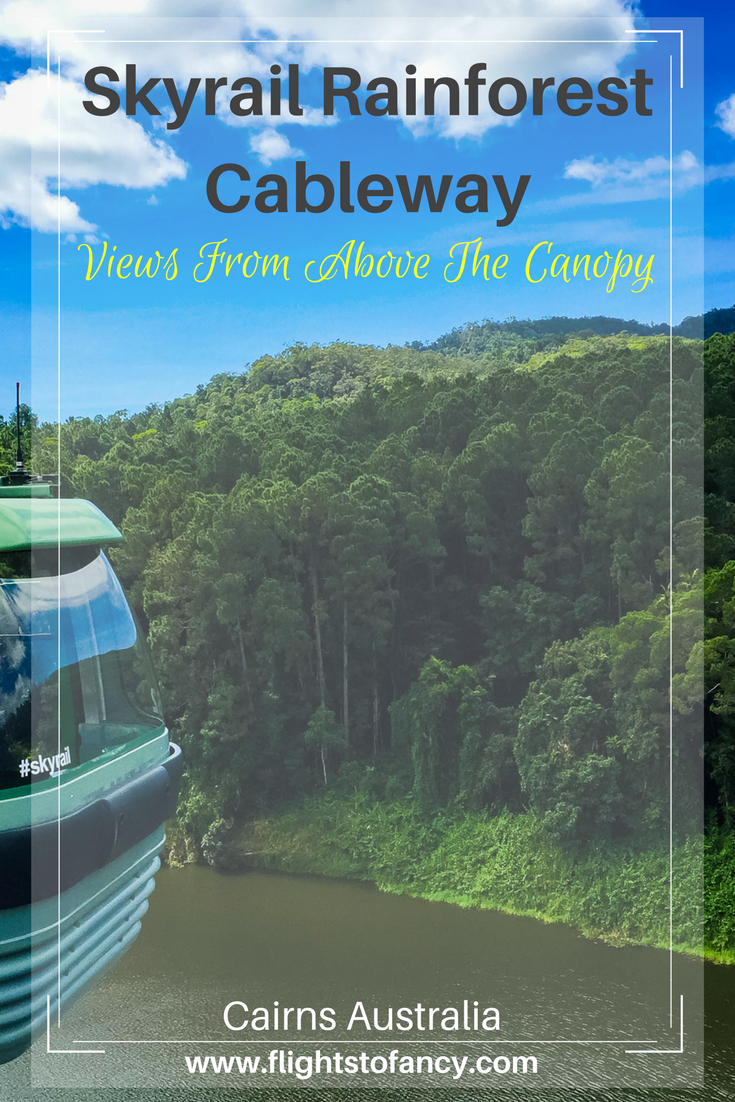 Disclaimer: We travelled on Skyrail Rainforest Cableway Cairns as guests. As always, all opinions are my own. This post contains some affiliate links which will earn me a few cents to contribute to the running of this site if you make a qualifying purchase at no extra cost to you.