A few weeks back I spend a girly long weekend in Queensland. Our Sunshine Coast long weekend was exactly what the doctor ordered and I'm not sure who needed it most; me or The Co-Conspirator! We spent 72 hours on the ground and made every one count. If you are planning some time on the Sunny Coast, my suggested itinerary is a great place to start your planning. Read on for all the details …
Sunshine Coast Long Weekend Suggested Itinerary
I am a list maker and our Sunshine Coast long weekend was no exception. I did my research before we left to ensure we had no wasted time and got the very best deals available. Here is how we spend our three days …
Day 1 – Saturday
8am – I booked our flights using my Virgin Velocity points so our flights were free, if you are not so lucky make sure you read my tips on scoring a bargain airfare before you book.  Our business class tickets afforded us a touch of luxury in the lounge to kick of our Sunshine Coast long weekend.
11 am – Our representative from Airport Rentals met us in baggage claim and had us underway in our hire car in no time. We scored a serious bargain and only paid $67.20 for the three day hire. I actually booked an automatic Hyundai i20 but we ended up with a manual Nissan Micra. I'm not quite sure what they would have done if I couldn't drive it. The only inconvenience is that my travel companion cannot drive a stick so I was the designated driver all weekend.
12pm – Eumundi Markets is famed as the best in the area so I knew we had to visit. Their operating hours required driving direct from the airport, luggage and all. The crowds mean parking can be tricky to find but don't park on the white line like I did as the $47 fine was annoying. Read more in my comprehensive guide of Sunshine Coast Markets. The weather was a little unpredictable and we got caught in a downpour. I had no umbrella but I did have a rather attractive green plastic bag. I will do WHATEVER it takes to stop my hair going fuzzy. I'm not sure the locals were ready for my fashion forward look and I drew some very curious glances and the odd comment. Whatever, I kept my hair dry so I was happy!
2pm – Lunch @ Bohemian Bungalow was delicious! The Cinderella's Ride pizza was perfect to share. You must check out this funky spot while you are in the area. At only $20 per person it also makes my list of fabulous cheap eats in the Sunshine Coast.
3.30pm – Australia loves a 'big thing' and it doesn't get any more iconic than the Big Pineapple. We arrived right on closing so if you want to do more than just snap a pic make sure you get here a little earlier.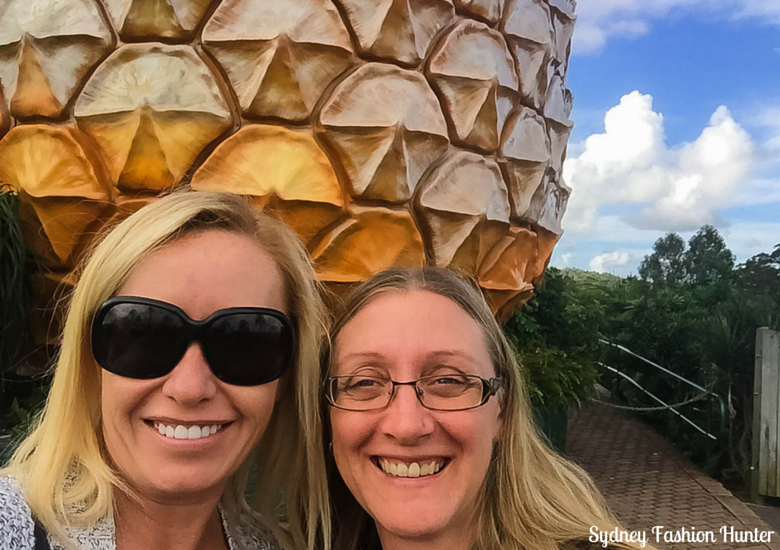 4.30pm Sightseeing done for the day we headed back to our hotel. Novotel Twin Waters made for a very comfortable home away from home and the facilities are out of this world. Check out my comprehensive review of the Novotel Twin Waters Resort here.
7.30pm We were on a budget and grabbed a Groupon voucher for dinner at Yabbies on the Esplanade. $59 for two course for two people including a bottle of wine is superb value in my book. More details in my Sunshine Coast eats guide.
Day 2 – Sunday
8am Breakfast was included in our stay at Novotel Twin Waters so we fueled up for a busy day ahead. Full details are in my Novotel Twin Waters Review.
9.30am – Caloundra is a sleepy beach town that swells with visitors on the weekend and during the summer months. If you haven't had your fill of markets after Eumundi, the Caloundra Street Fair is just perfect on a lazy Sunday morning. For more details visit my Sunshine Coast Markets guide.
12.30pm I can never resist a winery and Maleny Mountain Wines was a winner! I bought two bottles of white. Who could you resist a name like sunshine? The grounds are absolutely breath-taking so have a wander around as well as visiting the cellar door. If you are peckish they can also organise a cheese platter to go with your wine tasting.
1.15pm Cheese is the perfect partner to wine and you are spoiled for choice at Maleny Cheese. Pick up a tasting plate for just $10 where you can sample 5 types of cheese. We really enjoyed the feta 🙂
2pm Flame Hill Vineyard is just a short drive away and as picturesque as they come. Another bottle was added to my bag before we left the cellar door. An in-house restaurant invites you to linger a while.
3.30pm We almost missed Montville Village but I'm so glad we found it as it is just too cute for words. You get the feeling you have stumbled back in time with the quaint buildings and relaxed vibe. We happened upon it quite by chance after hunting down Chocolate Country (enter your email address in their website for a 20% off voucher). Make sure you visit  Mason Wines where I picked up a sticky to add to my ever-growing collection of wine. Well worth an hour or two of wandering.
7.30pm Tapas is one of my favourite ways to eat. The small shared plates offer the opportunity to sample a wider variety of dishes than simply ordering a single main and the reasonable prices mean you can be a little more adventurous by trying something you wouldn't normally. BaVigo's menu was tasty and the service speedy. Read more in my Sunshine Coast dining guide.
9.30pm – What girly weekend is complete without a chick flick. We were debating between My Big Fat Greek Wedding II and The Boss, which was our choice in the end. Event cinema Maroochydore was almost deserted to the point where it was almost a private screening and eerily quiet when we left at almost midnight.
Day 3 – Monday
9.30am Buderim Forest Park is a must for nature lovers or those that have an hour to spare. Take the 20 minute walk (easy) down to the waterfall (title picture) and take a dip in the refreshing waters if you are keen.
11.30am A little bit of pampering was critical on our Sunshine Coast long weekend. We originally had other plans which fell through at the absolute last minute so I was thrilled when Shine Beauty could fit us in. We opted for the majestic facial which was divine. I liked it so much I bought the exfoliant 🙂
1pm Well we were already in the centre for our facial anyway so it only made sense to have a little look around the Sunshine Plaza while we were there. This centre is just so pretty with a river running through the middle and lots of sunny spots to grab a caffeine fix. All your usual favourite stores can be found here and we somehow managed to buy ten pairs of shoes between us which played havoc with our luggage restrictions!
7pm Funds were running low on our last night (the shoe purchases may have had something to do with it!) so Solbar's cheap as chips Monday night menu was just the ticket. You'll find about ten options for $10 and the fairy lights across the road make for a very pretty view if you sit out front. Head to my Sunshine Coast cheap eats guide for more details.
Day 4 – Tuesday
9am After breakfast a stroll on the beach across for our hotel was a fitting way to farewell the Sunny Coast. We had the sand virtually all to ourselves save for a few dedicated surfers carving the morning waves.
11am – A short drive to the airport and the simplest of hire car drop offs made for a fuss free departure. One word of warning; there is no petrol station in the airport complex so fill up about 2k's back. I even manged to get an awesome aerial view of the hotel on take off which was an unexpected conclusion to our Sunshine Coast long weekend. We will be back!
How would you spend your Sunshine Coast long weekend? I would love to hear about your favourite places to visit in the comments below.
Until Next Time …

Disclaimer: This post contains some affiliate links for which a small commissions may be paid.
Like it? Pin it!
Save
Save