I love Sydney getaways. I've lived here all my life and every time I get a glimpse of our magnificent harbour I am reminded just how lucky I am to call it home. But that doesn't mean that I don't enjoy my Sydney weekenders. After a hectic work week sometimes a short break from Sydney is just what the doctor ordered. And I'm not the only one who thinks so. Friday night traffic is manic as the residents of the harbour city exit en masse in search of their own perfect Sydney weekend getaways. To make the most of our short breaks from Sydney we keep the driving time to within 4 hours and try knock off a little early on a Friday afternoon to beat the worst of the traffic. Weekend Getaways in NSW are incredibly diverse and within a few hours you could find yourself beside a beautiful beach, nestled in a quaint country town, exploring the the nation's capital or hiking rugged mountain ranges. Read on for 15 of the best short trips from Sydney …
Sydney Weekend Getaways
My very first weekend away sans parents was at the tender age of 15 when three friends and I caught the train down the to Shellharbour. We got up to lots of mischief (sorry Mum!) and the experience lit a fire in our bellies to explore. It became much easier to get away once we acquired licenses at 17 and weekend trips from Sydney became the norm. I feel truly lucky we got to see so much our great state of NSW. There are a staggering amount of options for short trips from Sydney. I've slept on houseboats on the Hawkesberry, snuggled in cabins in the snowfields, pitched a tent in The Entrance, hit the zoo in Dubbo and everything in between. As I got older and funds were more abundant, my weekend road trips were largely abandoned for trips further afield but I have recently reignited my love affair with exploring closer to home. Many of my trips were done a lifetime ago and my memory is not as sharp as it once was so I have enlisted the help of a few of my fellow bloggers to bring you the very best Sydney weekenders. All of these great destinations are under 4 hours drive form the CBD so there is no excuse not to get out and about. Let's do this …
Short Trips From Sydney to the ACT
1. Canberra – 3h Southwest
Australia's capital has a reputation for being boring but there is much to delight weekend visitors to Canberra. Canberra is the one of the only short breaks from Sydney where you will cross the NSW state line. Go in March and time it right to experience both Enlighten and The Canberra Balloon Spectacular. Enlighten is a week long festival which lights up the city with illuminated sculptures, large scale projections and plenty of neon. Don't miss the Canberra night noodle markets for street food with a twist. Wake early on the weekend to see the launch of some of the world's most unique hot air balloons. A visit to Canberra would not be complete without stopping in at The Australian War Museum for a unique glimpse into Australia's military history. When it's time for dinner check out Blu Ginger for excellent Indian. On a lazy Sunday head to the Old Bus Depot markets and pick up a few trinkets before heading slowly back to Sydney along Canberra's wine trail.
Where to Stay: Novotel Canberra or Hotel Kurrajong
What to Do: Hot Air Ballooning
2. Jervis Bay – 2h 40m South
Sydney is a beautiful city, but it's also a sprawling metropolis and I looked forward to my Sydney weekenders. I came across Jervis Bay early in my Sydney days and I have been under it's spell ever since. Being under 4 hours drive away, Jervis Bay is ideal for a weekend road trip. The exceptional charm of Jervis Bay lies in the fact that its been preserved by the Commonwealth. Initially a naval base, Jervis Bay is now a pristine national park with numerous beaches. My favourite ones are Murrays; Beach, Steamers Beach and Hyams Beach which is famous worldwide for having the whitest sand in the world. When I visit Jervis Bay, my favourite place to stay is the Bay of Plenty Lodges in the Booderee National Park. The drive to the rustic bungalows cuts through pristine bush and the tame kangaroos that visit after dusk are a highlight. I usually self-cater using the onsite barbecues when I stay but I can't resist a trip to Huskisson Pub for a casual meal.
Delphine @ LesterLost
Where to Stay: Bay of Plenty Lodges
Coastal Sydney Weekenders
3. Forster – 3h 30m North
Laid back Forster is the perfect weekend destination for water lovers. Spend your days at one of the fabulous beaches, try you hand at scuba or drop in a line. If you time it right you can enjoy a number of dolphin and whale watching cruises. If that sounds all together too active hang at the Great Lakes Holiday Park at let the rug rats exhaust themselves on the jumping pillow, the water park or the nearby skate park. If you are in need of some relaxation, treat yourself to a facial or massage at Endota Spa.
Where to Stay: Great Lakes Holiday Park
4. Port Stephens – 2h North
At less than 3 hours drive, Port Stephens is one of our favourite short breaks from Sydney. Located to the north of Sydney, the area boasts amazing beaches with none of the crowds you find in the city. There  are plenty of activities to do in the area, for people of all ages. Be sure to check out Stockton sand dunes, which are the largest shifting dunes in the southern hemisphere. You can take a quad bike tour, or rent sand boards to explore. They are accessible from the beautiful Birubi Beach, where you can relax and watch the surfers, or even give it a go yourself. The café here, "Crest", does some beautiful lunches and coffees and offers a great view. About 15 minutes drive away, in Nelson Bay, you can hop on a dolphin watching boat with a near guaranteed chance of seeing the resident pod of dolphins. During migration season, Humpback whales can easily be spotted breaching and swimming close to the coast. Don't miss the walk up to the top of Tomaree Head, which takes around 30 minutes. It is quite steep, but the view from the top is worth the effort. Offering panoramic views of Fingal Spit and the Nelson Bay area, it is a perfect sunset location. There are also places to rent kayaks, jet skis, paddle boards and surf boards. Don't miss brunch at highly recommended café "Nice" in Nelson Bay, and for something special, make a reservation at "Little beach Boat House" for a beautiful dinner. The area is best explored by car, however there are local buses that serve the area. For a friendly, quirky place to stay, check out Samurai Beach Bungalows. With dorms and private rooms, there is something for all budgets, and it has a fully equipped kitchen, games room and swimming pools. The rooms are cute little bungalows surrounded by trees.
Demi@ Around The World With Her
Where To Stay: Samurai Beach Bungalows
5. Mollymook – 3h South
Our favourite weekend Sydney getaways are the towns of Mollymook and Ulladulla on NSW's South Coast. Mollymook is 232 km from Sydney and should take around 3 ½ hours, Ulladulla is a further 3 km away. For a luxury boutique stay we can recommend Bannisters Pavilion in Mollymook. The English Celebrity Chef Rick Stein has created a mouth-watering menu of the freshest seafood straight from the ocean pairing the dishes with top Australian wines for all to enjoy in his signature Bannisters Restaurant. We recommend heading to Ulladulla for brunch at Native with its stunning location overlooking Ulladulla Harbour. To work off all the good food that you will enjoy in this region we suggest a bush walk off the Northern Headland of Ulladulla.  The Aboriginal Walk is known as " One Track For All". It is a 2km walk that winds around the headland, with four viewpoints overlooking the cliffs out to the ocean.  The path is a cultural trail with aboriginal artworks along the way telling the story of the local Shoalhaven aborigines.  The path has been created to be wheelchair, pram and bicycle friendly.  There is ample parking at the start of the pathway. Mollymook Beach is perfect for a swim after your walk or to enjoy a picnic on its silvery white sand.  A perfect getaway for all ages.
Jane @ To Travel Too
Where To Stay: Bannisters Pavillion
6. Gerringong – 2h South
Surrounded by green lush countryside, a headland at each end of the Beach and a small town that has everything you need, Gerringong should be your choice of weekend trips from Sydney. It is a about a two hour road trip south of Sydney via the Hume Highway. Werri Beach is a surfer's dream with point breaks at both ends of the beach, so there's often a wave peeling nicely off either the north or south headland. At the southern end there is an ocean pool on the rocks and if you scale the headland there are magnificent views over Werri Beach and to Gerroa in the south. If you're feeling energetic there is a 22 Km scenic coastal walk from Gerringong to Kiama via green pastures, rocky headlands, secret caves, coves and glorious ocean vistas. We stayed at the Werri Beach Holiday Park in Gerringong that was located adjacent to the beach and within a short distance to shops, cafes, bowling club and parklands. For a sumptuous meal try the Crooked River Winery just outside Gerringong where you can taste some local wines and dine for lunch or dinner at the Oak Room Eleven Restaurant.
Kathy @ 50 Shades of Age
Where To Stay: Werri Beach Holiday Park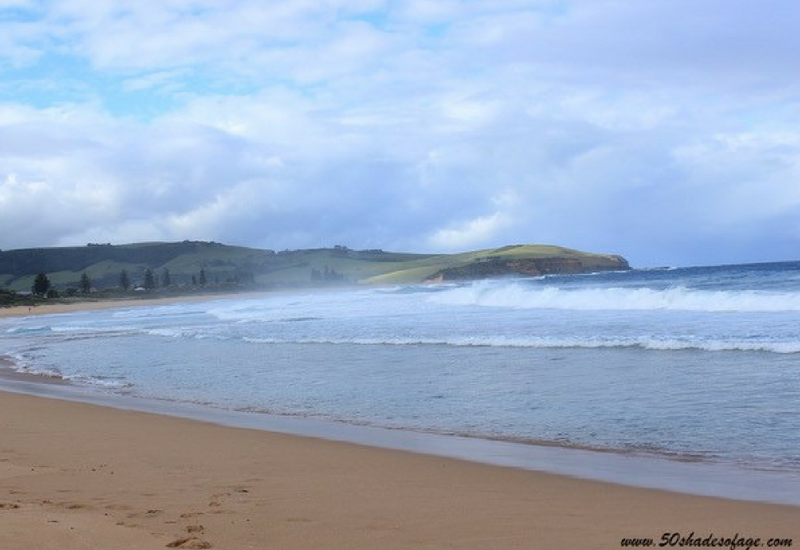 Weekend Getaways in NSW Cities
7. Port Macquarie – 4h North
For seaside breezes and a completely relaxed vibe ,Port Macquarie is my choice of weekend getaways in NSW. Rise early for the 4 hour drive from Sydney because there is a host of fun things to do in this coastal town. A former penal colony founded in 1821, 'Port' (as it is called by the locals) lies at the estuary of the Hastings River. The township thrived in the 19th century thanks to abundant natural resources and investments in sugar cane farming. These days it is known for its gorgeous beaches, national parks and wildlife attractions. Check yourself into Ana Mandara, a luxury riverside B&B where the rooms have views of the river or surrounding bushland. Then head to Lighthouse beach for a surf or to walk along the wide sandy shores. You can even do camel rides or4WD tours of the beach. A visit to historic Tacking Point Lighthouse is a must. From here you can take in sweeping views of the coastline and perhaps spot a whale during migration season from May until November. One of the best ways to explore Port Macquarie is to take a stroll along the Hello Koalas Sculpture Trail. There are over 50 one metre high colourful koala sculptures dedicated to the local koala colony – the biggest on the eastern seaboard. You can also visit the local koala hospital that cares for injured animals – admission is free. The sunsets are incredible in this part of the world. I think the best way to enjoy them are with a cocktail and some oysters, sitting outside on the deck of Quay Lime and Grill at the marina.
Katy @ Our Urban Life
Where to Stay: Ana Mandara Luxury B&B
8. Wollongong – 1h 20m South
Just one hour south of Sydney is the laid back college town of Wollongong. Commonly referred to as "The Gong" is a beautiful city located along the coast.  It's the perfect place to head to for a weekend beach trip. The city has a notable continuous chain of surf beaches and a rainforest covered cliffline for many to enjoy. The most popular thing to do here is enjoy the sea and surf. However it's also a bustling city with great nightlife for the younger crowd. I studied abroad in Wollongong when I was in college and was pleasantly surprised by how much there is to do. It's also safe, with friendly locals, and plenty of places to enjoy nature. When you want to escape city life in Sydney Wollongong is a great nearby alternative. Don't forget to check out Nan Tien Temple, the largest Buddhist Temple in the Southern Hemisphere.
Natasha @ The World Pursuit
Where To Stay: Novotel Northbeach
9. Newcastle – 2h North
Newcastle, New South Wales' second city, is an easy weekend trip from Sydney, barely two hours up the coast from the state capital. It's very different in feel from Sydney, much more laid-back, and it's worth the trip north to see some of the best beaches on this stretch of the Tasman Sea. The CBD area has been quiet for a while as the city's new light rail is being laid, but everyone's expecting it to pick up dramatically once it opens. Newcastle has several great beaches, from iconic Nobbys, close to the Hunter river estuary, nearby Newcastle Beach with its stunning Art Deco Ocean Baths, to Bar Beach and Merewether, two great surfing spots. Merewether's Ocean Baths are also the largest in the southern hemisphere. The city has a lively café, restaurant and bar scene, and the main focus for this is along Darby Street in the bohemian suburb of Cooks Hill. This area is separated from the sea by a steep hill, with some lovely heritage houses and the beautiful King Edward Park at the top. Newcastle East, the area between Nobbys and Newcastle beaches, also has plenty of historic houses and Fort Scratchley, a hilltop bastion from which shots were fired at a Japanese submarine trying to get into the harbour in 1942. One of the best places to stay is Quality Hotel Noahs on the Beach, on the corner of Shortland Esplanade and Zaara Street. Its location is unbeatable, right across the road from Newcastle Beach and the Ocean Baths, and rooms have beach, ocean, harbour and city views. One of our favourite places to eat in Newcastle is Bocados, a Spanish restaurant at the east end of King Street. They serve a great selection of tapas and a menu with several raciones – larger servings – as well.
David @ Travel With Little One
Where To Stay: Quality Hotel Noah's
Rural Sydney Getaways
10. The Hunter Valley – 2h Northwest
The Hunter Valley is NSW's premier wine region and one of my favourite short trips from Sydney. The Hunter is perfect for a girlie weekend away. Squeeze your besties into the car and head up on a Friday night straight after work. If you make good time you should arrive just in time for dinner. Try estaurant Botanica for something a bit fancy that won't break the bank. Enjoy a leisurely sleep in on Saturday and hit the vineyards around 10am. There are hundreds to choose from but you can't go past Tyrrells, Audrey Wilkinson, Tinkers, Lakes Folly and De Bortolli. Stop in at the Smelly Cheese Shop to grab some nibbles to accompany your wine. If you are lucky your visit will coincide with an outdoor concert among the vines at the Hope Estate. All the greats have played there including Cold Chisel, Springsteen, Elton John, The Rolling Stones and Sting. On Sunday morning hit all the local markets and have a leisurely lunch before heading back to the city. No doubt with a few bottles of vino in tow.
Where To Stay: Oaks Cypress Lakes Resort
What to Do: Wine, Cheese & Chocolate Tour
11. The Blue Mountains – 1h West
At just over an hour from the city you can do the Blue Mountains in a day but why not make a weekend of it? Hikers are blessed with hundreds of kilometres of trails which criss cross the pristine bush land in this UNESCO listed World Heritage Site. For those less fond of activity hit up Echo Point and Scenic World which offer amazing views with very little effort. The cute town of Leura is the perfect place to refuel with lunch in one of the many cafes. The Blue Mountains is always a little chillier than Sydney so rug up and in winter you may even get a sprinkling of snow.
Where to Stay: Lilianfels Blue Mountains Resort
What to Do: Explorer Bus
12. Lake Conjola – 3h South
It's been a little while since I have been to Lake Conjola and I think it might be time to make a return visit. This sleepy town on the NSW South coast is perfect for group weekend getaways in NSW. The lake side cabins at Ingenia Holiday Park can accommodate all but the largest of groups in style and make self catering a breeze. Drop a line in the pristine waters, fire up the BBQ or get up close and personal with the resident kangaroos. The kids will love the water park in the warmer weather and a hit of golf is always an option. Visit nearby Cuppitts Vineyard and stock up on a few bottles of vino and sit on the deck and spend some quality time with those you love.
Where to Stay: Ingenia Holidays Lake Conjola
13. Kangaroo Valley – 2h South
Nestled in the heart of the Southern Highlands, Kangaroo Valley is one of our favourite short breaks from Sydney. For a really small place, there's plenty to do, especially for outdoor lovers. There are loads of great hiking trails (the three views walk has some beautiful vistas) or try canoeing down the Kangaroo River with several small rapids or the still and beautiful dam in Morton National Park. If you are after something a little more sedate you can stroll around the majestic Fitzroy Falls, or visit one of the many nearby wineries. However, our favourite thing to do in Kangaroo Valley is the walk up to Drawing Room Rocks. It is home to possibly our favourite view in the whole of New South Wales, and it's unlikely you'll share it with anyone else. It's just a half hour hike up to the top and is the perfect place to be at sunset. Or go earlier in the day and take a picnic to enjoy on the beautiful natural tables. An atmospheric place to stay is The Cedars. There are various self-contained options, but go for the yurt if it's available. The setting is incredibly peaceful with wildlife and farm animals galore. If you're looking for a bite to eat, then check out Kangaroo Valley Pie Shop. It claims to have the best pies in the world, and while we think that's a pretty big claim, the homemade pies were delicious.
Cat @ Walk My World
Where to Stay: The Cedars
14. Berry – 2h South
Two hours south of Sydney is the picturesque village of Berry which is very popular for Sydney weekend getaways. Filled with fabulous food, stylish home wares and unique treasures, this Southern Highlands highlight should not be missed. Base yourself at the beautifully renovated and centrally located AirBNB Rosebud. This self-contained apartment oozes contemporary country charm with all the comforts of home. There's so much great food in Berry, including top quality modern Asian restaurant Hungry Duck and modern Australian SOUTH on Albany. The Famous Berry Donut Van has long been an essential stop, even if driving through, but if you have a bit more time then a gourmet pie at Milkwood Bakery is our lunch favourite. The Berry Tea Shop is perfect for a mid-morning cup of tea and slice of freshly-baked cake, while the imaginative flavours at Il Locale Gelato will keep your sweet cravings at bay. For some take home sweet treats, The Berry Bon Bon Sweet Shop is a veritable treasure trove of old fashioned delights. Visit Moss Nest for beautiful gifts, Haven & Space for amazing home wares and Nourish Kitchen & Lifestyle for lust-worthy kitchenware. But definitely don't miss the exquisitely carved cuckoo clocks at Cuckoo Corner. So unique. Close to Berry are the glorious South Coast beaches like Seven Mile Beach at Gerroa. Or try some local wine at Silos Estate. And between Sydney and Berry, stop off to watch the hang-gliders at Bald Hill Headland Reserve or take the magnificent coast road along Grand Pacific Drive. Read more about taking a drive to Berry here.
Kirralee @ Escape With Kids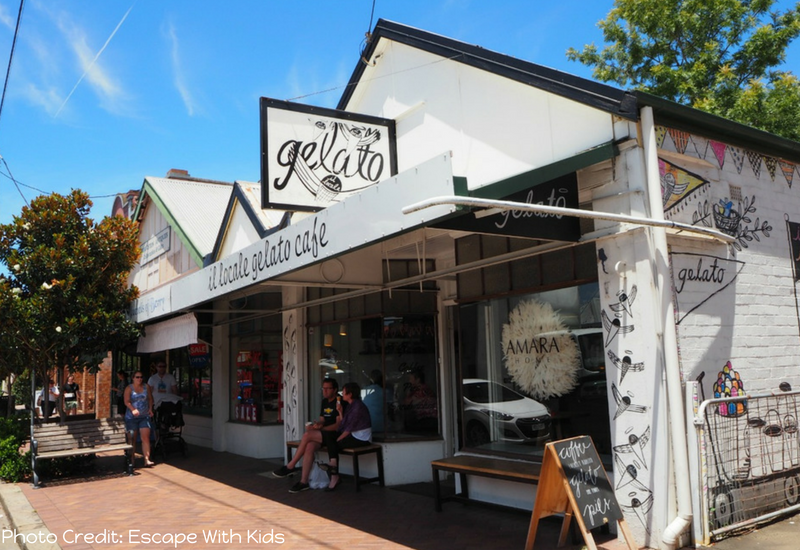 15. Bowral – 1h 30m Southwest
Characterised by picturesque valleys, rolling mountains and old country style buildings, the Southern Highlands is located 120 kilometres southwest of Sydney and Bowral is the biggest town in the region. Bowral is a good spot for a weekend trip or a stopover on your way to Kiama or Jervis Bay. The place boasts a charm of its own and if you want to take it slow, this is one of the best places near Sydney. Bowral is famous for being the birthplace of Cricket legend Don Bradman. One of the key attractions is the Don Bradman Museum & International Cricket Hall of Fame. The annual tulip festival held in the Corbett Gardens is one of the most popular floriades in New South Wales. No trip is complete without vino and Bowral has many vineyards to choose from as well as a thriving food scene. Try the Pie Trail for a unique afternoon out. If you fancy a luxury stay and a spa, Milton Park is a great option. Autumn is a brilliant time to visit Bowral because of the beautiful fall foliage.
Rohini @ Why You Wander
Where To Stay: Milton Park Country House Hotel & Spa
So what did you think of my 15 Sydney weekend getaways? Let me know your favourite in the comments below.
Until Next Time …

Pin "Sydney Weekenders: The Best Weekend Getaways NSW"

for later
Disclosure Statement: This post is not sponsored. I paid for all my Sydney getaways in full. The information in this article is based on my own personal experiences and those of my contributors. This post may contain affiliate links which if clicked may earn me a small commission on purchases at no extra cost to you.