Rotorua in New Zealand's North Island is a hot mess. Literally! Everywhere you look the earth is bubbling, hissing and exploding as mother nature flexes her muscles in a dramatic display sure to impress. Te Puia Rotorua is the perfect place for visitors to experience Rotorua's unique geothermal landscape and gain a greater understanding of the area's rich Māori culture. Oh and did I mention the fabulous hāngi feast? Read on for all the details …
Te Puia Rotorua Overview & Experiences
Te Puia Rotorua offers guests a little bit of everything. Prepare to be awed by the unpredictable geothermal landscape including the southern hemisphere's largest active geyser, catch a glimpse of a Kiwi bird or get a very special insight into Rotorua's rich Māori heritage and culture. Guests at Te Puia Rotorua have two experiences to choose from which combine all the park has to offer; Te Rā (daytime) and Te Pō (nightime). Te Rā starts at $55 and offers a number of extras. I recommend combining both Te Rā and Te Pō like we did to optimise your visit. We drove our Airport Rentals Hyundai i20 the 5 minutes or so from our accommodation at the Regent Of Rotorua. If you don't have a car while in town jump on Bay Bus Route 11 for the short trip. The bus is also a great option for those planning to have a few drinks with dinner.
Te Whakarewarewa Geothermal Valley
After walking through the gates of Te Puia Rotorua you will find yourself standing beneath the Heketanga-ā-Rangi, a contemporary Māori artwork. Make sure you walk around the entire structure to view each unique carving before joining your guided tour. Tours meet each hour beside the sign with the very long name. Our guide Cruz could not only pronounce this tongue twister without missing a beat, he made us have a go as well. It was not pretty! Each guided tour is different and your expert host will determine the order of the day based on the timing of the geyser eruptions.
The geothermal geysers of Te Puia are a sight to behold in full eruption. Pōhutu is the star of the show and is best viewed from the geyser terrace. Eruptions are frequent and can last from just a few minutes to days on end.  At Te Puia Rotorua, the magma is only 6-7 kilometres below the Earth's crust which accounts for all the activity of the surface. Keep your eyes peeled for The Blueys pool which looks like the perfect spot for a dip.
Continue past the geysers to Ngā mōkai-ā-Koko, Te Puia's largest mud pool. The bubbling mud has been compared to playful children and leaping frogs. It's mesmerising to watch but capturing the movement on film is difficult so you'll just have to take my word for it. A visit to New Zealand wouldn't be complete without meeting the national icon. Kiwi birds are nocturnal and incredibly shy which doesn't bode well for seeing one in the wild but even in captivity it's tricky. Te Puia's resident kiwi bird proved elusive on our visit and stayed in her nest. While I was disappointed not to catch a glimpse, I was very impressed that Te Puia cared for her welfare and chose not to drag her out on cue which would have caused distress. Our guided tour was just the right length to provide a great insight into the park and Cruz spoke eloquently about the history of the land on which we were standing. The dedicated paths make for easy walking and most areas are wheelchair accessible.
Māori Cultural Experience
New Zealand is rich in Māori tradition. During our guided tour Cruz pointed out traditional war canoes, food storage buildings and marae. We were blessed to see skilled craftsmen at work in the carving house and view examples of traditional weaving. Sadly traditional arts and crafts are dying out but Te Puia is bucking the trend and has established the New Zealand Māori Arts & Crafts Institute to ensure these traditions remain for generations to come.
Our Te Pō experience included an invite into the Te Arounui-ā-rua (meeting house), where we were introduced to many Māori traditions using song, dance and story telling. Te Puia offers an interactive experience and of course I made The Hubs get up on stage. How do you like his Haka?
Te Puia Hāngi Feast
Hāngi is a traditional Māori cooking method where meat and vegetables are cooked underground using hot coals. Our Te Pō guide Ray shepherded our group over to the traditional oven for the big reveal before it was whisked away for expert chefs to prepare the evening feast.
Dinner is served in one of Te Puia's two restaurants. Our dining room was spacious and we were greeted with live music on entry. Our guide Ray had already advised our assigned tables so we knew exactly where to go. Tables were beautifully set and I'm not sure whether it was good luck or good management that our table was a virtual United Nations. We had Swedes, Kiwis, Americans, a Welshman and of course The Hubs and I from Australia, which made for excellent dinner conversation. As drink orders were being taken by the efficient staff appetisers of mussels, corn and bread were placed on each table to get the taste buds going. If you prefer, you can always grab a steaming hot bowl of soup.
When you are ready for the main event, dinner is served buffer style. Did I say feast? You can expect chicken, lamb, pork, potato bake, kumara, rice, a variety of salads and fresh prawns to name a few but pace yourself. Platters are refilled regularly so you can keep going back and refilling your plate as often as you like.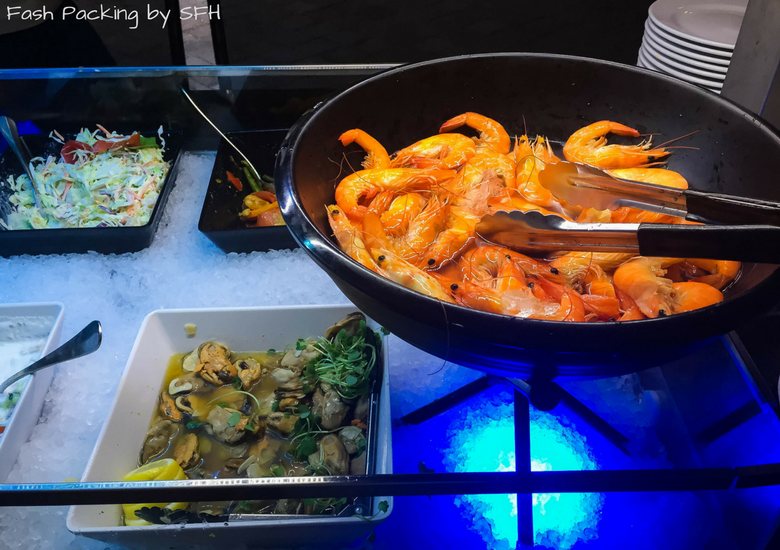 Make sure you save room for dessert as Te Puia's sweet offerings are not to be missed. Choose from pavlova, pecan pie, chocolate mousse, puddings, ice cream and all the accompaniments. Can't decide? It's OK I get it. Have a little of each 🙂 One thing is for certain … you are not going to leave Te Puia Rotorua hungry!
Once all the plates were cleared we had an opportunity to go back to the geysers and view them under lights. The night ends at around 9pm but you are free to leave early if you choose. Te Puia Rotorua is a unique experience which has been delighting visitors since 2005. Make sure it is right at the top of your Rotorua 'to do' list. If you are heading to New Zealand for the first time make sure you check out my New Zealand travel essentials post for everything you need to know before you go and study my tips on scoring a bargain flight.
Will you visit Te Puia Rotorua when you are next in town? Let me know in the comments below …

Disclaimer: Te Puia Rotorua kindly hosted us as part of our visit to New Zealand. As always, all opinions are my own.
Like it? Pin it!
Save
Save
Save
Save
Save
Save