Where are all my fellow wine lovers at? Have I got a treat in store for you! I stumbled on The Winery Queenstown quite by accident and I'm sure glad I did. Queenstown was the third stop on our road trip through New Zealand's stunning South Island and we had three nights in town. The Hubs and I were aimlessly wandering through Queenstown one sunny afternoon when he popped into The Oakley store for a 'quick look'. I love the man to bits, but I knew there would nothing quick about his look so I let him do his thing while I browsed around for a bit on my own. I didn't get far because two doors up I spotted a sign promising the opportunity to taste test 80+ wines inside. Who could possibly resist that?
Queenstown Overview
Queenstown tends to attract two types of people, adrenaline junkies keen to experience all the thrills and spills this small town has to offer and food and wine lovers. Clearly The Hubs and I are fall more into the latter category. We spent our days enjoying some of the shorter Queenstown hikes, including through Queenstown Gardens and Glenorchy, and feasting on the local delicacies. New Zealand is a short trip across the ditch for most Aussie's. We flew from Sydney to Christchurch in business class on Emirates A380 to start our trip in style. After a quick overnight stop in Christchurch we flew to Queenstown with Air New Zealand, picked up our airport rentals car and headed straight to Te Anau before driving back to Queenstown the next day after our Milford Sound Cruise. Queenstown is located in the Central Otago region in New Zealand's stunning South Island and there are no shortage of wineries in the surrounding areas. We visited three as we made our way from Queenstown to Mount Cook, but our short time meant we could only stop in at a select few. Accommodation in Queenstown is expensive and we booked the Melbourne Lodge, a budget motel without the budget price tag, through Agoda. It was about a 10 minute walk from town and the return journey involved navigating a killer hill. We spent our three days dodging raindrops, devouring Queenstown cheap eats, drinking in the spectacular scenery and enjoying sublime sunsets across Lake Wakatipu.
The Winery Queenstown Concept
The Winery Queenstown is a unique offering that combines the best elements of a cellar door and a wine retailer. Step inside the glass doors and you'll find rustic wooden tables and comfortably aged leather loungers purpose built for lingering with friends. Every wall that lines the deceptively spacious interior is covered from floor to ceiling with wine waiting to be explored. Unlike a regular cellar door where you'd be lucky to find a dozen wines available for tasting, The Winery Queenstown has more than 80 bottles of wine to taste from the best wine regions in New Zealand. Many of these come from boutique wineries that don't have a cellar door and are not available for tasting anywhere else. Tastings at The Winery Queenstown are self-serve using the Italian designed Enomatic serving and preserving system (I'm seriously trying to figure out how I can get one of these beauties installed in my kitchen!). Grab yourself a wine card and a glass from the counter,  insert the card, select your serving size and enjoy. There are three serving sizes; a taste, a half glass and a full glass. Cheese and wine are the perfect partners and The Winery Queenstown knows this all too well. A small menu offers various sized cheese and meat platters to enjoy with your tasting either in the cozy indoor space or the alfresco tables. In addition to the 80+ wines available for tasting, The Winery Queenstown stocks more than 800 varieties of wine available for purchase, any of which can be enjoyed onsite for a NZD$10 corkage. If your luggage is at capacity The Winery Queenstown can arrange to ship your purchases to more than 40 countries. If that's not enough, The Winery Queenstown also has a handful of whiskies, sake and other liqueurs to sample plus a selection of merchandise and New Zealand produce available.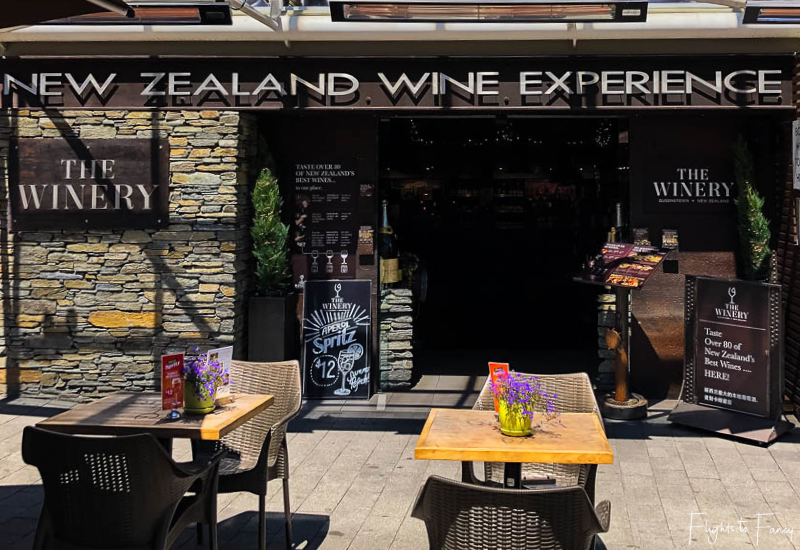 Wines I Tasted
The Winery Queenstown is the type of place you pop in for a quick look, but end up staying for a lot longer than you intended. I was super conscious that The Hubs was a few doors down and had no idea where I was so I selected a taste only of all the wines I sampled. Of course I was immediately drawn to the Marlborough Savingnon Blancs which New Zealand is so rightly famous for, but I didn't limit myself to Marlbourough because there are some amazing Sauvignon Blancs coming from other areas of New Zealand. Each taste was nicely priced between NZD$2 – $4. There are of course many more expensive options and as you would expect the price goes up with the quality. The great thing about having so many wines on offer is that you can taste something you wouldn't ordinarily without a massive financial outlay. The surprise hit of my afternoon at The Winery was an Akarua Alchemy Ice Wine. Inspired by the ice wines of Canada, Germany and Austria this local dessert wine from Central Otago is delightful.
The WineDub
The Winery Queenstown is not prepared to sit back and let the people come to them. Why limit yourself when you can get out on the road and take the wine to the people. And what better way to do it then in a 1958 vintage Volkswagon Combi which was lovingly restored. Dubbbed the WineDub, Amy hits the road and brings The Winery Queenstown's concept to the people. Amy uses the same Enomatic system as the store in town and houses 46 wines ripe for the tasting. Check the website and see when the WineDub is heading your way.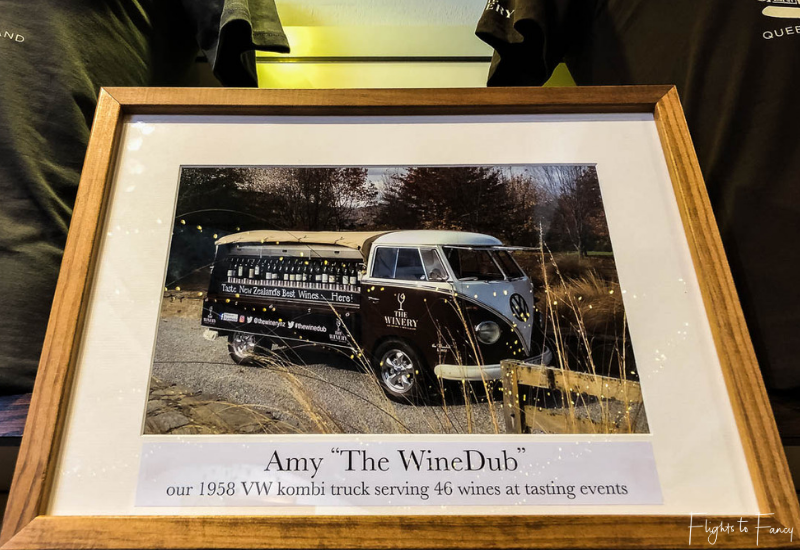 The Final Word On The Winery Queenstown
The Winery Queenstown is simply brilliant and it's a concept I hope catches on worldwide. When I settled my bill my wine card had a total of NZD$19 racked up. Considering I had just dropped in for a single taste it wasn't a bad effort at all. The Hubs doesn't drink wine (IKR!) so I couldn't keep him waiting too long, but if I had a girlfriend or two in tow we could have made a great afternoon of it. If you are in Queenstown, set aside some time to pop into The Winery. You won't regret it.
Do you like wine? Do you have a favourite Kiwi wine? I'd love to hear your thoughts in the comments below.
Until Next Time …

Pin "The Winery Queenstown"

for later
Disclosure Statement: This review is not sponsored and I paid my bill at The Winery in full. The information in this article is based on my own personal experiences and have not been influenced in any way by the brand(s) featured. This post may contain affiliate links which if clicked may earn me a small commission on purchases at no extra cost to you.