Over the last week I have passed through Sydney Airport six times in seven days, so it only seems fitting that this week I feature my travel style. I don't know about you, but my number one consideration when I am traveling is comfort, regardless of whether it's a quick jaunt to Melbourne or 24 hours in the same seat to London. I took my very first flight at 9 months old. Suffice to say that I don't remember a thing, but it was purportedly an epic 45 hour journey which included a cracked windscreen that needed to be repaired in Hong Kong and when the plane finally landed in Heathrow everyone was trapped inside for an additional two hours when the doors failed to open. Oh and I apparently threw up on a fellow passenger only an hour into the journey so that poor lady had to do it all covered in my baby vomit. Since my rather inauspicious start, I have taken to flying like a duck to water. I have no idea how many hours I've spend at 36,000ft but I have sure learned a thing or two about dealing with the rather unique conditions in flight.  Read on for all the details …
Travel Style
There are no hard and fast rules to my travel style but I do have a few guidelines to live by.
1) Flat shoes and socks. Cabins are cold and inactivity makes it worse. My feet get freezing and if your feet are cold you feel it through your whole body. The pressure at altitude can also make your feet swell so lace ups are ideal so that you can loosen them off if needed. Even if I am travelling for work the flats are on in flight and I slip the heels on in the cab on the way to the office.
2) Pants or Jeans. Always! I don't often wear skirts or dresses anyway, but I would never in flight. According to The Hubs I am a contortionist while I sleep in flight, tossing and turning and changing into all manner of awkward positions with in the confines of my (usually) economy class seat. I would hate to end up flashing more than decency allows. This is not the time to crack out your tightest skinnies that cut off circulation to your extremities. DVT is still an issue you know! I practically live in True Religion jeans and while I am not prepared to admit exactly how many I own, I have worn others here, here and here.
3) No Makeup. Cabin air is dry and sucks every inch of moisture out of your skin. I take a tube of my moisturiser in my carry on and reapply during the flight which can't be done with a full face of make-up. My completely bare faced selfie below is proof I live by this! Read more on how to look fabulous after a long haul flight here.
4) Minimum Jewellery. Don't be that person that needs to take off 50,000 items before you go through the metal detector.
5) Layers. You NEED a jacket or cardigan. Even in summer. Even if your destination/departure point is 45c. Refer to #1. Planes are cold. Cheaper fares these days also means you are less likely to get a complimentary in flight blanket. Keep it loose and comfy so as not to restrict your sleep contortion moves.
But don't think that just because you are dressing for comfort that travel style has to be boring. A classic pair of jeans, a cute top, a chunky knit and some funky sneakers means you can still look presentable at altitude. A bright or unusual suitcase is not only a more stylish way to travel but infinitely easier to recognise on the sea of black that circles on the conveyor belt.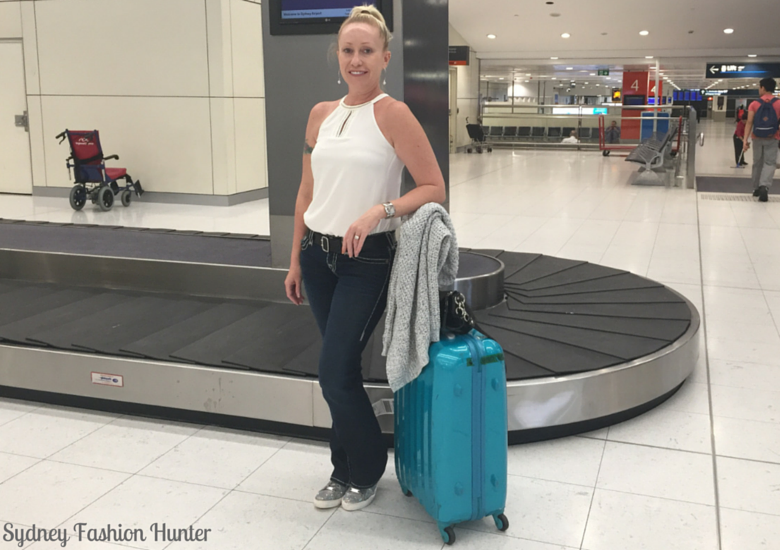 Jeans: True Religion. Top: The Limited Embellished Halter. Also worn here. Cardigan: Express Waffle Stitch Cover Up. Earrings: Colette Pave Ball Drop Earrings. Shoes: Kurt Geiger Lock Sneakers. Suitcase: American Tourister Prismo

So what is your signature travel style? Let me know in the comments below.
Until Next Time …
Happy Hunting!
SFH
xoxoxo
Disclaimer: This post contains affiliate links for which a small commission may be paid.