*** Updated December 2018 ***
Uber is not available everywhere and in some locations it is problematic but Using Uber in Manila is super easy. We used it extensively during our stay in the Philippines and I truly believe Uber is the best way to navigate the city. Even our Uber NAIA pick up was seamless. Stick with me and I'll show you how to Uber Manila airport and beyond like a pro. Read on for all the details ……
New To Uber? Here's The 101 …
Prior to our trip to the Philippines I was a bit of an Uber novice. Taxis have always been my go and I could count on the fingers of one hand how many times I had Ubered. We had a particularly bad experience with Uber in Ubud (Bali Indonesia) that left us stranded and at the mercy of the local taxi mafia which put me off. I eased back in with a few trips in my home town of Sydney, but it wasn't until I began using Uber in Manila that I was really sold. So, what is Uber? Uber is simply an app that connects drivers and riders in a particular location. Drivers have no set hours and simply sign in when they are available which enables riders to book them. There are five key features of Uber that make it absolutely perfect for travellers.
1) It's cheaper than taxis and transfers but you still get a private ride.
2) You know roughly how much the fare will be through the app before you commit. The days of dodgy taxi drivers driving you the 'long way' to bump the meter up are left behind when you start using Uber.
3) The Uber app calculates the fastest route based on the current traffic conditions. You can watch your progress live during the drive to ensure your driver sticks to the route.
4) No cash changes hands. You add your credit card to the app and it is debited at the end of the trip and then Uber pays the driver. Simple!
5) You connect with local drivers who can act as a quasi tour guide if they are in a chatty mood. If you have never used Uber before, sign up using this link and enjoy a free credit on me! So are you ready to start using Uber in Manila? Download the app now and let's do this!
Uber Sells To Grab In South East Asia
Not long after we left the Phillippines Uber sold their business in South East Asia to Grab. We used Grab Cambodia extensively in Phnom Penh and it was very much the same experience as when we used Uber in Manila. All the information in this post remains relevant and the process for booking a ride is much the same.
Using Uber In Manila
We used Uber Manila for all our sightseeing trips. My travel style is luxury for less and I believe there is a time to save and a time to splurge. Getting to and from on the daily is not the time to splurge and Uber is a great money saver. We stayed at Raffles Makati on our last night in Manila and because of the central location all our trips were under 200 pesos (AUD$5). One morning we decided to head into Manila City. We had our Uber driver drop us in Intramurous and spent the morning walking through the historical area and Rizal Park before ordering another Uber to pick us up in the bay area. Choosing a distinctive pick up point is essential to using Uber in Manila effectively and we found a Starbucks that worked perfectly. Our driver did go off route a little on the return trip as he knew a quicker way and the trip came in at 169 pesos (AUD$4) which was less than the estimate. #winning!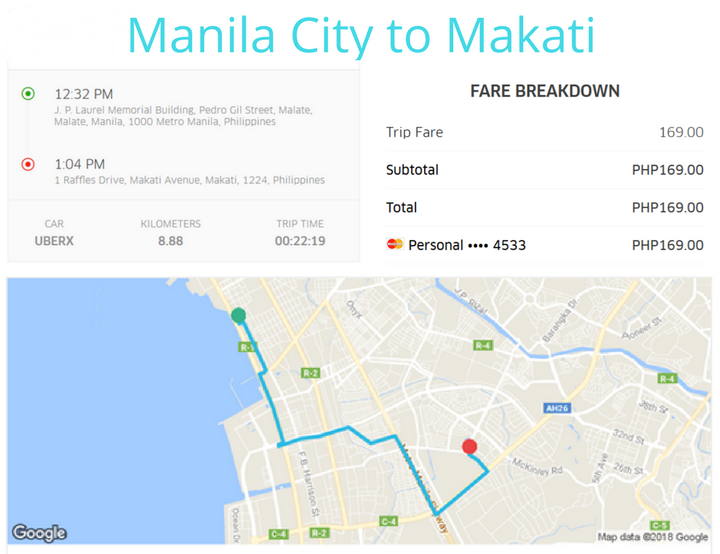 Should You Uber NAIA?
Nino Aquino International Airport (NAIA) is the busiest airport in the Philippines. It has 4 terminals and is crazy busy. I admit I was a little apprehensive when I booked my first Uber NAIA trip but I pulled on my big girl pants and did it anyway. I'll cover the logistics of negotiating Manila Airport Uber pick ups and drop off separately but first a few general tips.
1) Don't book too far in advance. If you keep your driver waiting it will be added to the total cost of your trip. Uber drivers are plentiful in Manila and wait times are short. We never waited more than 5 minutes.
2) Make sure you know which of the 4 terminals you are at.
3) Consider your baggage requirements. Will a standard Uber X work or do you need an Uber XL?
4) Choose the credit card you use for Uber payments carefully as the overseas charges your bank slugs you could be more than the fare. For Aussies, I recommend 28 Degrees MasterCard as it has no overseas charges.
Uber Manila Airport Pick Ups
We arrived in NAIA terminal 4 after our short flight from Coron on Cebgo. We had a 12 hour layover before our flight back to Sydney on Cebu Pacific and we sure as heck were not going to be spending it in Manila airport. Yes it is possible to leave the airport on a layover! We took the free transfer bus to terminal 3 where our Sydney flight was to depart from and stored our luggage before heading out the front to choose a suitable pick up point. When you book your Manila Airport Uber pick up you will need to set the pick up point after clicking 'request your own car'. We used bay 8 but any will work. The total cost of our 30 minute trip to Makati was 131 pesos (AUD$3.50). On the way into the city our driver got a fine for 'swerving'. We thought he was very hard done by for doing what would have been a legal lane change in Sydney any day of the week but the traffic cop issued the 500 peso ticket anyway. We felt so bad for him that we gave him and extra 200 pesos.
Manila Airport Uber Drop Offs
If you have successfully conquered an Uber Manila Airport pick up, then drop off is a breeze. You don't need to worry about bay numbers or exact drop off points, just enter the correct terminal as your destination and you are good to go. For our final Uber Manila Airport trip we walked to the Fairmont Makati which we had stayed at earlier in our trip as we knew it was any easy pick up point. The cost of the trip was 153 pesos (AUD$4).
If you have found my tips on using Uber in Manila helpful let me know in the comments below. I'd love to hear about your own Uber Manila experiences if you have used them.
Until Next Time …

Pin "Using Uber In Manila" for later!
Disclaimer: This post is not sponsored. I have no affiliation with Uber and paid for all my rides in full. As always, all opinions are my own. This post contains affiliate links which will earn me a few cents to contribute to the running of this site if you make a qualifying purchase at no extra cost to you.