I realised as I started writing this Vietnam Airlines review that it's been a while since I have flown a full service airline. In fact, the last time was a fabulous flight in first class on an Emirates A380, so I was as pleased as punch when I got a great deal on Vietnam Airlines economy class tickets from Sydney to Ho Chi Minh City (Saigon). Up until recently the Vietnam Airlines B787 Dreamliner didn't have much competition on the Sydney to HCMC route (VN772), but just after our trip Jetstar started flying direct from Sydney to Saigon at a much lower price point. So is it worth paying a few extra dollars for Vietnam Airlines 787 economy class? Read all the details of my Vietnam Airlines review to make up your own mind …
Booking Vietnam Airlines 787 Economy Ticket
I'd been on the hunt for a bargain flight to Vietnam for three years. I employed all my favourite tricks to secure a cheap flight and came up empty but I refused to cave and pay for a full price ticket. For three years!!!! Vietnam Airlines' monopoly on this route was largely to blame. They didn't need to discount given the lack of competition and they knew it. I had all but given up hope of ever getting a return flight under a grand and had pushed it out of my mind when my email pinged with an alert from Skyscanner. I wasted no time booking two return tix for the absolute bargain price of $1,126.28. Obviously this bottom-of-the-range fare came with very few bells and whistles, including not being able to select our seats. Vietnam Airlines' advise was simply to arrive early for check in and hope for the best which wasn't ideal. After booking we took up Optiontown on their empty seat options on both legs of our journey and hoped for the best.
Checking In With Vietnam Airlines
We arrived at the airport almost three hours before VN772 was due to take off which is very unlike us. I much prefer to swan in at the very last minute but given we had no seats assigned and were sweating on whether our Optiontown upgrade would come through, we broke with our normal MO. There were 3 queues; business, sky priority and economy. We joined the back of the economy queue and it was almost an hour before we reached the front. Have I mentioned how much I hate queues? It didn't help that I was starving. It also didn't help that all the cabin crew were checking luggage (why????) and monopolised a server for 20 minutes while the paying customers inched along with only two counters serving. It paled in comparison to my brilliant check in experience with China Airlines. My mood lifted slightly when we were advised that our Optiontown empty seat upgrade came through. We had registered for one empty seat but were assigned two so off we went clutching boarding passes for seats 32A, B, C & D between the two of us. It was a particularly welcome treat as The Hubs had just worked a night the shift and had been up for almost 24 hours before we even started and I had only managed 3 hours sleep myself after packing until 3am. When will I learn!!!!
At Sydney Airport
Sometimes travelling is streamlined, efficient, painless and stress free. Rarely I grant you, but I have heard it occasionally happens to other people. Most times though, nothing goes to plan. At every single turn the travel gods thwarted us. After the hour checking in, we waited another 30 minutes to get through customs and immigration only to wait another 45 minutes in the TRS queue. We had to abandon the line only 5 from the front which was very frustrating. We left our completed form in the hands of an officer by the door with no confidence we would ever get our sixty bucks back. We ran to the boarding gate, which of course was the furthest away. We were the last passengers to board and had to do the walk of shame but we didn't feel too bad because we languished at the gate for another 30 minutes before the final cabin door was closed. After sitting through the longest safety video I have ever seen VN772 finally took the skies.
Vietnam Airlines B787 Cabin
Row 32 was waaaaaay down the back. Behind the wing. I was never comfortable not being able to select our seats on booking and almost instinctively knew that we would get screwed over. The 3x3x3 configuration on the Vietnam Airlines B787 Dreamliner meant our second empty seat was on the other side of the aisle. There was another passenger seated in 32F so using that seat would have been pointless and we sat in 32A and 32C with an empty seat between us. In our sleep deprived state we were thrilled to see a pillow and blanket thoughtfully placed on our seats. I have no clue why airlines persist in settling the cabin temperature in the sub arctic region but I was grateful for the extra blanket from the spare seat. Had we though more about it, we should have grabbed the spare from 32D as well but as soon as the seat belt sign was switched off someone swooped. I dubbed this passenger 'Ms Delightful'. She didn't stop complaining from take off to landing and there was almost always a crew member crouched on their haunches in the aisle trying to appease her for some ridiculous reason or another. I wanted to tell her to HTFU but I was too far away and The Hubs had way too much class.
Vietnam Airlines Economy Class Seats
The Vietnam Airlines 787 economy cabin was exceptionally clean and I loved the split folding tray tables which give you a little more room when you just have a drink. Leg room was reasonable and way more generous that a budget airline. All the controls were in easy reach and the absence of window shades meant the windows were darkened electronically. When it came time to sleep, I curled into the fetal position across mine and the empty seat. By bending my body almost in half I was as able to achieve a horizontal position. For the next three hours I performed a series of moves that would make a contortionist proud. I ending up flat on my back with my legs folded across the window when my thighs could no longer take being cramped against my mid section. It was still better than trying to sleep upright in the confines of a single seat. Which is what The Hubs did.
Entertainment On Board VN772
After a stressful morning I started up Bridget Jones' Baby as soon as I settled in my Vietnam Airlines economy class seat. If I was a more annoying type, I would have belted out a passionate slightly very off key version of 'All By Self' as the credits rolled. But I restrained myself. Just. I backed up Bridget with my standard inflight movie Bad Moms.  You have no idea how much it pains me to spell Mums like that! I bopped along in my seat as Mila, Kirsten and Katherine kicked ass before attempting to sleep for a spell. After my nap I switched on Lion. I missed the last 15 minutes as the crew decided to switch the entertainment off way too early for my liking. I found it strange as most airlines keep the system operating all the way to the gate but Vietnam Airlines disabled all Lotustar facilities at least 10 minutes before landing. The first thing I did on the return journey was find out how it ended! In additional to inflight movies, Vietnam Airlines economy class passengers can while away the hours with a game or two. I played a few minutes of Bejeweled before giving up as it was rather uncomfortable keeping my arm suspended in mid air to use the touch screen. I was thrilled to see The Boss on the music selection and I kept the middle seat's screen permanently on the flight map so I could keep track of VN772's progress.
Vietnam Airlines Economy Class Food
Not long after take off the drinks cart rumbled down the aisle of flight VN772. I admit I did get a little thrill from ordering a wine without having to whip out my credit card. The Hubs was not amused that the only beer on offer was VB and he settled for a Coke instead. The obligatory airline snack of mixed nuts was also provided. They were the good ones too. With hardly any peanuts. As Bridget gave birth to her baby boy dinner was served. Vietnam Airlines met the 'chicken or beef' cliche head on and I chose the beef. It always amazes me how airlines manage to squeeze a three course meal Tetris style into those tiny trays. Entree was vegetable salad topped with prawns. If you have read any of my previous restaurant reviews you will know my aversion to those disgusting little critters well. The Hubs has no such qualms so he got flung mine. I couldn't detect any other vegetables apart from potato in the salad but it wasn't half bad after I added lashings of pepper. The beef goulash was served with mash and veg and the still warm roll made the perfect foil to mop up the last of the tomatoey sauce. The finale was a strawberry cheesecake which would have been better without the jelly. Of course I had another glass of wine with dinner.
The second meal was served not long after I awoke. Neither the grilled fish with potato or noodles with pork mince, thrilled me but by the time they got to row 32 they were out of pork so fish it was. Suffice to say I didn't eat a bite but I did like the warm bread role and fruit salad.
On the return journey we had a choice of an 'Asian style' or 'European style' supper. I chose the European style which was a potato, walnut and ham salad followed by beef stroganof and finished with carrot cake. When they were plating they placed my hot meal on the wrong tray and I ended with the Asian style starter and dessert which they rectified when I brought it to their attention.
Breakfast was served just before landing back in Sydney and a choice of a Spanish omelette or 5 spiced beef was offered. Given I can't eat eggs, I opted for the beef but it was a little to heavy for me first thing in the morning. The fruit salad and the roll were all I needed. Overall Vietnam Airlines did a great job on the food which is no easy feat at 36,000 feet.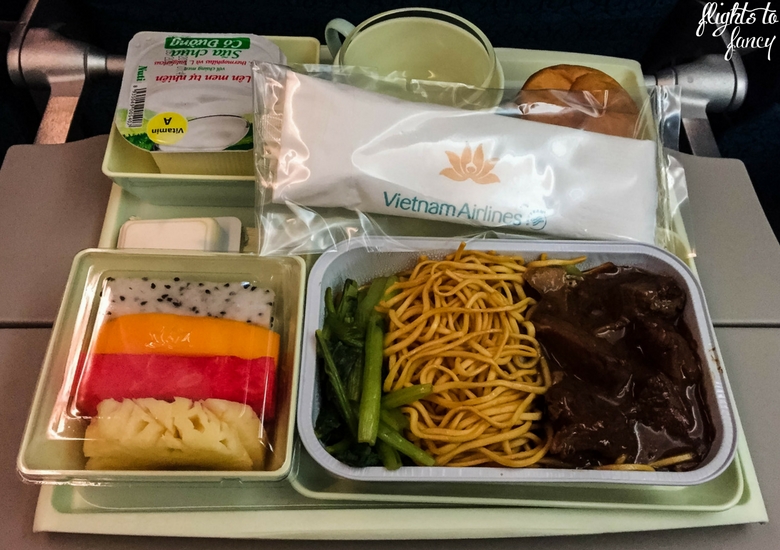 Vietnam Airlines Review – The Final Word
We arrived in Saigon on an overcast afternoon and given we had to disembark onto the tarmac and bus it to the terminal it could have been disastrous if the heavens had opened. As we landed late, waited ages for our luggage and hightailed it over to the domestic terminal to catch our Veitjet flight to Hanoi. If you are staying in town catching a taxi from Ho Chi Minh City Airport is relatively easy from the ranks in front of the terminal. Despite a couple of hiccups, Vietnam Airlines delivered on all my expectations. The cabin was modern, clean and spacious (for economy class!), the food was above par and the entertainment system was enough to keep most amused for hours on end. The icing on the cake was when our Optiontown empty seat upgrade come though for our return journey and we had six seats all to our selves. Winning! I would not hesitate to rebook with Vietnam Airlines if the price was right. It will be interesting to see what effect Jetstar flying this route will have on Vietnam Airlines' pricing strategy. I'm hoping there will be a lot more discounts offered but only time will tell.
I hope you have found my Vietnam Airlines review helpful. Have you flown Vietnam Airlines? I would love to hear your thoughts in the comments below.
Until Next Time …

Disclosure Statement: This post is not sponsored. I paid for my flight on Vietnam Airlines in full. The information in this article is based on my own personal experiences and has not been influenced in any way by the brand(s) featured. This post contains affiliate links which if clicked may earn me a small commission on purchases at no extra cost to you.
Like it? Pin it!