Waikiki is expensive. Especially when you are only getting USD0.67 for an Aussie dollar. Outside of airfare and accommodation, food is likely to be your next biggest expense. Oahu's most famous beach town has plenty of fancy restaurants where you can drop AUD$200 on a meal without even trying. While I am all for the occasional special meal, I don't want to eat like that everyday so on my last trip to Hawaii I made it my mission to find some decent Waikiki cheap eats. I decided to up the ante on my challenge and specifically seek out meals under USD$10 (AUD$15). It wasn't easy, but I found 15 places where you can eat for less than a tenner and in the process I found some of the best cheap eats in Waikiki. Read on for all the details …
About Waikiki Cheap Eats
Everyone who lands in Oahu, Hawaii's most popular island, will no doubt make it to Waikiki at some point. The small area is home to hundreds of hotels, thousands of restaurants and Hawaii's most famous beach. It's popularity means everything is priced accordingly. The already pricey food in Waikiki is compounded by the fact that tax is not included and you need to tip in the USA. When you add tax and a tip all of a sudden your USD$30 meal jumps up to USD$38 (AUD$53). Doesn't sound so cheap now does it? I'm not a fan of the tipping culture in the USA and I'd rather the restaurant just price that USD$30 meal at USD$38 in the first place. You end up paying it anyway so it just feels like false advertising to me. Servers in most of the US only make a few dollars an hour and I don't think the generosity of the diner should determine whether they can make rent that week. That said, I always leave a 20% tip in restaurants even though I don't agree with the practice because I do always respect the local customs when I travel. Despite the premium Waikiki commands, it is possible to eat without breaking the bank. You just need to be savvy about where you frequent. Of course there are a tonne of the usual fast food chains in Waikiki including McDonalds, Burger King, Subway and KFC, but you are better than that. Heading out of Waikiki does yield lower prices, but we only had our hire car from Airport Rentals for two of the eight days we were in town on our last visit and the hassle of venturing further afield for a cheap meal just wasn't worth the reward. I figure most visitors will think the same way so I concentrated my search on eateries within easy walking distance. One of the best ways to score a discount meal is to frequent the many Waikiki happy hours on offer. If you haven't read my post that details 50 of Waikiki's best happy hours yet, you need to start there. I'll wait. OK now that you have the low down on the happy hours in town, let me introduce you to a few more of my favourite Waikiki cheap eats.
#1 Marukame Udon & Tempura
2310 Kuhio Ave.
Open 7am – 10pm.
A Waikiki institution, for as long as I have been coming to Waikiki Marukame Udon (aka Marugame Udon) has been serving up delicious bowls of house made udon noodles with all the trimmings. Marukame is so popular the line extends into the street day and night. Udon bowls come in two sizes and start at just USD$3.95 for a basic Bukkake Udon (cold) or a Kamaage Udon (hot). We had money to burn and I splashed out on delicious bowl of Curry Udon (regular USD$5.70) and The Hubs tried the special Egg Drop Spicy Chicken Udon (USD$8.10 regular). After you have selected your udon bowl you will notice a range of tempura as you snake you way to the cashier. They are all under USD$2 a piece. We tried the calamari (USD$1.90), pumpkin (USD$1.40), sweet potato (USD$1.60) and the potato croquette (USD$1.70). I would have tried the zucchini as well, but they were out and I didn't want to hold up the queue waiting. We added a coke (USD$1.80) and our bill came to a grand total of USD$25.24. Once you have your food, hit the condiment station and grab some scallions and pepper to sprinkle over the top. My beef curry was rich, thick and delicious, but the insanely tender beef and sliced onions were light on. Serving sizes tend be be huge in the US and I couldn't finish the regular. The Hubs loved his spicy chicken. Next time I would be tempted to go just for the tempura. It was that good! The dining room at Marukame is quite spacious, but the tables do fill up quickly. People tend to be respectful of those waiting and not linger over their meals so if you hover around one is sure to open up.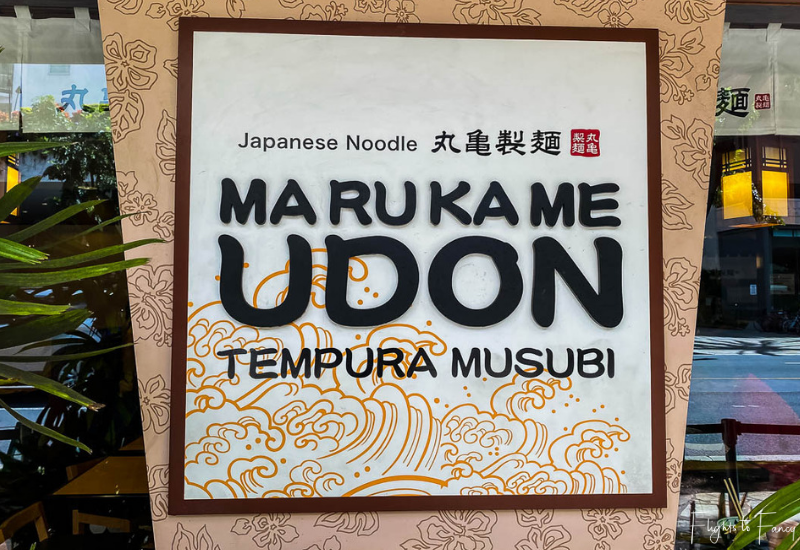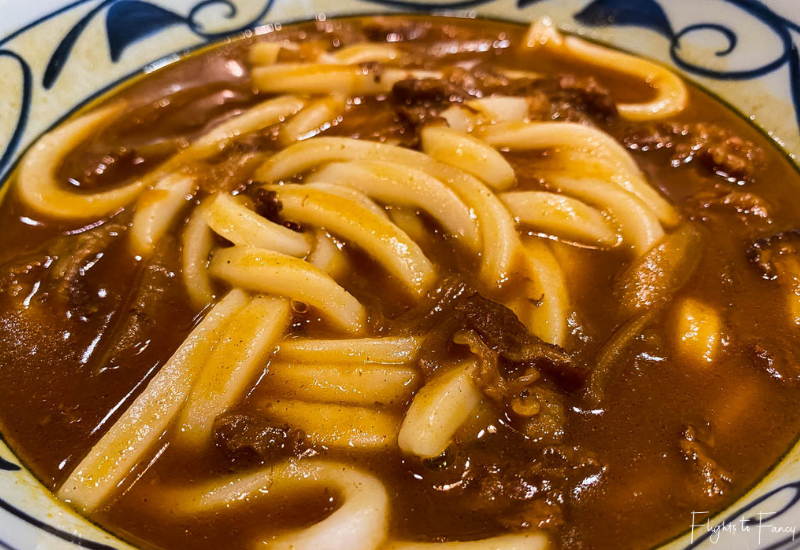 #2 Steak Shack
2161 Kalia Rd.
Opens 10am – 7pm.
You simply cannot get a better location on Waikiki Beach. You are literally about 5 steps from the sand and a few short more to the crystal clear water. Steak Shack is not a well hidden secret. In fact, everyone on the island seems to know about it so expect a queue no matter when you visit. Everything is cooked to order and there will be a short wait for your food to be delivered. There are a few options under my USD$10 limit, but we ordered a 10oz combo (USD$13.75) to share. We requested it to be cooked medium and each plate is served on a bed of white fluffy rice with a garden salad. We managed to score one of the few small tables around the side and ate our lunch with stunning views over Waikiki Beach. We added a little extra Teriyaki Sauce to flavour the rice. The Hubs preferred the chicken and I preferred the steak. Clearly we are a match made in heaven.
#3 Musubi & Bento Iyasume
334 Seaside Ave.
Open 7am – 9pm.
This little hole in the wall joint is one of my favourite Waikiki cheap eats. Musubi & Bento Iyasume serves a heap of different Musubis, bento boxes and Japanese style curries. There are two tiny tables on the footpath, but as we stayed at the Shoreline Hotel two doors down we just grabbed our food and headed back to our room. We walked past this place everyday for a week smelling the delicious curry coming from within before we decided to give it a try. I'm not going to lie, the exterior is not very inviting, but the constant stream of people grabbing food to go bolstered our confidence. We sampled a mini bowl of Chicken Curry (USD$3.75) and a discounted Spam & Cheese Musubi for just USD$1 (normally USD$2.38) from the round sale basket. The curry is plated on top a generous bed of rice and the tender chicken and veges are covered in a rich, thick curry sauce. It tasted a lot better than it looked. I was skeptical about the spam in the Musubi. I've spent a life time hating the canned meat my mother used to give me as a child and haven't sampled a bite in decades, but The Hubs was insistent I try at least a bite. It wasn't bad, but I would have preferred a beef or chicken option. Sadly there was none on the menu. If food on the go is your go to then Musubi & Bento Iyasume if definitely the place for you. There are a couple of other branches in Waikiki including at 2427 Kuhio Ave (entrance around the corner) which has a few small tables for those that prefer to dine in. The menu is slightly different and they even have a Chicken Musubi on offer.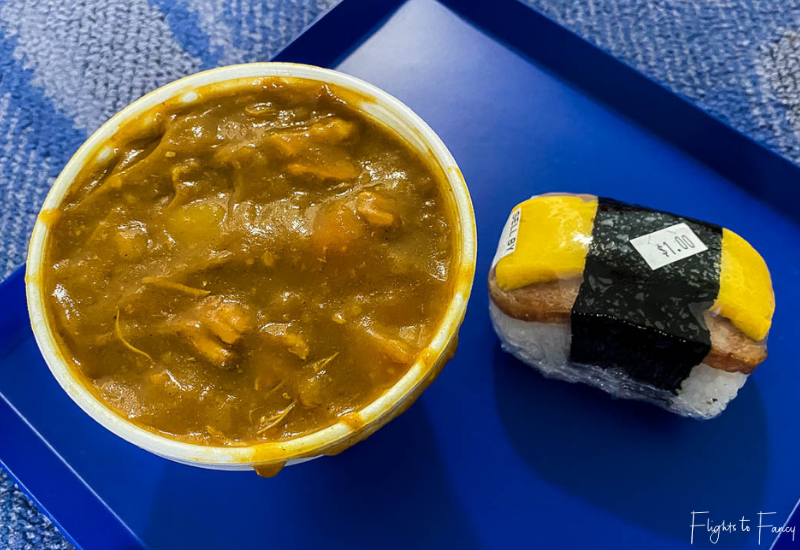 #4 The Street Food Hall By Michael Mina
2330 Kalakaua Ave.
Opens 8am – 10pm.
The Street Food Hall is located on the ground floor of the International Market Place in the heart of Waikiki. While the official address is on Kalakaua, the Kuhio entrance is more convenient. There are a collection of eateries with central tables so it is perfect for groups who all want to try something different. The central bar serves up the cheapest beer I have seen in Waikiki at only USD$2 for a Kirin (11am – 7pm daily). If a liquid lunch is not your style, try the Couscous Tabbouleh (USD$6.99), a slice of Pepperoni Pizza (USD$6.99) or 2 Chicken Tenders (USD$7.99).
#5 Mi Almita Cantina
2311 Kuhio Ave.
Open 10am – 10pm.
Eat your fill of tacos for just USD$2 each at Mi Almita Cantina between 12pm – 5pm. As an added bonus, you can wash them down with a USD$4 Margarita. Choose between pork, chicken, beef and bravas (roasted peppers & mushrooms). We headed down for a snack and a drink on a lazy Sunday afternoon. I ordered a beef taco and The Hubs had the chicken. I'm not going to lie, they are tiny and if you are coming for a meal rather than a snack you are going to need a few of these to fill up. I was a little dismayed to see the tacos smothered in guacamole, my most hated condiment. I scrapped off as much as I could and ate it anyway. They were both good, but I think the beef had the edge. The USD$4 Frozen Margarita was quite tart and The Hubs knocked back a Modelo Negra (USD$6) in no time.
#6 Makai Market Food Court Ala Moana Center
1450 Ala Moana Ave.
Various opening hours with most between 9am & 10am to 9pm.
We headed over to the Makai Market Food Court at the Ala Moana Center after enjoying one of Oahu's best sunsets at the nearby Ala Moana Beach Park. The Makai Market is huge and houses a tonne of eateries with cuisines from all corners of the globe. If you can't find a cheap eat to tempt your palate here it's time to give up. My picks are the Spinach Stromboli from Sbarro (USD$7.99), the small Chicken Philly & Fries from Charley's Philly Steaks (USD$6.49), the Elotes (Mexican corn on the cob) from Rainbow Burrito (USD$4.99), the Ham & Cheese Crepe (ask for it without the lettuce and mustard because that is just weird) from Islands Crepes (USD$9.49) and the Original Pretzel from Auntie Anne's (USD$3.69). In Sydney it's super easy to grab a sushi roll just about anywhere, but while there is a tonne of sushi in Waikiki the grab on the go rolls seem to be a bit of a rarity. Makai Market has a great selection of hand rolls for just USD$4.25 each. Chicken Teriyaki is always my go to.
#7 Food Court Royal Hawaiian Center
2201 Kalakaua Ave.
Opens 10am – 10pm.
The food hall at the Royal Hawaiian Center is no where near as big as the one at Ala Moana Center, but it is truckload more convenient for those staying in the centre of Waikiki. The Royal Hawaiian Center is one of Waikiki's swishest malls with big names such as Louis Vitton, Hermes, Jimmy Choo and Furla all present and accounted for, but that doesn't mean there are no bargains to be had. Head up the the food court on the second floor and you can grab lunch or dinner for under USD$10 at many of the kiosks. The Yellow Chicken Curry (USD$9.79) from the Curry Cafe, the signature single cheeseburger (USD$7.45) from Mahaloha Burger, the USD$7.59 Chicken Banh Mi (they call it a sandwich, but it sure looks like a Banh Mi to me!) from Pho Factory and the Stromboli (USD$6.79) from Sbarro all piqued my interest. If you have a sweet tooth head to Uncle Tetsu. We grabbed a take away box of 4 Mochi Donuts for just USD$8. They were all delish, but the honeydew was my favourite.
#8 ABC Deli
205 Lewers St.
Opens 6.30am – Midnight.
You can't miss the ABC Stores when you are in Waikiki. They are literally on just about every block. While each has different offings most sell sandwiches and wraps, fruit and a small selection of hot food. The ABC Deli has a larger selection and is the place to head to grab a cheap meal to go. Head to the rear of the store and you will find a large selection of pre-packaged sandwiches, wraps, fruit, sushi and salads with most under USD$10. The hot counter serves a selection of hot meals many of which are also under USD$10. Grab your haul and high step it over to the tables on Waikiki Beach (take the access way just after the Outrigger Reef Waikiki Beach Resort) and you have a meal with a million dollar view for next to nix. Oh and if you save your ABC Store receipts long enough to accumulate USD$100 in value you can claim a free gift. The cashier will decide what you get, but it's usually a mug or a bag.
#9 Waikiki Yokocho
2250 Kalakaua Ave.
Opens 11am – Midnight.
Waikiki Yokocho is a Japanese food hall located on the lower ground floor of the Waikiki Shopping Plaza. With entrances on both Kalakaua and Seaside Avenues it's easy to access the various eateries below. While some are on the pricey side, there are some bargains to be had. Try the Curry Rice (USD$9.95) from Ramen Ono-Ya, any of the organic Omusubi (Onigiri) which are all under USD$3 from Shichimusubi Organic Omusubi, the Yakitori Don (USD$9.95) or any of the USD$5 specials from Nomu or the USD$9.95 lunch specials from Oideo Yokocho. Those with a sweet tooth can finish their meal off on the right note with a USD$4.90 Matcha Soft Serve from Nana's. Those with kids in tow will appreciate the free electronic games that line the Seaside Ave entrance.
#10 Pai's Deli
2335 Kalakaua Ave.
Opens 8.30am – 5pm.
Pai's Deli is located inside the Outrigger Waikiki Beach Resort and offers freshly made sandwiches, smoothies and salads. The sandwiches are a little more expensive than the pre-packaged variety, but if taste matters to you, you won't mind the extra few dollars. Sandwiches are made to order and cost USD$7.75 for one filling, USD$8.75 for two fillings or USD$9.75 for three fillings. Every sandwich comes with spinach, cucumber, tomato, sprouts, carrots, mayo and a side serve of fresh pineapple and you can choose your filling from ham & cheese, tuna salad, roasted chicken, chicken salad, turkey, pastrami, egg salad and fresh avacado. You can also add cheese (USD$1), red onion (USD$0.50) or dill pickle (USD$0.50) to any sandwich. If you are looking for something lighter, try one of Pai's salads which start at just USD$6. Wash lunch down with one of the many smoothies on the menu (USD$5.50 – USD$7.50) and you have a fresh, healthy meal that is sure to hit the spot.
#11 OMG (Oahu Mexican Grill)
2520 Kalakaua Ave.
Opens 7am – 10pm.
OMG prides itself on offering the freshest Tex-Mex fare. They source grass-fed free-range beef, natural meats with no added hormones/steroids/antibiotics and the salsas and guacamole are made from fresh produce daily. Head up the stairs and grab a table near the front for spectacular views over Waikiki Beach. OMG promises generous servings and you can score a grilled chicken, Kalua Carnitas, roasted vege or bean and cheese burrito, taco plate, bowl or salad all for under USD$10. The grilled steak and braised beef are only a couple of dollars more. Tuesdays are a great day to visit OMG because they offer USD$3 street tacos and USD$3 Sauza Tequila Shots from 11am and all day USD$7 Lime and USD$9 Margarita specials.
#12 Burger Hale
2309 Kuhio Ave.
Opens 12pm – 9pm.
If you are hankering for a burger, but want something a step up from a Big Mac head to Burger Hale. Burger Hale is the brain child of award-winning local Chefs Michelle Karr-Ueoka and Wade Ueoka from famed MW Restaurant in collaboration with James Beard an award-winning Chef from Michael Mina. The food draws inspiration from the Hawaiian Islands and uses unique flavour combinations to create burgers that are sure to tempt your palette. There are a few items on the menu for under USD$10 including Single American Classic Burger (USD$8.99), Single Sukiyaki Burger (USD$9.99), Single Hawaiian BBQ Burger (USD$9.99), Chicken Karaage Sandwich (USD$9.99), Spam, Egg & Cheese Sandwich (USD$7.99) and three hot dogs between USD$6.99 – USD$7.99. All the burgers at Burger Hale are served on house-made Mochi Portuguese Sweet Bread. Burger Hale was just around the corner from our hotel and we stopped in one rainy afternoon for a quick bite. We shared a Double Sukiyaki Burger (USD9.99), some BBQ Fries (USD$3.99) and a can of coke (USD$1.99). All meals are made to order and you get a buzzer to alert you when your food is ready. The dining room is compact and we scored the last dry table. I was expecting a great burger. Was it great? No. Was it good? Yes. The fries were just normal fries sprinkled with BBQ seasoning which would have worked much better with thick cut chips. We managed to eat them all anyway. I was a bit surprised Hale didn't offer unlimited post mix soft drinks which is the norm in Hawaii, but hey ho. We were done anyway and probably wouldn't have bothered taking advantage of the refill.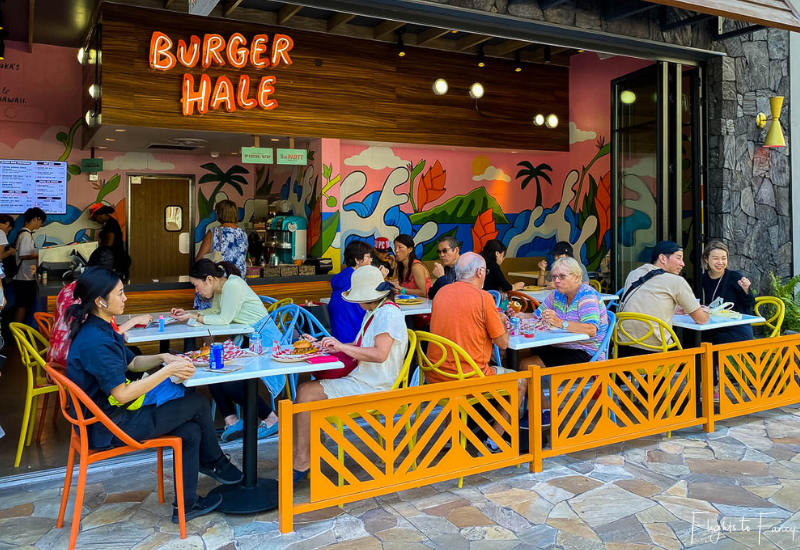 #13 Topped Waikiki
2299 Kuhio Ave.
10.30am – 10pm.
Topped Waikiki was right around the corner from where we stayed and was usually full when we walked past. The menu is tight with a few options under USD$10 including the Chicken Bibimbap and the Beef & Butter Rice. The Kalbi (Korean BBQ'd beef short ribs) Bibimbap would have been my pick even though it was a dollar over my USD$10 limit. Sometimes you just have to splurge right?
#14 Duke's Lane Market & Eatery
2255 Kuhio Ave.
Open 6am – 11.30pm
Duke's Lane Market & Eatery is smaller than the other two food courts featured here, but it is still worth a look. Ono's Burger Bar has two burgers on the menu for under USD$10, but Spitfire's menu starts at USD$11 for a small Poke bowl. The deli has a huge selection of pre-packaged food most of which is under USD$10. Try the wraps, sandwiches and hot pasta meals. The bakery has fresh croissants for just USD3.99 and a small selection of sweet treats.
#15 Denny's
205 Lewers St.
Open 24 Hours.
OK I know I said we were better than hitting the chain restaurants, but I wanted to feature a 24 hour option that was still good value for when the midnight munchies hit. Most things on Denny's menu come in under USD$15, but there are very few options under my USD$10 cap. My bargain picks are the Authentic French Crepes (USD$5.99 for one or USD$7.99 for two) or the USD$8.99 Super Duper Slam which comes with two sausages, 2 rashers of bacon, 2 eggs, hash browns and all you can eat buttermilk pancakes. If you are not so hungry you can get the same meal for USD$7.99 with just two pancakes. I haven't eaten at Denny's in years, but when we went to the US with our two then teenage boys they forced us to eat at Denny's more times than I care to remember. Denny's have an over 55's menu and one particularly kind server in Las Vegas allowed me to order the smaller portions on the 55+ menu despite not meeting the criteria. Hey you can only ask and they can always say no. Don't forget Denny's is a full service diner so you will need to add on a 20% tip for your server. Want an extra 20% off your next visit? Join Denny's Rewards before you go. Rewards members also get a free Grand Slam meal during their birthday month.
Do you have any favourite Waikiki cheap eats that I have missed? I'd love to hear about them in the comments below.
Until Next Time …

Pin Waikiki Cheap Eats

for later
Disclosure Statement: This review is not sponsored and I paid for everything I consumed in full. The information in this article is based on my own personal experiences and has not been influenced in any way by the brands featured. This post may contain affiliate links which if clicked may earn me a small commission on purchases at no extra cost to you.