Who doesn't love a happy hour? I've been to Hawaii more than a dozen times and on my last trip my weak AUD bought considerably less greenbacks than I would have liked. One of my favourite things to do in Waikiki is to sip on a fabulous cocktail (OK a lot of fabulous cocktails), but sometimes the bill can be heart stopping after a good night out. Rather than delay my trip until the exchange rate improved, I decided to look for creative ways to make my dollar go further. Hello Waikiki Happy Hours! The Hubs got right into it with me and we had a ball skipping from one bar to the next looking for the best happy hours in Waikiki. I'm all about travelling in luxury for less and saving where it counts and splurging where it matters. We saved so much money on our drink bills by hitting up the happy hours that I was able to make a very special purchase at the end of my trip. Read on for all the details …
Waikiki Happy Hours Overview
Despite being a frequent visitor to Oahu I had no idea how many Waikiki happy hours there were. Before I started researching this article, I stumbled on two quite by accident. I figured there would be a few more, but I had no idea I would be able to find fifty! So the thing about happy hour is that it is designed to get people through the door and entice them to hang around well after the discounts end. Happy hour almost never occurs at the most popular time of the day. I mean why would it? The punters are already streaming through the door at that point so vendors don't need to discount to fill seats. If you are looking to grab a bite to eat at any time of the day taht won't break the bank, my post on Waikiki cheap eats has you covered. The other thing to note about happy hour is that it almost never covers the entire menu. Most bars and restaurants feature a select few drinks and dishes so they can keep it simple. If you like something that isn't on the happy hour menu you have two choices, choose something else or ante up and pay full price. Pretty savvy strategy I reckon. While happy hours were often really just an hour long when they first started popping up, they now usually extend much longer and often occur multiple times throughout the day. In Hawaii you will often see the term Pau Hana used to describe happy hour. Pau Hana translates to 'all done' or 'finished work'. Many menus feature pupus which is Hawaiian for appetisers. One thing that confused me on many of the Waikiki happy hour menus I checked was the inclusion of 'wells' or 'well drinks'. I seriously had to Google it to figure out it referred to low end house spirits. Waikiki happy hours vary greatly in quality and I've featured a variety from all ends of the spectrum so you are sure to find something to please. Are you ready to do this? Let's go!
#1 RumFire Waikiki
2255 Kalakaua Ave
RumFire is located in the Sheraton Waikiki and is one of my favourite places to catch a sunset in Oahu. Happy hour at Rumfire occurs between 3pm – 5pm daily so the timing is perfect to get a few drinks in before the sun goes down. The happy hour menu at RumFire has 4 beers (USD$6), 2 wines (USD$6), a prosecco (USD$6) and 4 cocktails (USD$8-$10). There are also a handful of snacks on offer between USD$5 – $9. We always try to arrive at RumFire at about 4pm. It allows us to enjoy the last of happy hour and score a prime outdoor seat with water views for sunset. My favourite cocktail at Rumfire is the Gidget's Crush which is sadly not on the happy hour menu so I save that one for after 5pm and order a Mai Tai instead to save a few dollars. It's good. So I order another. The Hubs sticks to Bud Light (USD$6) which tends to be his go to beer in the US.
#2 Islands Fine Burgers & Drinks Waikiki
1450 Ala Moana Blvd
Islands Fine Burgers & Drinks is located in Ala Moana Shopping Center and has been our go to place for burgers for more than a decade. It's the perfect place to refuel and regroup during a hectic shopping sesh. Happy Hour at Islands occurs Monday – Friday 3pm – close and all day Sunday during football season. The menu features discounted beer, wine, cocktails and well drinks. My picks of the cocktails are the Mai Tai (USD$5.25) and the Mojito. The happy hour snack menu includes sliders, chips & dips and buffalo wings, but we always tend to share a burger (they are huge!) despite them not being discounted. The Kilauea is our fav. If you can't wait for happy hour, Isalnd's also has lunch specials on Monday – Friday until 3pm where a Mai Tai will only set you back USD$5 and The Hubs' favourite Bud Light is only USD$4.
#3 Yard House Waikiki Happy Hour
226 Lewers St
The Yard House Waikiki gets busy. Real busy. The last time we visited we had a buzzer to wait for a table and it was almost an hour before we were seated for dinner. It's quieter during the day and we had no wait when we visited for a late lunch that coincided with happy hour which is between 2pm – 5.30pm Monday to Friday and again at 10.30pm – close on Sunday – Wednesday. Unlike many Waikiki happy hours that feature a selection of discounted drinks, the Yard House simply offers USD$2 off all draft beers, spirits, wine and cocktails. In addition you can feast on ½ price pizzas and a selection of ½ price appetisers during happy hour. The Yard House also offers Wine Wednesday where all bottles are ½ price and a select few USD$5 glasses are on the menu. Beer drinkers are going to want to head to the Yard House on Tuesdays for Pint Night between 5.30pm and 10.30pm for USD$5 pints and goblets and USD$7 23 oz glasses. The Yard House has more than 100 beers on tap so you are sure to find something you like. The Hubs always has a Modelo Especial at the Yard House and I enjoyed a Passionfruit Mojito. We couldn't go past the half price onion ring tower, chicken lettuce wraps and Spicy Thai pizza. The pizza was the pick of the three. On a separate visit we shared spinach dip which was exceptional.
#4 Buho Cocina Y Cantina Waikiki
2250 Kalakaua Ave
We found Buho in 2016 and have eaten there at least once every trip since. Happy Hour at Buho Waikiki runs daily 2pm – 6pm and again from 10pm – close. We often eat dinner late while we are in Waikiki so we chose to visit after 10pm. The Happy Hour menu at Buho offers 2 draft beers for USD$5, house wines for USD$6, 3 spirits for USD$7, a house margarita for USD$7, but the spiked melon bowl is the star of the show at USD$60. Bring a group of friends for that one. Buho also offers a range of cut price snacks at happy hour including a picadillo taco (USD$3), Mexican fries (USD$6) and an ice cream burrito (USD$6). We ordered a Dos Equis Lager and the house white from the happy hour menu, but we gave the cut price snacks a miss in favour of a shared serve of Chicken Fajitas sans guacamole (USD$24) and a churro (USD$5) for dessert. The Hubs enjoyed his lager much more than I enjoyed my wine so I ordered a Pineapple Mojito for the second round. The Fajitas were great, but a little on the mild side so we added plenty of hot sauce to spice it up. The churro would have been much better with a thick chocolate dipping sauce instead of the hot chocolate drink in came with. If you happen to visit Buho on a Tuesday, you can also enjoy USD$2 tacos from 5pm onward. A couple of those washed down with a USD$5 beer and dinner is done for next to nix.
#5 Tommy Bahamas Waikiki Happy Hour
298 Beachwalk
Island time happy hour happens daily between 2pm – 5pm at Tommy Bahamas. Tommy Bahamas is a chain of stores and restaurants and the Waikiki store is a behemoth that covers three levels. The 3rd floor rooftop bar offers something unique in Waikiki in that they have trucked in a tonne of the whitest sand you will find on the island. Slip off your shoes and dig your toes in while you enjoy the views and make your way through the extensive happy hour menu. Choose from wine (USD$7 – $9), cocktails (USD$8), martinis (USD$10), select draft beers (USD$6), well drinks (USD$8) and small plates (USD$10). My Coconut Cloud Martini was absolutely delicious. The Hubs chose a Longboard lager which grew on him. We liked Tommy's so much we popped back for a return visit and tried the Macadamia Crusted Goats Cheese. Seriously yum! If you can, stick around after happy hour, Tommy's has live music daily from 6pm – 9pm.
#6 Bills Hawaii
280 Beachwalk
Bills Hawaii is just a one minute walk from Tommy Bahamas and their happy hours match up to hit both in one sitting. Bills Waikiki happy hour kicks off at 3pm and wraps up at 6pm. Selected small plates are on offer for between USD$6 – $10 including salt and pepper calamari (USD$7) and a junior burger and fries (USD$7). Specialty cocktails are just USD$7 and The Hibiscus Margarita was delish. There is a NZ Sauv Blanc on the menu for just USD$6 a glass to my delight, but the USD$4 beers don't include any of The Hubs' favourites so he had another Longboard Lager. Bills is owned by Aussie born Bill Granger who has a relaxed approached to food. Bill opened his first restaurant in Sydney in 1993 which was followed by venues in Seoul, Tokyo, Honolulu and London. They say you can take the boy out of Australia, but you can never take Australia out of the boy and that is true at Bills. Each restaurant has a casual Aussie vibe. Stop by and say G'Day while you are trawling the best Waikiki happy hours.
#7 Giovanni Pastrami Waikiki
227 Lewers St.
Giovanni Pastrami offers happy hour Monday – Friday between 3pm – 6pm and again from 10pm – close. Giovanni's fuses the best of a New York Deli with a sports bar and has an eclectic happy hour menu. We visited Giovanni's for late night night happy hour on a Tuesday night. We arrived right on 10pm and were seated quickly in a comfortable booth. The Hubs and I ordered a Hawaiian Pizza (USD$7), Chicken Fingers with fries (USD$9), a Bud Light (USD$4) and a Lychee (USD$9). The Lychee normally has peach, but they didn't bat an eyelid when I asked for it to be omitted. I preferred the pizza while The Hubs preferred the chicken, but both were good and the serving sizes were more than sufficient to fill us up. The Hubs had another beer and I sampled a Blue Hawaii (USD$6) before we called it a night.
#8 Wai'Olu Ocean Cuisine Waikiki Happy Hour
223 Saratoga Rd
Regardless of your political bent, you should visit Wai'Olu in Trump International Hotel Waikiki. Wai'olo has daily happy hour from 3pm to 6pm and again from 9pm to 10:30pm. The late night happy hour is a little cheaper. On Thursday, Friday, and Saturday nights they also have live entertainment. The Wai'Olu is perfectly positioned to catch a sunset and on Friday's you can even see the fireworks at 7.45pm if you stay beyond happy hour. Happy hour at Wai'Olu Waikiki is a little pricier that some of the others that I have featured. I chose the Pineapple Express and The Hubs had a Bikini Blonde beer. I was much happier with my choice than he was.
#9 Gyu-Kaku Japenese BBQ
307 Lewers St.
Gyu-Kaku offer 2 happy hours daily from 11.30am – 6.30pm and again at 9.30pm – 11.30pm featuring discount drinks, but savvy diners will visit for super happy hour which occurs from Sunday – Wednesday at 10.30pm – 11.30pm. There are 15 items on the menu ranging between USD$1 – $5 with a USD$10 minimum spend. The Fried Cheese Wontons (USD$4) and the Bistro Hanger Steak (USD$5) are my pick. Add a USD$2 Kirin and you have got a late night snack done right. We couldn't hold out any longer for the late night happy hour and we arrived right on 9.30pm for the evening happy hour. I had a Pomegranate Mojito (USD$5.95), an entree of Fried Cheese Wontons (USD$5.45) and a Sukiyaki Beef Bibimbap (USD$8.95) while The Hubs had a Kirin (USD$3.95), an entree of Spicy Volcano Tuna (USD$6.95) and a Garlic Shrimp Bibimbap (USD$8.95). The food arrived quickly and we both enjoyed our entree after we added plenty of black pepper. Our Bibimbaps were served in volcanic bowls and stirred through at the table by our server. The bowls were piping hot and we caught ourselves on them a few times. We added soy and hot sauce to give them an extra kick. The dish improved as the night when on and the crispy rice scraped off the bowl at the bottom was the best part. Not all items on the menu are offered at happy hour prices, so just look out for the red HH on the menu to make sure you get a bargain. We enjoyed Gyu-Kaku much more than we expected to.
#10 Moose McGillycuddy's
310 Lewers St.
Part bar, part cafe Moose McGillycuddy's is spread over two levels. The cafe downstairs is open from 9am – 10pm and the club upstairs operates from 7pm – 3.30am. Happy hour occurs daily between 4pm and 7pm and you can expect to find USD$4 14oz Kona Drafts, USD$5 14oz other drafts, USD$4 well drinks and house wine and USD$5 specialty cocktails. Moose's also offers USD$4 Mai Tai's from 11am – 4pm daily, USD$4 Bud Lights from 11am – 4pm and USD$4 Kona Drafts from 4pm- 7pm. We visited for lunch and ordered a Mai Tai and a Bud Light and shared a Loco Moco (USD$14). You can't visit Hawaii without trying a Loco Moco at least once. It's the ultimate in comfort food; a bowl of rice, topped with a hamburger patty, gravy and a sunny side up egg. Moose's comes with two eggs and I slung both on The Hubs' plate as I can't tolerate them. It was a simple lunch done cheaply which was exactly what the doctored ordered.
#11 The Cheesecake Factory Waikiki
2301 Kalakaua Ave.
I have visited The Cheesecake Factory more times than I can count. We visit every trip, sometimes more than once. The wait can be up to an hour at dinner time, but nobody seems to mind. These days we usually visit for lunch, when there is little to no wait for a table. Happy hour at The Cheesecake Factory is offered on Monday – Friday between 4pm – 6pm at the bar. There are four cocktails on offer for just USD$6.50 and my pick is the classic Cosmopolitan. Selected well drinks and wines are USD$6.50 and selected draft beers are USD$4.50. There is a selection of 14 appetisers on offer for USD$6.50. They all look good, but we bypassed the Factory Nachos, Southern Fried Chicken Sliders and the Happy Hour Burger in favour of a Pepperoni Flat Bread Pizza and a Louisiana Chicken Pasta from the normal menu. Yum!
#12 Doraku Waikiki Happy Hour
2233 Kalakaua Ave.
Modeled on a Japanese Izakaya (gastropub), Doraku is on the 3rd floor of the Royal Hawaiian Centre and runs happy hour daily between 4pm – 6pm. The select menu includes small plates (USD$3 – $9), Sake (USD$5 – $10), well drinks (USD$6), house wine (USD$5), and 2 beers (USD$4). I went to Doraku specifically for the USD$6 Lychee Martini. How could I resist? When you add in a USD$4 Kirin for The Hubs, we were always going to try Doraku. We hadn't planned on trying any of the food, but once we took a look at the menu it was hard to resist. We ordered the Steak & Shishito Pepper Yakitori and the Chicken with Scallions Yakitori. Both serves provided two generous sticks and these rivaled the amazing Yakitori I enjoyed in Hiroshima. I would have loved to have sampled the Ginger Chicken Karaage and the Chicken Lettuce Wraps, but we had to move on. There's always next time.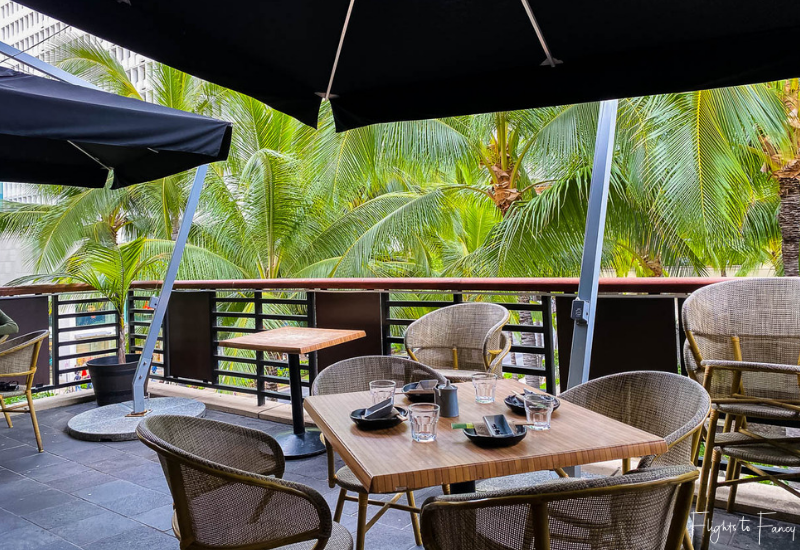 #13 Morimoto Asia
2490 Kalakaua Ave.
If you like a celebrity chef, this is the happy hour for you. Chef Masaharu Morimoto found fame on Iron Chef and after heading up some of the most famous kitchens around the globe, Morimoto opened his own chain of restaurants. Morimoto Asia Waikiki opened in the Alohilani Resort in 2018 and is open for dinner nightly. Early birds catch the worm as happy hour happens at the bar between 5pm – 7pm. The menu changes regularly, but when we visited there were 5 small plates on the menu all for USD$6. Over our two visits we sampled a frozen Kirin (USD$6), a deliciously refreshing Lychee Spritz (USD$6), a normal Kirin (USD$4), a Blueberry Sour and three of the appetisers. The Meatball Sliders, Gyu Cheese Tacos and the Rock Shrimp were all superb. The space at Morimoto Asia is slick, modern and welcoming. This is one Waikiki happy hour not to miss!
#14 Maui Brewing Company Waikiki
2300 Kalakaua Ave
I walked past the Maui Brewing Company many times before I decided to step inside. Maui's happy hour occurs daily from 3.30pm – 5.30pm and then again at 10.30pm to close during which they shave USD$2 off all beers, USD$3 off selected cocktails, 50% off selected appetisers and offer USD$10 pizzas. I had my heart set in a Lei'd Lychee (USD$9.75), but they had run out of lychee liquor so I settled on a True North (USD$9.75) while The Hubs had a Linage Lager (USD$6). I enjoyed my cocktail much more than he enjoyed the beer. We shared a Brewmaster pizza (without the olives) which was the the pick of the limited snack menu in my book. The pizza was much better than I expected it to be. The crust was super crispy and the toppings were fresh and tasty. The vibe at Maui Brewing Company is industrial and the huge internal bar is great for socialising, but we chose a booth. The climb up three flights of stairs may put some punters off, but there is a lift if you need it.
#15 Mai Tai Bar Ala Moana
1450 Ala Moana Blvd
The Mai Tai Bar inside the Ala Moana Shopping Centre runs two daily happy hours, 4pm – 7pm and then 8pm – 11pm, but the late night happy hour menu offers more variety. When the shopping gets too much siesta at Mai Tai Bar for USD$6 specialty drinks, USD$3 pints of beer, USD$9 pitchers of beer, selected USD$5 wines and discounted pupus. We visited in afternoon and I sampled the USD$6 Lychee Martini while The Hubs sipped a USD$3 Dos Equis. Strangely the Lychee Martini did not actually have any lychees in it, but it was still pretty good.
#16 Flour & Barley Waikiki Happy Hour
2330 Kalakaua Ave.
Flour & Barley is on the 3rd floor of the revamped International Market Place in the heart of Waikiki and they dish out plenty of brick oven pizzas to hungry shoppers. During the two daily happy hours (2pm – 6pm & 10pm – close) bargain hunters can snap up cut price beers (USD$4 – $6), glasses of house wine (USD$5), handcrafted cocktails (USD$10) and sangria pitchers (USD$25). If you are feeling peckish nosh on one of the small plates which range between USD$8 – $12. We visited for late night happy hour and shared a Big Apple Pizza (USD$11) and a garlic cheese bread (USD$8). The Hubs had a Longboard (USD$5) and I had a Spiked Lemonade (USD$5). I did want a Llilikoi (passionfruit), but they were out and I had to settle for strawberry. When the pizza first arrived, I was skeptical. The topping looked more like cabanossi than pepperoni and it had a decent oil slick on top. The first bite allayed my concerns and it was pretty good. The garlic bread was light on garlic and soft and crunchy all at the same time.
#17 Top of Waikiki Happy Hour
2270 Kalakaua Ave
Why not try out Waikiki's highest happy hour? The Top of Waikiki is Oahu's only revolving restaurant and the views from the 21st floor are unsurpassed. Happy hour runs every night from 5pm – 9:30pm at the bar with drinks starting at USD$5 and appetizers starting at USD$8. The Top of Waikiki promotes the farm to table philosophy and many of the ingredients are sourced locally. The generous hours of Top of Waikiki's happy hour means that you can time your visit for sunset and watch the sky light up as the sun dips below the Pacific. We visited Top of Waikiki at 6pm on Friday night, about 30 minutes before sunset and there was a wait list for the bar. We didn't want sunset to pass us by sitting in the waiting room so we gave it a miss. We tried again on Sunday night at 6pm and were seated within 5 minutes. The bar is in the centre of the restaurant and we wasted no time ordering a Hawaiian Hurricane and a Bud Light. We ordered a serve of Loaded Tater Tots just cos. Had it been a clearer night the sunset view would have been much better, but the thick layer of cloud put paid to that. Even on a clear night you would need to time it just right to see the sun slip below the horizon between the buildings lining Waikiki Beach.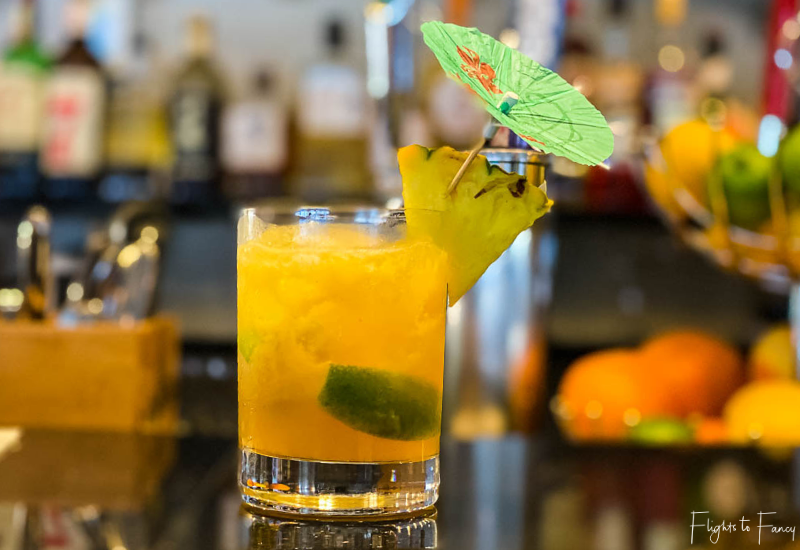 #18 Plantation Bar @ Hula Grill
2335 Kalakaua Ave
Plantation Bar at Hula Grill calls their happy hour Aloha Hour (daily 3pm – 6pm) and they claim to have the best Mai Tai in Oahu because the pineapple, guava, orange and passion fruit juices are all fresh. During Aloha Hour you can slurp one down for just USD$10. Hula Grill are doing their bit to tread lightly on the planet by serving premium wines on tap using a barrel to glass philosophy. Serving wine straight from the keg reduces a huge amount of waste that is involved with the bottling process and ensures you can enjoy the contents exactly as the wine maker intended. Hula Grill serves a Kiwi Sauvignon Blanc straight from the keg, but sadly it is not one of the two discounted at happy hour. We visited Plantation Bar on a Saturday at 5pm. The sun was starting to dip in the sky and we grabbed the last available table in the bar area. Our server took ages to take our order while those all around us were being attended to promptly. Not a great first impression. With such lofty claims I had to try the Mai Tai when we finally got to order and The Hubs opted for a Longboard (USD$6). So was it the best Mai Tai I have ever had? No. But is was perfectly drinkable and served in a very unique glass. We couldn't fit another bite in when we visited, but the truffle fries (USD$5) and short rib slider (USD$6) sounded tempting.
#19 Wolfgang's Steakhouse Waikiki
2301 Kalekaua Ave.
Wolfgang's is on the third floor of The Royal Hawaiian Center. Think you can't afford Wolfgang's? Think again. While a prime Tomahawk Steak at dinner will set you back a whopping USD$125, there is a way to enjoy Wolfgang Zwiener's world famous fare for a fraction of that. The secret is to go at happy hour between 11am – 4.30pm where you can enjoy USD$12.95 lunch specials and a diverse happy hour menu that features USD$8 house wines and cocktails, beers between USD$5 – $6 and pupus between USD$8 – $12. If you are feeling lavish there is a USD$49.95 steak on offer as well. We visited on a Monday on our last day in Waikiki. The weather was atrocious and as Wolfgang's was close by we had less chance of being caught in a drenching downpour. Wolfgang's has a dedicated seating area for happy hour or you can choose to sit at the bar. Service was fast and efficient and our Bud Light (USD$5) and Lychee Martini (USD$8) arrived quickly. The Hubs chose the Seafood Combo (USD$12) and I chose the Tenderloin Medallions (USD$12). We were contemplating a serve of Hamburger Sliders (USD$8), but decided to see how we go. I'm glad we held off as we didn't need them for our light lunch. The Lychee Martini was one of the best I have had and I have had plenty. The floating flower was a cute touch. My tenderloins were cooked rare and served atop petite slices of bread with mustard, tomato, cucumber and onion. They were delicious. The Hubs enjoyed his Seafood and proclaimed the lobster to be the best of the three. If you like your Waikiki happy hours on the fancier side, Wolfgang's is for you!
#20 Il Lupino Trattoria & Wine Bar
2233 Kalakaua Ave.
Il Lupino has an extensive happy hour menu and while the drinks are good value, the food that is a touch pricer than most. We walked past Il Lupino every day on our last trip to Hawaii when we stayed at the Sheraton Waikiki and we always tempted to visit, but just couldn't quite make it work. Il Lupino offers two happy hours daily from 12pm – 6.30pm and again from 9.30pm – 10.30pm and you can choose from 10 cocktails at just USD$8 each and selected beers and wine range from USD$4 – USD$8. Il Lupino offers a decent selection of food ranging from USD$7 – USD$24.  We dined at Il Lupino on the Monday night before we flew home and we arrived right on 9.30pm. On a nicer night we would have chosen to dine alfresco, but the heavy black clouds overhead suggested otherwise. The interior is much more spacious than the entrance hints at and we were seated near the kitchen. It took a while for our order to be taken, but once it was the service was very efficient. We started with some garlic bread to share from the main dinner menu (USD$9) which was served with a delicious tomato sauce, but was a little too crisp for my liking. I chose a Sangria (USD$8) and The Gnocchi Sorrentina (USD$10) while The Hubs opted for a Steinlager (USD$4) and the Spiedino D'Agnello (USD$15). The generous serve of Gnocchi was slathered in a deliciously rich tomato sauce and topped with cheese which was baked on. The freshly grated parmesan topped it off nicely. The Hubs lamb skewer was cooked perfectly and the crunchy vegetables made it a perfect light meal. We will definitely be back to Il Lupino when we are next in Waikiki.
More Of The Best Happy Hours In Waikiki …
I didn't get to these happy hours in Waikiki so I can't speak from personal experience, but they could be right up your alley …
#21 Bubba Gump Shrimp Co 1450 Ala Moana Blvd. Bubba's is a US institution and despite walking past the restaurant many times while I have been at the Ala Moana Center I have never stepped inside. Happy hour happens at Bubba's from 9pm until close in the bar area. Beers start at USD$3.50, well drinks are USD$4, 4 wines are USD$4.50 a glass, 3 traditional cocktails are USD$5 and 4 specialty cocktails are USD$5.50. Selected snacks range from USD$5 – $7. The Cajun Cheese Bread (USD$5), Onion Rings (USD$5), Bacon Potato Cakes (USD$6) and the Blue Hawaiian (USD$5.50) sure sound tempting.
#22 Sky Waikiki 2270 Kalakaua Ave. Happy hour is available in the main lounge only daily between 5pm – 9pm. USD$4 Heinekens, USD$4 house wines, USD$7 SkyTais and Pina Coladas are all on the menu. The snacks are on the pricy side for happy hour with a USD$15 cheeseburger, USD$17 pork sliders and USD$12 wings all featuring. The beauty of this Waikiki happy hour is that there is no need to eat an early or late dinner to get a bargain.
#23 Basalt 2255 Kuhio Ave. Basalt is located in Duke's lane and happy hour runs daily 3pm – 6pm. Three craft cocktails (South Pacific Sangria, Basalt Mai Tai and Moscow Mule) are all USD$6 each, well drinks are USD$5 each, selected wines are USD$5, domestic bottled beer is just USD$3 and there are 5 beers on tap for USD$4. Discount snacks are on offer which start at just USD$2 for fries through to a USD$9 charcuterie platter. The USD$5 burgers seemed popular when I stopped by.
#24 Swim Bar @ Hyatt Regency Resort. 2424 Kalakaua Ave. Swim Bar's happy hour happens daily between 4pm – 6pm and you can grab one of 4 cocktails including a Mai Tai for just USD$9. Draft beer is just USD$6, selected wines by the glass come in at USD$9 and snacks start at USD$8.
#25 The Hideout @ The Laylow. 2299 Kuhio Ave. Happy hour at The Hideout starts at 4.30pm and kicks on until 6.30pm. 6 spirits are on offer with a mixer of your choice for USD$7, but there is only one cocktail on discount; the Painkiller (USD$11). The discounted drinks are rounded out with selected beers (USD$5) and wines (USD$8). The Chicken Satay is my pick of the snacks at USD$10.
#26 Tiki's Grill & Bar @ Aston Waikiki Hotel. 2570 Kalakaua Ave. Tiki's is located inside the Aston Waikiki Beach Hotel. The vibe is beachy and the fare has a distinct pacific rim influence. The daily happy hour (2pm – 5pm) features USD$5 small plates, 3 varieties of USD$4 beers and 5 mixed drinks for USD$5 and under. My picks are the Blue Hawaii (USD$5), Sex On The Beach (USD$4.75) and the Beef Gyoza (USD$5). Tiki's also has live music on Saturday nights from 5pm.
#27 Moku Kitchen 660 Ala Moana Blvd. Moku Kitchen has two happy hours a day, firstly from 3pm – 5.30pm and later at 10pm – 11pm. Moku Kitchen keeps it's happy hour simple with USD$2 off beers and glasses of wine, USD$9 cocktails, 50% off small plates (except Poke) and USD$10 pizzas. My picks would be the Roasted Squash Ravioli (USD$7.50) washed down with a Mai Tai.
#28 PF Changs 2201 Kalakaua Ave. I dined at PF Changs in the Royal Hawaiian Center a few years ago and I wasn't overly impressed, but if it is to your liking happy hour occurs from 4pm – 6pm daily. The menu features USD$4 beers, USD$6 well drinks, USD$6-$7 glasses of wine, USD$9 cocktails and a large selection of food (USD$5 – $12).
#29 Bevy 675 Auahi St. This one is a little further out, but if you make it to Ala Moana Shopping Center (and you should!), it's not much further to Bevy. The focus at Bevy is on hand crafted cocktails and being ocean friendly by minimising their footprint. During happy hour, which is between 4pm – 7pm Monday to Saturday, you get USD$2 of cans of beer and happy hour specials and the Spanish and sparkling wines are just USD$6 a glass. My pick would be a discounted Caipirinha for just USD$8.
#30 Herringbone 2330 Kalakaua Ave. Herringbone is situated in the snazzy rooftop dining precinct of the International Market Place and offers happy hour twice daily between 4pm – 6pm and then 9pm – close. The big draw at Herringbone's happy hour is USD$2 Oysters, but there are also discounted cocktails (USD$8), beer (USD$5) and wine (USD$6) on offer.
#31 Shorefyre Fresh Grill & Bar 2330 Kalakaua Ave. Another great venue in the International Market Place, Shorefyre offers a happy hour from 3.30pm – 6.30pm daily in a relaxed setting. From Sunday to Wednesday there is an additional late night happy hour from 10.30pm – close. The happy hour menu features small plates (USD$6 – $10), 3 cocktails (USD$7), house wines (USD$6), spirits (USD$6) and beer (USD$3 – $5). The Coconut Mojito and the loaded cheese fries (USD$6) are right up my alley.
#32 Lulu's Waikiki2586 Kalakaua Ave. Lulu's is located at the zoo end of Waikiki Beach on the second floor of the Park Shore Waikiki Hotel. Lulu's has two happy hours, the first between 3pm – 5pm and then again at 12am – 1.30am. During the afternoon happy hour diners can enjoy cheap beers (USD$4 – $5), house wines (USD$5), well cocktails (USD$5) and frozen daiquiris (USD$5). If you are feeling peckish you can chow down on some cut price wings (USD$5), nachos (USD$8) or coconut shrimp (USD$8). The late night happy hour does not include food, but the Bud's and well cocktails are USD$1 cheaper than in the afternoon. Lulu's is an ocean friendly restaurant and does not accept reservations.
#33 Haus Supper Club 1450 Ala Moana Blvd. Haus Supper Club is located in the Ala Moana Shopping Center and offers multiple experiences within the venue. The main room features live music, comfortable seating and an elevated bar, while the Asian inspired speakeasy hidden behind a telephone booth offers a more intimate space. The Haus happy hour runs from 4.30pm – 7.30pm daily and features ½ price select bottles of wine plus USD$5 martinis, cocktails and bites. On Wednesdays and Thursdays there is a special late night happy hour featuring USD$5 snacks (11pm – midnight), USD$5 Jameson Black Barrel (11pm – close ) and $6 Jameson & Titos Shots (10pm – close).
#34 Buffalo Wild Wings1450 Ala Moana Blvd. Blah Buffalo Wild Wings offers two happy hours a day from Monday to Friday, firstly from 2pm – 6pm and later from 9pm – 12am featuring USD$3, USD$4 and USD$5 food and drinks. Settling in a big night? Grab 5 beers (mix n match) for just USD$15 from the 8 on offer.
#35 The Study Lounge 1775 Ala Moana Blvd. The Study Lounge at the Modern is perhaps one of Waikiki's coolest bars. The Study is hidden behind a wall of bookcases and is understated sophistication personified. Happy Hour happens daily from 6:00p.m. to 8:00 p.m and features USD$5 beers, USD$6 well drinks, USD$7 wines, USD$8 cocktails and 20% off food. The study also has live music nightly from 8.00 p.m. to 10.30 p.m.
#36 Island Vintage Wine Bar 2301 Kalakaua Ave. You will find the Island Vintage Wine Bar on level 2 of The Royal Hawaiian Centre and happy hour happens daily from 3pm – 6pm at the bar. The menu features 6 small plates (USD$7), 5 wines by the glass (USD$7), draft beers (USD$6), 2 larger plates (USD$14) and 2 cheese and charcuterie boards (USD$14). My picks are the Giesen NZ Sauvignon Blanc and the crispy Purple Sweet Potatoes. Island Vintage Wine Bar also has plenty of other wines to taste using the same Enomatic system that I so admired at The Winery in Queenstown. The beauty of this system is that you choose your serve. Not sure if you will like it? Select a taste. Want a little more? Choose a half glass. Know you love it? Purchase a full glass. Easy!
#37 Chart House 1765 Ala Moana Blvd. The Chart House has one of the longest happy hours in Waikiki, it runs from open to 7pm and then again from 10pm to close, but it is a little confusing given there are different offerings at different times. I like look of the sunset happy hour (served until 7pm) given the Chart House enjoys stellar water views. The USD$6.25 Lychee Martini has my vote.

#38 Mahina & Suns 412 Lewers St. Located in the Surfjack Hotel, the food and drinks at Mahina & Suns use the best local ingredients and they are Hawaii's leader in ocean friendly sourcing practices. Happy hour happens at the Lanai and cut price food is served between 2pm – 4.30pm while drinks are served between 2pm – 6pm. 5 basic cocktails are USD$7 each, Maui canned beer is USD$4 (bucket of 6 for USD$20) and house wine is USD$7. Mahina & Suns has nightly live music and movies under the stars.
#39 Chef Chai 1009 Kapiolani Blvd. Chef Chai Chaowasaree is renowned as a master of Hawaiian regional cuisine and he manages 20 kitchens world wide as the executive chef for Hawaiian Airlines. Happy hour is between 4pm – 6pm daily in the bar and the pupus are the big draw. Think Chicken Sate (USD$7), Seafood Tortellini (USD$8) and Spicy Chicken Wings (USD$8). Drinkers are not forgotten with USD$3 Bud's, USD$4 Heinekens, USD$5 glasses of house wine, USD$5 well drinks and USD$8 Martinis (Cosmo, Lychee & Apple). Chef Chai is about a 10 minute walk from the Ala Moana Center and it's the perfect way to refuel after a hectic day of shopping.
#40 Eating House 1849 2330 Kalakaua Ave. The Eating House is also located on the upper level of International Market place and offers happy hour between 3pm – 6pm daily. At The Eating House, award winning Chef Roy Yamaguchi blends casual ambiance with simple flavours in a modern restaurant with a nod to Hawaii's past. During happy hour (3pm – 6pm) selected pupus are between USD$7 – $12, 4 craft cocktails are USD$8, 4 draft beers are USD$5 and the house wine will set you back USD$8. My picks are the Hawaiian Martini and the Baby Back Ribs (USD$8).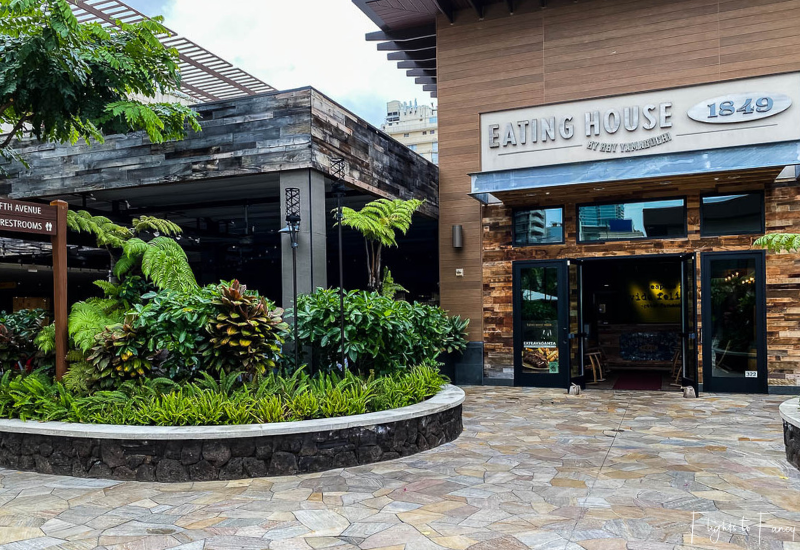 #41 Crackin' Kitchen 364 Seaside Ave (Cnr Kuhio). Fusion cuisine is all the rage and Crackin' Kitchen has jumped on board with their own take on Hawaiian Cajun. Happy hour is served in the bar area between 3pm – 5pm daily. Everything on the menu is USD$5 and you can choose from Poke, Chowder Fries, Chicken Wings, Gumbo Soup and Fish & Chips. The cocktail, beer and wine of the day are also only USD$5 a pop.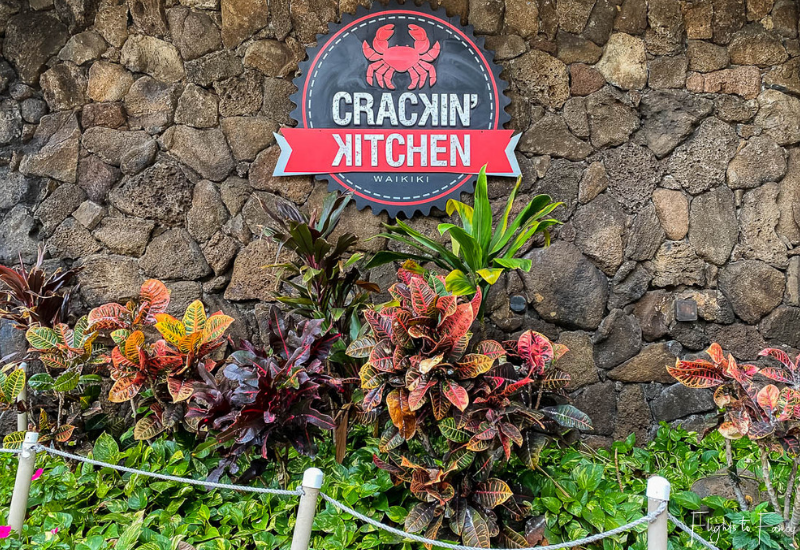 #42 Sunset Lanai Lounge 2863 Kalakaua Ave. The Sunset Lanai Lounge in the New Otani Hotel serves up happy hour daily between 2pm – 5pm in a casual atmosphere with sunset views. The happy hour menu features Hawaiian beers (USD$5), USD$7.50 Pina Coladas and Tropical Breezes, house wines (USD$6.50) and three appetisers for USD$6. It's at the far end of Waikiki and we tried to pop in while we had our hire car. As we were trying to park the car we were reprimanded by the parking attendant who brusquely informed us it was valet only. Fair enough, but as we tried to obtain information about where we could park he just informed us not here. Not impressed with the rather inhospitable welcome we chose not to make a return visit and spent our dollars elsewhere instead.
#43 Cheeseburger Beachwalk 226 Lewers St. Cheeseburger Beachwalk offers two daily happy hours from 3pm until 5pm and later from 9pm – close. At Cheeseburger Beachwalk you can enjoy happy hour throughout the entire restaurant unlike the nearby Cheeseburger in Paradise which only offers happy hour at the bar. We visited Cheeseburger in Maui a few years ago and it's a typical American burger joint. At happy hour diners can enjoy USD$5 well drinks, USD$6 Mai Tais and Pina Coladas, USD$5 house wine and USD$5.50 selected draft beers plus USD$3 off all appetisers. The Onion Rings (USD$4.50), Cheeseburger Babies (USD$11.95) and Seasoned Fries (USD$4) are my picks of the limited menu.
#44 Romano's Macaroni Grill1450 Ala Moana Blvd. Marconi Grill offers a daily happy hour between 3pm – 7pm featuring cut price beer (USD$3.25 – USD$4.25), wine (USD$5) and appetisers (USD$5.95 – USD$11.95). The Tuscan New York Strip (USD$11.95) and the Calamari Fritti (USD$7.95) sound pretty good to me.
#45 Tsuru Ton Tan 2233 Kalakaua Ave. 2.30pm – 5.30pm. On the third floor of the Royal Hawaiian Center, this upmarket noodle bar has the cheapest happy hour beer I found in Waikiki at just USD$1.99 for a draft Sapporo. The USD$7 Shiso Mojito also sounds good. 8 small plates are offered for between USD$4 – $11. My pick would be the Tatsuta Chicken (USD$8) whereas The Hubs liked the look of the Garlic Shrimp (USD$9). Happy hour runs from 2.30pm – 5.30pm.
#46 Uncles New York Grill 2299 Kuhio Ave. Uncles New York Grill's happy hour runs from 2pm – 6pm and again from 10pm to close. There are 2 cocktails (L-Train Lemonade USD$6 & Ginger Punch USD$7) 3 beers (Coors Banquet USD$4, Kirin USD$5 & Stella USD$6) and 4 wines (USD$7) on the discount drink list. If you are feeling peckish, check out the selection of discount snacks with 9 on offer between USD$4 – USD$12. Big eaters might like the Quarter Pound Hot Dog (USD$6), but I like the sound of the Mozzarella Sticks (USD$6) and the Brisket Sliders (USD$10). If you would prefer a quick bite to take away, check out Uncles New York Deli that sells pizza by the slice for hunger on the go.
#47 Habitant 1450 Ala Moana Blvd. Habitant is located inside Nortrom in the Ala Moana Center. Happy hour runs from 3pm – 6pm daily. Choose between a burger (USD$8), Kalua Pork Sliders (USD$6) or Crispy Chicken Wings (USD$6) and add a beer (USD$4), wine (USD$5) or spirit (USD$6) for good measure.
#48 O Bar @ Alohilani Resort 2490 Kalakaua Ave. O Bar is located in the lobby of the Alohilani Resort. Happy hour runs from 2pm – 5pm and is limited to USD$10 wine specials, selected USD$6 beers and a different daily cocktail for USD$10. The real draw of O Bar is the massive fish tank that runs the entire length of the bar. There is something quite mesmerising about watching the fishes swim by as you relax into the comfortable seats without a care in the world.
#49 Lucky Strike Social 1450 Ala Moana Blvd. Bored with sitting and drinking? Head to Lucky Strike Social in the Ala Moana Center for cut price bowling (USD$3 games USD$3 shoes) on Thursdays from 3pm to close. Bowling is a thirsty game so quench a hard earned thirst with USD$3 Heinekens and well drinks. Normal happy hour at Lucky Strike operates between 4pm – 6pm Sunday through Thursday and features USD$3 drafts, USD$4 well drinks and USD$5 house wines.
#50 Atlantis Seafood & Steak 2384 Kalakaua Blvd. Atlantis Seafood & Steak has been serving up plates in Waikiki as long as I can remember. Head up the stairs near CocoCove and head to your left. Atlantis' Waikiki happy hour runs daily from 3pm – 5pm and changes frequently so be sure to check the menu is to your liking before you commit. When I stopped by they were offering 3 appetisers and 2 cocktails and house wine for USD$5 each.
So what did I buy with all the money I saved by visiting all these Waikiki happy hours? I decided to treat myself to a Tag Heuer watch. It's the perfect combination of simplicity and elegance and a much better reminder of our trip to Hawaii than an expensive bar bill that would have just been a hazy memory the next day.
Do you have any favourite Waikiki happy hours that I have missed? I'd love to hear about them in the comments below.
Until Next Time …

Pin Waikiki Happy Hours

for later
Disclosure Statement: This review is not sponsored and I paid for everything I consumed in full. The information in this article is based on my own personal experiences and has not been influenced in any way by the brands featured. This post may contain affiliate links which if clicked may earn me a small commission on purchases at no extra cost to you.