I had a bit of a dilemma figuring out where to stay in Coron. Finding accommodation in Coron to support my mantra of travelling in luxury for less was more challenging than I anticipated. This was my first trip to the Philippines and I expected luxury hotels in Coron Palawan to be thick on the ground like other parts of Asia but sadly that was not the case. We only had two nights in Coron with lots to do so I started my search for places to stay in Coron in the city centre. After a quick glance at the options (and the lack lustre reviews!) and I expanded my search field to discover a new waterfront hotel minutes from the port. The Sunlight Guest Hotel Coron offered everything we needed and while not exactly a bargain by Asian standards, it certainly didn't break the bank. Read on for all the details …
Deciding Where to Stay In Coron: Location Location Location
We are walkers. We generally spend hours trudging the dusty backstreets discovering all the hidden nooks and crannies in a city so location is always a primary consideration and it was no different when we were deciding where to stay in Coron. Second to location, is of course quality. Coron is a sleepy little place and has a smattering of accommodation in the heart of town but they were all a little too rustic for us so we decided to compromise on location and expand our search area. We knew we wanted to stay on the main island so while Club Paradise Resort looked impressive it was ruled out. Two Seasons Coron Resort & Spa caught our eye but the inconvenient location was a compromise too far. Bluewave Hotel was on the short list for quite a while but it seemed just a bit too austere. Two Seasons Coron Bayside Hotel was a strong contender until we realised Sunlight Guest Hotel (which was right next door) was half the price. Done!
READ MORE: 15 Luxury Hotels In The Philippines
Places To Stay In Coron – Sunlight Guest Hotel Overview
I'll admit to being fickle and once I had a short list of where to stay in Coron, decor did play a part in the decision making process so it might come as a bit of a surprise that Sunlight Guest Hotel Coron was the victor. Despite being one of the newest hotels in Coron Palawan, Sunlight Guest Hotel is not the slick and modern affair I usually favour. The best way to describe the design concept is Spanish Hacienda meets Tuscan Villa and it's just a little strange. The distinctive bright yellow facade on the three story building is hard to miss and certainly stands out from the other places to stay in Coron. We arrived in Coron on the Montenegro fast ferry from El Nido and sidestepped the horde of tricycles at the port to walk the 5 minutes to the hotel. The reception is light, bright and airy and we were greeted warmly by the reception staff. We arrived well before check the official check in time of 11am and as expected our room was not ready, but the helpful staff gave us an upgrade to a room that was available which was very much appreciated. While the Sunlight Guest Hotel was outside of our initial search area, it was still only a 15 minute stroll to town and we did it multiple times. If you are not as keen, simply hail down a tricycle for the tiny price of 30php (70c) for 2 people. The waterfront location was superb and views of the sunset from the back deck were incredible. The only sticking point was that at low tide a distinct smell wafted through the hotel. Sunlight Guest Hotel is currently building a private jetty to take full advantage of their absolute waterfront location. It's a shame we weren't there a few months later as it would have been awesome to start our private Coron Island hopping boat tour of the stunning Coron lagoons right from the hotel rather than having to trike into town.
READ MORE: Getting to Coron on Montenegro Fast Ferries

Rooms At Sunlight Guest Hotel Coron
Our room (323) was right at the end of the third floor corridor. The same sunny yellow paint adorns the internal walls but in contrast the furniture is dark which feels a little incohesive. The room was quite spacious and the generous storage was more than adequate for our meager belongings. The King size bed dominated the room and I was disappointed to find it was as hard as a rock. We stayed in six different hotels during our two weeks in the Philippines and this was by far the worst sleep we had on our trip. Sunlight Guest Hotel does not offer a mini bar, but the compact fridge was sufficient for our needs. The balcony overlooking the pool and across the water towards the town was narrow but I always love having a bit of my own outdoor space and the sunset views are almost as good as they are from the back deck. A compact desk is available for those who need to work but I just laptopped from the bed. Unfortunately for me only one side of the bed comes with a power point and The Hubs snagged it. It's seriously the quick and the dead in our house and I always seem to lose out lol. Unlike other hotels in the Philippines, the plug is not multi-fit and you will need an adaptor. The bathroom is an odd mix of modern and faux vintage. The modern shower is brilliant but it is paired with a rather out of place looking vanity.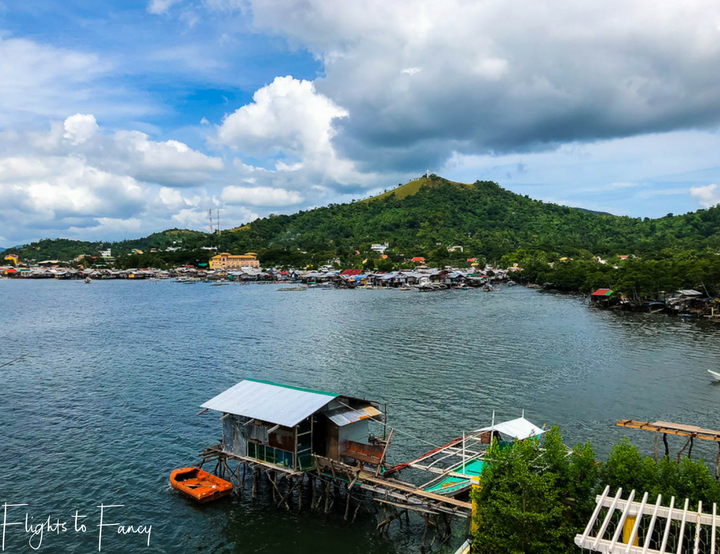 Facilities At Sunlight Guest Hotel Coron
Coron is hot and humid, particularly in the 'ber' months and very few hotels in Coron Palawan have pools. If you are travelling to Coron with kids, a pool is a must and the stunning pool at the Sunlight Guest Hotel Coron sealed the deal when we were deciding where to stay in Coron.  It was a little chilly but it didn't stop me diving in for a refreshing dip every day we were in residence. There is a pool bar in the far corner, but I didn't actually see anyone manning it. The gym at Sunlight Guest Hotel is small but will suffice for those keen on keeping up their fitness routine. All hotels in Coron Palawan have their quirks and the Sunlight Guest Hotel is no exception. I guess stolen towels must be a thing (why people????) because pool towels must be specifically requested from reception. They are free to use in the hotel pool but I was outraged that they charged us 150 pesos per towel for our boat trip. This is not a security deposit like we were charged at One El Nido Suite. They refer to it as a 'rental' charge and I have never heard of anything more absurd in my life. The look on my face and tone of my voice left them in no uncertain terms how I felt, but even though they apologised profusely they refused to waive the charge. I was even more annoyed when our private tour actually supplied towels so we didn't actually need them. You will need to re-enter the 16 digit code for the free FiWi after 60 minutes of non activity which got old really quick. We were thrilled to find that our accommodation in Coron offered free airport transfers and booked ourselves in on the day before our departure. Our Cebgo flight from Coron to Manila was at 1.10pm and we were initially told our pick up would be at 12pm. I remember thinking this was very tight given the airport was a 30 minute drive away but I figured they do this daily so they know best. Minutes later the phone rang and it was moved to 11.30am. Then they rang again and moved it to 11am. At 8am the best morning we got another call saying our transfer was ready. In my half asleep state I though we must have overslept before I realised the time, told them there was a mistake and crawled back under the covers for a few extra minutes slumber. We checked out and were ready and waiting at the agreed time of 11am but we were sharing a ride and had to wait for two other guests who took their sweet time which of course is no fault of the hotel. We were finally on our way at 11.20am and made our flight in plenty of time.
Breakfasts in Hotels in Coron Palawan
One of the biggest disappointments about our accommodation in Coron was breakfast. There is no other way to say this so I am just going to be blunt. Breakfast was abysmal. We had breakfast in house on both days because it was included in our booking and it seemed a shame to waste it. The first day they asked us for breakfast vouchers on entry which we did not possess. We headed back to reception who seemed to have no idea what we were talking about and told us just to walk in so we did. The hot dishes on both days were not to my taste. Dried fish, steamed cabbage and 5 kinds of rice anyone? On the first day the only thing I could eat was toast and fruit. The white bread was super sweet but it was better than dried fish. On day 2 I resigned myself to the same fate but they thwarted me because there was no butter. Are you kidding me? There is simply no excuse for running out of something so basic in my book. Why someone could not simply duck across the road to the mini mart and get some is beyond me. Luckily there were two cereals that were not there on day 1 so cornflakes it was. Despite the no butter situation, I grabbed a soft roll. It was so dry I resorted to dipping it in the left over milk from my cereal. The egg station which was in operation on day 1 was not manned on day 2. The Hubs has to have his eggs and was about to panic when he spotted some scrambled in the warmer to go with his dry toast. Food in Coron is not all bad though, we had an amazing Pizza at Trattoria Altrove which is just a short walk away.
The Final Word – Accommodation In Coron For Next Time …
Finding places to stay in Coron is tricky so despite the issues at the Sunlight Guest Hotel I wouldn't rule out a future stay. If I did stay again I would look for a deal sans breakfast given whatever cost was built into the nightly rate was not worth it for a piece of toast and a bowl of cereal. I would definitely check the prices again at Two Seasons Coron Bayside Hotel next door which looked lovely but I still wouldn't pay double. At the end of the day the pros outweighed the cons but the Sunlight Guest Hotel has some definite kinks to work out.
Have you been to Palawan? Do you have a favourite place to stay in Coron? I would love to hear about it in the comments below.
Until Next Time …

Pin "Places To Stay In Coron"

for later!
Disclaimer: This post is not sponsored. I paid for my accommodation in Coron in full and as always, all opinions are my own. This post contains affiliate links which will earn me a few cents to contribute to the running of this site if you make a qualifying purchase at no extra cost to you.