Yard House Waikiki is very popular with both locals and visitors alike. We had walked past many times before we chose to dine, largely because we were a bit put off by the queues, however we lucked out when we popped in for a late lunch and were able to score a table without delay. If you are looking for casual dining with an extensive menu in Waikiki Beachwalk, the Yard House could be for you. Read on for all the details …
Yard House Waikiki Overview
Yard House is part of a chain of restaurants that operate across the US. The location was perfect for us as it was just around the corner from the Sheraton Waikiki where we stayed. When the craft beer revolution began nearly 20 years ago, Yard House pioneered the way. Their beer menu is massive and it took The Hubs quite a while to decide on his Modela Especial (Mexico) from the 'Light & Easy Menu'. The food menu is largely American fare with a global influence. The already large selection is supplemented by daily blackboard specials. Yard House has one of Waikiki's best happy hours which runs Mon-Fri 2pm – 5.30pm and Sunday – Wednesday 10.30pm – Close. It's a great time to visit with specials on both food and drinks. Our late lunch timed perfectly with this. If you like a bargain as much as I do, check out my post on 15 of Waikiki's best cheap eats.
The Food
We started out with the Onion Ring Tower (pictured above) which was huge. I've eaten a lot of onion rings in my life and these were just OK. I was not a massive fan of the batter and given it is such a fundamental part of the dish it's hard to forgive that. We probably ate about half the stack before cutting our losses and waiting for the mains. I was still trying to be somewhat healthy (who am  kidding!) so I went for the Chicken Lettuce Wraps. The presentation was instantly appealing and the lettuce was super fresh and crunchy. I was disappointed with the flavour in the chicken mix. I can't quite put my finger on what it was but it was not entirely pleasant.
The Hubs decided on the Spicy Thai Chicken Pizza and as soon as it arrived at the table he realised he has forgotten to order it without cilantro (coriander): his most hated herb. He made the best of it and picked it off where he could but it had infused through the cheese and other ingredients. Lesson learned! I had a sneaky slice (as you do!) and while not 100% to my personal liking, I could tell the ingredients were fresh, the chicken was tender and I enjoyed the addition of the pine nuts.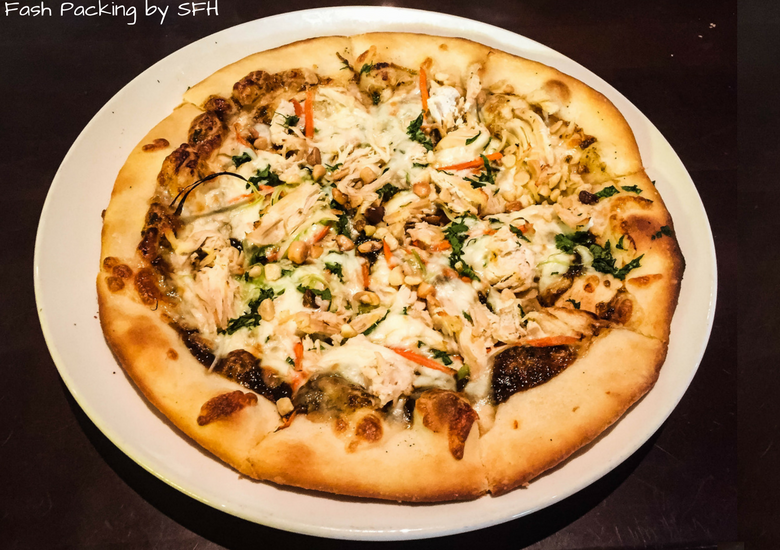 Final Thoughts
We were a bit underwhelmed with the Yard House Waikiki but I think that had more to do with the choices we made more than anything. I certainly wouldn't write it off and would just pay a little closer attention to the menu before ordering next time. The drinks however delighted, so I would be more than happy just to visit for a few.
Essential Details
Location: 226 Lewers St Honolulu HI 96815 USA
Opening Hours: Daily 11am – 1am
Average Cost: Main start at around USD$17
Contact Details: Phone +1 (808) 923 9273 or visit the website.
If you liked this you should check out my other restaurant reviews. Will you try the Yard House Waikiki when next in town?
Until Next Time …

Disclaimer: This post is not sponsored. I paid for my meal at the Yard House Waikiki in full and as always, all opinions are my own. This post contains affiliate links for which a small commission may be paid.
Like it? Pin it
Save
Save