Beach chic is one of my favourite looks and I love spending time by the ocean. February is officially the last month of summer and I'm already dreading the mercury dropping. Summer in Sydney (and many parts of Australia) generally means soaring temperatures, high humidity and violent thunderstorms, sometimes all in the same day!  I was recently chatting (well emailing, but you know what I mean!) with my blogging buddy Adriele from Style Assisted and we got to talking about how different our weather is at this time of year. Adriele lives in Kansas, where temps often dip below freezing in February and the extreme differences in our climates seemed like the perfect opportunity to showcase both winter and summer styling all in one post.  Read on for all the details …
Before we jump headfirst into this, I wanted to acknowledge some changes on the blog this week. I have recently moved from Blogger to WordPress, which has not been without it's trials and tribulations to say the least. While I have successfully moved the blog, there are LOTS of formatting issues that I am still working through. I hope to have all the bugs ironed out in the not too distant future so please bear with me during this transition period. Right that said let do this! My photos this week were taken on the beach (duh!) in Surfers Paradise on the beautiful Queensland Gold Coast. Australia is a huge country (7.692 square kilomteres to be exact!) with a small population (23m) and four out of every five Aussies live within 50 kilometres of the coast so that leaves a whole lot of sparsely populated red earth in the middle! Given our temperate climate it shouldn't come as any surprise that many summer days are spent lazing on any of the sensational beaches along our 25,760 kilometres of coastline, so using one of our most famous beaches as a backdrop seemed like to prefect contrast to Adriele's snowy landscape. Aussie style when we are off duty is fairly casual, so I'm keeping it simple with a flowing maxi skirt that I recently purchased, paired with an old favourite. Beach chic is all about not trying too hard and I could just as easily have gone barefoot but I decided to really dress up and add some sparkly sandals lol. It was really windy on the beach and the design of this skirt meant that it trailed fabulously behind me but I also wanted to show you how it looks when its not blowing a gale so I threw in a couple of shots while browsing luxury row on the way to dinner.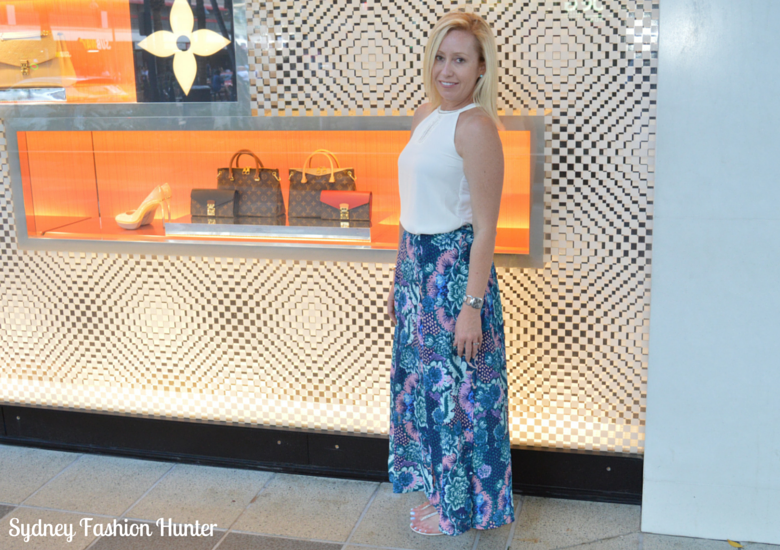 Skirt: Billabong Boheme Skirt Top: The Limited Embellished Halter Top Shoes: London Rebel Muso Soft Gold Sandal Bracelet: Tiffany T Square Bracelet Ring: Lovisa Ring

In contrast, Adriele and her little man couldn't be further away from beach chic if they tried! They are currently bundled up to the max to deal with the cold and they just look completely adorable! Adriele from Style Assisted is a personal stylist from Kansas, USA. Her blog came from a love of all things style and beauty while she worked in politics for a decade. Now she stays at home with her son Alexander and blogs about the best beauty products, outfit posts and makes the occasional YouTube video. Go say hi!
Love link ups? See my complete list of Fashion Blogger Link Ups here. Check out more from the Sydney Fashion Hunter archives.
One of the pitfalls of moving from Blogger to WordPress is that I have lost every single one of the comments on my blog. I can't tell you how much it pains me that all the effort that you have gone to in the past has been obliterated in one fell swoop. Your comments and interactions mean so much to me and I would love you all to leave me a bunch of comments today to try and make up for everything I have lost. 
Until Next Time …
Happy Hunting!
SFH xoxoxo
Disclaimer: This post contains affiliate links for which a small commission may be paid. Items marked C/O have been provided courtesy of retailer. All opinions are my own.
Save
Save