A massage in a fancy spa in Sydney can cost upwards of $200, which means it's usually a special treat for me. While it is possible to pay that in Bali's top spas, there is no need to as many of Bali's budget establishments deliver the real thing for a fraction of the cost. Spa menus are extensive and choosing is daunting so I made it my mission to hunt down the best budget Bali massage by trying the most popular varieties. If you don't know your Lomi Lomi from your four hand massage my guide is a great place to start. Read on for all the details …
Budget Bali Massage Guide
Getting a massage in Bali is essential, so much so that it makes my epic list of 110+ things to do in Bali. Tracking down a budget Bali massage is easy. Every second shop has a gaggle of women out the front half-heartedly chanting 'massage, massage' to passers-by, but quality varies greatly. I chose two spa's with comprehensive menus in my quest to uncover the best budget Bali massage. Neither of these are the cheapest in town, but they do offer a good balance between budget and quality. For the purpose of this exercise I set myself a maximum budget of AUD$20 and tested out some of the most popular massage variations on offer. My budget Bali massage guide gives you the low down so you can choose the one that is right for you. IF you are keen for a more upmarket experience, try these awesome Ubud spas.
Spa Overviews
Yes Spa – Yes Spa is located steps away from The Magani where I stayed so it was particularly convenient. First impressions were positive and I liked that there was no hard sell outside. Inside a large, clean and modern spa awaits with the first room containing the reception area, dedicated foot massage chairs and nail desks. The rear of the spa houses the massage area where 30 or so cubicles are ready and waiting to go. The generous sized beds impressed me as narrow beds where your arms hang uncomfortably off the edge are the norm in Bali. The fresh fragrant flowers in each booth was the perfect finishing touch.
Inner Glow – A smaller spa in a quieter part of Legian, Inner glow was my 'go to' spa on my last visit when I stayed at the nearby Ossotel. The ground floor houses the foot massage area and a handful of massage cubicles with about 10 more upstairs. Staff are friendly and like Yes Spa, there is no hard sell out the front. The menu contains all the usual suspects and a few treatments you might not expect, like ear candling.
Hot Stone Massage – Yes Spa
I popped into Yes Spa on impulse at 8.30pm with just enough time to fit in a 90 minute hot stone massage before the 10pm closing. My therapist asked my preferred pressure (medium please) before beginning a traditional massage. Two stones were used at a time but the swift movements ensured they didn't feel uncomfortably hot. When each stone cools slightly it is strategically placed on your body as the massage continues. Before you know it the 90 minutes is up and excess oil is removed with a warm towel. I wish they hadn't though as my dry skin laps this stuff up. I love a hot stone massage and Yes Spa delivered. IDR150,000 (AUD$15).
Verdict: Divine. One of my favourites.
Four Hand Massage – Yes Spa
I loved every minute of my very first four hand massage. The therapists were so in sync that it was hard to tell who was doing what as they pummeled, pushed and prodded my tight muscles into submission. My feet were given lots of love which was a pleasant surprise as they are often neglected. If I hadn't promised you that I would try a variety (all in the name of research of course!) I would have this massage every single day. The four hand massage provides particularly good value as you get double the massage for only a fraction more. IDR170,000 (AUD $17)
Verdict: The winner! You simply must try this.
Foot Massage – Inner Glow Legian
I'm trying this just for you guys as this would not normally be my pick. Before beginning the massage my therapist washes my feet in warm water with fresh limes. I get it. Wearing thongs all day on the streets of Bali makes for manky feet and no one want to massage those! The massage extends to the lower legs and the calf pummeling felt heavenly on weary legs. This would be perfect in pairs or a group but the free wi-fi took care of my 'Nigel no friends' self. Add polish or a full pedi to complete the experience. IDR80,000 (AUD $8)
Verdict: The cheapest massage on offer. Perfect for sharing with friends.
Honey Massage – Inner Glow
I have extremely dry skin and given honey boasts softening properties I thought I would treat my winter ravaged body. Thick sticky honey replaces traditional oil as the lubricant and feels decidedly different. The massage movements are fairly standard and I would compare it to the Lomi Lomi. My therapist provided a really nice face and head massage (sans the honey) to finish up. A shower before you leave takes care of the excess product. If I'm honest, my skin didn't feel any different and it's not one I would repeat. IDR175,000 (AUD $17.50)
Verdict: The massage was good but the honey didn't enhance it.
Herbal Massage – Yes Spa
After sleeping funny and waking up with a sore neck and back I sought out a massage that would alleviate my pain. The herbal massage promised gentle movements with heated herbal compresses to ease aches which was right up my alley. My therapist performed a full traditional massage before introducing the deliciously scented heated herbal compresses. Most movements are flat palm but the knuckles do occasionally make an appearance. Your limbs are stretched, bent and moved around which I quite liked. The still warm compresses are placed under your shoulders at the conclusion of the massage and the sensation of your full body weight bearing down on the compresses is supremely relaxing, so much so that I almost fell asleep. IDR150,000 (AUD $15)
Verdict: The gentle strokes and heat are perfect for easing aches and pains.
Lomi Lomi Massage – Inner Glow Legian
Originating from Hawaii, the Lomi Lomi technique involves kneading, rubbing and a lot of elbows so brace yourself. The pressure is firm but can be softened on request and a choice of fragrant oils are available.  There is no fluffing around here and you know you have had a massage when you walk out the door. IDR95,00 (AUD $9.50).
Verdict: One to try but not my favourite.
Aromatherapy Massage – Yes Spa
An aromatherapy massage combines scented oils with a traditional massage and is very popular in Bali. Scent is incredibly powerful so choose yours carefully to set the scene. The frangipani I chose was subtle and the sensation of warm oil on the skin feels delicious. If I had tried the aromatherapy massage before the hot stone and four hand I would have appreciated it more, but after those there was no going back. IDR100,000 (AUD$10)
Verdict: Great value simple massage.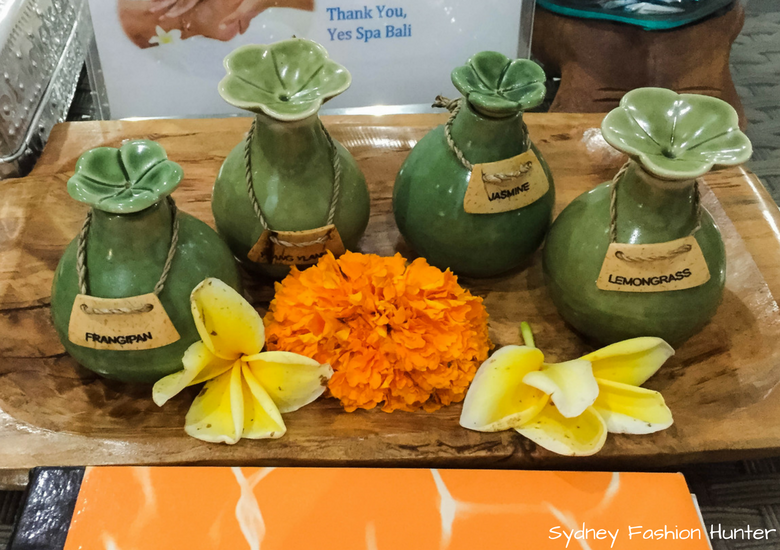 If you are a Bali first timer you really should check out my secrets to booking a cheap flight and my Bali basics post which has all the essential information you need to consider when planning a trip. Which budget Bali massage will you choose?
Until Next Time …

Disclaimer: This post is NOT SPONSORED and I paid for all massages in full. As always, all opinions are my own.
Like it? Pin it!
Save