Eating and drinking is one of my favourite parts of travelling, but I was left rather underwhelmed by the Boracay food scene when I first started to research Boracay restaurants. Michelin stars are non-existent and countless reviews speak of less than stellar experiences. With our tickets already booked, backing out was not an option so I made it my mission to seek out the very best restaurants in Boracay before we left Oz. Cha Cha's Boracay ranked favourably in many where to eat in Boracay lists and the high praise was enough to convince us to give it a try. One bite and we were hooked …
;
Where To Eat In Boracay
According to Trip Advisor there are 273 Boracay Restaurants. We rarely look past the top 20 and Cha Cha's Beach Cafe is rated #2, which confirms it is one of the best restaurants in Boracay. Cha Cha's is located in the lobby of Coast Boracay where we stayed. It rained a lot during our visit and the fact we didn't have to travel far was a major bonus. For those staying elsewhere, Cha Cha's Boracay is located smack bang in the middle of station 2 and commands a superb position on the pristine sands of White Beach. This enviable position combined with a varied menu and an onsite bar made the decision on where to eat in Boracay simple.
Cha Cha's Beach Cafe: A Standout Among Boracay Restaurants
I am a big advocate of eating local when I travel and while I generally love Asian food, Filipino cuisine did not have the same appeal. The local fare and Boracay food scene is dominated by pork which meant most dishes were off the menu for me. Thankfully Cha Cha's diverse menu had lots of other dishes to suit. Over the course of a few visits The Hubs and I sampled the very best Cha Cha's Boracay had to offer. The Cheeseburger in Paradise and All Over Pepperoni stone fired pizza were delicious and it was super tempting to keep ordering our fav's but we resisted. The Hubs made a valiant effort tucking into his sky high pile of Marinara Linguini but it got the better of him! My picks of the starters are the fried calamari and the chicken satay. The Nasi Lamak was lack lustre and would have benefited from a spice hit. When lighter fare is in order, try the deliciously fresh Greek Watermelon salad. It sounds a quirky, but it works. Make sure you save room for dessert because the warm cookie dough is out of this world. This decadent dish of warm chocolate chip cookie dough served in a skillet and topped with cream and ice cream is the stuff of your dessert dreams. It's super rich so order one to share.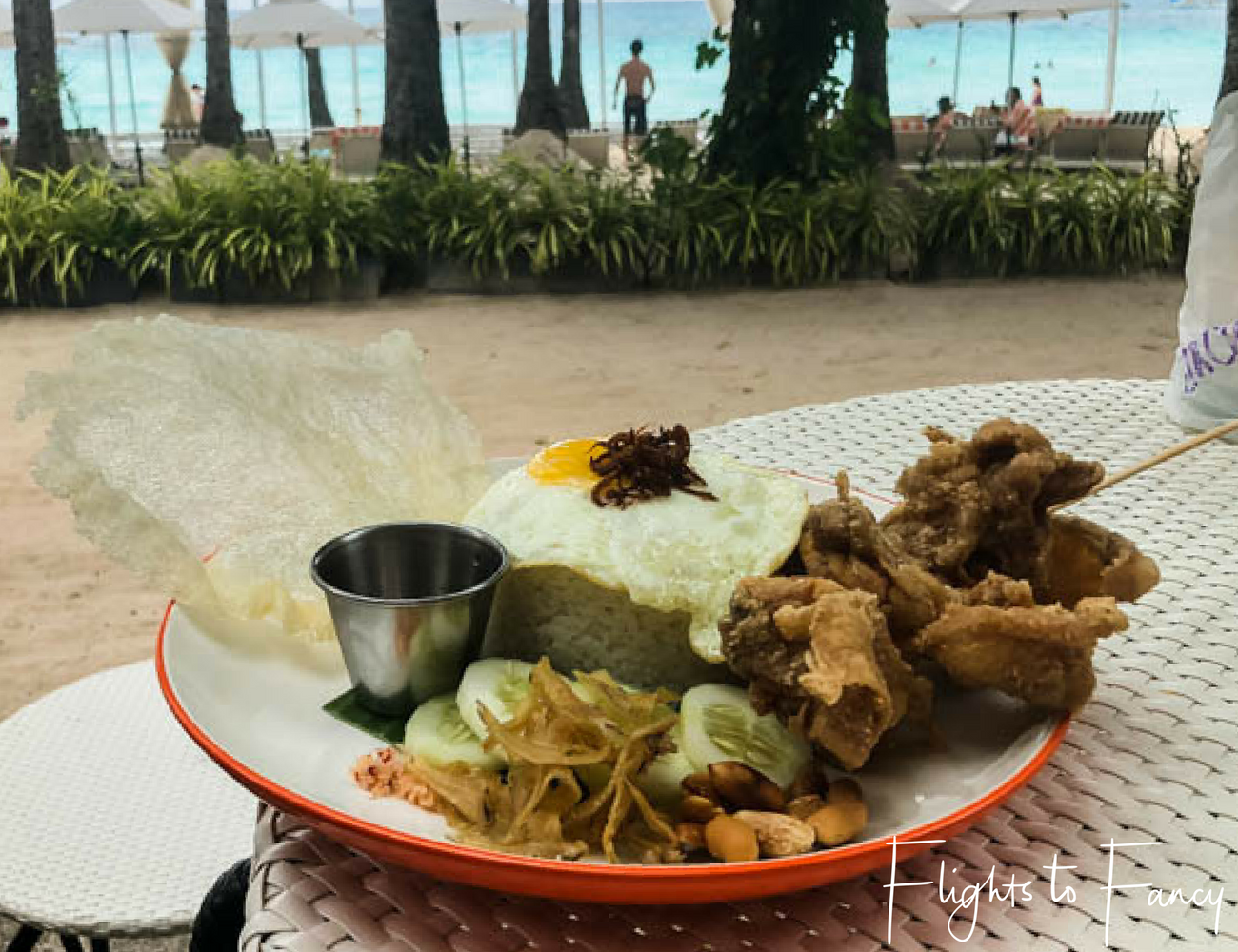 Shaking Up The Boracay Food Scene
Cha Cha's Beach Cafe is not only about the food. White Beach has a party reputation so most Boracay restaurants have an extensive drinks menu and Cha Cha's does not disappoint. Over our multiple visits I worked my way through the long cocktail list at Cha Cha's Boracay and my favourites were the Maui Mai Tai and Calamansi A Go-Go. The Hubs is much less adventurous and stuck to his San Mig's. Icy cold of course! Non alcoholic shakes and smoothies are offered and are equally delicious. Once you catch a glimpse of a magnificent sunset over the water you will be in no doubt that Cha Cha's is one of the best restaurants in Boracay.
Breakfast At Cha Cha's Boracay
I'm not a massive breakfast eater but once I spied the buffet at Cha Cha's Beach Cafe I had to try it. I'm a bit nosy and I can't help checking out other people's plates when I walk past their tables. As I walked into the airy dining room I noticed a fellow diner had a 'good morning Sarah' pancake on her plate. I thought it was super cool and was a little envious until my very own personalised pancake arrived. With sprinkles! The rest of the buffet was just as special and endless bain maries held delicious Asian and western fare. The Hubs was thrilled with the breakfast pizza and I loved the gourmet breads. Try the Pumpkin! For those looking to eat light, fresh salads will hit the spot and the miniature Croque Monsieurs were way too cute to resist.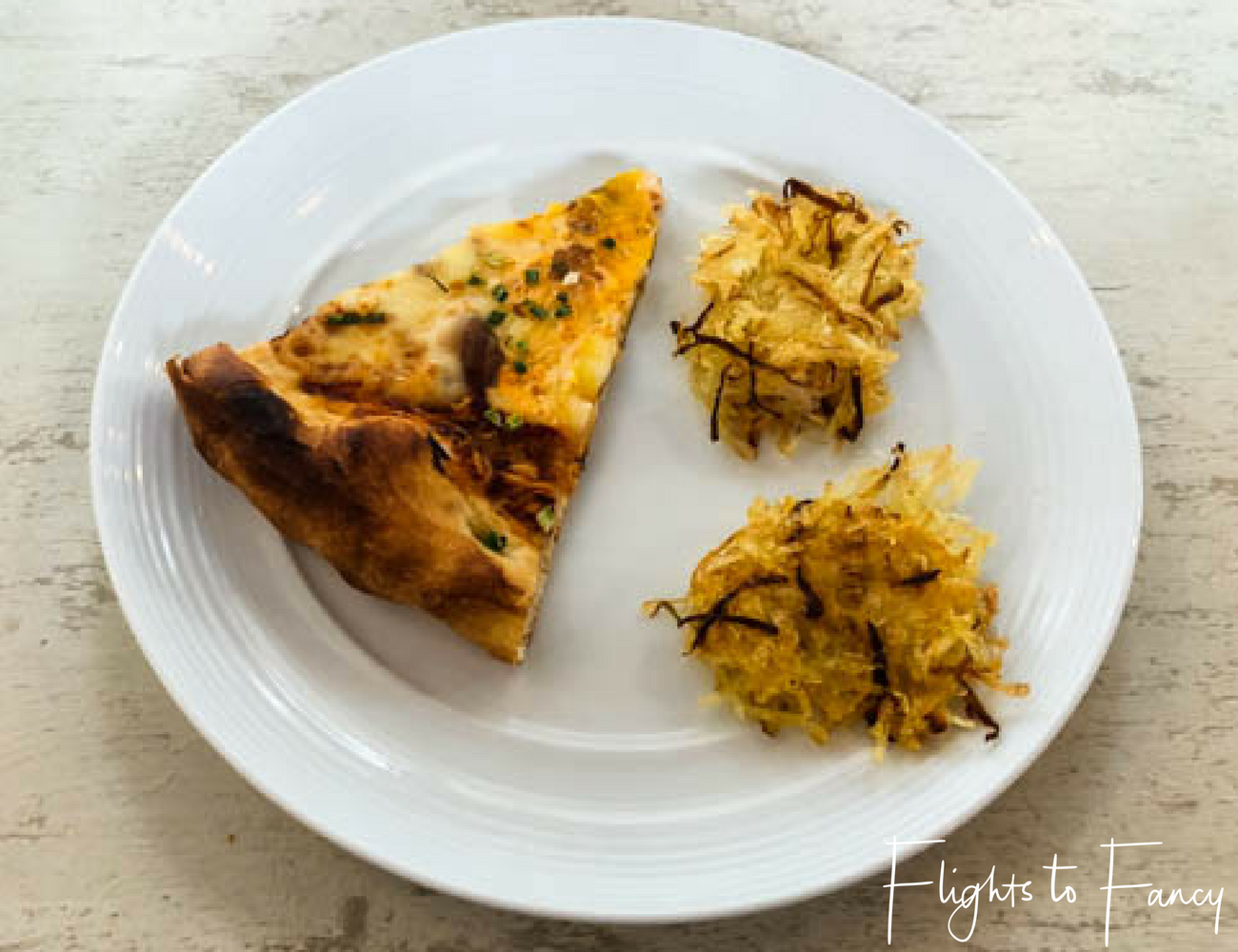 Five Star Service At Cha Cha's Boracay
While the test of a good restaurant is of course the food, service is a close second. The Philippines is famed for it's hospitality and Cha Cha's Beach Cafe could have written the book. The staff were amazing. Each server went out of their way to have a chat with the guests and make sure their needs were satisfied. While everyone was brilliant, it would be remiss of me not to call out Carmella, Bimbo, Romel and Chummy who went above and beyond. You guys rock! The easiest way to get to Boracay is to fly and we chose Skyjet for our flights from Manila to Caticlan. Before you book make sure you check out all my tips for scoring a bargain flight. First time visitors should look out for my guide on everything you need to know before visiting the Philippines which is coming soon.
Let me know what you would order at Cha Cha's Beach Cafe in the comments below 🙂
Until Next Time …

Like it? Pin it!
Disclaimer: Flights to Fancy dined as guests of Cha Cha's Boracay. As always, all opinions are my own. This post may contain affiliate links which will earn me a few cents to contribute to the running of this site if you make a qualifying purchase at no extra cost to you.