My China Airlines review will reveal exactly what it's like to fly economy class from Sydney to Taipei on flight CI52. It's worth noting that despite the name, China Airlines does not actually originate from mainland China, but rather from the little island of Taiwan. I wasn't expecting much from my China Airlines economy flight given the tiny amount I paid for my ticket, but I was pleasantly surprised at every turn and you just might be as well …
Booking With China Airlines
I booked my return flight from Sydney to Taipei online. I haven't used a travel agent for years and I find the best way to find a cheap flight is to do it yourself. The China Airlines website is easy to use and has a number of language options including English, Dutch, German and Italian. My China Airlines review focuses on their economy class offering and there are three classes of fares in China Airlines economy class; basic, standard and flex. I booked the basic fare as it suited my needs and was the cheapest of the three at just AUD$874.50 return. As you would expect with a basic fare there are a lot of restrictions if you don't show (AUD$100), need to cancel (AUD$250) or require a change (AUD$150). Frequent fliers will only earn 50% of the miles allocated for a flexible economy ticket and members of a number of programs can earn points with China Airlines. If you book during your birthday month you can enjoy 5% off in economy class. I used a friend's credit card to book my flights (long story) and was alarmed when I received my e-ticket to note the below clause stating the credit card holder must travel. I broke into a cold sweat as there was no way my friend could travel with me. I looked into the terms and conditions a little further and found that I should be OK given I had not received and email titled 'China Airlines Notice for Credit Card Payment'. There are also options for those that did receive the email and still need to travel without the card holder. I admit I was nervous right up until the point I had the boarding pass in my hands. I have booked hundreds of flights over the years and I can honestly say I have never considered the importance of which card I use to make payment, but after looking into this I found many airlines have similar conditions. You can bet your ass I will pay much more attention to this in future. The only thing better than a cheap flight is a free flight and Qantas Frequent Flyers can book a one way seat to Taipei on China Airlines flight CI52 for 30,200 points for economy, 59,000 points for premium economy and 75,000 for business class plus ~AUD$115 in taxes of course. I reserve my Qantas Frequent Flyer points to splurge at the pointy end of the plane and my first class suite on Emirates A380 booked using points was all sorts of amazing.
If your electronic ticket was issued through internet or telephone directly, you must travel with the credit card holder who purchased the ticket. Please kindly present the credit card for verification at check-in counter upon departure. Failing to present the credit card, or traveling alone without card holder, or discrepancy of the name and credit card number with the ticket, you will be requested to purchase a full-fare ticket at the airport counter for your journey.
China Airlines Economy Class Baggage Allowances
My bargain economy class ticket on China Airlines came with 30 kilograms of checked baggage. Passengers are also allowed 1 piece of cabin baggage weighing a maximum of 7 kilograms. This rather generous baggage allowance would normally have been more than enough for my needs, but this trip I was meeting 10 other ladies in Taipei and bringing some very special gifts with me for them. I looked into the cost of purchasing an extra 20 kilograms of checked baggage and it was nearly AUD$600. Yes seriously, the cost of the additional luggage would have been almost as much as my fare! I half thought about buying an extra ticket for a friend who could haul the gifts for me, but I quickly scrapped that idea and chose to post my gifts to the arTree Hotel Taipei where we were staying. It cost me under AUD$200 to post a 20kg box with Australia Post which was much more palatable. And it also meant I didn't have to lug the gifts around. I was a little bit nervous that my precious cargo wouldn't arrive in time or in one piece, but The Hubs taped the box to within an inch of it's life and it all worked out just fine. I was right on my luggage allowance on the return trip after I made quite a few custom made purchases in Bebe Tailor and Friendly Shoes in Hoi An. A girls gotta do what a girls gotta do!
China Airlines Economy Class Check In At SYD
The Hubs happened to be off work on the day of my departure so for the first time in a long time I was able to score a lift to Sydney International Airport. We made good time on the M5 and I arrived just as check in was opening for flight CI52. Checking in with China Airlines was brilliant. Unlike my experience with Vietnam Airlines and Cebu Pacific, there was not a single person in the queue in front of me. Not one! I did a little happy dance and walked straight up to the agent. I've taken hundred of flights over the years and this was without a doubt the best check in I have ever experienced. I had looked at the seat map online earlier and I noticed that the seat beside me was empty. I asked the agent if the flight was full and if the seat was still empty. She advised the flight was about ¾ full and the seat was indeed still empty. Check in was open for another two hours so I crossed my fingers and hoped for the best. I breezed through customs and x-ray with equal efficiency which is a minor miracle in itself. My first stop was to head to the duty free store and purchase a very special bottle of Dom Perignon vintage Champagne which I intended to share with my travel companions on our Orchid Cruise in Halong Bay Vietnam. I still had some time to kill and rather than cool my heels at the gate I chose to hit the bar instead where I enjoyed a couple of glasses of wine. I was at my gate nice and early and boarding went smoothy. China Airlines flight CI52 took off right on time at 10.10pm which was a nice surprise given OAG gives China Airlines a pretty poor rating for on time performance (2 star 68.9%).
China Airlines Economy Class Cabin
China Airlines operates an A350-900 on the Sydney to Taipei route. The cabin houses 32 business class seats, 31 premium economy seats and 243 economy class seats. The economy class cabin is arranged in a 3x3x3 configuration and I was seated way down the back in 70A. I picked this seat deliberately on the premise that no one really wants to sit at the back of the plane and I would have better odds of a vacant seat next to me. The gamble payed off. On boarding I noticed the cabin had a distinctly Asian inspired decor. The embroidered cloth seats came in multiple colours and each removable headrest features China Air's signature cherry blossom. A pillow and a blanket is provided to each economy class passenger. My seat was 18 inches wide and had a seat pitch of 32 inches. The legroom was fairly standard and the under seat and overhead storage was more than adequate. There was a young English guy making his way back home with a transit in Taipei seated in 70C. We chatted for the first couple of hours about this and that and he generously allowed me to completely mooch into the empty seat between us. Given it was a night flight the lights were dimmed for much of our flight. Try as I might, I was unable to locate a USB port to charge my phone in the darkness. When the lights came on just before landing I did notice there was an international power point of at the bottom of the seat strut near the floor and I finally found the USB which was right next to the headphone jacks. It really would have been handy to notice a little earlier in the flight.
China Airlines Economy Class Meals
The first meal was about an hour after take off at about 11pm Sydney time. There was a choice of two meals, but despite asking the flight attendant to repeat herself several times I still couldn't quite make out what she was saying so I opted for the chicken and rice which I could understand. Drinks are complimentary in China Airlines Economy Class and I chose a white wine with my meal. The meal wasn't bad at all for airline food and I was delighted to find a Tim Tam on my tray for dessert which I slipped it in my bag to save for later. The crew were uber efficient and when they came through to collect the trays I hadn't finished my meal which meant I was stuck with the remnants for a few hours until I could grab someones attention. Luckily we had the empty seat in between us and I moved my tray to the middle for more room. Breakfast was served at 5am Sydney time, about two and a half hours before landing in Taipei. I wasn't really hungry, but I chose the cheese and ham frittata more out of boredom than anything. I had a little bit of the hash brown (awful and soggy), half my bread roll (little bit dry) and all my fruit (delicious). I didn't touch the yoghurt, sausage or the frittata.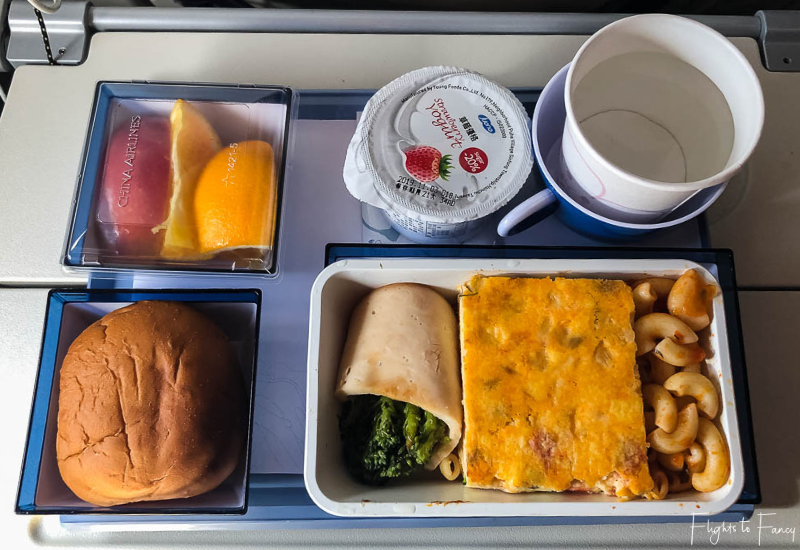 China Airlines Economy Class Entertainment
Each China Airlines economy class seat comes equipped with an in back screen. It took me a minute or two to figure out how to configure the language to English, but once I got that sorted I was all set. I always seem to end up watching Bridget Jone in flight and this trip I caught the latest episode in the series, Bridget Jones' Baby before watching Hidden Figures for the umpteenth time. I just love that movie, what can I say. There is a flight map to track your progress North and a limited selection of audio. WiFi is available for a fee, but it was a little rich for my blood.
Inflight On China Airlines Flight CI52
Not long after take off the crew distributed the Taiwan arrival documentation and the in seat screens flicked to a mandatory explanation on how to complete them. After tiring of the inflight entertainment, I grabbed my blanket and pillow and stretched out across two seats given my row buddy seemed to have no interest in the extra space and tried to sleep. Slumber evaded me for two reasons; I desperately needed to use the bathroom, but didn't want to disturb my sleeping row mate and this was quite possibility the most turbulent flight I have ever taken. Every time I was close to drifting off the plane would shudder and shake me awake. The crew were attentive without being obtrusive and you got the impression nothing was too much trouble.
Arrival At Taipei International Airport
When CI52 touched down at Taipei International Airport it was 4.40am local time. While this is not ideal for many reasons, the bonus is that it is a really quiet time. Eerily quiet in fact. I was done with customs, immigration and baggage in under 30 minutes. Once in the arrivals hall I collected the Taiwan SIM card that I booked through Klook, grabbed some cash from the ATM, found my private driver and was on the road by 6am. While I travelled solo from Sydney to Taipei the next ten of my friends flew in from Chicago and we spent 4 amazing days in Taipei before heading off to Bangkok, Hoi An, Hanoi and Halong Bay.
Flying Home On C151 from Taipei to Sydney
I started my journey home from Hanoi. We flew from Hanoi to Taipei on Taiwan's other airline EVA Air. The rest of my group flew from Taipei to Chicago on EVA Air. Luckily for them they were issued boarding passes for both in Hanoi and their baggage was checked straight through meaning they didn't have to clear in Taipei and could remain in transit. I wasn't so fortunate and unlike my first arrival in Taipei two weeks earlier, the lines were horrific in the late afternoon. It took me about 90 minutes in total to make it out into the arrival hall. I still had over three hours before check in would open for my Sydney flight and I didn't fancy wheeling my luggage around all night so my first stop was at the baggage storage kiosk at the far end of the departures hall. It cost me less than AUD$5 and was well worth it. I tried and failed to get the free wi-fi working in the airport and decided to bite the bullet and buy another SIM card so I could at least surf the net while I waited. I checked in as soon as the counter opened and headed airside so I could relax in the much more comfortable Plaza Premium Lounge. If you don't have lounge access spend some time browsing the high end shops, grab a bite to eat, freshen up in the free showers or have a bevvy at the bar. China Airlines flight CI51 departed from gate A7 and it was about a 20 minute walk from customs, so don't loose track of time. I picked the same seat (70A) for the return journey, but sadly my row of three was full this time. Just like my trip to Taipei, dinner was served just after take off and breakfast was served before landing. The flight home was smooth and uneventful and we were wheels down in Sydney right on time.
China Airlines Economy Class Review: The Final Word
I was pleasantly surprised by my flight on China Airlines. For the price I paid, I was expecting a budget airline and a similar experience to what I am used to on Jetstar International, but this flight had all the bells and whistles. Both my flights were on time and exactly what I would expect of economy class on a full service airline. I would have no hesitation booking another flight on China Airlines.
Have you flown with China Airlines? I'd love to hear about your experience in the comments below …
Until Next Time …

Pin "China Airlines Review"

for later
Disclosure Statement: This China Airlines review is not sponsored and I paid for my flight on in full. The information in this article is based on my own personal experiences and has not been influenced in any way by the brand(s) featured. This post may contain affiliate links which if clicked may earn me a small commission on purchases at no extra cost to you.