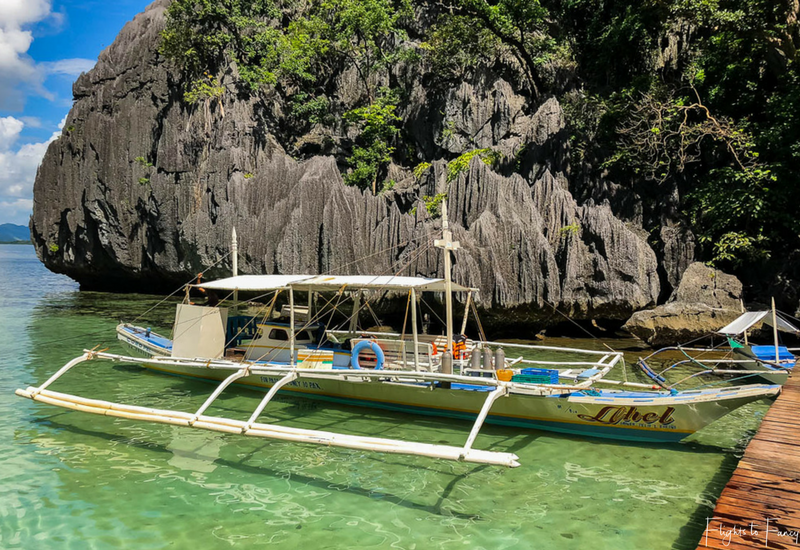 A Coron Island hopping tour is 'THE' thing to do in Palawan in the Philippines. After doing lots of research on tours in Palawan, we knew we wanted to visit Barracuda Lake Coron, Kayangan Lake Coron, Twin Peaks Coron and Twin Lagoon Coron but we couldn't find any half day Coron boat tours that covered them all. We didn't want to compromise and book a full day tour which included a raft of other attractions. The solution? Design our very own bespoke private island hopping Coron boat tour! Read on for all the details …
Coron Island Hopping Overview
Palawan is often described as the Philippines' last frontier. Less developed than the other provinces, it retains a rustic feel and is not yet completely over run by mass tourism. It won't stay that way forever and now is the perfect time to visit Palawan. Palawan has more than 1,780 islands and Coron Island is considered one of the most beautiful. Coron Town and Coron Island are not to be confused. Coron Town is on the island of Busuanga which is where most people stay. Busuanga is Coron's transport hub and it's where our ferry from El Nido arrived and our Cebgo flight to Manila departed. You can get a lot done in a day on Coron Island as the attractions are all relatively close together. The most visited locations are Pass Island, Kayangan Lake, Barracuda Lake, Twin Peaks Coral Garden, Twin Lagoon, Siete Pecados, CYC Beach, Skeleton Wreck, Taraw Beach, Atwayan Beach, Smith Beach Coron and Reef Garden. Coron Island hopping tour prices seem pretty consistent at all the agency and most frequently come in the following combinations:-
Coron Island Hopping Ultimate Tour – PHP1,800pp (AUD$45) – The Coron ultimate island tour includes Kayangan Lake, Barracuda Lake, Twin Lagoon, Siete Pecados, Skeleton Wreck, Twin Peaks Coral Garden, Smith Beach. 8 hours.
Coron Island Hopping Super Ultimate Tour – PHP1,600pp (AUD$40) – Kayangan Lake, Twin Lagoon, Siete Pecados, Skeleton Wreck, CYC Beach, Twin Peaks Coral Garden, Taraw Beach. 8 hours
Coron Island Hopping Tour A – PHP900pp (AUD$22) – Kayangan Lake, Siete Pecados, Twin Lagoon, CYC Beach, Taraw Beach, Twin Peaks Coral Garden. 8 hours.
Coron Island Hopping Tour B – PHP1,200pp (AUD$30) – Barracuda Lake, Twin Lagoon, Atwayan Beach, Skeleton Wreck, Reef Garden. 8 hours.
All tours include lunch and for a little extra you can hire a mask and snorkel (PHP150pp), fins (PHP150pp), aquashoes (PHP150pp), and towels (PHP50pp). Coron Town is also the gateway to nearby Malcapuya Island, Waling Waling Island, Banana Island, Bulog Island, Pass Island and Pamalican Island if you want to explore a little further afield.
READ MORE ON CORON:
15 Luxury Hotels in the Philippines
The best cocktails in Coron are at Buzz Express (Coming Soon!)
Booking Your Coron Island Hopping Tour
While we enjoyed the camaraderie of our El Nido Tour A group trip, we craved a more bespoke experience for our Coron Island hopping tour. We planned to spend our first afternoon in town hunting down the best Coron island hopping tour, however life never quite goes to plan and instead we ended up in our room at the Sunlight Guest Hotel booking a group trip to Bali for 15 of our friends. We have travelled on Jetstar many times and the flash 'fly free return' sale was too good to miss. Everyone else clearly thought so as well because the website kept crashing and seats were selling faster than hotcakes. By the time our flights were finally booked and we made it into Coron Town most of the travel agencies had closed for the night. We had all but given up hope when we noticed Coron Island Tour was still open. George was just about to close the doors when we slipped inside. While they had a variety of tours in Coron Palawan on offer, we wanted a half day group tour that hit all the highlights and when we couldn't find one to appeal we decided to create our own Coron island hopping itinerary on a private boat. Sure it was a little more expensive, but I happily paid the premium to get exactly what I wanted. Considering it was 8.30pm and we wanted an 8am pick up the next morning, I was grateful they could accommodate us at such short notice. George was very knowledgeable and helped us create an individual itinerary that suited our needs perfectly. We paid PHP5,700 (AUD$140) in total for our trip and left safe in the knowledge that our dreams of Coron Island hopping were intact. After a quick dinner at Trattoria Altrove, we turned in early in anticipation of the adventures ahead.
Our Private Tour Coron Island Hopping
We had atrocious weather for most of our trip to the Philippines are we were absolutely thrilled to see blue skies when we woke up on the day of our Coron tour. Admittedly there was still the odd ominous looking cloud, but you have to take what you can get. We were collected just before 8am as promised. John was ready and waiting at reception and we were on our way in no time. When we jumped in the back of the tricycle John introduced us to his girlfriend Ky who would be joining us for the day. On the way to the boat we stopped briefly in town to get our hire fins. We brought our own masks and snorkels but our fins are bulky so we decided to leave those at home and save previous luggage space. A few more minutes in the tricycle and we saw our Bangka boat for the very first time. Boarding was a little tricky down a steep concrete wall and I was surprised how spacious our vessel was. It could have easily accommodated 20 people and I felt privileged to have exclusive use. John quickly introduced us to our crew of three and made us don our life jackets before the motor rumbled to life. As we chugged away from Coron Town we went over the itinerary we had created and John assured us we had certainly chosen Coron Island's most spectacular locations. We were pumped!
Stop 1 – Twin Peaks Coron
We arrived at our first stop 15 minutes later and because we had left earlier than the group tours we were the only boat at Twin Peaks Coron. From above the waves Twin Peaks Coron doesn't look like much but once you get below the surface an underwater wonderland awaits. Known as the 'coral garden' you really need to get wet to experience the area fully. The Hubs and I are strong swimmers but John insisted we keep our life jackets on because 'it's the rules'. Mine was too large and wouldn't stay in place which was a challenge. John jumped in with us and we diligently followed him as he showed us the best areas on the reef. The crystal clear water was the perfect temperature and we saw plenty of fish and coral. The area is known for sea turtles but we were unlucky not to see any. After about 30 minutes exploring we were back on board and ready to go but our boat wasn't. Try as the crew might, the engine refused to start. Ever inventive, John asked one of the nearby Bangka's to give us a tow to our next location while he organised a replacement.
Stop 2 – Barracuda Lake Coron
There was already a couple of boats at Barracuda Lake Coron when we arrived. Our boat was large and the water was shallow so we couldn't get all the way to the jetty even though there was plenty of room. We pulled up behind two other boats already docked and simply walked across their decks to reach land. Barracuda Lake Coron is separated from Coron Passage by the tiniest piece of land and its a short walk from the boat. Barracuda Lake is 70% freshwater and 30% salt water and is renowned for it's incredibly clear water and thermoclines. The mix of salt and fresh water feeds into the lake at different temperatures which gives the lake its layers. This is best experienced by divers as some the the most dramatic temperature changes happen at a depth of about 14 metres but that doesn't mean swimmers can't enjoy the lake. We left the masks and snorkels on the boat as there is not a lot to see under the surface. We followed John and swam out beyond the barrier while marveling at the constantly shifting temperature. I must say, I was partial to the warmer currents. After being in salt water so often during our trip to the Philippines it was a refreshing change to be in (almost) fresh water. When we returned to Coron Passage our defective boat had been replaced with a new one (and new crew!) and the engine sprang to life on the first go.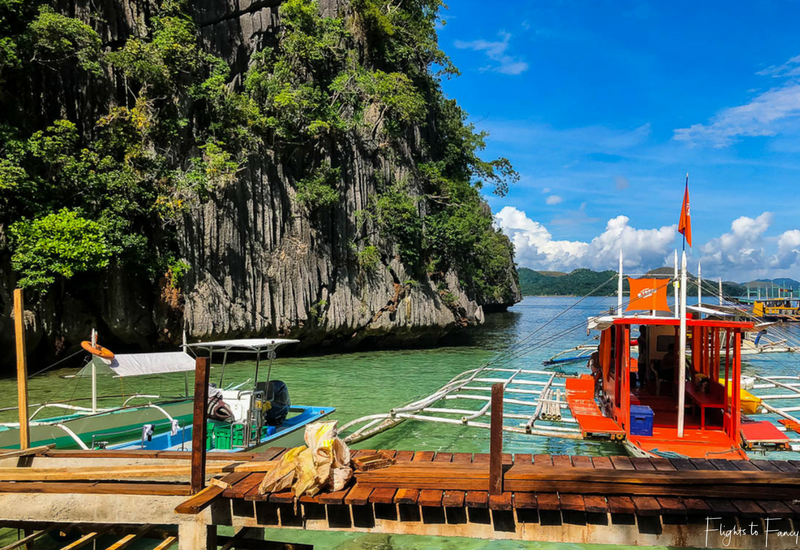 Stop 3 – Twin Lagoon Coron (Twin Lagoons Coron)
Exactly as the name suggests, Twin Lagoon Coron Palawan (often also called Twin Lagoons Coron) has two picture perfect lagoons side by side. All the other Coron boat tours seemed to converge on Twin Lagoon at once and it was really busy when we arrived. The captain anchored in the shallows of the first lagoon behind at least a dozen other boats. We jumped over the edge and walked/swam/walked/swam (depending on the depth) through dozens of people to get to the first lagoon proper. After struggling with my life jacket at the first two stops, I switched to a kids one en route which I found much easier to wrangle. Like the first two stops, the water was incredibly clear and a brackish mix of cool fresh water and warmer salt water. Both lagoons are accessible by boat from the Coron Passage and are separated by a narrow strip of limestone karst. Once in the water you can switch between the two by swimming through a hole in the karst (at low tide) or scrambling over a ladder (at high tide). Both lagoons offer the same dramatic scenery and welcoming waters. We visited at low tide and there was a throng of people gathering around to swim through. We had already lost some time due to our boat issues earlier and didn't have a lot of time to spare. After floating around for a bit we decided to give the second lagoon a miss and head back to the boat. While we were at the lake Ky prepared a delicious fruit platter which we enjoyed as we motored to our next stop.
Stop 4 – Kayangan Lake Coron
John saved the best for last on our Coron island hopping boat tour. Kayangan Lake Coron is truly spectacular. We left the crowds behind at Twin Lagoon Coron and there was only one other boat at the jetty when we arrived. The water is deeper here and we were able to pull straight up to the rickety wooden structure. Kayangan Lake Coron is over the hill from where the boats dock and stairs make the trek a little easier. Kayangan Lake Coron is the most photographed area in the region. It's where you get 'that' photo of Coron. Interestingly the view that has graced 1,000's of Instagram feeds is not actually of Kayangan Lake but rather it is Coron Passage viewed from the top of the hill on the walk to Kayangan Lake. It's breathtaking. Make sure you spend at least a few minutes taking it all in while catching your breath after the climb before moving on. Kayangan Lake Coron is touted as one of the cleanest lakes in Asia and it lives up to the hype. Around the edges you can see as clearly under the surface as you can above it. The inviting body of water is partially ringed by a wooden platform and we couldn't wait to take the plunge but John made us walk all the way to the end. The water temperature was perfect under the beaming midday sun and we had the area virtually to ourselves which was a bonus. John advised it can be chaos when the group tours descend so we were grateful for the tranquility. Once again we were required to keep our life jackets on at all times. In March 2017 two Czech tourists drowned and the Filipino authorities are cracking down on the safety rules. I was content to just bob around and enjoy the refreshing dip but The Hubs and John swam across to the cave on the far side. You have to duck under a rock to get inside which is not an easy feat with a life jacket on. Once inside it is pitch black and rather eerie so I'm told. I wish I had joined them after discovering what I missed. All too quickly our time at Kayangan Lake Coron came to an end and it was time to hit the stairs back to the boat.
The Final Word On Island Hopping Coron Boat Tours
We came so close to missing out on island hopping in Coron. I'm forever grateful that the planets aligned at just the right time to make it happen. While I'm sure the group Coron boat tours are fine, George, John and Ky made our private tour memorable and the only hiccup was our first boat breaking down. I'm very glad we paid the extra for a private tour that we could shape exactly to our needs. My manta is travelling in luxury for less but I always advocate there is a time to save and a time to splurge. Our private tour was not much more expensive than the group Coron boat tours and at AUD$70pp it was well worth the extra. If you are heading to Palawan and want to try Coron Palawan island hopping for yourself make sure you visit Coron Island Tour (National Highway Coron-Busuanga Rd Poblacion 4 Coron, Palawan Ph: 048 2441032)  to check out all the options.
Have you been on a Coron Palawan tour? I would love to hear about your experience in the comments below.
Until next time …

Pin "Coron Island Hopping"

for later!
Disclaimer: This post is not sponsored. I paid for my Coron Island Hopping Tour in full and as always, all opinions are my own. This post contains affiliate links which will earn me a few cents to contribute to the running of this site if you make a qualifying purchase at no extra cost to you.