Travellers to Palawan Philippines are invariably faced with the dilemma of whether to visit El Nido or Coron. Both islands are stunning so the struggle to chose is real. We deliberated over the Coron vs El Nido debate for ages before deciding to do both. There are no direct flights between El Nido and Coron so the next step was to find the best El Nido Coron ferry. After evaluating all the options, we chose the Montenegro Lines fast ferry. Our El Nido to Coron ferry departed very early from the main El Nido port. So early that I really wish I had planned better and switched our itinerary to take the Coron to El Nido ferry instead. Regardless of the direction you choose to travel, there are some things to consider before booking your ticket on Montenegro Lines. Read on for all the details …
Which El Nido Coron Ferry to Choose?
If you also can't decide between El Nido or Coron and do both you'll still have to choose the ferry that is right for you. Cost, speed, convenience and safety are the main considerations when choosing which El Nido Coron ferry to book. There are three options:-
1. Passenger Cargo Ship – Atizenza Shipping Lines runs one departure per week leaving El Nido Port on Wednesday's and Coron Port on Monday's. The travel time is 8 hours each way and the cost is PHP1,500pp economy class or PHP1,650 with air conditioning. The vessel is large, steel hulled and generally considered fairly safe.
2. Slow Ferry – Bunso's boats are traditional wooden Filipino outriggers known as bangkas which are a larger version of the type on boat we travelled on for our El Nido Tour A island hopping tour. The travel time is 7 – 9 hours and tickets are PHP1,400pp which includes a simple lunch. Boats depart most days (none on Monday's and limited on Tuesday's and Sundays). The ride is not luxurious and if the weather is rough it's downright dangerous. There have been multiple sinkings in the treacherous stretch of water between El Nido and Coron. Ride at your own risk.
3. Fast Ferry – At PHP1,760pp Montenegro Lines is the most expensive option but at 3½ hours it is the fastest by far. This is the ferry that we chose.
READ MORE ON CORON:
Try Coron's Best Pizza At Trattoria Altrove
15 Luxury Hotels In The Philippines
Coron Island Hopping By Private Boat
Booking Your Montenegro Lines Fast Ferry Ticket
Once we had decided on Montenegro Lines the next choice was whether to book ahead or wait until we arrived in El Nido. All El Nido Coron ferries can be booked online at Palawan Days, but I worried that booking ahead online might come at a premium and there is nothing I hate more than overpaying. Our accommodation was booked months prior and we had to travel from El Nido to Coron on a specific day. I simply couldn't risk it being sold out. We booked online and paid PHP3,696 (PHP1,760 x 2 + PHP176 booking fee) for two one way tickets. I'm pleased to report the tickets sold in El Nido in town were exactly the same price, minus the booking fee. It's a premium I would pay again for peace of mind but if your itinerary is not quite so rigid you may want to take a chance on booking in town.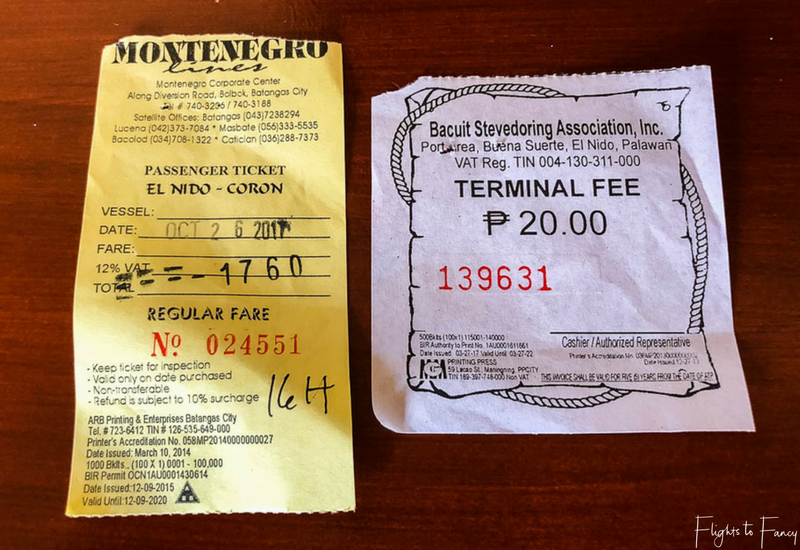 El Nido to Coron Ferry or Coron to El Nido Ferry?
I wish I had considered this more carefully earlier in my planning. By the time my mind turned to El Nido Coron ferry options our flights and accommodation were locked in. The El Nido to Coron ferry on Montenegro Lines leaves at 6am. Check in at the El Nido port is 5am which meant a 4.30am wake up call. I am not a morning person. The only time I enjoy being up at 4.30am is when I am still partying from the night before, which granted is very rare these days. Our hotel One El Nido Suite kindly arranged a free transfer and even packed us breakfast. The Coron to El Nido ferry leaves at the much more reasonable time of 12pm. Hindsight is a wonderful thing right?
At El Nido Port
When we arrived at 5am a queue had already formed for check in. Seats are assigned at the desk and we were in 16 G/H. Each passenger must pay a 20 peso port fee but that desk doesn't open until 5.40am. When it does, a mad rush ensues. Luckily The Hubs is fast on his feet and he was third in line. The waiting area opens at 5am but strangely the lights don't go on until 5.40am. It is not air conditioned but there is little choice unless you want to stand outside. Boarding starts just before 6am and it's a short walk down to the pier. Your luggage is taken as you board and stowed before a steward shows you to your seats. The cabin is freezing! Make sure you pack a jacket in your carry on as you cannot access you luggage once on board. The seating arrangement is 4×4 and we were hoping for empty seats next to us but it wasn't to be despite the boat not being full. Christmas music (it was October!) was blasting through the cabin as we settled in. After a very long safety briefing (which no one listened to) we pulled away from El Nido port at 6.15am, 15 minutes behind schedule.
On Board Montenegro Lines Fast Ferry
'Fast ferry' is a bit of a misnomer. It's speedier than the other options, but fast it is not. That said, after our recent horrific experience on Scoot Fast Cruises in Indonesia I was happy to be on a bigger, safer boat. We had calm seas for our trip which no doubt helped. Almost as soon as we left El Nido port our seat mates jumped into the empty row across the aisle leaving us a row of four seats to ourselves. The seats don't recline but the arm rests do lift. Just be careful as some of them don't stop and you may give the people behind an unintentional whack. Two movies were played during our voyage but I was too far away from the screen to see or hear enough to be truly engaged. The 3½ hour trip winds though a maze of Palawan islands and internet reception is sketchy throughout. The vessel is split into three seating sections with about 5 rows in each. There are no outside decks for passengers to use but every now and then I saw a crew member walk the thin path outside my window. There is one unisex toilet on board but no toilet paper is supplied so bring your own or hold it. There is a fridge where you can supposedly buy drinks but there was no crew about so it was more trouble than it was worth to figure it out.
Arrival In Coron
We docked almost an hour late at 10.25am. The crew unload the luggage straight onto the dock after all the passengers had disembarked. As we left the port we were assaulted by a million (OK not quite that many but certainly a lot!) of tricycle drivers. The Sunlight Guest Hotel where we stayed was a 3 minute walk from the pier so we pushed through the throng with lots of muttered no thank you's much to their dismay. If you do need a tricycle, don't pay any more that 50PHP to Coron town.
Have you taken an El Nido Coron ferry? I'd love to hear about your experience in the comments below.
Until next time …

Pin "Coron to El Nido Ferry"

for later!
Disclaimer: This post is not sponsored. I paid for my tickets on the Montenegro Lines El Nido to Coron ferry in full and as always, all opinions are my own. This post contains affiliate links which will earn me a few cents to contribute to the running of this site if you make a qualifying purchase at no extra cost to you.