El Nido Tour A is one of the most popular El Nido tours available. Most visitors do an El Nido island hopping tour while in the area, but choosing the right one can be tricky. During our day trip we visited Big Lagoon El Nido, Small Lagoon El Nido and Secret Lagoon El Nido all of which are all on Miniloc Island. We added the optional El Nido kayaking package, stopped at Shimizu Island for some of the best El Nido snorkeling and relaxed with a beer on Seven Commandos Beach on the way back to El Nido town. We loved our day out on Bacuit Bay and I know you will too. Read on for all the details …
About El Nido
El Nido is a municipality in the Province of Palawan, Philippines. El Nido means nest in Spanish and traces of human occupation in the area date back to 2680 BC. El Nido has a population of ~42,000 and is quite multicultural with a mix of Tagalogs, Visayans, Bicolanos, Chinese, Spaniards, and Germans. Tourism is the main industry in El Nido which is one of the most popular destinations in the Philippines. English is widely spoken to varying degrees of fluency and tourists flock to the region from all corners of the world to discover El Nido's incredible biodiversity, marvel at the limestone karsts, laze on perfect white sandy beaches and swim, dive and snorkel in crystal clear waters. El Nido spans 92 thousand hectares, is dotted with 45 islands and boasts 447 species of coral, 888 species of fish, 5 species of marine turtles and 114 species of birds. Visitors can reach El Nido by ferry or fly into El Nido Airport on Airswift. El Nido town itself is compact and rustic. The main form of transport is tricycles and you can get to most places for ₱50. Accommodation ranges from mega luxury to tents and there is something to suit every budget. We stayed at One El Nido Suite which is a great mid-range option. I always book all my accommodation through Agoda who I find have the best deals in Asia. Dining options are somewhat limited, but we loved the pizza at Altrove El Nido, the churros at Mezzanine and the souvlaki at Athena Greek Restaurant.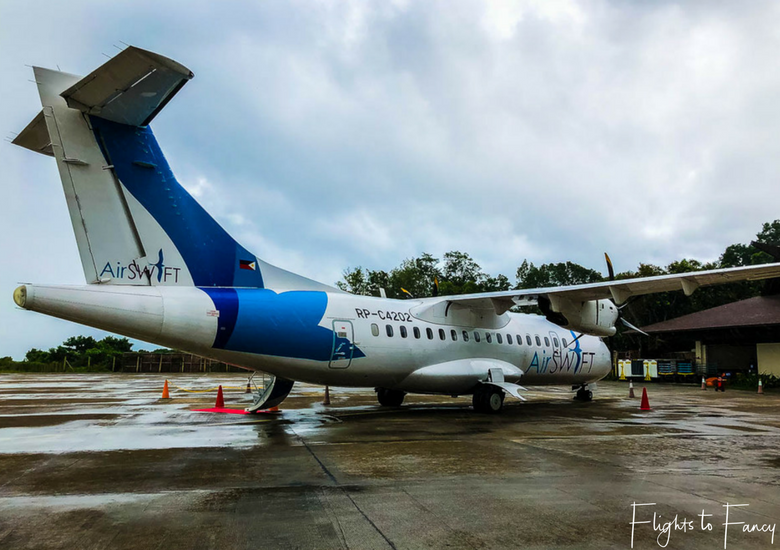 El Nido Island Hopping Tour A Overview
We only had a few days in El Nido and the weather was unpredictable. We had rain most days which ranged from torrential to a persistent drizzle. We had originally planned to do a number of El Nido tours, but when faced with the depressing weather we chose to do just one; El Nido Tour A. El Nido island hopping is very popular and El Nido tour A focuses on the spectacular lagoons of Miniloc Island, a snorkeling stop at Shimizu Island and time at seven commandos beach. We were able to visit both Big Lagoon El Nido and Small Lagoon El Nido on our trip, but this is no longer possible. El Nido Tour A still includes Big Lagoon El Nido, but Small Lagoon El Nido is now part of El Nido Tour D (see more about the changes below). We booked our El Nido Tour A through El Nido Art Cafe the day before our trip, but you can also book Tour A online with Klook. We were told when we booked that we were the only guests booked on El Nido Tour A at the time. They explained they needed a minimum of four people to run the tour and if no one else booked the tour would be cancelled. Luckily we had a local Philippines SIM card so we left our number and hoped for the best. It was about three hours before we got a call telling us that two more people had booked and the tour would go ahead. Yay! I admit I was secretly hoping that no other bookings would be forthcoming and it would just be the four of us. The set price for El Nido Tour A is ₱1200 per person which included masks, snorkels and fins. We opted to include the El Nido kayaking option for an additional ₱700 per person. We were able to use the double kayak in both El Nido Big Lagoon and El Nido Small Lagoon. The kayak option under the changed itinerary is considerably cheaper and you will now only pay ₱250 per kayak which can only be used in Big Lagoon El Nido for a maximum of 90 minutes. El Nido Art Cafe required us to pay a deposit of ₱500 per person when we booked which must be paid in cash. The balance is payable on the day of your tour and cash or credit card is acceptable. Lunch is included and soft drinks and beer were available for purchase on our trip, but we did have to bring our own beach towel. Our hotel did not provide beach towels and we hadn't brought one from home due to the bulk. We had no option other than to take a bath towel from our hotel. My new lightweight, fast-drying Tesalate beach towel sure would have come in handy.
Setting Off On El Nido Tour A
Despite our best efforts to pick the most favourable weather conditions we woke to a dark threatening sky. I can't say we were thrilled, but we were committed to making the best of the experience regardless. We grabbed a tricycle and headed to the El Nido Art Cafe by 8.30am as requested to pay the balance owing on our El Nido Tour A. Once the paperwork was sorted we headed downstairs to the shop to get fitted for fins. We always take our own masks and snorkels because I'm a bit particular about what I put in my mouth, but they are provided if you need them. When we were done the staff directed us to the waiting area near the beach. I did a head count and there was twelve people in total waiting for El Nido Tour A. Clearly there must have been a flurry of bookings in the afternoon dashing my hopes of have just four people onboard. I was somewhat placated by the fact that at least we hadn't reached our full capacity of 18. After what seemed like an age (but was probably only about 30 minutes) our guide collected us and escorted us to the water's edge where we got the first glimpse of the vessel we would spend the day on; a traditional Filipino boat known as a bangka. Our bangka was too large to come all the way into shore and guests had to be ferried out individually by kayak. It was slow going and The Hubs and I were the last onboard. The bright blue open cabin was quite spacious and there was plenty of room to spread out. There was even a comfort room at the back for when nature calls. After a rudimentary safety briefing where we were instructed that we must wear the life jackets provided at all times, the captain fired up the motor. We chugged out of the bay shortly afterward with the wind in our hair and high hopes that the sun would make an appearance soon.
Stop 1: Miniloc Island Small Lagoon El Nido
All eyes were trained on the ever changing vista as we motored through Bacuit Bay towards Miniloc Island for our first stop at Small Lagoon El Nido. There were quite a few other bangkas around when we anchored outside the entrance to Small Lagoon El Nido. Our crew unhooked our double kayak from the bangka and helped us push off. Those on our El Nido Tour A that hadn't booked the El Nido kayaking option simply had to jump over the edge and swim for it. I could see the trepidation on some of the faces. I was very glad to be in the kayak. As we paddled towards the narrow entrance we could see a queue of kayaks waiting to enter. It took a bit of maneuvering which was hampered by a few novice kayakers. When we made it through, we paddled with purpose to break free from the throng. The water in El Nido Small Lagoon is an incredible kaleidoscope of colour. Brilliant blues and greens surrounded us as we hugged the limestone karst walls. Despite the crush we were still able to find some secluded places along the way. El Nido Small Lagoon is the perfect place for a swim. The water is calm, warm and inviting. Large crowds in Small Lagoon El Nido are unlikely to ever be a problem again as the recent changes (see below) have restricted the number of visitors. If our visit was anything to go by, this can only be a good thing.
El Nido Kayaking Add On: Small Lagoon to Big Lagoon
We were blessed to be able to do both El Nido Big Lagoon and Small Lagoon El Nido in the same day before changes implemented in November 2018 (see below) prohibited this. Not one to waste an opportunity, we chose the 'kayak tour A' option. When our time in Small Lagoon was complete we headed back out of the narrow entrance and paddled straight past our bangka as our boat mates re-boarded. One of the crew acted as a guide and we simply followed his lead. There were three others in our group who chose the El Nido kayaking option and I think we were all glad we did. We proceeded single file along the coast of Miniloc Island towards El Nido Big Lagoon. The water was a little choppy, but it was a short 15 minute paddle and would even suit first timers.
Stop 2: Miniloc Island El Nido Big Lagoon
Unsurprisingly El Nido Big Lagoon is bigger than El Nido Small Lagoon. Either by good luck or good management we were the only bangka at El Nido Big Lagoon. Those of us on the El Nido kayaking option were first to arrive and our bangka arrived a few minutes later. I didn't actually notice what the rest of our boat mates did in El Nido Big Lagoon as I didn't see them for the duration of the 40 minutes we spent here. Big Lagoon El Nido was much less crowded than Small Lagoon El Nido and for the most part we were completely on our own. We found one very private cave-like cove which we lingered in for a while just marvelling at our surroundings. Impressive limestone karsts circled us on all sides reaching endlessly skyward. The water beneath our flouro yellow kayak was incredibly clear. All the better to see the vicious looking sea urchins gathered all over the sea bed. A friend of mine had a close encounter with one of these critters many years ago in Egypt and I know just how bad that can work out. We stayed firmly in the kayak to be on the safe side. El Nido Big Lagoon was by far my favourite stop on El Nido Tour A and when our time was up we reluctantly paddled silently back to the bangka.
Stop 3: Miniloc Island Secret Lagoon El Nido & Lunch
As our Bangka pulled away from Big Lagoon the crew fired up the barbie (grilling is now banned – see changes below). The delicious smell of char grill wafted through the open cabin as we hugged the coast of Miniloc Island on the way to our next stop. Secret Lagoon El Nido was our last stop on Miniloc Island and our designated lunch stop. As our destination drew closer, it became apparent that Secret Lagoon El Nido was not so secret after all. About half a dozen or so boats were already in situ when we arrived and the captain dropped anchor in the deeper water about 200 metres from shore. The entrance to Secret Lagoon El Nido is hard to miss, just swim towards the throng of people gathered near a rock with a hole in it. It was right about this point that I wished I possessed a pair of reef shoes as the sea bed was rocky and swimming in my thongs wasn't exactly easy. But I managed. Bedlam eschewed as about 30 people tried to scramble in and out of the tiny single file rock entrance. Once inside we found a milky green lagoon with great acoustics fringed with tall limestone karsts. I didn't take my camera into Secret Lagoon El Nido as I wasn't sure I could keep it dry on the swim. In hindsight I think it would have been just fine, even without a dry bag. This was my least favourite part of the tour and we had a quick swim before making our exit the same way we came in and swam to the nearby beach where lunch was served. After everyone had their fill of grilled fish, chicken, pork, salad and fresh fruit it was time to swim back to the boat and leave Miniloc Island in our wake.
Stop 4: Shimizu Island El Nido Snorkeling
If you are thinking Shimizu Island (also known as Simizu Island) sounds like it would be more at home in Japan than the Philippines you are right. This tiny speck of land in Bacuit Bay was named after a Japanese diver who perished nearby. Our tour didn't actually dock on Shimizu Island, but rather we anchored in the channel between Shimizu Island and Miniloc Island for some epic El Nido snorkelling. By this point many of the others were feeling a little water logged and stayed on board, but The Hubs and I valiantly plunged overboard once more. I've done a lot of snorkeling and diving in some of the most coveted sites on the planet including Australia's Great Barrier Reef, Hawaii's Hanauma Bay, Fiji's Yanuca Island, Indonesia's Gili Trawangan and New Zealand's Poor Knights. We always take our own gear and this snorkel set is perfect fro travel. So how did El Nido snorkeling compare? It certainly held it's own. The water was clear and warm and the fish life was abundant. It's just a pity that I didn't have a waterproof camera on hand to capture the moment. We had about 45 minutes to explore the underwater world before it was time to weigh anchor. After the changes implemented in November 2018 (see below), Shimizu island is now the official lunch stop on El Nido Tour A.
Stop 5: Seven Commandos Beach
The last stop on El Nido Tour A was Seven Commandos Beach. Seven Commandos Beach is back on the mainland and only accessible by water due to the surrounding mountainous terrain. Folklore says the beach was named after seven soldiers in WWII, but even the locals are not quite convinced of the bona fides of that tall tale. Seven Commandos Beach was absolutely packed to the rafters when we motored up in the late afternoon. So much so that the crew had to ease two already parked bangkas apart slightly so that we could squeeze in between. Seven Commandos Beach is a palm fringed stretch of glorious fine white sand. After a whole day in the sun our faces were really feeling the burn and the last thing we felt like doing was baking ourselves any more so we headed to the popular beach bar. We weren't the only ones to have that idea and we squeezed into the last two seats at the end of shared table. The only problem with drinking is that it is usually followed quickly afterwards by the need to pee. The comfort room was anything but comfortable. In fact it was hideous. If I could have held it I would have, but when you have to go, you have to go. The Hubs did jump in for one last swim of the day, but I didn't fancy getting wet again and quite frankly I couldn't be bothered to dodge all the boats. We had about an hour at Seven Commandos Beach and we spent our last 30 minutes just relaxing on the deck of our bangka. If you want to experience Seven Commandos Beach without the crowds, why not stay overnight? Camping used to be allowed on Seven Commandos beach, but even though camping is now prohibited you can still stay at Vellago Resort which is a luxurious boutique hotel with only six rooms right on the beach.
Changes To El Nido Tours
Bacuit Bay has been a protected area since 1984, but El Nido has stepped up it's conversation activity in the last few years. Driven by a massive increase in tourist numbers, El Nido has introduced a raft of changes to protect the delicate environment in the hopes of avoiding drastic measures like closing for 6 months like Boracay did. The El Nido Taytay Managed Resource Protected Area (ENTMRPA) was created in 1998 and is now the largest marine reserve in the Philippines. The Protected Area Management Board (PAMB) recently designated Small Lagoon El Nido and Big Lagoon El Nido as 'premium stops'. It is expected that Secret Beach will also be declared a designated premium stop soon. Only one premium stop can be visited per day. PAMB has also restricted visitor numbers and visit times to Big Lagoon El Nido, Small Lagoon El Nido and Secret Beach. In addition, the once popular combination tours and party boats have been banned. Fishing, grilling of food and playing loud music are all now prohibited in Bacuit Bay and the kayak rental fee has been reduced. While there has been rumblings of discontent from the local tour operators due to some loss of income, it is largely accepted that the changes are necessary to preserve the unique beauty of El Nido for generations to come.
El Nido Eco Tourism Development & Environment Users Fees
Every passenger on every boat leaving El Nido must pay the El Nido Eco Tourism Development Fee (ETDF). The ETDF was introduced in 2008 to support environmental activity in the area. The good news is that you don't have to pay this on a 'per trip' basis and you can choose the time frame that suits you best. The cost for non-Palawan residents is ₱200 for up to 10 days or ₱500 for over 10 days. The ETDF is often colloquially called the 'Eco Tax' or 'Eco Fee' and can seem like a hidden expense if you are not expecting it.  In November 2018 the Environment Users Fee (EUF) was introduced. The EUF costs ₱200 per person as is payable for all premium stops (see above).
El Nido Boat Tour Plastic Bottle Bans Introduced
In addition to the measures outlined above El Nido is also targeting plastic as part of it's efforts to preserve the natural environment. Single use plastic bags and single use plastic bottles are banned on all El Nido boat tours. Boats are now required to carry purified water and guests can bring their own reusable bottle or tumbler for use onboard. On out trip soft drinks and beer were sold on board and I'm insure if this is still the case in the wake of these changes.
Other El Nido Tours
Although there are many operators offering El Nido tours, they all follow the same naming conventions and itineraries. The cost of El Nido island hopping tours are regulated by the Government so shopping around for the best price is not necessary. The prices listed below are correct at the time of publication, but there is talk of them rising in the near future. If you love the sound of El Nido tour A, consider doing one of these other El Nido tours while you are in town. The below lists the new itineraries which changed in November 2018 as a result intervention by the Protected Area Office.
El Nido Tour B
El Nido Tour B is fondly referred to as the "Caves & Coves" tour. El Nido Tour B visits Vigan Island (Snake Island), Popolkan Island (substitute for Pangulasian Island which is now private), Entalula Beach, Cathedral Cave and Cudugnon Cave. El Nido Tour B costs ₱1,300 per person and you can book El Nido Tour B online with Klook. Raphael from Journey Wonders notes
"the highlight of El Nido Tour B was Snake Island. Snake Island is a sandbar which connects two islands and is only accessible during low tide. It is a dream for all photographers and drone pilots are able to take incredible photos if they fly high enough."
El Nido Tour C
The locals say El Nido Tour C is the most popular of all the El Nido tours. We had hoped to do Tour C as well, but the inclement weather put paid to that. El Nido Tour C visits Helicopter Island, Secret Beach, Hidden Beach, Maniloc Shrine and Tapiutan Island. Expect to pay ₱1,400 per person. Patrick from Advantographer had the following to say about his experience on Tour C …

"Tour C was toted as the hidden beaches tour and by all accounts it lived up to its name. Swimming through a partially submerged cave in the cliff wall to be treated to a private paradise at  secret beach was a real treat, something That will stick with me forever!"
Book El Nido Tour C online with Klook.

El Nido Tour D
El Nido Tour D visits Small Lagoon, Cadlao Lagoon, Nat Nat Beach, Pasandigan Cove, Paradise Beach and Bukal Island. El Nido Tour D will set you back ₱1,200 per person. Ferna from Everywhere With Ferna had a blast on El Nido Tour D. This is what she had to say

"On the day that we travelled, Tour D was the only tour operating due to bad weather and it was restricted to 4 hours with a changed itinerary. After a bumpy ride, we arrived safely at Cadlao Lagoon. We were mesmerized by the color and calm water in Cadlao Lagoon, which was the opposite of the waves that we had just passed. We swam for about 40 minutes before heading to Tao beach. We marveled at the grass-covered limestone hill and sandy beach while eating a sumptuous seafood lunch. Next was Paradise beach where those who snorkeled saw sea snakes, table corals and turtles before heading back to El Nido."
Private Tours
We did a private island hopping tour in nearby Coron and absolutely loved it. It was bliss to plan our own bespoke tour and come and go as we pleased without a tonne of other people on the boat. In El Nido you can book a private tour on any of the standard itineraries and prices start at around ₱7,900. If you have more than five people in your group a private El Nido island hopping tour can actually end up costing less than the cost of single tickets.

The Final Word: El Nido Island Hopping On El Nido Tour A
We had a blast on El Nido Tour A even with the inclement weather. With the recent restrictions on visitor numbers El Nido island hopping tickets sell quickly and tour operators are advising visitors to book up to three weeks in advance. If you do decide to go, make sure you check all the current rules and be prepared to care for the pristine environment you are visiting.
Have you been to El Nido? I'd love to hear which El Nido tours you did in the comments below.
Until Next Time …

Pin "El Nido Tour A"

for later
Disclosure Statement: This post is not sponsored. I paid for my El Nido Tour A in full. The information in this article is based on my own personal experiences and has not been influenced in any way by the brand(s) featured. This post may contain affiliate links which if clicked may earn me a small commission on purchases at no extra cost to you.