My first time flying Emirates A380 first class was amazing! In today's age of readily available cheap flights the experience of flying itself has lost it's shine. The exclusivity and glamour of yesteryear has been replaced by cramped cabins, perfunctory service, shrinking baggage allowances and an ever dwindling list of inclusions. I remember fondly a trip to the UK aged 8 when I was more excited about the journey than the destination. Hundreds of flights (and reviews) later, I don't feel that same thrill when boarding a plane. It's almost as mundane as taking the bus and a necessary evil to be endured to get me to where I want to be. This was not the case on my last flight on Emirate Airlines first class. I was looking forward to this flight in a way that I haven't since I was eight years old. I booked an Emirates A380 first class suite and I couldn't wait! It's not lack of desire that has kept me from the pointy end of the plane until now, it's lack of funds. My bank balance (or lack thereof!) forces me to chose between travelling more comfortably and more frequently. More frequently usually wins and while I have lots of tips for scoring bargain flights, the only thing better than a bargain flight is a free one! Knowing I would never spend the dollars required to experience Emirates first class cabin, I dropped a bunch of frequent flyer points and rekindled my joy of flying. My Emirates A380 first class review will blow your mind. Read on for all the details …
Emirates A380 First Class Pre-Flight
We flew over to New Zealand on Emirates A380 business class so we had already had a little taste of the good life but were expecting the next level on Emirates A380 first class. Passengers are offered a complimentary chauffeur service on every sector but the trans-Tasman route we took. Dejectedly we drove our hire car from Airport Rentals to Auckland airport ourselves. I'm not going to lie. I was disappointed not to be able to sample the full experience and I think Emirates should reconsider this exclusion. The last stop on our road trip through New Zealand's North Island was in Hamilton. We miscalculated the drive and found ourselves at the airport at 12pm; very early for our 4.30pm flight. Check in should have been as smooth as silk with a dedicated first class queue but it was a debacle. I have never been this early for a flight in my life and was surprised to the find the check in counters wouldn't open for another hour. We had little choice but to cool our heels with the masses in the extremely crowded airport. People started gathering at the start of the queues at least half an hour early and the impatience was palpable. Two economy and three business counters finally opened 15 minutes late but the first class queue remained closed. We were less than amused and so were the other two passengers trying to check into first. After a further 20 minutes standing in front of an empty desk and glaring pointedly at the closest attendant serving business, she finally took pity on us and starting serving our line but there was no warmth in her manner. When we left there was still no one serving the first class queue and no explanation was offered.
New Zealand exit procedures should have been streamlined with our first class express status however we were not provided any instructions on how to use the pass so we just followed the crowd. The Hubs' passport did not work through the e-gate and he was pulled aside for 'special assistance'. By this point I was extremely frustrated and so distracted I forgot to throw out the liquids in my carry on which caused further delays at x-ray. Needless to say all this provided a less than stellar first impression, but my mood improved significantly when we entered the lounge. Our experience at the Emirates lounge at Auckland International Airport was sensational. So much so, that when the announcement came over that our flight was delayed I was secretly delighted. Any delay would normally send me over the edge but more time sipping premium champagne and feasting on delicious food is never a bad thing.
Emirates First Class Cabin
We boarded about an hour late through the first class only queue. Be warned: you will have to push past hundreds of other passengers milling around blocking the way. Once past the crush, I felt a frisson of excitement as I stepped on board the upper deck of the behemoth A380 and was directed left rather than right. I knew I would soon be getting a glimpse of an experience usually reserved for the elite and I was pumped. My lovely attendant escorted me to suite 1E and The Hubs' got the same treatment on the way to 1F on the other side of the aisle. Emirates have three configurations on their A380's and ours was a 1 x 2 x 1 set up for just 14 guests. The cabin is dominated by glossy light wood paneling which is not to my personal taste but is no doubt intended to convey a sense of luxury. Gold signage is prominent, fresh orchids adorn almost every surface and and there is even a water fountain. At the front of the cabin between the restrooms are the stairs that lead down to business. First class passengers are free to enjoy the unique facilities provided in Emirates A380 business class including the fabulous bar.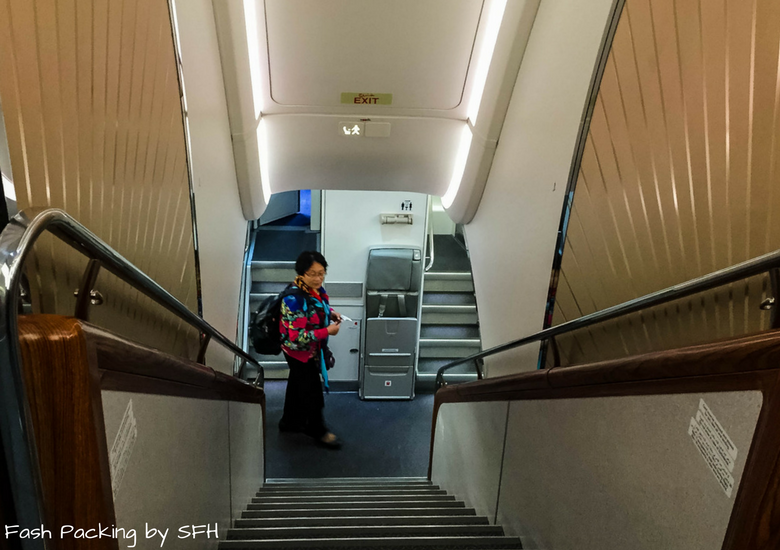 Emirates A380 First Class Spa Suites
The spa suites in the Emirates A380 first class cabin have to be seen to be believed. Like nothing I have ever experienced in flight, the first thing you notice is the amount of space. Emirates have cleverly taken advantage of the curvature of the A380 upper deck which is not suitable for seating and turned it into something amazing. I've been in hotels with smaller bathrooms! Those wanting to join the mile high club will certainly appreciate the generous proportions (not that I'm advocating this!). The toilet is discreetly hidden beneath a padded lid that does double duty as a seat and there is a full sized sink. Premium toiletries are provided by Voya and of course proper face cloths are the norm.
There are only two airlines in the world that offer in-flight showers and this was a deciding factor in choosing Emirates A380 first class. It's ridiculous I know, but the novelty appealed and despite our short flight (3 hours) I was determined to get wet. My flight attendant prepared the room especially for me and laid out everything I needed. The cubicle itself is more spacious than you would expect and the wand is full sized. You are limited to 5 minutes of hot water and there is a handy gauge to ensure you don't get caught in a soapy mess. You can stop and start the water for maximum efficiency but my controller was a little bit temperamental so I gave up trying. I loved every second of my inflight shower! It would be blissful on a long haul flight to shower minutes before landing and arrive fresh and revived.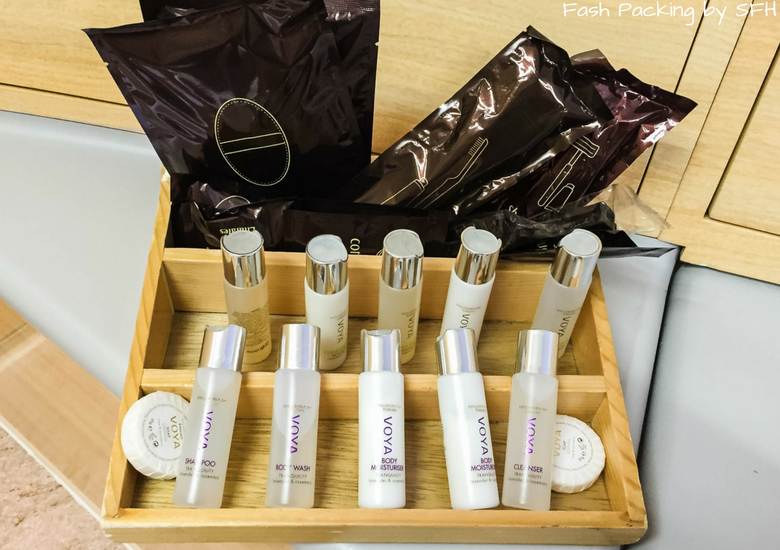 My Emirates A380 First Class Suite
Yes I said suites not seats. When you fly Emirates A380 first class you get a personal suite equipped with closing doors for complete privacy. This is as close to flying in a private plane as I am ever likely to get! The middle suites are perfect for couples as you can drop the divider to converse and pop it back up again when you have had enough of each other. Solo travellers are better off choosing the stand alone suites with a window. These suites are the bomb! Guests will be delighted with the individual pamper packs, personal bar and thoughtful snack basket. A writing kit is provided and two lights on either side of the screen are a nice touch. There is ample leg room and you would have to be a giant to touch the end.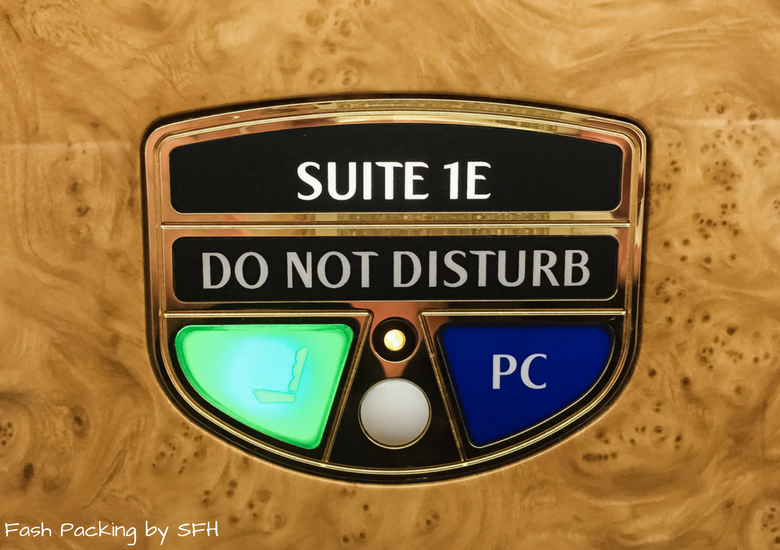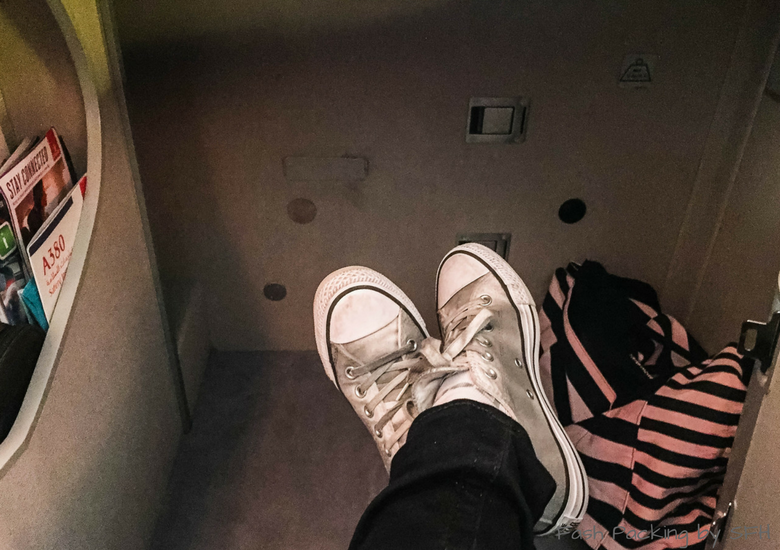 The comfy grey leather seat has 7 different components which can be all adjusted individually to ensure you find your sweet spot. There is a super handy one-touch adjustment to morph your seat into fully flat bed and the helpful attendants will make your bed on request. Had this been a night flight I have no doubt I would have enjoyed a very comfortable slumber. Who am I kidding, there is no way I would have wasted one second of my time in Emirates A380 first class sleeping!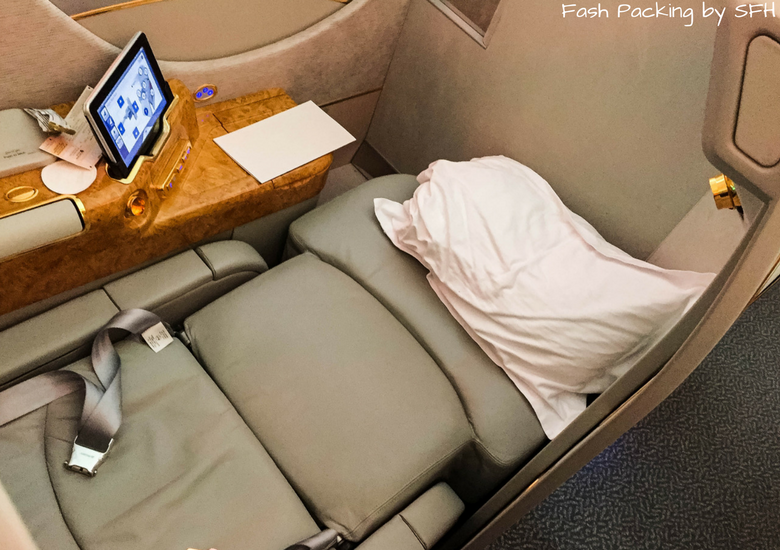 Emirate Airlines First Class Feast
Guests in the Emirates first class cabin are in for a real treat when dinner rolls around. Dining is usually on demand, but our short flight meant that all the meals were served at once. Menus change monthly and three courses are offered, all with a vegetarian option. Each delicious morsel is beautifully presented on Royal Doulton fine bone china with Robert Welsh cutlery. The Hubs' and I both chose the spice-crusted chicken for entree and pepper steak for main. We went our separate ways for dessert; me with the cheese board while The Hubs' opted for the chocolate mousse. A section of fresh bread is offered and I couldn't resist the garlic. The chicken was the highlight as my steak was overcooked and my cheese board arrived sans crackers. I was a little perplexed as to what I was supposed to do with it but this was rectified quickly when I brought it to my attendants attention. I sneaked a bite of The Hubs' mousse and it was delicious.
Emirate Airlines First Class Drinks
Virtually as soon as you are settle in the Emirates A380 first class suite your welcome drink order is taken. The wine list is tight with only four of each colour on offer, but they are all top shelf. On top of the delay in the lounge, we had an extended delay on the ground while a baggage loading issue was sorted out. I didn't mind one little bit and I sampled three of the whites on offer before we had even taken off. I have never been a big fan of Champagne, but that all changed when I tasted the 2006 vintage Dom Perignon served in Emirates first class cabin. It was superb and I downed almost a bottle before I touched down in Sydney. A selection of cocktails were also on offer and I couldn't resist a Mojito. The Hubs was a little disappointed with the beer selection and stuck to Heineken after not really finding anything else to his liking.
Emirates First Class Cabin Service
Once on board we learned the crew come from 23 different countries and speak 19 languages between them. Pretty impressive! Each Emirates A380 first class suite has a dedicated attendant who will look after you for the entire flight and The Hubs' and I each had a different one. Mine was certainly more engaging and when she found out it was my first time she went out of her way to make my flight memorable, starting with a full run down of everything my suite had to offer. She even snapped one of the pics here when she saw me struggling to get a decent selfie with a bottle in hand! I'm not sure how many attendants there were to look after the 14 passengers but the ratio was high and staff were attentive. Emirate Airlines first class passengers disembarking in Sydney are provided with an express pass to expedite you through customs and immigration.
Emirate Airlines First Class Entertainment
Each Emirates A380 first class suite has a large screen loaded with the ICE system (information, Communication, Entertainment). Our extended delay on the ground meant I managed to get through two movies on our trans-Tasman flight and the noise cancelling headphones provided worked a treat on the already whisper quiet A380. I chose to indulge in a couple of chick flicks and Whisky Tango Foxtrot and Bad Moms had me chuckling all the way home. As expected a flight map is included so you can track your progress and you can cycle through the three on-board cameras for a birds eye view. WI-fi is available but it's insanely slow and really not worth the effort after you have posted that first status update just because you can. An in seat phone keeps you connected and you can even use your own mobile phone on all Emirates A380's where reception permits.
Emirates A380 First Class Review Final Thoughts
Of my many flights, only a few are memorable. That trip at 8 I mentioned earlier, flying Sydney to Honolulu where a toddler close by screamed for 9 hours straight, a solo flight on Japan Air Lines to Osaka where I had virtually the whole upper deck to myself, a generous upgrade to business class on Cathay Pacific from London to Sydney and flying on my first A380 with Qantas from LA all spring to mind. My Emirate Airlines first class flight has joined these ranks for all the right reasons and has reminded me of the joy of flying. While we had a rocky start, Emirates A380 first class has forever spoiled me and was the perfect end to a fabulous week in New Zealand. If you are heading to NZ for the first time you should read my New Zealand essentials post which has heaps of helpful information to help you plan an unforgettable trip.
Have you travelled on first class? I would love to hear about your thoughts on my Emirates A380 first class review in the comments below.

Disclaimer:  This post is not sponsored. I paid for my Emirates A380 first class flights using frequent flyer points. As always, all opinions are my own.
Like it? Pin it!
Save
Save
Save
Save
Save
Save
Save
Save
Save
Save
Save
Save
Save
Save
Save
Save
Save
Save
Save
Save
Save
Save
Save
Save
Save
Save
Save
Save