The Gold Coast is an Australian tourist mecca. Almost 12 million visitors a year are drawn to this 57 kilometre stretch of coastline and like me, many return again and again. I was just sweet 16 when I first visited after convincing my Mum to take one of my friends and I up for a week of fun in the sun. In those days flying domestically in Australia was prohibitive and for most 'normal' families a homegrown holiday meant a good old fashioned road trip and sleeping in a caravan park. My Mum however, was quite a new (and nervous!) driver and was less than thrilled about driving the 12 or so hours to our destination, so we took the train. The next time I visited it was on my very first couples trip with my now husband. We were 19 and not so nervous about driving so we packed up my bright yellow Datsun 200B and hit the road. When my kids were little they loved the place and for a while we were visiting every year until I longed for a change of scenery on vacation. For many young Australians the Gold Coast is their first taste of freedom and holidaying without the 'rents when they attend the madness that is Schoolies Week. The Gold Coast is brash, bold and quite frankly a little tacky but I wouldn't have it any other way. With so much on offer it can be daunting navigating the possibilities but never fear as I'm going to share everything I have learned as an (almost) 30 year veteran visitor. Read on for all the details …
Gold Coast Overview
Home to almost half a million people, the gold Coast is a city coming of age. The area is diverse, from the lush tranquil natural beauty of the hinterland, to the pulsating night life of Surfers Paradise and the more relaxed southern towns, there is something for everyone. Toddlers to retirees and everyone in between are catered for and happily rub shoulders on the glistening sands. Queensland boasts an impressive average of 261 days of sunshine a year and this is a huge draw card for Aussies from the south in the winter. If you can't have a good time in the Gold Coast that it's just about time to give up!
Accommodation
Finding a bed for the night in the Gold Coast is not hard. When I did a simple search on Agoda it returned 449 results. The difficult bit is choosing one. While I have stayed in many different areas over the years, these days we stay within a two block radius of Cavill Avenue as we like to be in the thick of it all. In January 2016 we chose the Hotel Grand Chancellor based on the central location. It was our first stay in what was formally the Marriott Courtyard. First impressions were great as the lobby is modern, light, fresh and instantly appealing but this is obviously where the recent refresh ended as the decor in the rooms is somewhat dated. On the plus side the rooms are quite spacious and offer great views from the compact balconies (see above) but as is so often the case with hotels, the lighting is largely underwhelming. Parking is directly underneath the hotel in the Paradise Centre but gets busy and you will need to fight with all the other punters when the hotels small exclusive section fills up. While there are definitely swankier places to stay the Grand Chancellor represented exceptional value for us with the discount deal that we scored. I wouldn't pay the rack rate but I would definitely return if the price was right. Other hotels that I have stayed in that I would recommend are Chevron Renaissance, Marriot and the Paradise Centre Apartments. You could also try the newest swankiest kids on the block Peppers Soul or Hilton. To find you own perfect home away from home start your search at Agoda.
Getting Around
Up until not so long ago Gold Coast public transport was pretty woeful and most people either brought their own cars or hired one. While we did hire a car, I'm pleased to report things are looking up on the public transport front with the addition of G Link trams which service pretty much everywhere that matters. Of course Surfside buses are still covering the area and between the two of them it is just about possible to leave the car at home.
Eating Out
Restaurants on the Goldy are plentiful and options range from fast food stalwarts through to fine dining. We tend to eat in around Cavill so that we can leave the car in the car park and not have to worry about the booze bus. We had a perfectly satisfactory pizza at Vapiano, the only strange thing is that there is no table service. Hard Rock Cafe delivers everything you expect from the chain but expect to wait up to an hour for a table if you turn up at peak dinner time. We had a fantastic time at Dracula's Cabaret (my full review here and discount tickets here) and for a theatre restaurant the food was exceptional. We love a great deal and always visit George's Paragon for their half price menu but didn't make it this year as the Surfer's restaurant is no longer there and we didn't fancy traveling to the others. Try the souvlaki, it's my fave! If you are on a tight budget you could always try Waxy's $3 steaks, I didn't but you could! If you are in the hinterland try Fortitude Brewing for a leisurely lunch and if you love a bargain as much as I do check out Groupon for discount vouchers before you dine.
Drink & Be Merry
A cold beer is never far away on the Gold Coast. This trip we discovered The Institution on a quiet Sunday night and it was a big hit with The Hubs for their extensive and ever changing boutique beer menu. The bar staff are very knowledgeable about the stock and are more than happy to provide recommendations and a taste! I went for the cocktails instead and the summer breeze was just what the doctor ordered. For a drink with a view that stretches for miles why not try Skypoint Bar & Bistro at the top of Q1. In my younger days we used to frequent Cocktails Nightclub, Melbas and Shooters until the wee hours.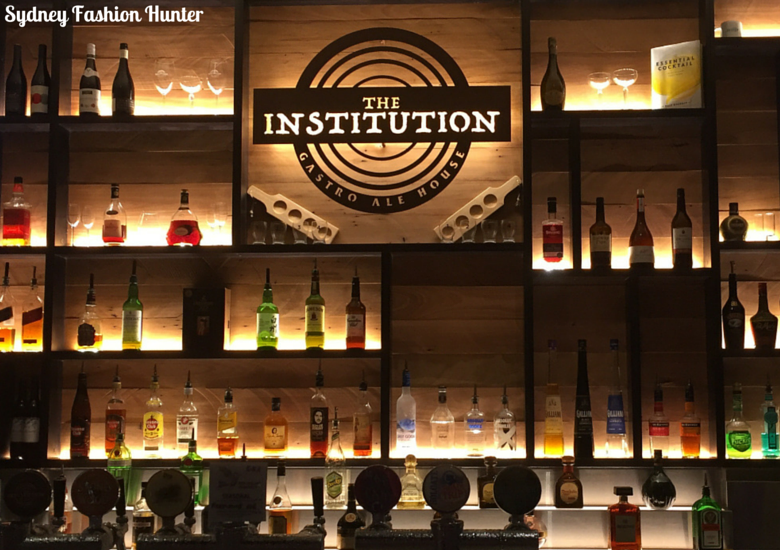 Things To Do
I've already shared a bunch of things to do when it rains but if you are lucky enough to have the sun shining you have lots more options. Of course a visit to one (or all!) of the theme parks is a must for the young or the young at heart. I like Dreamworld, Movie World and Wet n Wild. Take a drive to the hinterland (about an hour or so), explore a National Park and stop in at a cellar door like Witches Falls or Heritage Estate along the way. The Springbrook National Park waterfall walks are amazing! While you are there pop into Gallery Walk to browse the quaint shops. If money is tight don't be discouraged because there are plenty of things to do for free on the Gold Coast. Of course you can't not visit Surfers Paradise Beach, from night markets to festivals and sporting competitions there is always something on. If being on the water is your thing you can cruise, sail, surf, stand up paddle board or dive. If you fancy placing a bet Star City (formerly Jupiters) is the place to do it and you can also catch a show while you are there. Every October the V8 Supercars roar through the streets attracting huge crowds. If you are looking for something a little more refined frock up and spend a day at the races.  If you are lucky you might be able to catch a Titans home game while you are in town. In 2018 the Gold Coast will be hosting the Commonwealth Games so start planning your trip now as it will no doubt be busy! to be a For more things to do on the cheap check out these options.
Shopping
Much the same as in any capital city around Australia, Gold Coast shopping is dominated by malls. Pacific Fair is my favourite. It's currently undergoing a major renovation but it is going to be amazing when it it done! Shops in and around Cavill Avenue tend to stay open later than those in the surrounding areas and it's always a good way to walk off dinner. The Paradise Centre covers all your basic needs including a Woolworths supermarket. Luxury shoppers are catered for with the likes of Louis Vuitton, Prada and Gucci all clustered in a small radius near Elkhorn Avenue. I thought I had seen everything in terms of shopping, but I have never seen a thong vending machine until now. Only on the Gold Coast right?
Memories
Remember how  said I was a veteran? Here are some of my pics from our Gold Coast trips over the last 25 years or so 🙂
Have you been to the Gold Coast? What do you love (or hate) about it? Let me know in the comments below.
Until Next Time …

Like it? Pin it!
Disclaimer: This post contains affiliate links for which a small commission pay be paid.
Save
Save