We arrived at the Hanoi Glance Hotel late at night after travelling all day on Vietnam Airlines to Saigon plus a connecting VietJet flight to Hanoi. We were grubby, tired and short on patience after a day where nothing seemed to go to plan. Stepping through the doors, we felt like the last team to arrive after a manic leg of the amazing race. Our suspicion that we were last to check in was confirmed when the beaming receptionist greeted us by name on approach and had all our paperwork ready to go. The lobby was compact, modern and spotless which coupled with the receptionist's efficiency set an amazing first impression that continued throughout our stay. If you are looking for a budget hotel in Hanoi that doesn't skimp on the niceties then read on for all the details of my Hanoi Glance Hotel review …
Hanoi Glance Hotel Review
We had just six days in Vietnam in total and two nights in Hanoi. If you have a little longer check out this two week Vietnam itinerary. Hanoi is a fabulous city and we based ourselves in the Old Quarter. The Hanoi Glance Hotel is tall and narrow with only a few rooms on each floor, which is typical of Hanoi's Old Quarter. The ground floor houses reception, a tour desk, a lounge area and a breakfast room at the rear making the maximum use of the compact space. The staff were exceptional. We were greeted every time we passed through the lobby and the door was always opened for us when we entered or left. On day one the ever helpful receptionist sorted us out with a Vietnamese SIM card through Global Connection for VND300,000 which included 8GB of data plus calls and texts. Vietnamese SIMs will be disconnected in a few days if not registered. We read countless reviews of travellers getting caught out when buying SIMs off the street so it was handy when the Hanoi Glance Hotel took care of this for us.
The tall narrow design means drawing light to the lower floors is tricky but the Hanoi Glance Hotel conquered that with an internal atrium that streamed light from above. While small, the lush greenery and subtle lighting on the whitewashed walls was a nice touch in the narrow column. Perhaps the best feature of the Hanoi Glance Hotel was the location. Smack bang in the middle of the historic Old Quarter, all the best Hanoi activities are within walking distance including Hoan Kiem Lake, the Thang Long Water Puppet Theatre and the best of Hanoi's shopping and nightlife. Don't miss a meal at nearby Bun Bo Nam Bo for street food for a steal or head to Red Bean for refined Vietnamese cuisine in a relaxed atmosphere.
Deluxe Room Hanoi Glance Hotel
After the speedy check in we wasted no time checking out our digs for the next two nights. The compact elevator whisked us up to the fourth and our deluxe room. The Hanoi Glance Hotel offers a number of room categories and our deluxe room was a ridiculously low AUD$48 a night. I rarely book budget hotels but we had a hectic few days planned in Hanoi so I was reluctant to spend the big bucks on a room that we wouldn't be spending much time in. I must admit, I was slightly nervous that my penny-pinching would end in disaster but I needn't have worried. Our room was amazing! Think generously proportioned, scrupulously clean, and luxe furnishings thoughtful. The king bed was comfortable and we even had an extra single to boot.
As we explored further we found thoughtful touches throughout the room including quirky ornaments that made me smile. My one complaint was that all the power points were loose and struggled to hold the weight of our adapters. I got caught out twice thinking my phone was charging only to find it flat hours later as the connection was lost. They say necessity is the mother of invention and I managed to make it work by jamming a chair up against the one on the wall and shoving anything available under the one on the desk. Problem solved!
Bathroom
The bathroom was compact but clean and modern. We were in desperate need of a shower when we arrived. The Hubs showered first and warned me the hot water was really hot. Even after being super careful I still managed to scald my thigh. The red/blue indicators were the wrong way around and so when I tried to turn it down it just made it worse! It only caught me out once though!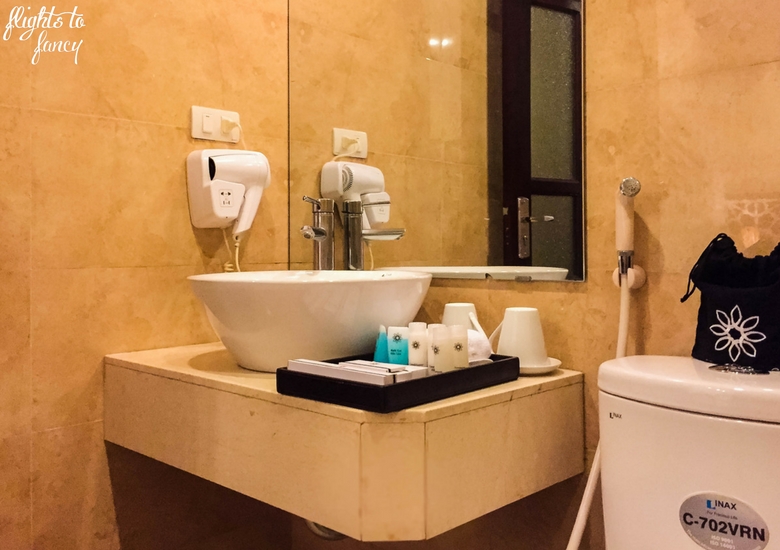 Breakfast
Did I mention the $48 also includes breakfast? Jet lag forced us up and out early the first morning and by the time we returned breakfast was over. The ever helpful staff were eager to please and encouraged us to eat anyway.  I didn't want to intrude, but I did grab a plate to take up to our room. We managed to make breakfast on day 2 and were very pleased with the variety. I'm not a big breakfast eater and was satisfied with a perfect croissant and some fresh fruit while the Hubs went for the more traditional bacon on toast. Beyond breakfast, you will never be short of a tasty treat and these vegetarian restaurants in Hanoi are a great place to start.
Best Budget Hotel In Hanoi
Hanoi is truly a budget travellers paradise. We thoroughly enjoyed our stay at The Hanoi Glance Hotel. It really opened my eyes to just how good a budget hotel can be. The location was brilliant, the service impeccable and the facilities were way above my expectations for the price point. I think I may have just found the best budget hotel in Hanoi.
Did you find my Hanoi Glance Hotel review useful? Would you consider staying there? I would love to hear your thoughts in the comments below.
Until Next Time …

Disclaimer:  This post is not sponsored. I paid for my stay at the Hanoi Glance Hotel in full. As always, all opinions are my own. This post contains some affiliate links which will earn me a few cents to contribute to the running of this blog if you make a qualifying purchase at no extra cost to you.
Like it? Pin it!